Abstract
Mining textual sources of data can be used to design studies and test theories at temporal and spatial scales unheard of in the past. This opens up new opportunities for conflict studies and ethnographic research. We conducted a semi-automated network analysis of the 2003–2010 Sudan Tribune online news articles and modeled ethnic-group conflict in Sudan. We tested whether an ethnic group's connections to the environment (livestock, biomes, and other resources) and other ethnic groups was associated with severe conflict and peace terms and whether ethnic-group richness at a given geospatial location was associated with severe conflict. Ethnic groups with more connections to livestock, environmental resources, and those ethnic groups with denser environmental–resource networks in their sphere of influence had more co-occurrences with severe conflict terms. Ethnic groups that had more connections to biomes in their sphere of influence were co-associated with peace terms. Locations that had high ethnic-group richness were associated with a higher frequency of severe conflict terms.
This is a preview of subscription content, log in to check access.
Access options
Buy single article
Instant access to the full article PDF.
US$ 39.95
Price includes VAT for USA
Subscribe to journal
Immediate online access to all issues from 2019. Subscription will auto renew annually.
US$ 99
This is the net price. Taxes to be calculated in checkout.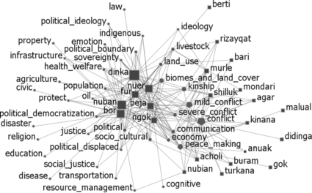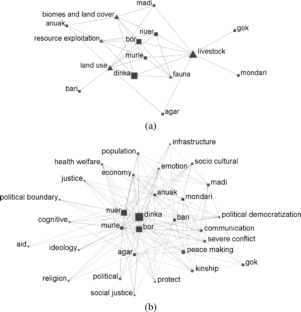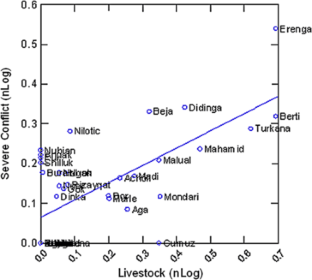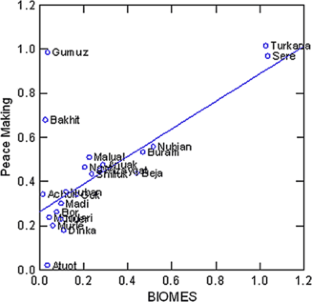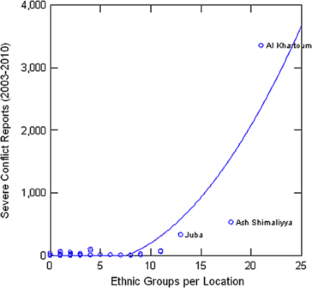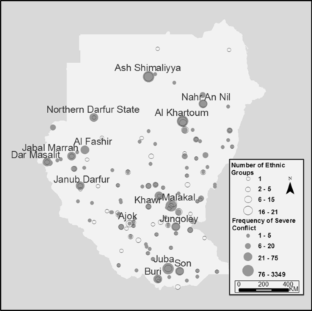 Notes
1.

Degree centrality measures were normalized by the maximum possible number of nodes they could be connected to (N−1).
References
API (African Press International) (2009) Kenya: never ending war between Turkana and Sudanese. African Press International. http://africanpress.me October 24, 2009

Biong Deng L (2010) Livelihood diversification and civil war: Dinka communities in Sudan's civil war. J East Afr Stud 4(3):381–399

Buhaug H, Gates S (2002) The geography of civil war. J Peace Res 39(4):417–433

Buhaug H, Lujala P (2005) Accounting for scale: measuring geography in quantitative studies of civil war. Polit Geogr 24(4):399–418

Carley KM (1997) Network text analysis: the network position of concepts. In: Roberts C (ed) Text analysis for the social sciences: methods for drawing statistical inferences from texts and transcripts. Lawrence Erlbaum Associates, Hillsdale, pp 79–100

Carley KM, Bigrigg MW, Diallo B (2012) Data-to-model: a mixed initiative approach for rapid ethnographic assessment. Comput Math Organ Theory (this volume). doi:10.1007/s10588-012-9125-y

Carley KM, Columbus D, Bigrigg MW, Kunkel F (2011a) AutoMap user's guide 2011. Carnegie Mellon University, School of Computer Science, Institute for Software Research

Carley KM, Reminga J, Storrick J, Columbus D (2011b) ORA user's guide 2011. Carnegie Mellon University, School of Computer Science, Institute for Software Research, Technical Report, CMU-ISR-11-107R

Cumming GS, Barnes Perz S, Schmink M, Sieving KE, Southworth J, Binford M, Holt RD, Stickler C, Van Holt T (2005) An exploratory framework for the empirical measurement of resilience. Ecosystems 8(8):975–987

Diesner J, Carley KM (2005) Revealing social structure from texts: meta-matrix text analysis as a novel method for network text analysis. In: Narayanan VK, Armstrong DJ (eds) Causal mapping for information systems and technology research: approaches, advances and illustrations, vol 4. Idea Group Publishing, Harrisburg, pp 81–108

ESRI (2011) ArcGIS desktop: release 10. Environmental Systems Research Institute, Redlands

Fearon JD, Laitin DD (2003) Ethnicity, insurgency, and civil war. Am Polit Sci Rev 97(1):75–90

Folke C, Carpenter C, Walker B, Scheffer M, Elmqvist T, Gunderson L, Holling CS (2004) Regime shifts, resilience, and biodiversity in ecosystem management. Annu Rev Ecol Evol Syst 35:557–581

Gilmore E, Gleditsch NP, Lujala P, Rod JK (2005) Conflict diamonds: a new dataset. Confl Manage Peace Sci 22(3):257–272

Gleditsch NP, Wallensteen P, Eriksson M, Sollenberg M, Strand H (2002) Armed conflict 1946–2001: a new dataset. J Peace Res 39(5):615–637

Hamilton R (2011) The politics of aid delivery. Pulitzer Center on Crisis Reporting. June 3. http://pulitzercenter.org. Accessed June 21, 2012

Homer-Dixon T (1994) Environmental scarcities and violent conflict: evidence from cases. Int Sec 19(1):5–40

Homer-Dixon T (1999) Environment, scarcity and violence. Princeton University Press, Princeton

Horowitz DL (1985) Ethnic groups in conflict. University of California Press, Berkeley

Lobban RA (2010) Global security Watch-Sudan. Praeger, Santa Barbara

McCarty C (2002) Structure in personal networks. J Soc Struct 3:1

McEvoy C, Murray R (2008) Gauging fear and insecurity: perspectives on armed violence in Eastern Equatoria and Turkana North. Small Arms Survey, Graduate Institute of International and Development Studies, Geneva

Murdock GP (1983) Outline of world cultures, 6th edn. Human Relations Area Files, New Haven

Osinde O (2005) 14 killed during raid by Sudanese tribesmen into northern Kenya. Sudan Tribune, April 29, 2005

Popping R (2000) Computer-assisted text analysis. Thousand Oaks, Sage

Raleigh C (2010) Political marginalization, climate change, and conflict in African Sahel States. Int Stud Rev 12(1):69–86

Ross ML (2004a) How do natural resources influence civil war? Evidence from thirteen cases. Int Organ 58(1):35–67

Ross ML (2004b) What do we know about natural resources and civil war? J Peace Res 41(3):337–356

Sambanis N (2001) Do ethnic and nonethnic civil wars have the same causes? A theoretical and empirical inquiry (Part 1). J Confl Resolut 45(3):259–282

Singer DJ, Small M (1972) The wages of war. Wiley, New York

Sudan Tribune (2007) Three killed in intertribal fighting in West Darfur. Sudan Tribune, March 25, 2007

Sudan Tribune (2008) South Sudan apologizes to Kenya over cattle attacks. Sudan Tribune, September 9, 2008

Theisen OM (2008) Blood and soil? Resource scarcity and internal armed conflict revisited. J Peace Res 45(6):801–818

Yongo EO, Abila RO, Lwenya C (2010) Emerging resource use conflicts between Kenyan fishermen, pastoralists and tribesmen of Lake Turkana. Aquat Ecosyst Health Manag 13(1):28–34
Acknowledgements
This work is supported in part by the Office of Naval Research (ONR), United States Navy (ONR MURI N000140811186). We Additional support was provided by the center for Computational Analysis of Social and Organizational Systems (CASOS). The views and conclusions contained in this document are those of the authors and should not be interpreted as representing the official policies, either expressed or implied, of the Office of Naval Research, or the U.S. government.
About this article
Cite this article
Van Holt, T., Johnson, J.C., Brinkley, J.D. et al. Structure of ethnic violence in Sudan: a semi-automated network analysis of online news (2003–2010). Comput Math Organ Theory 18, 340–355 (2012). https://doi.org/10.1007/s10588-012-9124-z
Keywords
Conflict

Content analysis

Social networks

Ethnic mapping