Abstract
Recently, the improvement in the data communication networks in terms of availability and reliability is emerging as a critical issue. In this context, the high availability and reliability of routers that control data flow and routing path between networks are being recognized as critical problems. Many methods for providing high availability to minimize the loss cost caused by the failure of a router are being studied. This paper analyzed the takeover method proposed in the previous studies to support the high availability of the BGP protocol, and proposed a BGP session takeover method using the virtualization technique to improve the takeover performance.
This is a preview of subscription content, log in to check access.
Access options
Buy single article
Instant access to the full article PDF.
US$ 39.95
Price includes VAT for USA
Subscribe to journal
Immediate online access to all issues from 2019. Subscription will auto renew annually.
US$ 99
This is the net price. Taxes to be calculated in checkout.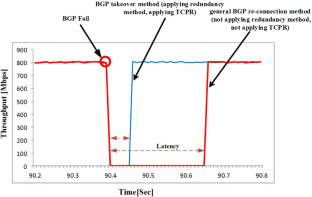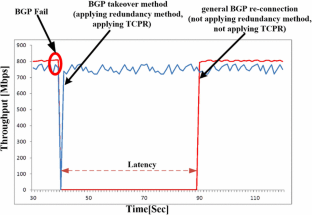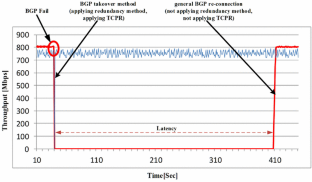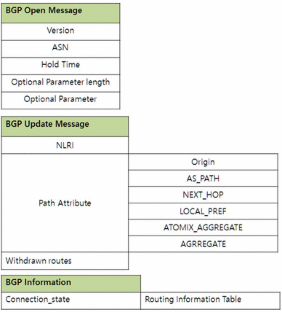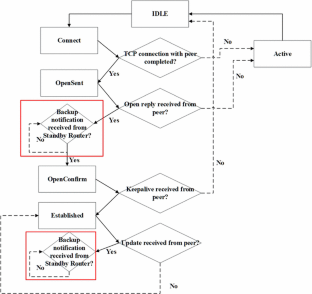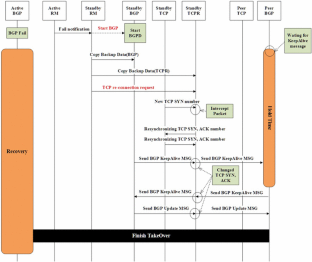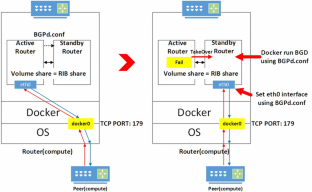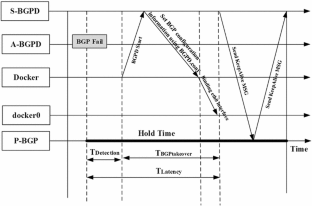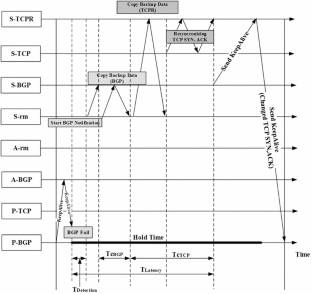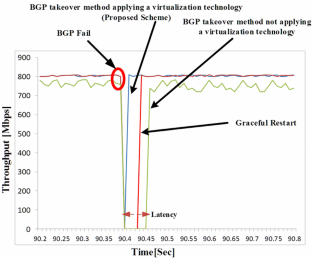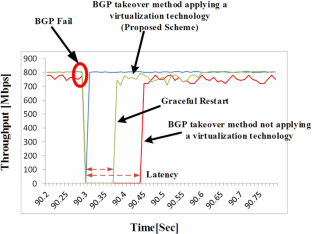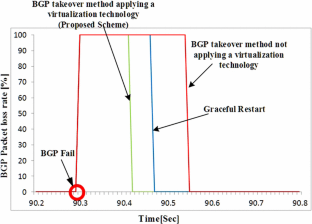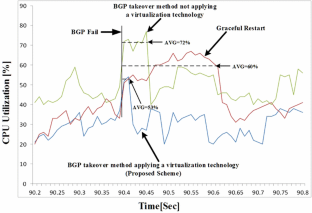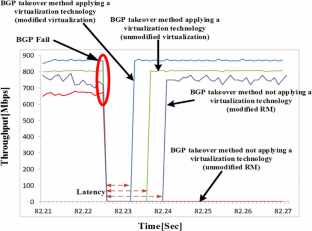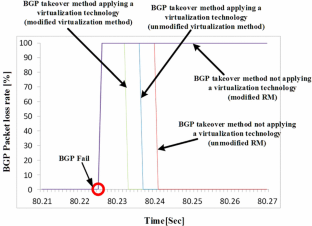 References
1.

Alvisi, L., Bressoud, T., El-Khashab, A., Marzullo, K., Zagorodnov, D.: Wrapping server-side TCP to mask connection failures. In: Proceedings of IEEE INFOCOM, Vol. 2001 (2001)

2.

Surton, R., Birman, K., van Renesse, R.: Application-driven TCP recovery and non-stop BGP. In: DSN '13 Proceeding of the 2013 43rd Annual IEEE/IFIP International Conference on Dependable Systems and Networks (2013)

3.

The Linux-HA User's Guide. http://www.linux-ha.org/doc/users-guide/users-guide.html

4.

Kim, H.S., Sang I.K.: A BGP session takeover method for high availability. In: ICUFN 2015 Seventh International Conference on Ubiquitous and Future Networks (2015)

5.

RFC Recommendation 4271, A Border Gateway Protocol 4 (BGP-4) (2006)

8.

Keller, E., Rexford, J., van der Merwe, J.: Seamless BGP migration with router grafting. In: Proceedings of the 7th USENIX Symposium on Networked Systems Design and Implementation (NSDI'10), San Jose, CA (2010)

9.

Sahoo, A., Kant, K., Mohapatra, P.: Characterization of BGP recovery time under large-scale failures. In: IEEE International Conference on Communications (ICC'06), June 2006, pp. 949–954 (2006)

11.

Sreekumari, P., Jung, J.I., Lee, M.: A simple and efficient approach for reducing TCP timeouts due to lack of duplicate acknowledgments in data center networks. Clust. Comput. 19(2), 633–645 (2016)

12.

Choi, J., Ahn, Y., Kim, S., Kim, Y., Choi, J.: VM auto-scaling methods for high throughput computing on hybrid infrastructure. Clust. Comput. 18(3), 1063–1073 (2015)

13.

Xia, L., Cui, Z., Lange, J., Tang, Y., Dinda, P., Bridges, P.: Fast VMM-based overlay networking for bridging the cloud and high performance computing. Clust. Comput. 17(1), 39–59 (2014)

14.

Lo Cigno, R., Procissi, G., Gerla, M.: Sender-side TCP modifications: performance analysis and design guidelines. Clust. Comput. 8(1), 35–45 (2005)
Acknowledgements
This research was supported by the IT R&D program of MSIP (Ministry of Science, ICT and Future Planning) /IITP (Institute for Information & Communications Technology Promotion). [12221-14-1001, Next Generation Network Computing Platform Testbed] and The work reported in this paper was conducted during the sabbatical year of Kwangwoon University in 2015.
About this article
Cite this article
Kim, H., Kim, S., Ryu, H. et al. A BGP session takeover method for high availability based on virtualization technique. Cluster Comput 20, 817–833 (2017). https://doi.org/10.1007/s10586-017-0771-1
Received:

Accepted:

Published:

Issue Date:
Keywords
BGP

High availability

Takeover

Virtualization