Abstract
The transcription factor c-Myb is an oncoprotein promoting cell proliferation and survival when aberrantly activated/expressed, thus contributing to malignant transformation. Overexpression of c-Myb has been found in leukemias, breast, colon and adenoid cystic carcinoma. Recent studies revealed its expression also in osteosarcoma cell lines and suggested its functional importance during bone development. However, the relevance of c-Myb in control of osteosarcoma progression remains unknown. A retrospective clinical study was carried out to assess a relationship between c-Myb expression in archival osteosarcoma tissues and prognosis in a cohort of high-grade osteosarcoma patients. In addition, MYB was depleted in metastatic osteosarcoma cell lines SAOS-2 LM5 and 143B and their growth, chemosensitivity, migration and metastatic activity were determined. Immunohistochemical analysis revealed that high c-Myb expression was significantly associated with poor overall survival in the cohort and metastatic progression in young patients. Increased level of c-Myb was detected in metastatic osteosarcoma cell lines and its depletion suppressed their growth, colony-forming capacity, migration and chemoresistance in vitro in a cell line-dependent manner. MYB knock-out resulted in reduced metastatic activity of both SAOS-2 LM5 and 143B cell lines in immunodeficient mice. Transcriptomic analysis revealed the c-Myb-driven functional programs enriched for genes involved in the regulation of cell growth, stress response, cell adhesion and cell differentiation/morphogenesis. Wnt signaling pathway was identified as c-Myb target in osteosarcoma cells. Taken together, we identified c-Myb as a negative prognostic factor in osteosarcoma and showed its involvement in the regulation of osteosarcoma cell growth, chemosensitivity, migration and metastatic activity.
Access options
Buy single article
Instant access to the full article PDF.
USD 39.95
Price excludes VAT (USA)
Tax calculation will be finalised during checkout.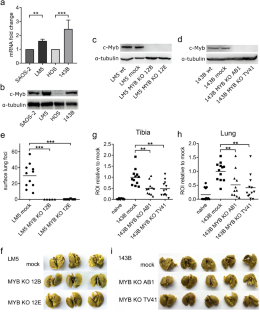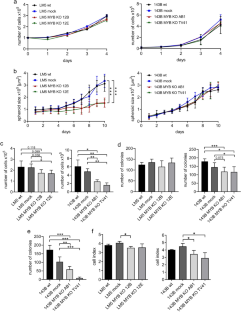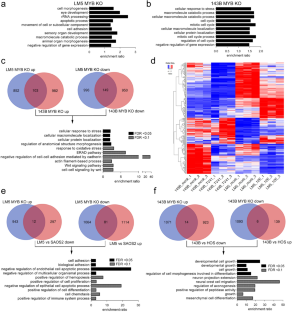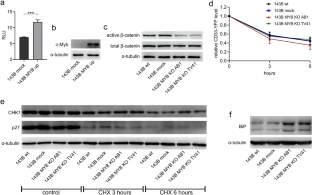 Data availability
The raw data obtained and analyzed from this study are available from the corresponding author upon reasonable request.
References
Taran SJ, Taran R, Malipatil N (2017) Pediatric osteosarcoma: an updated review. Indian J Med Paediatr Oncol 38:33–43. https://doi.org/10.4103/0971-5851.203513

Ferguson JL, Turner SP (2018) Bone cancer: diagnosis and treatment principles. Am Fam Phys 98:205–213

Smeland S, Bielack SS, Whelan J et al (2019) Survival and prognosis with osteosarcoma: outcomes in more than patients in the EURAMOS-1 (European and American Osteosarcoma Study) cohort. Eur J Cancer 109:36–50. https://doi.org/10.1016/j.ejca.2018.11.027

Jafari F, Javdansirat S, Sanaie S, Naseri A, Shamekh A, Rostamzadeh D, Dolati S (2020) Osteosarcoma: a comprehensive review of management and treatment strategies. Ann Diagn Pathol 49:151654. https://doi.org/10.1016/j.anndiagpath.2020.151654

Zamborsky R, Kokavec M, Harsanyi S, Danisovic L (2019) Identification of prognostic and predictive osteosarcoma biomarkers. Med Sci 7:28. https://doi.org/10.3390/medsci7020028

Luo H, Wang P, Ye H, Shi J, Dai L, Wang X, Song C, Zhang J, Li J (2020) Serum-derived microRNAs as prognostic biomarkers in osteosarcoma: a meta-analysis. Front Genet 11:789. https://doi.org/10.3389/fgene.2020.00789

Ramsay RG, Gonda TJ (2008) MYB function in normal and cancer cells. Nat Rev Cancer 8:523–534. https://doi.org/10.1038/nrc2439

Matalová E, Buchtová M, Tucker AS, Bender TP, Janečková E, Lungová V, Balková S, Smarda J (2011) Expression and characterization of c-Myb in prenatal odontogenesis. Dev Growth Differ 53:793–803. https://doi.org/10.1111/j.1440-169X.2011.01287.x

Oralova V, Matalova E, Killinger M, Knopfova L, Smarda J, Buchtova M (2017) Osteogenic potential of the transcription factor c-MYB. Calcif Tissue Int 100:311–322. https://doi.org/10.1007/s00223-016-0219-2

Pattabiraman DR, Gonda TJ (2013) Role and potential for therapeutic targeting of MYB in leukemia. Leukemia 27:269–277. https://doi.org/10.1038/leu.2012.225

Hugo H, Cures A, Suraweera N, Drabsch Y, Purcell D, Mantamadiotis T, Phillips W, Dobrovic A, Zupi G, Gonda TJ, Iacopetta B, Ramsay RG (2006) Mutations in the MYB intron I regulatory sequence increase transcription in colon cancers. Genes Chromosom Cancer 45:1143–1154. https://doi.org/10.1002/gcc.20378

Cicirò Y, Sala A (2021) MYB oncoproteins: emerging players and potential therapeutic targets in human cancer. Oncogenesis 10:19. https://doi.org/10.1038/s41389-021-00309-y

Kauraniemi P, Hedenfalk I, Persson K, Duggan DJ, Tanner M, Johannsson O, Olsson H, Trent JM, Isola J, Borg A (2000) MYB oncogene amplification in hereditary BRCA1 breast cancer. Cancer Res 60:5323–5328

Liu X, Chen D, Lao X, Liang Y (2019) The value of MYB as a prognostic marker for adenoid cystic carcinoma: meta-analysis. Head Neck 41:1517–1524. https://doi.org/10.1002/hed.25597

Guo X, Zhang J, Pang J, He S, Li G, Chong Y, Li C, Jiao Z, Zhang S, Shao M (2016) MicroRNA-503 represses epithelial-mesenchymal transition and inhibits metastasis of osteosarcoma by targeting c-myb. Tumour Biol 37:9181–9187. https://doi.org/10.1007/s13277-016-4797-4

Kanamori M, Sano A, Yasuda T, Hori T, Suzuki K (2012) Array-based comparative genomic hybridization for genomic-wide screening of DNA copy number alterations in aggressive bone tumors. J Exp Clin Cancer Res 31:100. https://doi.org/10.1186/1756-9966-31-100

Concordet JP, Haeussler M (2018) CRISPOR: intuitive guide selection for CRISPR/Cas9 genome editing experiments and screens. Nucleic Acids Res 46:242–245. https://doi.org/10.1093/nar/gky354

Ran FA, Hsu PD, Wright J, Agarwala V, Scott DA, Zhang F (2013) Genome engineering using the CRISPR-Cas9 system. Nat Protoc 8:2281–2308. https://doi.org/10.1038/nprot.2013.143

Dúcka M, Kučeríková M, Trčka F, Červinka J, Biglieri E, Šmarda J, Borsig L, Beneš P, Knopfová L (2021) c-Myb interferes with inflammatory IL1α-NF-κB pathway in breast cancer cells. Neoplasia 23:326–336. https://doi.org/10.1016/j.neo.2021.01.002

Nehybova T, Smarda J, Daniel L, Brezovsky J, Benes P (2015) Wedelolactone induces growth of breast cancer cells by stimulation of estrogen receptor signalling. J Steroid Biochem Mol Biol 152:76–83. https://doi.org/10.1016/j.jsbmb.2015.04.019

Vymetalova L, Kucirkova T, Knopfova L, Pospisilova V, Kasko T, Lejdarova H, Makaturova E, Kuglik P, Oralova V, Matalova E, Benes P, Koristek Z, Forostyak S (2020) Large-scale automated hollow-fiber bioreactor expansion of umbilical cord-derived human mesenchymal stromal cells for neurological disorders. Neurochem Res 45:204–214. https://doi.org/10.1007/s11064-019-02925-y

Martin M (2011) Cutadapt removes adapter sequences from high-throughput sequencing reads. EMBnet J 17:10–12

Dobin A, Davis CA, Schlesinger F, Drenkow J, Zaleski C, Jha S, Batut P, Chaisson M, Gingeras TR (2013) STAR: ultrafast universal RNA-seq aligner. Bioinformatics 29:15–21. https://doi.org/10.1093/bioinformatics/bts635

Liao Y, Smyth GK, Shi W (2014) featureCounts: an efficient general-purpose program for assigning sequence reads to genomic features. Bioinformatics 30:923–930. https://doi.org/10.1093/bioinformatics/btt656

Love MI, Huber W, Anders S (2014) Moderated estimation of fold change and dispersion for RNA-seq data with DESeq2. Genome Biol 15:550. https://doi.org/10.1186/s13059-014-0550-8

Liao Y, Wang J, Jaehnig EJ, Shi Z, Zhang B (2019) WebGestalt 2019: gene set analysis toolkit with revamped UIs and APIs. Nucleic Acids Res 47:199–205. https://doi.org/10.1093/nar/gkz401

Radaszkiewicz T, Bryja V (2020) Protease associated domain of RNF43 is not necessary for the suppression of Wnt/β-catenin signaling in human cells. Cell Commun Signal 18:91. https://doi.org/10.1186/s12964-020-00559-0

Menendez-Benito V, Verhoef LG, Masucci MG, Dantuma NP (2005) Endoplasmic reticulum stress compromises the ubiquitin-proteasome systém. Hum Mol Genet 14:2787–2799. https://doi.org/10.1093/hmg/ddi312

Anderson WJ, Doyle LA (2021) Updates from the 2020 world health organization classification of soft tissue and bone tumours. Histopathology 78:644–657. https://doi.org/10.1111/his.14265

Tichý M, Knopfová L, Jarkovský J, Pekarčíková L, Veverková L, Vlček P, Katolická J, Čapov I, Hermanová M, Šmarda J, Beneš P (2016) Overexpression of c-Myb is associated with suppression of distant metastases in colorectal carcinoma. Tumour Biol 37:10723–10729. https://doi.org/10.1007/s13277-016-4956-7

Muff R, Ram Kumar RM, Botter SM, Born W, Fuchs B (2012) Genes regulated in metastatic osteosarcoma: evaluation by microarray analysis in four human and two mouse cell line systems. Sarcoma 2012:937506. https://doi.org/10.1155/2012/937506

Liu Y, Tao S, Liao L, Li Y, Li H, Li Z, Lin L, Wan X, Yang X, Chen L (2020) TRIM25 promotes the cell survival and growth of hepatocellular carcinoma through targeting Keap1-Nrf2 pathway. Nat Commun 11:348. https://doi.org/10.1038/s41467-019-14190-2

Xu Y, Zhao F, Qiu Q, Chen K, Wei J, Kong Q, Gao B, Mělo-Cardenas J, Zhang B, Zhang J, Song J, Zhang D, Zhang J, Fan Y, Li H, Fang D (2016) The ER membrane-anchored ubiquitin ligase Hrd1 is a positive regulator of T-cell immunity. Nat Commun 7:12073. https://doi.org/10.1038/ncomms12073

Siwecka N, Rozpędek W, Pytel D, Wawrzynkiewicz A, Dziki A, Dziki L, Diehl JA, Majsterek I (2019) Dual role of endoplasmic reticulum stress-mediated unfolded protein response signaling pathway in carcinogenesis. Int J Mol Sci 20:4354. https://doi.org/10.3390/ijms20184354

Pobre KFR, Peot GJ, Hendershot LM (2019) The endoplasmic reticulum (ER) chaperone BiP is a master regulator of ER functions: getting by with a little help from ERdj friends. J Biol Chem 294:2098–2108. https://doi.org/10.1074/jbc.REV118.002804

Knopfová L, Biglieri E, Volodko N, Masařík M, Hermanová M, Glaus Garzón JF, Dúcka M, Kučírková T, Souček K, Šmarda J, Beneš P, Borsig L (2018) Transcription factor c-Myb inhibits breast cancer lung metastasis by suppression of tumor cell seeding. Oncogene 37:1020–1030. https://doi.org/10.1038/onc.2017.392

Nicolau M, Levine AJ, Carlsson G (2011) Topology based data analysis identifies a subgroup of breast cancers with a unique mutational profile and excellent survival. Proc Natl Acad Sci USA 108:7265–7270. https://doi.org/10.1073/pnas.1102826108

Liu LY, Chang LY, Kuo WH, Hwa HL, Chang KJ, Hsieh FJ (2014) A supervised network analysis on gene expression profiles of breast tumors predicts a 41-gene prognostic signature of the transcription factor MYB across molecular subtypes. Comput Math Methods Med 2014:813067. https://doi.org/10.1155/2014/813067

Qu X, Yan X, Kong C, Zhu Y, Li H, Pan D, Zhang X, Liu Y, Yin F, Qin H (2019) c-Myb promotes growth and metastasis of colorectal cancer through c-fos-induced epithelial-mesenchymal transition. Cancer Sci 110:3183–3196. https://doi.org/10.1111/cas.14141

Millen R, Malaterre J, Cross RS, Carpinteri S, Desai J, Tran B, Darcy P, Gibbs P, Sieber O, Zeps N, Waring P, Fox S, Pereira L, Ramsay RG (2016) Immunomodulation by MYB is associated with tumor relapse in patients with early stage colorectal cancer. Oncoimmunology 5:e1149667. https://doi.org/10.1080/2162402X.2016.1149667

Biroccio A, Benassi B, D'Agnano I, D'Angelo C, Buglioni S, Mottolese M, Ricciotti A, Citro G, Cosimelli M, Ramsay RG, Calabretta B, Zupi G (2001) c-Myb and Bcl-x overexpression predicts poor prognosis in colorectal cancer: clinical and experimental findings. Am J Pathol 158:1289–1299. https://doi.org/10.1016/S0002-9440(10)64080-1

Zhao H, Yang L, Han Y, Li H, Ling Z, Wang Y, Wang E, Wu G (2017) Dact3 inhibits the malignant phenotype of non-small cell lung cancer through downregulation of c-Myb. Int J Clin Exp Pathol 10:11580–11587

Lu H, Wang Y, Huang Y, Shi H, Xue Q, Yang S, He S, Wang H (2013) Expression and prognostic role of c-Myb as a novel cell cycle protein in esophageal squamous cell carcinoma. Clin Transl Oncol 15:796–801. https://doi.org/10.1007/s12094-013-1009-1

Cai W, Li Q, Yang Z, Miao X, Wen Y, Huang S, Ouyang J (2013) Expression of p53 upregulated modulator of apoptosis (PUMA) and C-myb in gallbladder adenocarcinoma and their pathological significance. Clin Transl Oncol 15:818–824. https://doi.org/10.1007/s12094-013-1010-8

Zhou Y, Ness SA (2011) Myb proteins: angels and demons in normal and transformed cells. Front Biosci 16:1109–1131. https://doi.org/10.2741/3738

Cesi V, Casciati A, Sesti F, Tanno B, Calabretta B, Raschellà G (2011) TGFβ-induced c-Myb affects the expression of EMT-associated genes and promotes invasion of ER+ breast cancer cells. Cell Cycle 10:4149–4161. https://doi.org/10.4161/cc.10.23.18346

Hugo HJ, Pereira L, Suryadinata R, Drabsch Y, Gonda TJ, Gunasinghe NP, Pinto C, Soo ET, van Denderen BJ, Hill P, Ramsay RG, Sarcevic B, Newgreen DF, Thompson EW (2013) Direct repression of MYB by ZEB1 suppresses proliferation and epithelial gene expression during epithelial-to-mesenchymal transition of breast cancer cells. Breast Cancer Res 15:R113. https://doi.org/10.1186/bcr3580

Volodko N, Gutor T, Petronchak O, Huley R, Dúcka M, Šmarda J, Borsig L, Beneš P, Knopfová L (2019) Low infiltration of tumor-associated macrophages in high c-Myb-expressing breast tumors. Sci Rep 9:11634. https://doi.org/10.1038/s41598-019-48051-1

Germann M, Xu H, Malaterre J, Sampurno S, Huyghe M, Cheasley D, Fre S, Ramsay RG (2014) Tripartite interactions between Wnt signaling, Notch and Myb for stem/progenitor cell functions during intestinal tumorigenesis. Stem Cell Res 13:355–366. https://doi.org/10.1016/j.scr.2014.08.002

Zhuang R, Zhang X, Lu D, Wang J, Zhuo J, Wei X, Ling Q, Xie H, Zheng S, Xu X (2019) lncRNA DRHC inhibits proliferation and invasion in hepatocellular carcinoma via c-Myb-regulated MEK/ERK signaling. Mol Carcinog 58:366–375. https://doi.org/10.1002/mc.22934

Li Y, Jin K, van Pelt GW, van Dam H, Yu X, Mesker WE, Ten Dijke P, Zhou F, Zhang L (2016) c-Myb enhances breast cancer invasion and metastasis through the Wnt/β-catenin/Axin2 pathway. Cancer Res 76:3364–3375. https://doi.org/10.1158/0008-5472

Zubair H, Patel GK, Khan MA, Azim S, Zubair A, Singh S, Srivastava SK, Singh AP (2020) Proteomic analysis of MYB-regulated secretome identifies functional pathways and biomarkers: potential pathobiological and clinical implications. J Proteome Res 19:794–804. https://doi.org/10.1021/acs.jproteome.9b00641

Bengtsen M, Klepper K, Gundersen S, Cuervo I, Drabløs F, Hovig E, Sandve GK, Gabrielsen OS, Eskeland R (2015) c-Myb binding sites in haematopoietic chromatin landscapes. PLoS ONE 10:e0133280. https://doi.org/10.1371/journal.pone.0133280

Bies J, Sramko M, Wolff L (2013) Stress-induced phosphorylation of Thr486 in c-Myb by p38 mitogen-activated protein kinases attenuates conjugation of SUMO-2/3. J Biol Chem 288:36983–36993. https://doi.org/10.1074/jbc.M113.500264

Bhattarai G, Lee YH, Lee NH, Yun JS, Hwang PH, Yi HK (2011) c-myb mediates inflammatory reaction against oxidative stress in human breast cancer cell line, MCF-7. Cell Biochem Funct 29:686–693. https://doi.org/10.1002/cbf.1808

Yang RM, Nanayakkara D, Kalimutho M, Mitra P, Khanna KK, Dray E, Gonda TJ (2019) MYB regulates the DNA damage response and components of the homology-directed repair pathway in human estrogen receptor-positive breast cancer cells. Oncogene 38:5239–5249. https://doi.org/10.1038/s41388-019-0789-3

Thompson MA, Rosenthal MA, Ellis SL, Friend AJ, Zorbas MI, Whitehead RH, Ramsay RG (1998) c-Myb down-regulation is associated with human colon cell differentiation, apoptosis, and decreased Bcl-2 expression. Cancer Res 58:5168–5175

Ramsay RG, Friend A, Vizantios Y, Freeman R, Sicurella C, Hammett F, Armes J, Venter D (2000) Cyclooxygenase-2, a colorectal cancer nonsteroidal anti-inflammatory drug target, is regulated by c-MYB. Cancer Res 60:1805–1809

Zhang XY, Li YF, Ma H, Gao YH (2020) Regulation of MYB mediated cisplatin resistance of ovarian cancer cells involves miR-21-wnt signaling axis. Sci Rep 10:6893. https://doi.org/10.1038/s41598-020-63396-8

Andersson MK, Mangiapane G, Nevado PT, Tsakaneli A, Carlsson T, Corda G, Nieddu V, Abrahamian C, Chayka O, Rai L, Wick M, Kedaigle A, Stenman G, Sala A (2020) ATR is a MYB regulated gene and potential therapeutic target in adenoid cystic carcinoma. Oncogenesis 9:5. https://doi.org/10.1038/s41389-020-0194-3

Pekarčíková L, Knopfová L, Beneš P, Šmarda J (2016) c-Myb regulates NOX1/p38 to control survival of colorectal carcinoma cells. Cell Signal 28:924–936. https://doi.org/10.1016/j.cellsig.2016.04.007

Ciznadija D, Tothill R, Waterman ML, Zhao L, Huynh D, Yu RM, Ernst M, Ishii S, Mantamadiotis T, Gonda TJ, Ramsay RG, Malaterre J (2009) Intestinal adenoma formation and MYC activation are regulated by cooperation between MYB and Wnt signaling. Cell Death Differ 16:1530–1538. https://doi.org/10.1038/cdd.2009.94

Janiszewska M, Primi MC, Izard T (2020) Cell adhesion in cancer: beyond the migration of single cells. J Biol Chem 295:2495–2505. https://doi.org/10.1074/jbc.REV119.007759

Kahlert UD, Joseph JV, Kruyt FAE (2017) EMT- and MET-related processes in nonepithelial tumors: importance for disease progression, prognosis, and therapeutic opportunities. Mol Oncol 11:860–877. https://doi.org/10.1002/1878-0261.12085

Beyes S, Andrieux G, Schrempp M, Aicher D, Wenzel J, Antón-García P, Boerries M, Hecht A (2019) Genome-wide mapping of DNA-binding sites identifies stemness-related genes as directly repressed targets of SNAIL1 in colorectal cancer cells. Oncogene 38:6647–6661. https://doi.org/10.1038/s41388-019-0905-4

Kim H, Bhattacharya A, Qi L (2015) Endoplasmic reticulum quality control in cancer: friend or foe. Semin Cancer Biol 33:25–33. https://doi.org/10.1016/j.semcancer.2015.02.003

Chatterjee A, Paul S, Bisht B, Bhattacharya S, Sivasubramaniam S, Paul MK (2021) Advances in targeting the WNT/β-catenin signaling pathway in cancer. Drug Discov Today. https://doi.org/10.1016/j.drudis.2021.07.007

Singla A, Wang J, Yang R, Geller DS, Loeb DM, Hoang BH (2020) Wnt signaling in osteosarcoma. Adv Exp Med Biol 1258:125–139. https://doi.org/10.1007/978-3-030-43085-6_8

Tennakoon S, Aggarwal A, Kállay E (2016) The calcium-sensing receptor and the hallmarks of cancer. Biochim Biophys Acta 1863:1398–1407. https://doi.org/10.1016/j.bbamcr.2015.11.017

Bein K, Husain M, Ware JA, Mucenski ML, Rosenberg RD, Simons M (1997) c-Myb function in fibroblasts. J Cell Physiol 173:319–326. https://doi.org/10.1002/(SICI)1097-4652(199712)173:3%3c319::AID-JCP3%3e3.0.CO;2-Q

Husain M, Bein K, Jiang L, Alper SL, Simons M, Rosenberg RD (1997) c-Myb-dependent cell cycle progression and Ca2+ storage in cultured vascular smooth muscle cells. Circ Res 80:617–626. https://doi.org/10.1161/01.res.80.5.617

Mateo-Lozano S, García M, Rodríguez-Hernández CJ, de Torres C (2016) Regulation of differentiation by calciumsensing receptor in normal and tumoral developing nervous system. Front Physiol 7:169. https://doi.org/10.3389/fphys.2016.0016

Flores RJ, Li Y, Yu A, Shen J, Rao PH, Lau SS, Vannucci M, Lau CC, Man TK (2012) A systems biology approach reveals common metastatic pathways in osteosarcoma. BMC Syst Biol 6:50. https://doi.org/10.1186/1752-0509-6-50

Rhim JS, Cho HY, Huebner RJ, Gilden RV (1975) Characterization of Kirsten sarcoma virus transformation of human cells and isolation of nonproducer human cells. Bibl Haematol 43:84–87. https://doi.org/10.1159/000399103

Jia SF, Worth LL, Kleinerman ES (1999) A nude mouse model of human osteosarcoma lung metastases for evaluating new therapeutic strategies. Clin Exp Metastasis 17:501–506. https://doi.org/10.1023/a:1006623001465

Yusenko MV, Trentmann A, Andersson MK, Ghani LA, Jakobs A, Arteaga Paz MF, Mikesch JH, Peter von Kries J, Stenman G, Klempnauer KH (2020) Monensin, a novel potent MYB inhibitor, suppresses proliferation of acute myeloid leukemia and adenoid cystic carcinoma cells. Cancer Lett 479:61–70. https://doi.org/10.1016/j.canlet.2020.01.039

Yusenko MV, Biyanee A, Andersson MK, Radetzki S, von Kries JP, Stenman G, Klempnauer KH (2021) Proteasome inhibitors suppress MYB oncogenic activity in a p300-dependent manner. Cancer Lett 520:132–142. https://doi.org/10.1016/j.canlet.2021.07.010

Uttarkar S, Piontek T, Dukare S, Schomburg C, Schlenke P, Berdel WE, Müller-Tidow C, Schmidt TJ, Klempnauer KH (2016) Small-molecule disruption of the Myb/p300 cooperation targets acute myeloid leukemia cells. Mol Cancer Ther 15:2905–2915. https://doi.org/10.1158/1535-7163.MCT-16-0185

Uttarkar S, Dassé E, Coulibaly A, Steinmann S, Jakobs A, Schomburg C, Trentmann A, Jose J, Schlenke P, Berdel WE, Schmidt TJ, Müller-Tidow C, Frampton J, Klempnauer KH (2016) Targeting acute myeloid leukemia with a small molecule inhibitor of the Myb/p300 interaction. Blood 127:1173–1182. https://doi.org/10.1182/blood-2015-09-668632

Uttarkar S, Frampton J, Klempnauer KH (2017) Targeting the transcription factor Myb by small-molecule inhibitors. Exp Hematol 47:31–35. https://doi.org/10.1016/j.exphem.2016.12.003

Walf-Vorderwülbecke V, Pearce K, Brooks T, Hubank M, van den Heuvel-Eibrink MM, Zwaan CM, Adams S, Edwards D, Bartram J, Samarasinghe S, Ancliff P, Khwaja A, Goulden N, Williams G, de Boer J, Williams O (2018) Targeting acute myeloid leukemia by drug-induced c-MYB degradation. Leukemia 32:882–889. https://doi.org/10.1038/leu.2017.317

Cross RS, Malaterre J, Davenport AJ, Carpinteri S, Anderson RL, Darcy PK, Ramsay RG (2015) Therapeutic DNA vaccination against colorectal cancer by targeting the MYB oncoprotein. Clin Transl Immunol 4:e30. https://doi.org/10.1038/cti.2014.29

Chen S, Wang Z, Dai X, Pan J, Ge J, Han X, Wu Z, Zhou X, Zhao T (2013) Re-expression of microRNA-150 induces EBV-positive Burkitt lymphoma differentiation by modulating c-Myb in vitro. Cancer Sci 104:826–834. https://doi.org/10.1111/cas.12156
Acknowledgements
The authors would like to thank Merel van Gogh and Sabina Sevcikova for proofreading the manuscript.
Funding
This work was supported by the by Ministry of Health of the Czech Republic grant NV18-07-00073, Czech Science Foundation project 20-22984S and by the European Regional Development Fund—Project ENOCH (No. CZ.02.1.01/0.0/16_019/0000868).
Ethics declarations
Conflict of interest
The authors declare that they have no competing interest.
Ethical approval
Clinical study was approved by the Ethics Committee of the University Hospital Brno (01-280617/EK), Masaryk Memorial Cancer Institute (2017/1892/MOU), and Masaryk University (EKV-2017-056). Animal experiments were approved by Institutional Ethical Committees (Academy of Sciences of the Czech Republic and Masaryk University).
Consent to participate
Written informed consent was obtained from all patients or their guardians.
Additional information
Publisher's Note
Springer Nature remains neutral with regard to jurisdictional claims in published maps and institutional affiliations.
Supplementary Information
Below is the link to the electronic supplementary material.
About this article
Cite this article
Říhová, K., Dúcka, M., Zambo, I.S. et al. Transcription factor c-Myb: novel prognostic factor in osteosarcoma. Clin Exp Metastasis 39, 375–390 (2022). https://doi.org/10.1007/s10585-021-10145-4
Received:

Accepted:

Published:

Issue Date:

DOI: https://doi.org/10.1007/s10585-021-10145-4
Keywords
c-Myb

Chemoresistance

Metastasis

Osteosarcoma

Prognosis

Proliferation