Abstract
Great progress has been made in cancer therapeutics. However, metastasis remains the predominant cause of death from cancer. Importantly, metastasis can manifest many years after initial treatment of the primary cancer. This is because cancer cells can remain dormant before forming symptomatic metastasis. An important question is whether metastasis research should focus on the early treatment of metastases, before they are clinically evident ("overt"), or on developing treatments to stop overt metastasis (stage IV cancer). In this commentary we want to clarify why it is important that all avenues of treatment for stage IV patients are developed. Indeed, future treatments are expected to go beyond the mere shrinkage of overt metastases and will include strategies that prevent disseminated tumor cells from emerging from dormancy.
This is a preview of subscription content, log in to check access.
Access options
Buy single article
Instant access to the full article PDF.
US$ 39.95
Price includes VAT for USA
Subscribe to journal
Immediate online access to all issues from 2019. Subscription will auto renew annually.
US$ 199
This is the net price. Taxes to be calculated in checkout.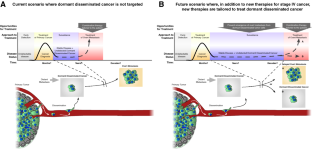 References
1.

Brown M et al (2018) Lymph node blood vessels provide exit routes for metastatic tumor cell dissemination in mice. Science 359:1408–1411. https://doi.org/10.1126/science.aal3662

2.

Pereira ER et al (2018) Lymph node metastases can invade local blood vessels, exit the node, and colonize distant organs in mice. Science 359:1403–1407. https://doi.org/10.1126/science.aal3622

3.

Pantel K, Brakenhoff RH, Brandt B (2008) Detection, clinical relevance and specific biological properties of disseminating tumour cells. Nat Rev Cancer 8:329–340. https://doi.org/10.1038/nrc2375

4.

Wan JCM et al (2017) Liquid biopsies come of age: towards implementation of circulating tumour DNA. Nat Rev Cancer 17:223–238. https://doi.org/10.1038/nrc.2017.7

5.

Sosa MS, Bragado P, Aguirre-Ghiso JA (2014) Mechanisms of disseminated cancer cell dormancy: an awakening field. Nat Rev Cancer 14:611–622. https://doi.org/10.1038/nrc3793

6.

Borgen E et al (2018) NR2F1 stratifies dormant disseminated tumor cells in breast cancer patients. Breast Cancer Res 20:120. https://doi.org/10.1186/s13058-018-1049-0

7.

Goss PE, Chambers AF (2010) Does tumour dormancy offer a therapeutic target? Nat Rev Cancer 10:871–877

8.

Aguirre-Ghiso JA, Bragado P, Sosa MS (2013) Metastasis awakening: targeting dormant cancer. Nat Med 19:276–277. https://doi.org/10.1038/nm.3120

9.

Polzer B, Klein CA (2013) Metastasis awakening: the challenges of targeting minimal residual cancer. Nat Med 19:274–275. https://doi.org/10.1038/nm.3121

10.

von Minckwitz G et al (2017) Adjuvant pertuzumab and trastuzumab in early HER2-positive breast cancer. New Engl J Med 377:122–131. https://doi.org/10.1056/NEJMoa1703643

11.

Wolchok J (2018) Putting the immunologic brakes on cancer. Cell 175:1452–1454. https://doi.org/10.1016/j.cell.2018.11.006

12.

Sosa MS (2016) Dormancy programs as emerging antimetastasis therapeutic alternatives. Mol Cell Oncol 3:e1029062. https://doi.org/10.1080/23723556.2015.1029062

13.

Carlson P et al (2019) Targeting the perivascular niche sensitizes disseminated tumour cells to chemotherapy. Nat Cell Biol. https://doi.org/10.1038/s41556-018-0267-0

14.

Ghajar CM (2015) Metastasis prevention by targeting the dormant niche. Nat Rev Cancer 15:238–247. https://doi.org/10.1038/nrc3910

15.

Pastoriza JM et al (2018) Black race and distant recurrence after neoadjuvant or adjuvant chemotherapy in breast cancer. Clin Exp Metastasis. https://doi.org/10.1007/s10585-018-9932-8

16.

Karagiannis GS, Condeelis JS, Oktay MH (2018) Chemotherapy-induced metastasis: mechanisms and translational opportunities. Clin Exp Metastasis 35:269–284. https://doi.org/10.1007/s10585-017-9870-x

17.

Karagiannis GS et al (2017) Neoadjuvant chemotherapy induces breast cancer metastasis through a TMEM-mediated mechanism. Sci Transl Med. https://doi.org/10.1126/scitranslmed.aan0026

18.

El Rayes T et al (2015) Lung inflammation promotes metastasis through neutrophil protease-mediated degradation of Tsp-1. Proc Natl Acad Sci USA 112:16000–16005. https://doi.org/10.1073/pnas.1507294112

19.

De Cock JM et al (2016) Inflammation triggers Zeb1-dependent escape from tumor latency. Cancer Res 76:6778–6784. https://doi.org/10.1158/0008-5472.CAN-16-0608

20.

Pommier A et al (2018) Unresolved endoplasmic reticulum stress engenders immune-resistant, latent pancreatic cancer metastases. Science. https://doi.org/10.1126/science.aao4908

21.

Fluegen G et al (2017) Phenotypic heterogeneity of disseminated tumour cells is preset by primary tumour hypoxic microenvironments. Nat Cell Biol 19:120–132. https://doi.org/10.1038/ncb3465

22.

Chery L et al (2014) Characterization of single disseminated prostate cancer cells reveals tumor cell heterogeneity and identifies dormancy associated pathways. Oncotarget 5:9939–9951
Additional information
Publisher's Note
Springer Nature remains neutral with regard to jurisdictional claims in published maps and institutional affiliations.
About this article
Cite this article
Zijlstra, A., Von Lersner, A., Yu, D. et al. The importance of developing therapies targeting the biological spectrum of metastatic disease. Clin Exp Metastasis 36, 305–309 (2019). https://doi.org/10.1007/s10585-019-09972-3
Received:

Accepted:

Published:

Issue Date:
Keywords
Stage IV cancer

Minimal residual disease

Metastasis

Cancer dormancy

Liquid biopsy