Abstract
The aberrant activation of the FGFR signaling is detected in many solid tumors, including pancreatic ductal adenocarcinoma (PDAC), suggesting it as a potential therapeutic target. In this study, we investigated the antitumor and anti-metastasis efficacy of the selective FGFR1 inhibitor, PD173074 in PDAC. We used immunohistochemical and in situ hybridization analyses to demonstrate a strong correlation between FGFR1 amplification and/or expression and disease progression in PDAC patients. We showed that ALDHhigh (ALDH+) pancreatic cancer cells exhibited stem cell-like phenotype and expressed higher levels of FGFR1, Src, NF-κB, alongside stemness markers like Oct4 and Sox2, compared to their ALDHlow/null (ALDH−) counterparts, suggesting the preferential activation of the FGFR1/Src/NF-κB signaling axis in pancreatic cancer stem cells (panCSCs). Furthermore, treatment of the ALDHhigh/ FGFR1-rich pancreatic cancer cell lines with PD173074, a selective FGFR1 inhibitor, revealed that PD173074 inhibited the proliferation and self-renewal of the panCSCs, and induced their apoptosis by activating caspase-3 and cleaving Poly-ADP ribose Polymerase (PARP). The anti-CSCs effect of PD173074 was associated with decreased expression of Oct4, Sox-2, Nanog, and c-Myc, as well as suppression of XIAP, Bcl2, and survivin expression, dose-dependently. Additionally, activation of cMet, Src, ERK 1/2 and NFκB (p65) was also inhibited by PD173074. Also, of clinical relevance, the disruption of the FGFR1/Src/NF-κB signaling axis positively correlated with poor clinical prognosis among the PDAC patients. We concluded that PD173074 suppresses the tumorigenesis and CSCs-like phenotype of PDAC cells, highlighting its therapeutic efficacy and providing support for its potential use as a therapeutic option for the 'difficult-to-treat', 'quick-to-relapse' PDAC patients.
Graphical Abstract
Schematic abstract showing how PD173074 inhibits PDAC growth through selective targeting of FGFR1, suppression of cancer stemness, disruption of the FGFR1/Src/NF-κB signaling axis and activation of the cell death signaling pathway.

This is a preview of subscription content, log in to check access.
Access options
Buy single article
Instant access to the full article PDF.
US$ 39.95
Price includes VAT for USA
Subscribe to journal
Immediate online access to all issues from 2019. Subscription will auto renew annually.
US$ 199
This is the net price. Taxes to be calculated in checkout.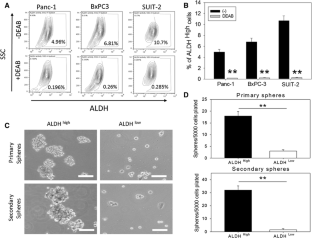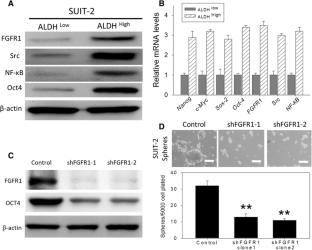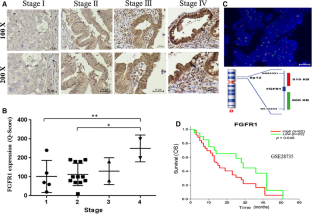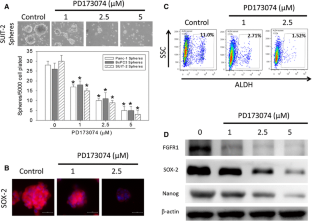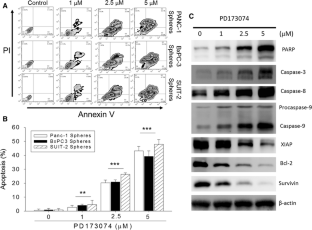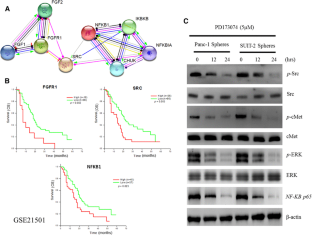 Data Availability
The datasets used and analyzed in the current study are available from the corresponding author in response to reasonable requests.
Abbreviations
PDAC:

Pancreatic ductal adenocarcinoma

GEM:

Gemcitabine

CSCs:

Cancer stem cells

CAP:

Capecitabine

panCSCs:

Pancreatic cancer stem cells

FGFR1:

Fibroblast growth factor receptor 1

ABCG2:

ATP-binding cassette transporters

TCA:

Trichloroacetic acid

H&E:

Hematoxylin and eosin

VEGFRs:

Vascular endothelial growth factor

FGFR:

Fibroblast growth factor receptor

PDGFR:

Platelet-derived growth factor receptors
References
1.

Ferlay J, Soerjomataram I, Ervik M, Dikshit R, Eser S, Mathers C et al (2013) GLOBOCAN 2012 v1.0, Cancer Incidence and Mortality Worldwide: IARC CancerBase No. 11. Lyon, France: International Agency for Research on Cancer. Available at http://globocan.iarc.fr. Accessed 11 July 2017

2.

Vincent A, Herman J, Schulick R, Hruban RH, Goggins M (2011) Pancreatic cancer. Lancet 378(9791):607–620

3.

Neesse A, Michl P, Frese KK, Feig C, Cook N, Jacobetz MA et al (2011) Stromal biology and therapy in pancreatic cancer. Gut 60(6):861–868

4.

Li Y, Kong D, Ahmad A, Bao B, Sarkar FH (2013) Pancreatic cancer stem cells: emerging target for designing novel therapy. Cancer Lett 338(1):94–100

5.

Hermann PC, Huber SL, Herrler T, Aicher A, Ellwart JW, Guba M et al (2007) Distinct populations of cancer stem cells determine tumor growth and metastatic activity in human pancreatic cancer. Cell Stem Cell 1(3):313–323

6.

Ding Q, Yoshimitsu M, Kuwahata T, Maeda K, Hayashi T, Obara T et al (2011) Establishment of a highly migratory subclone reveals that CD133 contributes to migration and invasion through epithelial–mesenchymal transition in pancreatic cancer. Hum Cell 25(1):1–8

7.

Hong SP, Wen J, Bang S, Park S, Song SY (2009) CD44-positive cells are responsible for gemcitabine resistance in pancreatic cancer cells. Int J Cancer 125(10):2323–2331

8.

Li C, Wu JJ, Hynes M, Dosch J, Sarkar B, Welling TH et al (2011) c-Met is a marker of pancreatic cancer stem cells and therapeutic target. Gastroenterology 141(6):2218–2227 e5

9.

Kim MP, Fleming JB, Wang H, Abbruzzese JL, Choi W, Kopetz S et al (2011) ALDH activity selectively defines an enhanced tumor-initiating cell population relative to CD133 expression in human pancreatic adenocarcinoma. PLoS ONE 6(6):e20636

10.

Lehnen NC, von Massenhausen A, Kalthoff H, Zhou H, Glowka T, Schutte U et al (2013) Fibroblast growth factor receptor 1 gene amplification in pancreatic ductal adenocarcinoma. Histopathology 63:157–166

11.

Ishiwata T, Matsuda Y, Yamamoto T, Uchida E, Korc M, Naito Z (2012) Enhanced expression of fibroblast growth factor receptor 2 IIIc promotes human pancreatic cancer cell proliferation. Am J Pathol 180(5):1928–1941

12.

Ornitz DM, Itoh N (2015) The fibroblast growth factor signaling pathway. Wiley Interdiscip Rev Dev Biol 4(3):215–266

13.

https://www.ncbi.nlm.nih.gov/geo/query/acc.cgi?acc=GSE28735. Accessed 3 June 2017

14.

https://string-db.org/cgi/network.pl? Accessed 4 June 2017

15.

https://www.ncbi.nlm.nih.gov/geo/query/acc.cgi?acc=GSE21501. Accessed 4 June 2017

16.

Scientific Framework for Pancreatic Ductal Adenocarcinoma (PDAC). NAtional CAncer Institute (2014) https://deainfo.nci.nih.gov/advisory/ctac/ workgroup/pc/ pdacframework.pdf. Accessed 11 April 2017

17.

Ellenrieder V, König A, Seufferlein T (2016) Current standard and future perspectives in first- and second-line treatment of metastatic pancreatic adenocarcinoma. Digestion 94(1):44–49

18.

Yee NS (2016) Immunotherapeutic approaches in pancreatic adenocarcinoma: current status and future perspectives. Curr Mol Pharmacol 9(3):231–241

19.

Adamska A, Domenichini A, Falasca M (2017) Pancreatic ductal adenocarcinoma: current and evolving therapies. Int J Mol Sci 18(7):E1338

20.

Ji W, Yu Y, Li Z, Wang G, Li F, Xia W, Lu S (2016) FGFR1 promotes the stem cell-like phenotype of FGFR1-amplified non-small cell lung cancer cells through the Hedgehog pathway. Oncotarget 7(12):15118–15134

21.

Anreddy N, Patel A, Sodani K, Kathawala RJ, Chen EP, Wurpel JN, Chen ZS (2014) PD173074, a selective FGFR inhibitor, reverses MRP7 (ABCC10)-mediated MDR. Acta Pharm Sin B 4(3):202–207. https://doi.org/10.1016/j.apsb.2014.02.003

22.

Jin Z, El-Deiry WS (2005) Overview of cell death signaling pathways. Cancer Biol Ther 4(2):139–163

23.

Oberoi-Khanuja TK, Murali A, Rajalingam K (2013) IAPs on the move: role of inhibitors of apoptosis proteins in cell migration. Cell Death Dis 4(9):e784. https://doi.org/10.1038/cddis.2013.311

24.

Gyrd-Hansen M, Meier P (2010) IAPs: aaafrom caspase inhibitors to modulators of NF-kappaB, inflammation and cancer. Nat Rev Cancer 10(8):561–574

25.

Lee HS, Moon C, Lee HW, Park EM, Cho MS, Kang JL (2007) Src tyrosine kinases mediate activations of NF-kappaB and integrin signal during lipopolysaccharide-induced acute lung injury. J Immunol 179(10):7001–7011

26.

Auciello G, Cunningham DL, Tatar T, Heath JK, Rappoport JZ (2013) Receptor of fibroblast growth receptor signaling and trafficking by Src and Eps8. J Cell Sci 126(2):613–624
Funding
This work was supported by National Science Council of Taiwan: Tsu-Yi Chao (MOST103-2325-B-038-002 and MOST105-2314-B038-080), and Wei-Hwa Lee (MOST 105-2320-B-038-054). This study was also supported by Grants from Taipei Medical University (105TMU-SHH-15) to Wei-Hwa Lee and grants from Taipei Medical University -National Taiwan University of Science and Technology Joint Research Program (TMU-NTUST-103-03) to Chi-Tai Yeh. Grants from Tri-Service General Hospital Penghu Branch, Penghu, Taiwan (TSGH-PH-105-3, TSGH-PH-106-4) to Shiue-Wei Lai.
Ethics declarations
Conflict of interest
All authors are working for either university or hospitals. We claim that we do not have any actual or potential conflict of interest including any financial, personal or other relationships with other people or organizations within three years of beginning the work submitted that could inappropriately influence our work.
Ethics approval
This study was conducted in a cohort of patients with pancreatic cancer who underwent pancreaticoduodenectomy at Tri-Service General Hospital, Taipei, Taiwan between January 2000 and December 2013. A predesigned data collection format was used to review the patients' medical records for evaluation of clinicopathologic characteristics and survival outcomes. The study was reviewed and approved by the institute review board (TSGHIRB 2-104-05-040).
Electronic supplementary material
Below is the link to the electronic supplementary material.
About this article
Cite this article
Lai, S., Bamodu, O.A., Tsai, W. et al. The therapeutic targeting of the FGFR1/Src/NF-κB signaling axis inhibits pancreatic ductal adenocarcinoma stemness and oncogenicity. Clin Exp Metastasis 35, 663–677 (2018). https://doi.org/10.1007/s10585-018-9919-5
Received:

Accepted:

Published:

Issue Date:
Keywords
Pancreatic cancer

FGFR1

PD173074

Selective inhibitor

Cancer stem cells

ALDH

FGFR1/Src/NF-κB signaling