Abstract
Bone is one of the most common sites for metastasis in breast cancer (BC). Micro-metastasis in bone marrow was detected in 30 % of patients with stage I, II, or III BC at primary surgery and is a strong indicator of poor prognosis. The role dietary soy isoflavones play in BC with bone micro-metastasis is unclear. In this study, we examined the effects of genistein, daidzein, (−)-equol or a mixture of soy isoflavones on BC with bone micro-metastasis using an experimental model of murine mammary cancer 4T1 cells engineered with luciferase. A small number (1000) of 4T1 cells were injected into the tibia of female Balb/c mice to establish micro-tumors in bone. Soy isoflavones were supplemented in the AIN-93G diet at 750 mg/kg and were provided to mice from 3 weeks before to 3 weeks after cell injection. Bioluminescent imaging was conducted on day 2 (D2), D6, D8, D16 and D20 post cell injection and the results indicated dietary soy isoflavones enhanced the growth of bone micro-tumors on D8. Furthermore, dietary soy isoflavones stimulated metastatic tumor formation in lungs and increased Ki-67 protein expression in these metastasized tumors. In vitro, soy isoflavones (<10 µM) had limited effects on the growth, motility or invasion of 4T1 cells. Thus, the in vivo stimulatory effect could be likely due to systemic effects between the host, 4T1 tumors and soy isoflavones. In conclusion, soy isoflavones stimulate BC with bone micro-metastasis in mice and further investigations are needed regarding their consumption by BC survivors.
Access options
Buy single article
Instant access to the full article PDF.
USD 39.95
Price excludes VAT (USA)
Tax calculation will be finalised during checkout.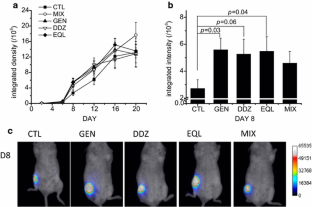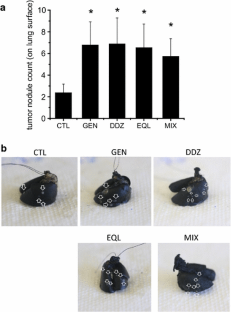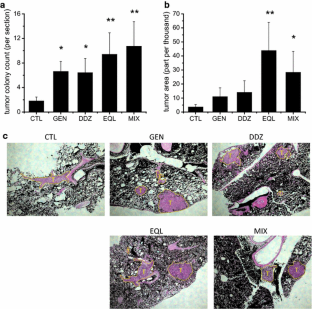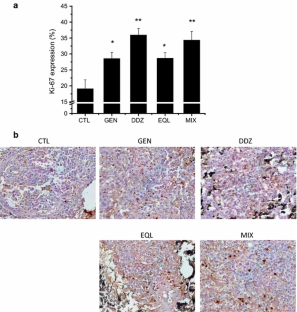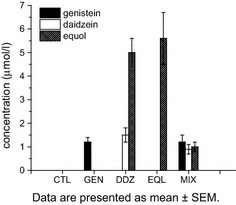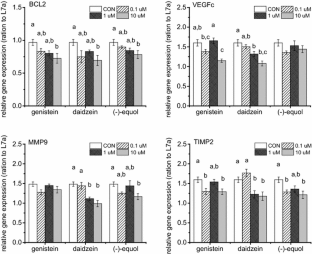 Abbreviations
BLI:

Bioluminescence imaging

BC:

Breast cancer

H&E:

Hematoxylin and eosin

GEN:

Genistein

DDZ:

Daidzein

EQL:

Equol

MIX:

Mixed isoflavones

HI-FBS:

Heat-Inactivated Fetal Bovine Serum
References
Pavese JM, Farmer RL, Bergan RC (2010) Inhibition of cancer cell invasion and metastasis by genistein. Cancer Metastasis Rev 29(3):465–482

Rosen PR, Groshen S, Saigo PE, Kinne DW, Hellman S (1989) A long-term follow-up study of survival in stage I (T1N0M0) and stage II (T1N1M0) breast carcinoma. J Clin Oncol 7(3):355–366

Lee YT (1985) Patterns of metastasis and natural courses of breast carcinoma. Cancer Metastasis Rev 4(2):153–172

Hagemeister FB Jr, Buzdar AU, Luna MA, Blumenschein GR (1980) Causes of death in breast cancer: a clinicopathologic study. Cancer 46(1):162–167

Jemal A, Murray T, Samuels A, Ghafoor A, Ward E, Thun MJ (2003) Cancer statistics. CA Cancer J Clin 53(1):5–26

Coleman RE (2006) Clinical features of metastatic bone disease and risk of skeletal morbidity. Clin Cancer Res 12(20 Pt 2):6243s–6249s. doi:10.1158/1078-0432.CCR-06-0931

Braun S, Vogl FD, Naume B, Janni W, Osborne MP, Coombes RC, Schlimok G, Diel IJ, Gerber B, Gebauer G, Pierga JY, Marth C, Oruzio D, Wiedswang G, Solomayer EF, Kundt G, Strobl B, Fehm T, Wong GY, Bliss J, Vincent-Salomon A, Pantel K (2005) A pooled analysis of bone marrow micrometastasis in breast cancer. N Engl J Med 353(8):793–802. doi:10.1056/NEJMoa050434

Lee HP, Gourley L, Duffy SW, Esteve J, Lee J, Day NE (1991) Dietary effects on breast-cancer risk in Singapore. Lancet 337(8751):1197–1200

Wu AH, Yu MC, Tseng CC, Pike MC (2008) Epidemiology of soy exposures and breast cancer risk. Br J Cancer 98(1):9–14

Messina M, Hilakivi-Clarke L (2009) Early intake appears to be the key to the proposed protective effects of soy intake against breast cancer. Nutr Cancer 61(6):792–798. doi:10.1080/01635580903285015

Allred CD, Allred KF, Ju YH, Virant SM, Helferich WG (2001) Soy diets containing varying amounts of genistein stimulate growth of estrogen-dependent (MCF-7) tumors in a dose-dependent manner. Cancer Res 61(13):5045–5050

Lloyd KB, Hornsby LB (2009) Complementary and alternative medications for women's health issues. Nutr Clin Pract 24(5):589–608

Tempfer CB, Froese G, Heinze G, Bentz EK, Hefler LA, Huber JC (2009) Side effects of phytoestrogens: a meta-analysis of randomized trials. Am J Med 122(10):939–946 e939

van Tonder E, Herselman MG, Visser J (2009) The prevalence of dietary-related complementary and alternative therapies and their perceived usefulness among cancer patients. J Hum Nutr Diet 22(6):528–535

Setchell KD (1998) Phytoestrogens: the biochemistry, physiology, and implications for human health of soy isoflavones. Am J Clin Nutr 68(6 Suppl):1333S–1346S

Yuan JP, Wang JH, Liu X (2007) Metabolism of dietary soy isoflavones to equol by human intestinal microflora–implications for health. Mol Nutr Food Res 51(7):765–781

Bowey E, Adlercreutz H, Rowland I (2003) Metabolism of isoflavones and lignans by the gut microflora: a study in germ-free and human flora associated rats. Food Chem Toxicol 41(5):631–636

Magee PJ, McGlynn H, Rowland IR (2004) Differential effects of isoflavones and lignans on invasiveness of MDA-MB-231 breast cancer cells in vitro. Cancer Lett 208(1):35–41

Shao ZM, Wu J, Shen ZZ, Barsky SH (1998) Genistein exerts multiple suppressive effects on human breast carcinoma cells. Cancer Res 58(21):4851–4857

Zhang Y, Zhu G, Gu S, Chen X, Hu H, Weng S (2010) Genistein inhibits osteolytic bone metastasis and enhances bone mineral in nude mice. Environ Toxicol Pharmacol 30(1):37–44. doi:10.1016/j.etap.2010.03.016

Martinez-Montemayor MM, Otero-Franqui E, Martinez J, De La Mota-Peynado A, Cubano LA, Dharmawardhane S (2010) Individual and combined soy isoflavones exert differential effects on metastatic cancer progression. Clin Exp Metastasis 27(7):465–480. doi:10.1007/s10585-010-9336-x

Zhang Y, Li Q, Chen H (2013) DNA methylation and histone modifications of Wnt genes by genistein during colon cancer development. Carcinogenesis 34(8):1756–1763. doi:10.1093/carcin/bgt129

Reeves PG, Nielsen FH, Fahey GC Jr (1993) AIN-93 purified diets for laboratory rodents: final report of the American Institute of Nutrition ad hoc writing committee on the reformulation of the AIN-76A rodent diet. J Nutr 123(11):1939–1951

Twaddle NC, Churchwell MI, Doerge DR (2002) High-throughput quantification of soy isoflavones in human and rodent blood using liquid chromatography with electrospray mass spectrometry and tandem mass spectrometry detection. J Chromatogr B Analyt Technol Biomed Life Sci 777(1–2):139–145

Hong X, Liu Y, Hu G, Zhao D, Shen J, Shen F, Cao X, Wang Q (2009) EBAG9 inducing hyporesponsiveness of T cells promotes tumor growth and metastasis in 4T1 murine mammary carcinoma. Cancer Sci 100(5):961–969

Lewis JD, Shearer MH, Kennedy RC, Bright RK (2005) Surrogate tumor antigen vaccination induces tumor-specific immunity and the rejection of spontaneous metastases. Cancer Res 65(7):2938–2946

Hiraga T, Williams PJ, Ueda A, Tamura D, Yoneda T (2004) Zoledronic acid inhibits visceral metastases in the 4T1/luc mouse breast cancer model. Clin Cancer Res 10(13):4559–4567

Muller A, Homey B, Soto H, Ge N, Catron D, Buchanan ME, McClanahan T, Murphy E, Yuan W, Wagner SN, Barrera JL, Mohar A, Verastegui E, Zlotnik A (2001) Involvement of chemokine receptors in breast cancer metastasis. Nature 410(6824):50–56

Ju YH, Fultz J, Allred KF, Doerge DR, Helferich WG (2006) Effects of dietary daidzein and its metabolite, equol, at physiological concentrations on the growth of estrogen-dependent human breast cancer (MCF-7) tumors implanted in ovariectomized athymic mice. Carcinogenesis 27(4):856–863

Jun JY, Griffith JW, Bruggeman R, Washington S, Demers LM, Verderame MF, Manni A (2008) Effects of polyamine depletion by alpha-difluoromethylornithine on in vitro and in vivo biological properties of 4T1 murine mammary cancer cells. Breast Cancer Res Treat 107(1):33–40

Allred CD, Twaddle NC, Allred KF, Goeppinger TS, Churchwell MI, Ju YH, Helferich WG, Doerge DR (2005) Soy processing affects metabolism and disposition of dietary isoflavones in ovariectomized BALB/c mice. J Agric Food Chem 53(22):8542–8550

Weiss L (1992) Comments on hematogenous metastatic patterns in humans as revealed by autopsy. Clin Exp Metastasis 10(3):191–199

Wiedswang G, Borgen E, Karesen R, Kvalheim G, Nesland JM, Qvist H, Schlichting E, Sauer T, Janbu J, Harbitz T, Naume B (2003) Detection of isolated tumor cells in bone marrow is an independent prognostic factor in breast cancer. J Clin Oncol 21(18):3469–3478. doi:10.1200/JCO.2003.02.009

Braun S, Pantel K, Muller P, Janni W, Hepp F, Kentenich CR, Gastroph S, Wischnik A, Dimpfl T, Kindermann G, Riethmuller G, Schlimok G (2000) Cytokeratin-positive cells in the bone marrow and survival of patients with stage I, II, or III breast cancer. N Engl J Med 342(8):525–533. doi:10.1056/NEJM200002243420801

Vantyghem SA, Wilson SM, Postenka CO, Al-Katib W, Tuck AB, Chambers AF (2005) Dietary genistein reduces metastasis in a postsurgical orthotopic breast cancer model. Cancer Res 65(8):3396–3403

Chen J, Thompson LU (2003) Lignans and tamoxifen, alone or in combination, reduce human breast cancer cell adhesion, invasion and migration in vitro. Breast Cancer Res Treat 80(2):163–170

Farina HG, Pomies M, Alonso DF, Gomez DE (2006) Antitumor and antiangiogenic activity of soy isoflavone genistein in mouse models of melanoma and breast cancer. Oncol Rep 16(4):885–891

Xu X, Wang HJ, Murphy PA, Cook L, Hendrich S (1994) Daidzein is a more bioavailable soymilk isoflavone than is genistein in adult women. J Nutr 124(6):825–832

Mathey J, Lamothe V, Coxam V, Potier M, Sauvant P, Pelissero CB (2006) Concentrations of isoflavones in plasma and urine of post-menopausal women chronically ingesting high quantities of soy isoflavones. J Pharm Biomed Anal 41(3):957–965

Chang HC, Churchwell MI, Delclos KB, Newbold RR, Doerge DR (2000) Mass spectrometric determination of Genistein tissue distribution in diet-exposed Sprague-Dawley rats. J Nutr 130(8):1963–1970

Banka CL, Lund CV, Nguyen MT, Pakchoian AJ, Mueller BM, Eliceiri BP (2006) Estrogen induces lung metastasis through a host compartment-specific response. Cancer Res 66(7):3667–3672

Yang X, Belosay A, Du M, Fan TM, Turner RT, Iwaniec UT, Helferich WG (2013) Estradiol increases ER-negative breast cancer metastasis in an experimental model. Clin Exp Metastasis 30(6):711–721. doi:10.1007/s10585-012-9559-0
Acknowledgments
This project was made possible by the National Cancer Institute Grant Number [CA77355] and [P50AT006268] to (WGH) from the National Center for Complementary and Alternative Medicines (NCCAM), the Office of Dietary Supplements (ODS) and the National Cancer Institute (NCI). Its contents are solely the responsibility of the authors and do not necessarily represent the official views of the NCCAM, ODS, NCI or the National Institutes of Health. In addition, the views expressed in this paper do not necessarily reflect those of the U.S. Food and Drug Administration.
Conflict of Interest
The authors declare that they have no conflict of interest.
Ethical approval
All procedures performed in the study involving animals were in accordance with the ethical standards of the IACUC of the UIUC.
Electronic supplementary material
Below is the link to the electronic supplementary material.
About this article
Cite this article
Yang, X., Belosay, A., Hartman, J.A. et al. Dietary soy isoflavones increase metastasis to lungs in an experimental model of breast cancer with bone micro-tumors. Clin Exp Metastasis 32, 323–333 (2015). https://doi.org/10.1007/s10585-015-9709-2
Received:

Accepted:

Published:

Issue Date:

DOI: https://doi.org/10.1007/s10585-015-9709-2
Keywords
Dietary soy isoflavones

Breast cancer

Bone micro-metastasis

Lung metastasis