Abstract
Recurrence and spread of ovarian cancer is the 5th leading cause of death for women in the United States. Focal adhesion kinase (FAK) is a cytoplasmic protein-tyrosine kinase located on chromosome 8q24.3 (gene is Ptk2), a site commonly amplified in serous ovarian cancer. Elevated FAK mRNA levels in serous ovarian carcinoma are associated with decreased (logrank P = 0.0007, hazard ratio 1.43) patient overall survival, but how FAK functions in tumor progression remains undefined. We have isolated aggressive ovarian carcinoma cells termed ID8-IP after intraperitoneal (IP) growth of murine ID8 cells in C57Bl6 mice. Upon orthotopic implantation within the peri-ovarian bursa space, ID8-IP cells exhibit greater tumor growth, local and distant metastasis, and elevated numbers of ascites-associated cells compared to parental ID8 cells. ID8-IP cells exhibit enhanced growth under non-adherent conditions with elevated FAK and c-Src tyrosine kinase activation compared to parental ID8 cells. In vitro, the small molecule FAK inhibitor (Pfizer, PF562,271, PF-271) at 0.1 uM selectively prevented anchorage-independent ID8-IP cell growth with the inhibition of FAK tyrosine (Y)397 but not c-Src Y416 phosphorylation. Oral PF-271 administration (30 mg/kg, twice daily) blocked FAK but not c-Src tyrosine phosphorylation in ID8-IP tumors. This was associated with decreased tumor size, prevention of peritoneal metastasis, reduced tumor-associated endothelial cell number, and increased tumor cell-associated apoptosis. FAK knockdown and re-expression assays showed that FAK activity selectively promoted anchorage-independent ID8-IP cell survival. These results support the continued evaluation of FAK inhibitors as a promising clinical treatment for ovarian cancer.
This is a preview of subscription content, log in to check access.
Access options
Buy single article
Instant access to the full article PDF.
US$ 39.95
Price includes VAT for USA
Subscribe to journal
Immediate online access to all issues from 2019. Subscription will auto renew annually.
US$ 199
This is the net price. Taxes to be calculated in checkout.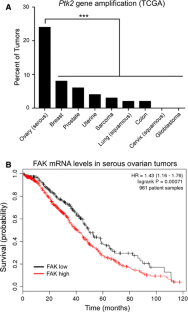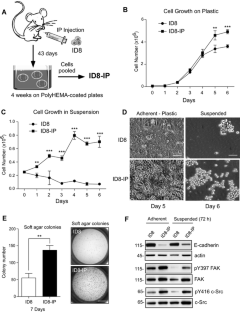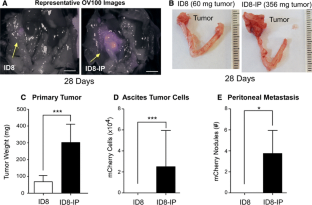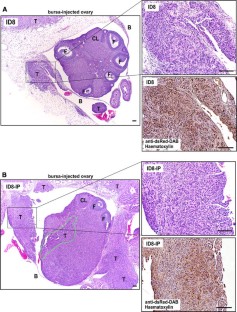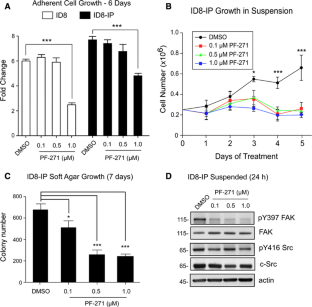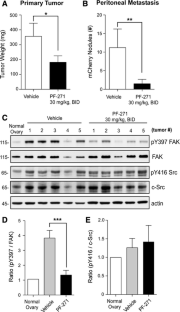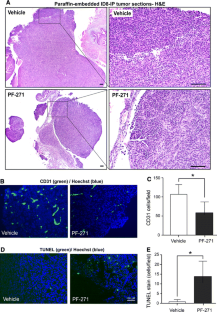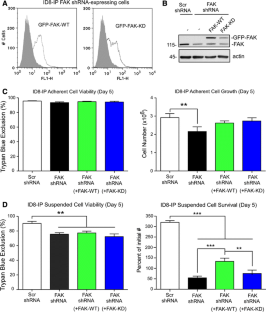 Abbreviations
ANOVA:

Analysis of variance

BSA:

Bovine serum albumin

DMSO:

Dimethylsulfoxide

EDTA:

Ethylenediaminetetraacetic acid

FACS:

Fluorescence-activated cell sorting

FAK:

Focal adhesion kinase

FBS:

Fetal bovine serum

FITC:

Fluorescein isothiocyanate

GFP:

Green fluorescent protein

IP:

Intraperitoneal

KD:

Kinase dead

OCT:

Optimal cutting temperature

PBS:

Phosphate-buffered saline

PF-271:

PF-562,271

PFA:

Paraformaldehyde

Poly-HEMA:

Polyhydroxyethylmethacrylate

Scr:

Scrambled

shRNA:

Short hairpin RNA

TUNEL:

Terminal deoxynucleotidyl transferase dUTP nick end labeling

WT:

Wild type
References
1.

Siegel R, Naishadham D, Jemal A (2012) Cancer statistics, 2012. CA Cancer J Clin 62:10–29

2.

Agarwal R, Kaye SB (2003) Ovarian cancer: strategies for overcoming resistance to chemotherapy. Nat Rev Cancer 3:502–516

3.

Bast RC Jr, Hennessy B, Mills GB (2009) The biology of ovarian cancer: new opportunities for translation. Nature Rev Cancer 9:415–428

4.

Cannistra SA (2004) Cancer of the ovary. N Engl J Med 351:2519–2529

5.

Landen CN Jr, Birrer MJ, Sood AK (2008) Early events in the pathogenesis of epithelial ovarian cancer. J Clin Oncol 26:995–1005

6.

Shield K, Ackland ML, Ahmed N, Rice GE (2009) Multicellular spheroids in ovarian cancer metastases: biology and pathology. Gynecol Oncol 113:143–148

7.

Lengyel E (2010) Ovarian cancer development and metastasis. Am J Pathol 177:1053–1064

8.

Berns EM, Bowtell DD (2012) The changing view of high-grade serous ovarian cancer. Cancer Res 72:2701–2704

9.

Zhao J, Guan JL (2009) Signal transduction by focal adhesion kinase in cancer. Cancer Met Rev 28:35–49

10.

Schaller MD (2010) Cellular functions of FAK kinases: insight into molecular mechanisms and novel functions. J Cell Sci 123:1007–1013

11.

Lim ST, Chen XL, Lim Y, Hanson DA, Vo TT, Howerton K, Larocque N, Fisher SJ, Schlaepfer DD, Ilic D (2008) Nuclear FAK promotes cell proliferation and survival through FERM-enhanced p53 degradation. Mol Cell 29:9–22

12.

Lim ST, Miller NL, Chen XL, Tancioni I, Walsh CT, Lawson C, Uryu S, Weis SM, Cheresh DA, Schlaepfer DD (2012) Nuclear-localized focal adhesion kinase regulates inflammatory VCAM-1 expression. J Cell Biol 197:907–919

13.

Goode EL, Chenevix-Trench G, Song H, Ramus SJ, Notaridou M, Lawrenson K, Widschwendter M, Vierkant RA, Larson MC, Kjaer SK, Birrer MJ, Berchuck A, Schildkraut J, Tomlinson I, Kiemeney LA, Cook LS, Gronwald J, Garcia-Closas M, Gore ME, Campbell I, Whittemore AS, Sutphen R, Phelan C, Anton-Culver H, Pearce CL, Lambrechts D, Rossing MA, Chang-Claude J, Moysich KB, Goodman MT, Dork T, Nevanlinna H, Ness RB, Rafnar T, Hogdall C, Hogdall E, Fridley BL, Cunningham JM, Sieh W, McGuire V, Godwin AK, Cramer DW, Hernandez D, Levine D, Lu K, Iversen ES, Palmieri RT, Houlston R, van Altena AM, Aben KK, Massuger LF, Brooks-Wilson A, Kelemen LE, Le ND, Jakubowska A, Lubinski J, Medrek K, Stafford A, Easton DF, Tyrer J, Bolton KL, Harrington P, Eccles D, Chen A, Molina AN, Davila BN, Arango H, Tsai YY, Chen Z, Risch HA, McLaughlin J, Narod SA, Ziogas A, Brewster W, Gentry-Maharaj A, Menon U, Wu AH, Stram DO, Pike MC, Beesley J, Webb PM, Chen X, Ekici AB, Thiel FC, Beckmann MW, Yang H, Wentzensen N, Lissowska J, Fasching PA, Despierre E, Amant F, Vergote I, Doherty J, Hein R, Wang-Gohrke S, Lurie G, Carney ME, Thompson PJ, Runnebaum I, Hillemanns P, Durst M, Antonenkova N, Bogdanova N, Leminen A, Butzow R, Heikkinen T, Stefansson K, Sulem P, Besenbacher S, Sellers TA, Gayther SA, Pharoah PD (2010) A genome-wide association study identifies susceptibility loci for ovarian cancer at 2q31 and 8q24. Nat Genet 42:874–879

14.

Network TCGAR (2011) Integrated genomic analyses of ovarian carcinoma. Nature 474:609–615

15.

Judson PL, He X, Cance WG, Van L (1999) Overexpression of focal adhesion kinase, a protein tyrosine kinase, in ovarian carcinoma. Cancer 86:1551–1556

16.

Sood AK, Coffin JE, Schneider GB, Fletcher MS, DeYoung BR, Gruman LM, Gershenson DM, Schaller MD, Hendrix MJ (2004) Biological significance of focal adhesion kinase in ovarian cancer: role in migration and invasion. Am J Pathol 165:1087–1095

17.

Halder J, Landen CN Jr, Lutgendorf SK, Li Y, Jennings NB, Fan D, Nelkin GM, Schmandt R, Schaller MD, Sood AK (2005) Focal adhesion kinase silencing augments docetaxel-mediated apoptosis in ovarian cancer cells. Clin Cancer Res 11:8829–8836

18.

Halder J, Kamat AA, Landen CN Jr, Han LY, Lutgendorf SK, Lin YG, Merritt WM, Jennings NB, Chavez-Reyes A, Coleman RL, Gershenson DM, Schmandt R, Cole SW, Lopez-Berestein G, Sood AK (2006) Focal adhesion kinase targeting using in vivo short interfering RNA delivery in neutral liposomes for ovarian carcinoma therapy. Clin Cancer Res 12:4916–4924

19.

Sood AK, Armaiz-Pena GN, Halder J, Nick AM, Stone RL, Hu W, Carroll AR, Spannuth WA, Deavers MT, Allen JK, Han LY, Kamat AA, Shahzad MM, McIntyre BW, Diaz-Montero CM, Jennings NB, Lin YG, Merritt WM, DeGeest K, Vivas-Mejia PE, Lopez-Berestein G, Schaller MD, Cole SW, Lutgendorf SK (2010) Adrenergic modulation of focal adhesion kinase protects human ovarian cancer cells from anoikis. J Clin Invest 120:1515–1523

20.

Schilder RJ, Brady WE, Lankes HA, Fiorica JV, Shahin MS, Zhou XC, Mannel RS, Pathak HB, Hu W, Alpaugh RK, Sood AK, Godwin AK (2012) Phase II evaluation of dasatinib in the treatment of recurrent or persistent epithelial ovarian or primary peritoneal carcinoma: A Gynecologic Oncology Group study. Gynecol Oncol 127:70–74

21.

Roberts WG, Ung E, Whalen P, Cooper B, Hulford C, Autry C, Richter D, Emerson E, Lin J, Kath J, Coleman K, Yao L, Martinez-Alsina L, Lorenzen M, Berliner M, Luzzio M, Patel N, Schmitt E, LaGreca S, Jani J, Wessel M, Marr E, Griffor M, Vajdos F (2008) Antitumor activity and pharmacology of a selective focal adhesion kinase inhibitor, PF-562,271. Cancer Res 68:1935–1944

22.

Halder J, Lin YG, Merritt WM, Spannuth WA, Nick AM, Honda T, Kamat AA, Han LY, Kim TJ, Lu C, Tari AM, Bornmann W, Fernandez A, Lopez-Berestein G, Sood AK (2007) Therapeutic efficacy of a novel focal adhesion kinase inhibitor TAE226 in ovarian carcinoma. Cancer Res 67:10976–10983

23.

Tanjoni I, Walsh C, Uryu S, Nam JO, Mielgo A, Tomar A, Lim ST, Liang C, Koenig M, Sun C, Kwok C, Patel N, McMahon G, Stupack DG, Schlaepfer DD (2010) PND-1186 FAK inhibitor selectively promotes tumor cell apoptosis in three-dimensional environments. Cancer Biol Ther 9:764–777

24.

Walsh C, Tanjoni I, Uryu S, Nam JO, Mielgo A, Tomar A, Luo H, Phillips A, Kwok C, Patel N, McMahon G, Stupack DG, Schlaepfer DD (2010) Oral delivery of PND-1186 FAK inhibitor decreases tumor growth and spontaneous breast to lung metastasis in pre-clinical tumor models. Cancer Biol Ther 9:778–790

25.

Infante JR, Camidge DR, Mileshkin LR, Chen EX, Hicks RJ, Rischin D, Fingert H, Pierce KJ, Xu H, Roberts WG, Shreeve SM, Burris HA, Siu LL (2012) Safety, pharmacokinetic, and pharmacodynamic phase I dose-escalation trial of PF-00562271, an inhibitor of focal adhesion kinase, in advanced solid tumors. J Clin Oncol 30:1527–1533

26.

Bagi CM, Roberts GW, Andresen CJ (2008) Dual focal adhesion kinase/Pyk2 inhibitor has positive effects on bone tumors: implications for bone metastases. Cancer 112:2313–2321

27.

Wendt MK, Schiemann WP (2009) Therapeutic targeting of the focal adhesion complex prevents oncogenic TGF-beta signaling and metastasis. Breast Cancer Res 11:R68

28.

Bagi CM, Christensen J, Cohen DP, Roberts WG, Wilkie D, Swanson T, Tuthill T, Andresen CJ (2009) Sunitinib and PF-562,271 (FAK/Pyk2 inhibitor) effectively block growth and recovery of human hepatocellular carcinoma in a rat xenograft model. Cancer Biol Ther 8:856–865

29.

Slack-Davis JK, Hershey ED, Theodorescu D, Frierson HF, Parsons JT (2009) Differential requirement for focal adhesion kinase signaling in cancer progression in the transgenic adenocarcinoma of mouse prostate model. Mol Cancer Ther 8:2470–2477

30.

Sun H, Pisle S, Gardner ER, Figg WD (2010) Bioluminescent imaging study: fAK inhibitor, PF-562,271, preclinical study in PC3 M-luc-C6 local implant and metastasis xenograft models. Cancer Biol Ther 10:38–43

31.

Stokes JB, Adair SJ, Slack-Davis JK, Walters DM, Tilghman RW, Hershey ED, Lowrey B, Thomas KS, Bouton AH, Hwang RF, Stelow EB, Parsons JT, Bauer TW (2011) Inhibition of focal adhesion kinase by PF-562,271 inhibits the growth and metastasis of pancreatic cancer concomitant with altering the tumor microenvironment. Mol Cancer Ther 10:2135–2145

32.

Serrels A, McLeod K, Canel M, Kinnaird A, Graham K, Frame MC, Brunton VG (2012) The role of focal adhesion kinase catalytic activity on the proliferation and migration of squamous cell carcinoma cells. Int J Cancer 131:287–297

33.

Schultze A, Fiedler W (2010) Therapeutic potential and limitations of new FAK inhibitors in the treatment of cancer. Exp Opin Invest Drugs 19:777–788

34.

Roby KF, Taylor CC, Sweetwood JP, Cheng Y, Pace JL, Tawfik O, Persons DL, Smith PG, Terranova PF (2000) Development of a syngeneic mouse model for events related to ovarian cancer. Carcinogenesis 21:585–591

35.

Lim ST, Chen XL, Tomar A, Miller NL, Yoo J, Schlaepfer DD (2010) Knock-in mutation reveals an essential role for focal adhesion kinase activity in blood vessel morphogenesis and cell motility-polarity but not cell proliferation. J Biol Chem 285:21526–21536

36.

Bernard-Trifilo JA, Lim ST, Hou S, Schlaepfer DD, Ilic D (2006) Analyzing FAK and Pyk2 in early integrin signaling events. Current protocols in cell biology 14: Unit 14.17

37.

Connolly DC, Hensley HH (2009) Xenograft and transgenic mouse models of epithelial ovarian cancer and non invasive imaging modalities to monitor ovarian tumor growth in situ -applications in evaluating novel therapeutic agents. Curr Protoc Pharmacol 45:1–14

38.

Gyorffy B, Lanczky A, Szallasi Z (2012) Implementing an online tool for genome-wide validation of survival-associated biomarkers in ovarian-cancer using microarray data from 1287 patients. Endocr Relat Cancer 19:197–208

39.

Agochiya M, Brunton VG, Owens DW, Parkinson EK, Paraskeva C, Keith WN, Frame MC (1999) Increased dosage and amplification of the focal adhesion kinase gene in human cancer cells. Oncogene 18:5646–5653

40.

Mitra SK, Lim ST, Chi A, Schlaepfer DD (2006) Intrinsic focal adhesion kinase activity controls orthotopic breast carcinoma metastasis via the regulation of urokinase plasminogen activator expression in a syngeneic tumor model. Oncogene 25:4429–4440

41.

Mitra SK, Mikolon D, Molina JE, Hsia DA, Hanson DA, Chi A, Lim ST, Bernard-Trifilo JA, Ilic D, Stupack DG, Cheresh DA, Schlaepfer DD (2006) Intrinsic FAK activity and Y925 phosphorylation facilitate an angiogenic switch in tumors. Oncogene 25:5969–5984

42.

Weis SM, Lim ST, Lutu-Fuga KM, Barnes LA, Chen XL, Göthert JR, Shen TL, Guan JL, Schlaepfer DD, Cheresh DA (2008) Compensatory role for Pyk2 during angiogenesis in adult mice lacking endothelial cell FAK. J Cell Biol 181:43–50

43.

Thiery JP, Acloque H, Huang RY, Nieto MA (2009) Epithelial–mesenchymal transitions in development and disease. Cell 139:871–890

44.

Greenaway J, Moorehead R, Shaw P, Petrik J (2008) Epithelial–stromal interaction increases cell proliferation, survival and tumorigenicity in a mouse model of human epithelial ovarian cancer. Gynecol Oncol 108:385–394

45.

Bosch R, Moreno MJ, Dieguez-Gonzalez R, Cespedes MV, Gallardo A, Nomdedeu J, Pavon MA, Espinosa I, Mangues MA, Sierra J, Casanova I, Mangues R (2012) Subcutaneous passage increases cell aggressiveness in a xenograft model of diffuse large B cell lymphoma. Clin Exp Metastasis 29:339–347

46.

McLean GW, Komiyama NH, Serrels B, Asano H, Reynolds L, Conti F, Hodivala-Dilke K, Metzger D, Chambon P, Grant SG, Frame MC (2004) Specific deletion of focal adhesion kinase suppresses tumor formation and blocks malignant progression. Genes Dev 18:2998–3003

47.

Pylayeva Y, Gillen KM, Gerald W, Beggs HE, Reichardt LF, Giancotti FG (2009) Ras- and PI3 K-dependent breast tumorigenesis in mice and humans requires focal adhesion kinase signaling. J Clin Investig 119:252–266

48.

Luo M, Fan H, Nagy T, Wei H, Wang C, Liu S, Wicha MS, Guan JL (2009) Mammary epithelial-specific ablation of the focal adhesion kinase suppresses mammary tumorigenesis by affecting mammary cancer stem/progenitor cells. Cancer Res 69:466–474

49.

Sawada K, Ohyagi-Hara C, Kimura T, Morishige K (2012) Integrin inhibitors as a therapeutic agent for ovarian cancer. J oncol 2012:915140

50.

Sandilands E, Serrels B, McEwan DG, Morton JP, Macagno JP, McLeod K, Stevens C, Brunton VG, Langdon WY, Vidal M, Sansom OJ, Dikic I, Wilkinson S, Frame MC (2012) Autophagic targeting of Src promotes cancer cell survival following reduced FAK signalling. Nat Cell Biol 14:51–60

51.

Schultze A, Decker S, Otten J, Horst AK, Vohwinkel G, Schuch G, Bokemeyer C, Loges S, Fiedler W (2010) TAE226-mediated inhibition of focal adhesion kinase interferes with tumor angiogenesis and vasculogenesis. Investig New Drugs 28:825–833

52.

Lim S-T, Mikolon D, Stupack DG, Schlaepfer DD (2008) FERM control of FAK function: implications for cancer therapy. Cell Cycle 7:2306–2314

53.

Cabrita MA, Jones LM, Quizi JL, Sabourin LA, McKay BC, Addison CL (2011) Focal adhesion kinase inhibitors are potent anti-angiogenic agents. Mol Oncol 5:517–526

54.

Zhao X, Peng X, Sun S, Park AY, Guan JL (2010) Role of kinase-independent and -dependent functions of FAK in endothelial cell survival and barrier function during embryonic development. J Cell Biol 189:955–965

55.

Chen XL, Nam JO, Jean C, Lawson C, Walsh CT, Goka E, Lim ST, Tomar A, Tancioni I, Uryu S, Guan JL, Acevedo LM, Weis SM, Cheresh DA, Schlaepfer DD (2012) VEGF-induced vascular permeability is mediated by FAK. Dev Cell 22:146–157

56.

Maccio A, Madeddu C (2012) Inflammation and ovarian cancer. Cytokine 58:133–147

57.

Schlaepfer DD, Hou S, Lim ST, Tomar A, Yu H, Lim Y, Hanson DA, Uryu SA, Molina J, Mitra SK (2007) Tumor necrosis factor-alpha stimulates focal adhesion kinase activity required for mitogen-activated kinase-associated interleukin 6 expression. J Biol Chem 282:17450–17459
Acknowledgments
We appreciate the generosity of Joan Wyllie and "Nine Girls Ask?" for the purchase of a ViCell XR cell viability analyzer and a Leica CM1950 cryostat used in this study. PND-1186 was obtained from Poniard Pharmaceuticals. This work was supported by National Institutes of Health grants (CA102310 and GM087400) to D.D. Schlaepfer. K. Ward is a fellow of the UCSD Reproductive Medicine Gynecological Oncology program. I. Tancioni was supported by a grant from Susan G. Komen for the Cure (KG111237), C. Lawson was supported by a Canadian Institutes of Health Research fellowship (200810MFE-193594-139144), N.L.G. Miller was supported by a National Research Service Award (1F32CA159558), C. Jean was supported by an American Heart Association fellowship (12POST11760014), and D. Stupack was supported by National Institutes of Health grant (CA107263). The authors declare that they have no conflict of interest.
Additional information
Kristy K. Ward and Isabelle Tancioni contributed equally to this study.
Electronic supplementary material
Below is the link to the electronic supplementary material.
Pharmacological FAK inhibition affects growth of human ovarian cancer cell lines. IGROV1, SVOK3, HEY, A2780, and 2008 cells were grown in suspended conditions on ultra-low adherence poly-HEMA plates and treated with 1 μM FAK inhibitor (PND-1186) or DMSO (control) for 72 hours. Values are means (+/- SD) performed in triplicate (**p<0.01; ***p<0.001) (TIF 8840 kb)
Oral administration of PND-1186 FAK inhibitor prevents ID8-IP tumor growth. (A) mCherry-labeled ID8-IP tumor cells were bursal-injected and after 7 days, vehicle or PND-1186 (150 mg/kg) were administered by oral gavage twice-daily (BID). Mice were euthanized after 28 days and (A) primary tumor weight was determined for mice treated with vehicle (n=9) or PND-1186 (n=9). (B) Peritoneal-associated metastatic tumor sites were quantified by counting mCherry-positive nodules as visualized by OV100 imaging. (A and B) Values are means (+/- SD) (* p<0.05, ** p<0.01). (C) Evaluation of FAK Y397 phosphorylation (pY397), total FAK, and total actin levels by immunoblotting using normal ovary tissue or ID8-IP tumors from 5 independent vehicle- or PND-1186-treated mice. (D) Ratio of pY397 phosphorylated FAK to total FAK levels normalized to normal ovary (set to 1) and determined by densitometry using Image J (n= 5 per group, *** p<0.001) (TIF 15656 kb)
Transient GFP expression in Scrambled (Scr) and anti-FAK shRNA ID8-IP cells. Flow cytometry shows GFP (open histogram) or background cell fluorescence (dark histogram) following lentiviral transduction and cell expansion (TIF 15377 kb)
About this article
Cite this article
Ward, K.K., Tancioni, I., Lawson, C. et al. Inhibition of focal adhesion kinase (FAK) activity prevents anchorage-independent ovarian carcinoma cell growth and tumor progression. Clin Exp Metastasis 30, 579–594 (2013). https://doi.org/10.1007/s10585-012-9562-5
Received:

Accepted:

Published:

Issue Date:
Keywords
Ovarian cancer

Focal adhesion kinase

Cell survival

Anchorage-independent cell growth

Orthotopic tumor growth

Metastasis

Syngeneic tumor model