Abstract
Climate change has unequal impacts on socially disadvantaged communities around the globe, including within major emitting nations such as the United States. But to what extent does the public recognize these inequities? We report results from two national-level surveys of US adults conducted in May and August–September 2022 (N = 2101 total) that asked respondents whether climate change affects "some groups more than others" or "all groups about equally," and that experimentally tested how referencing specific social categories (e.g., "some racial groups more than others…") affected responses. Results suggest low recognition of climate inequities among the US public, with only 37 to 44% of respondents correctly recognizing that climate change affects "some groups more than others" across the two surveys. Furthermore, despite robust evidence of the role of race as a determinant of climate-related inequities, just 22% of respondents acknowledged race-based climate inequities. Recognition of climate inequities was greater among younger respondents, those with more education, Hispanic respondents, and Democrats. Nevertheless, baseline levels of recognition were low, with fewer than one-third of Democrats and those with a 4-year college or post-graduate degree recognizing race-based inequities. We consider implications of this pervasive "great equalizer" perception for mobilizing public support for policies aimed at addressing climate injustice.
Access options
Buy single article
Instant access to the full article PDF.
USD 39.95
Price excludes VAT (USA)
Tax calculation will be finalised during checkout.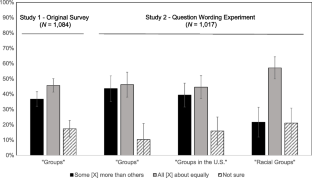 Data availability
All data and study documentation will be made available through the Roper Center for Public Opinion Research at Cornell University.
Notes
This response pattern was largely similar when broken out by race of the respondent, with 35% of Black, 29% of Latino, and 24% of White respondents indicating that climate change is "more likely to impact people of color."

This is the final analytic sample size. In accordance with our IRB permissions, nine respondents (six from Study 1 and three from Study 2) were omitted from analysis because they indicated their age was less than 18 years.
References
Axios (2021) Axios-Ipsos Hard Truths Environmental Racism Poll, Question 36 [31118660.00035]. Ipsos. Roper Center for Public Opinion Research, Cornell University, Ithaca, NY

Ballew MT, Pearson AR, Schuldt JP, Kotcher JE, Maibach EW, Rosenthal SA, Leiserowitz A (2021) Is the political divide on climate change narrower for people of color? Evidence from a decade of US polling. J Environ Psychol 77:101680

Benegal SD (2018) The spillover of race and racial attitudes into public opinion about climate change. Environ Politics 27(4):733–756

Benegal S, Azevedo F, Holman MR (2022) Race, ethnicity, and support for climate policy. Environ Res Lett 17(11):114060

Bergquist P, Mildenberger M, Stokes LC (2020) Combining climate, economic, and social policy builds public support for climate action in the U.S. Environ Res Lett 15:054019

Bromley-Trujillo R, Holman MR (2020) Climate change policymaking in the states: a view at 2020. Publius: The J Federal 50(3):446–472

Bugden D (2022) Environmental inequality in the American mind: the problem of color-blind environmental racism. Soc Problems. https://doi.org/10.1093/socpro/spac005/6540708

Bullard RD (1990) Dumping in Dixie. Westview Press, Boulder, CO

Bullard RD (1993) The threat of environmental racism. Nat Resour Environ 7(3):23–56

Carman J, Lu D, Low J, Leiserowitz A, Barendregt-Ludwig K, Marlon J, Rosenthal S, Goldberg M, Maibach E, Kotcher J, Torres G (2022) Exploring support for climate justice policies in the United States. Yale Program on Climate Change Communication, New Haven, CT

Carmichael JT, Brulle RJ (2018) Media use and climate change concern. Int J Media Cultural Politics 14(2):243–253

Diffenbaugh NS, Burke M (2019) Global warming has increased global economic inequality. Proc Natl Acad Sci 116(20):9808–9813

Dietz T, Duan R, Nalley J, Van Witsen A (2018) Social support for water quality: the influence of values and symbolic racism. Human Ecol Rev 24(1):51–70

Doherty C (2015) Remembering Katrina: wide racial divide over government's response. Pew Research Center. https://www.pewresearch.org/fact-tank/2015/08/27/remembering-katrina-wide-racial-divide-over-governments-response/. Accessed 18 Jan 2023

Doherty TJ, Clayton S (2011) The psychological impacts of global climate change. Am Psychol 66(4):265–276

Dunlap RE, McCright AM, Yarosh JH (2016) The political divide on climate change: partisan polarization widens in the US. Environment: Sci Policy Sustain Dev 58(5):4–23

Enns PK, Rothschild J (2021) Revisiting the "gold standard" of polling: new methods outperformed traditional ones in 2020. 3Streams. Available online at https://medium.com/3streams/revisiting-the-gold-standard-of-polling-new-methods-outperformed-traditional-ones-in-2020-451650a9ba5b. Accessed 13 Jan 2023

Fernandez M (2018) A year after Hurricane Harvey, Houston's poorest neighborhoods are slowest to recover. New York Times. Available online at https://www.nytimes.com/2018/09/03/us/hurricane-harvey-houston.html. Accessed 9 Dec 2022

Flores AB, Collins TW, Grineski SE, Griego AL, Mullen C, Nadybal SM, Renteria R, Rubio R, Shaker Y, Trego SA (2021) Environmental injustice in the disaster cycle: Hurricane Harvey and the Texas Gulf Coast. Environ Justice 14(2):146–158

GenForward Survey (2019) Climate change. Available online at https://genforwardsurvey.com/download/?did=247. Accessed 4 Oct 2022

Grigoriadis E (2018) Climate change isn't the great equalizer. The Link. Available online at https://thelinknewspaper.ca/article/climate-change-isnt-the-great-equalizer. Accessed 4 Oct 2022

Hamilton LC (2011) Education, politics and opinions about climate change evidence for interaction effects. Climatic Change 104(2):231–242

Hauser OP, Norton MI (2017) (Mis) perceptions of inequality. Curr Opin Psychol 18:21–25

Hsu A, Sheriff G, Chakraborty T, Manya D (2021) Disproportionate exposure to urban heat island intensity across major U.S. cities. Nature. Communications 12(1):1–11. https://doi.org/10.1038/s41467-021-22799-5

IPCC (2022) In: Pörtner H-O, Roberts DC, Tignor M, Poloczanska ES, Mintenbeck K, Alegría A, Craig M, Langsdorf S, Löschke S, Möller V, Okem A, Rama B (eds) Climate change 2022: impacts, adaptation, and vulnerability. Contribution of Working Group II to the Sixth Assessment Report of the Intergovernmental Panel on Climate Change. Cambridge University Press, Cambridge, UK and New York, NY, USA, p 3056. https://doi.org/10.1017/9781009325844

Islam N, Winkel J (2017) Climate change and social inequality. DESA Working Paper No. 152

Jasny L, Fisher DR (2022) How networks of social movement issues motivate climate resistance. Soc Netw. https://doi.org/10.1016/j.socnet.2022.02.002

Kraus MW, Onyeador IN, Daumeyer NM, Rucker JM, Richeson JA (2019) The misperception of racial economic inequality. Perspect Psychol Sci 14(6):899–921

Kraus MW, Rucker JM, Richeson JA (2017) Americans misperceive racial economic equality. Proc Natl Acad Sci 114(39):10324–10331

Martinez G (2022) Climate change affects everyone: Europe battles wildfires in intense heat. The Guardian. Available at https://www.reuters.com/business/environment/spain-portugal-battle-wildfires-heatwaves-scorch-southern-europe-2022-07-17/. Accessed  9 Dec 2022

Miller Hesed CD, Paolisso M (2015) Cultural knowledge and local vulnerability in African American communities. Nat Clim Change 5(7):683–687. https://doi.org/10.1038/nclimate2668

Myers TA, Maibach EW, Roser-Renouf C, Akerlof K, Leiserowitz AA (2013) The relationship between personal experience and belief in the reality of global warming. Nat Clim Change 3(4):343–347

National Academies of Sciences, Engineering, and Medicine (2022) In: Berkower C, Ulman A, Reich A (eds) Communities, climate change, and health equity: proceedings of a workshop in brief. National Academies Press. https://doi.org/10.17226/26435

Nguyen TT, Criss S, Michaels EK, Cross RI, Michaels JS, Dwivedi P et al (2021) Progress and push-back: how the killings of Ahmaud Arbery, Breonna Taylor, and George Floyd impacted public discourse on race and racism on Twitter. SSM-Population Health 15:100922

Onyeador IN, Daumeyer NM, Rucker JM, Duker A, Kraus MW, Richeson JA (2021) Disrupting beliefs in racial progress: reminders of persistent racism alter perceptions of past, but not current, racial economic equality. Person Soc Psychol Bull 47(5):753–765

Owen WF, Carmona R, Pomeroy C (2020) Failing another national stress test on health disparities. JAMA 323(19):1905–1906

PRRI (2014) American Academy of Religion/Ford Foundation/Nathan Cummings Foundation/PRRI Poll: September 2014, Question 21 [USPRRI.112114.R16B]. Roper Center for Public Opinion Research. Public Religion Research Institute. Cornell University, Ithaca, NY

Pearson AR, Schuldt JP, Romero-Canyas R, Ballew MT, Larson-Konar D (2018) Diverse segments of the US public underestimate the environmental concerns of minority and low-income Americans. Proc Natl Acad Sci 115(49):12429–12434

Pearson AR, Bacio GA, Naiman S, Romero-Canyas R, Schuldt JP (2021) Cultural determinants of climate change opinion: familism predicts climate beliefs and policy support among US Latinos. Clim Change 167(11):1–8

Pearson AR, White KE, Nogueira L, Lewis NA Jr, Green DJ, Schuldt JP, Edmondson D (2023) Climate change and health equity: a research agenda for psychological science. Am Psychol 78(2):244–258

Pew Research Center (2021) Deep divisions in Americans' views of nation's racial history – and how to address it. Available online at https://www.pewresearch.org/politics/2021/08/12/deep-divisions-in-americans-views-of-nations-racial-history-and-how-to-address-it/. Accessed 3 Oct 2022

Rasmussen A, Mäder LK, Reher S (2018) With a little help from the people? The role of public opinion in advocacy success. Comp Political Stud 51(2):139–164

Reny TT, Newman BJ (2021) The opinion-mobilizing effect of social protest against police violence: evidence from the 2020 George Floyd protests. Am Pol Sci Rev 115(4):1499–1507

Rhodes A, Bresbis M (2022) How Hurricane Ian and other disasters are becoming a growing source of inequality—even among the middle class. The Conversation. Available online at https://theconversation.com/how-hurricane-ian-and-other-disasters-are-becoming-a-growing-source-of-inequality-even-among-the-middle-class-191637. Accessed 13 Jan 2023

Schuldt JP, Pearson AR, Lewis NA Jr, Jardina A, Enns PK (2022) Inequality and misperceptions of group concerns threaten the integrity and societal impact of science. Ann Am Acad Political Soc Sci 700(1):195–207

Shonkoff SB, Morello-Frosch R, Pastor M, Sadd J (2009) Minding the climate gap: environmental health and equity implications of climate change mitigation policies in California. Environ Justice 2(4):173–177

Spence A, Poortinga W, Pidgeon N (2012) The psychological distance of climate change. Risk Anal 32(6):957–972

Sullivan JN, Eberhardt JL, Roberts SO (2021) Conversations about race in Black and White US families: before and after George Floyd's death. Proc Natl Acad Sci 118(38):e2106366118

Tessum CW, Apte JS, Goodkind AL, Muller NZ, Mullins KA, Paolella DA, Polasky S, Springer NP, Thakrar SK, Marshall JD, Hill JD (2019) Inequity in consumption of goods and services adds to racial–ethnic disparities in air pollution exposure. Proc Natl Acad Sci 116(13):6001–6006

Tessum CW, Paolella DA, Chambliss SE, Apte JS, Hill JD, Marshall JD (2021) PM2.5 polluters disproportionately and systemically affect people of color in the United States. Science. Advances 7(18):4491–4519. https://doi.org/10.1126/sciadv.abf4491

Third Way, WE ACT for Environmental Justice, GreenLatinos (2022) Black and Latino/x communities' sentiment on climate change and the clean energy transition. Available online at https://www.weact.org/publications/poll-of-black-and-latino-x-communities-on-climate-change-and-the-clean-energy-transition/. Accessed 13 Jan 2023

Thomas K, Hardy RD, Lazrus H, Mendez M, Orlove B, Rivera-Collazo I et al (2019) Explaining differential vulnerability to climate change: a social science review. Wiley Interdiscip Rev Clim Change 10(2):e565

Tyson A, Kennedy B, Funk C (2021) Gen Z, millennials stand out for climate change activism, social media engagement with issue. Available online at https://www.pewresearch.org/science/2021/05/26/gen-z-millennials-standout-for-climate-change-activism-social-media-engagement-with-issue/. Accessed 15 May  2023

U.S. Centers for Disease Control and Prevention (2022). Risk for COVID-19 infection, hospitalization, and death by race/ethnicity. Available online at https://www.cdc.gov/coronavirus/2019-ncov/covid-data/investigations-discovery/hospitalization-death-by-race-ethnicity.html. Accessed August 12, 2022

U.S. Environmental Protection Agency (2021) Climate change and social vulnerability in the United States: a focus on six impacts. Available online at https://www.epa.gov/cira/social-vulnerability-report. Accessed 4 Oct 2022

Xu Y, Farkouh EK, Dunetz CA, Varanasi SL, Mathews S, Gollust SE et al (2022) Local TV news coverage of racial disparities in COVID-19 during the first wave of the pandemic, March–June 2020. Race Soc Probl 15(2):201–213
Funding
This research was supported by grants from the Cornell Center for Social Sciences and the Einhorn Center for Community Engagement at Cornell University.
Ethics declarations
Competing interests
The authors declare no competing interests.
Additional information
Publisher's note
Springer Nature remains neutral with regard to jurisdictional claims in published maps and institutional affiliations.
Supplementary information
Rights and permissions
Springer Nature or its licensor (e.g. a society or other partner) holds exclusive rights to this article under a publishing agreement with the author(s) or other rightsholder(s); author self-archiving of the accepted manuscript version of this article is solely governed by the terms of such publishing agreement and applicable law.
About this article
Cite this article
Schuldt, J.P., Pearson, A.R. Public recognition of climate change inequities within the United States. Climatic Change 176, 114 (2023). https://doi.org/10.1007/s10584-023-03594-1
Received:

Accepted:

Published:

DOI: https://doi.org/10.1007/s10584-023-03594-1
Keywords