Abstract
Nowhere is the partisan politicization of science more pronounced than on the subject of climate change, with Republican and Democratic voters divided on whether climate change exists and how to address it. Existing research tends to explain the partisan climate gap through a process of manufactured doubt, with a network of corporate and conservative organizations using their considerable resources to spread denial about climate science among conservative and Republican voters. I argue that this explanation is incomplete and inconsistent with recent sociological research on scientific conflicts. I explore an alternative hypothesis for the partisan climate gap: distrust in science. I apply a Kitagawa-Blinder-Oaxaca decomposition analysis to a large non-probability sample of Democrats and Republicans (n = 1808) to examine the relative contributions of climate science denial and scientific distrust to the partisan climate gap. Results show that lower levels of trust in science among Republicans explain a larger amount of the partisan climate gap than does climate science denial, though the magnitude of the difference in relative contribution varies by specific policy. These findings suggest that understanding the partisan climate gap requires extending our view beyond the climate change countermovement and toward a broader examination of the anti-scientific dimensions of the US conservative movement. I conclude by discussing how focusing on distrust, in conjunction with science denial, can enrich the study of climate change and science communication.
Access options
Buy single article
Instant access to the full article PDF.
USD 39.95
Price excludes VAT (USA)
Tax calculation will be finalised during checkout.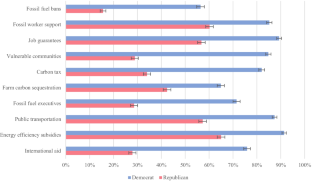 Data availability
Available upon reasonable request to the author.
Code availability
Available upon reasonable request to the author.
Notes
Following Gauchat (2012), science here is defined as "a group of people, the organizations they belong to, and the professional boundary that central institutions in society agree is a source of credible expertise." By science denial, I refer here to the "denial, skepticism, contrarianism, anti-science, doubt, dismissal" of scientific evidence through techniques such as "conspiracy theories, reliance on fake experts, selectivity in picking papers that in isolation seem to support claims, impossible expectations of what research can deliver, and misrepresentation and outright logical fallacies" (Björnberg et al. 2017). This is what Norgaard (2011) refers to as literal denial. Alternatively, other scholars emphasize ignorance rather than denial as a lens through which to understand the public's response to climate change. While this is important and insightful literature, I treat it as a parallel set of ideas that address a unique set of social process that reach beyond questions of literal denial of climate science at the individual level and toward the processes through which "organizations can deliberately preclude, obfuscate, and deflect knowledge from emerging." (Bowden, Nyberg, and Wright 2021:399).

A table depicting the data against US census benchmarks can be found in the online supplementary materials.

The alternative was also examined: where "not sure" was included with "support" to create an "oppose" variable rather than a "support" variable. This alternate structure for the dependent variable does not yield meaningfully different results. The partisan gap drops from 3.79 to 3.43, though these estimates are not statistically significantly different from one another. Additional, only one minor change occurs for which factors explain the partisan gap: affective polarization explains 1.4% of the partisan gap in this alternate model, while it has no explanatory power for the original composite policy model (Table 2).
References
Arceneaux K, Johnson M (2013) Changing minds or changing channels?: partisan news in an age of choice. University of Chicago Press

Ballew, Matthew T., Anthony Leiserowitz, Connie Roser-Renouf, Seth A. Rosenthal, John E. Kotcher, Jennifer R. Marlon, Erik Lyon, Matthew H. Goldberg, and Edward W. Maibach. 2019. "Climate change in the american mind: data, tools, and trends." Environment: Science and Policy for Sustainable Development 61(3):4–18. https://doi.org/10.1080/00139157.2019.1589300.

Barker DC, Bearce DH (2013) End-times theology, the shadow of the future, and public resistance to addressing global climate change. Polit Res Q 66(2):267–279. https://doi.org/10.1177/1065912912442243

Beall L, Myers TA, Kotcher JE, Vraga EK, Maibach EW (2017) Controversy matters: impacts of topic and solution controversy on the perceived credibility of a scientist who advocates. PLoS ONE 12(11):e0187511. https://doi.org/10.1371/journal.pone.0187511

Beck, Ulrich. 1992. Risk society: towards a new modernity. 1st edition. London ; Newbury Park, Calif: SAGE Publications Ltd.

Björnberg KE, Karlsson M, Gilek M, Hansson SO (2017) Climate and environmental science denial: a review of the scientific literature published in 1990–2015. J Clean Prod 167:229–241. https://doi.org/10.1016/j.jclepro.2017.08.066

Blumenthal, Sidney. 1986. The rise of the counter-establishment by sidney blumenthal. Crown.

Bolsen T, Druckman JN, Cook FL (2014) The influence of partisan motivated reasoning on public opinion. Polit Behav 36(2):235–262. https://doi.org/10.1007/s11109-013-9238-0

Boussalis C, Coan TG (2016) Text-mining the signals of climate change doubt. Glob Environ Chang 36:89–100. https://doi.org/10.1016/j.gloenvcha.2015.12.001

Bowden V, Nyberg D, Wright C (2021) 'I don't think anybody really knows': constructing reflexive ignorance in climate change adaptation. Br J Sociol 72(2):397–411. https://doi.org/10.1111/1468-4446.12818

Brulle RJ (2014) Institutionalizing delay: foundation funding and the creation of U.S. climate change counter-movement organizations. Clim Change 122(4):681–694. https://doi.org/10.1007/s10584-013-1018-7

Brulle, Robert J. 2019. "Networks of opposition: a structural analysis of U.S. Climate Change Countermovement Coalitions 1989–2015." Sociological Inquiry n/a(n/a). https://doi.org/10.1111/soin.12333.

Brulle, Robert J. 2020. "Denialism: organized opposition to climate change action in the United States." Handbook of U.S. Environmental Policy.

Bugden D (2020) Does climate protest work? Partisanship, Protest, and sentiment pools. Socius 6:2378023120925949. https://doi.org/10.1177/2378023120925949

Busch T, Judick L (2021) Climate change—that is not real! A comparative analysis of climate-sceptic think tanks in the USA and Germany. Clim Change 164(1):18. https://doi.org/10.1007/s10584-021-02962-z

Cann HW, Raymond L (2018) Does climate denialism still matter? The Prevalence of alternative frames in opposition to climate policy. Environmental Politics 27(3):433–454. https://doi.org/10.1080/09644016.2018.1439353

Carmichael JT, Brulle RJ (2017) Elite cues, media coverage, and public concern: an integrated path analysis of public opinion on climate change, 2001–2013. Environmental Politics 26(2):232–252. https://doi.org/10.1080/09644016.2016.1263433

Chmielewski M, Kucker SC (2020) An MTurk crisis? Shifts in data quality and the impact on study results. Social Psychological and Personality Science 11(4):464–473. https://doi.org/10.1177/1948550619875149

Clinton, J., J. Cohen, J. Lapinski, and M. Trussler. 2021. "Partisan pandemic: how partisanship and public health concerns affect individuals' social mobility during COVID-19." Science Advances 7(2):eabd7204. https://doi.org/10.1126/sciadv.abd7204.

Cologna V, Knutti R, Oreskes N, Siegrist M (2021) Majority of German citizens, US citizens and climate scientists support policy advocacy by climate researchers and expect greater political engagement. Environ Res Lett 16(2):024011. https://doi.org/10.1088/1748-9326/abd4ac

Cologna V, Siegrist M (2020) The role of trust for climate change mitigation and adaptation behaviour: a meta-analysis. J Environ Psychol 69:101428. https://doi.org/10.1016/j.jenvp.2020.101428

Cook, John. 2016. "Countering climate science denial and communicating scientific consensus." Oxford Research Encyclopedia of Climate Science. Retrieved April 23, 2021 (https://oxfordre.com/climatescience/view/10.1093/acrefore/9780190228620.001.0001/acrefore-9780190228620-e-314).

Dillman DA, Smyth JD, Christian LM (2014) Internet, phone, mail, and mixed-mode surveys: the tailored design method, 4th edn. Wiley, Hoboken

Doell, Kimberly, Philip Pärnamets, Elizabeth Ann Harris, Leor Hackel, and Jay J. Van Bavel. 2021. "Understanding the effects of partisan identity on climate change."

Druckman JN, Levendusky MS (2019) What do we measure when we measure affective polarization? Public Opin Q 83(1):114–122. https://doi.org/10.1093/poq/nfz003

Druckman JN, McGrath MC (2019) The evidence for motivated reasoning in climate change preference formation. Nat Clim Chang 9(2):111–119. https://doi.org/10.1038/s41558-018-0360-1

Dunlap, Riley E., Aaron M. McCright, and Jerrod H. Yarosh. 2016. "The political divide on climate change: partisan polarization widens in the U.S." Environment: Science and Policy for Sustainable Development 58(5):4–23. https://doi.org/10.1080/00139157.2016.1208995.

Ecklund, Elaine Howard, and Christopher P. Scheitle. 2017. Religion vs. science: what religious people really think. Oxford University Press.

Ehret PJ, Van Boven L, Sherman DK (2018) Partisan barriers to bipartisanship: understanding climate policy polarization. Social Psychological and Personality Science 9(3):308–318. https://doi.org/10.1177/1948550618758709

Evans, John H. 2018. Morals not knowledge: recasting the contemporary U.S. conflict between religion and science.

Fairlie RW (2005) An extension of the Blinder-Oaxaca decomposition technique to logit and probit models. J Econ Soc Meas 30(4):305–316

Farrell J (2016a) Corporate funding and ideological polarization about climate change. Proc Natl Acad Sci 113(1):92–97. https://doi.org/10.1073/pnas.1509433112

Farrell J (2016b) Network structure and influence of the climate change counter-movement. Nat Clim Chang 6(4):370–374. https://doi.org/10.1038/nclimate2875

Frickel S (2018) Political scientists. Sociol Forum 33(1):234–238. https://doi.org/10.1111/socf.12393

Frickel, Scott, and Kelly Moore. 2006. The new political sociology of science: institutions, networks, and power. Univ of Wisconsin Press.

Gauchat G (2012) Politicization of science in the public sphere: a study of public trust in the United States, 1974 to 2010. Am Sociol Rev 77(2):167–187. https://doi.org/10.1177/0003122412438225

Gauchat GW (2008) A test of three theories of anti-science attitudes. Sociol Focus 41(4):337–357. https://doi.org/10.1080/00380237.2008.10571338

Giddens A (1991) The consequences of modernity, 1st edn. Stanford University Press, Stanford, Calif

Gollwitzer A, Martel C, Brady WJ, Pärnamets P, Freedman IG, Knowles ED, Van Bavel JJ (2020) Partisan differences in physical distancing are linked to health outcomes during the COVID-19 pandemic. Nat Hum Behav 4(11):1186–1197. https://doi.org/10.1038/s41562-020-00977-7

Gross N, Medvetz T, Russell R (2011) The contemporary American conservative movement. Ann Rev Sociol 37(1):325–354. https://doi.org/10.1146/annurev-soc-081309-150050

Gustafson A, Rosenthal SA, Ballew MT, Goldberg MH, Bergquist P, Kotcher JE, Maibach EW, Leiserowitz A (2019) The development of partisan polarization over the green new deal. Nat Clim Chang 9(12):940–944. https://doi.org/10.1038/s41558-019-0621-7

Haltinner, Kristin, and Dilshani Sarathchandra. 2021. "The nature and nuance of climate change skepticism in the United States*." Rural Sociology n/a(n/a). https://doi.org/10.1111/ruso.12371.

Hamilton LC, Hartter J, Saito K (2015) Trust in scientists on climate change and vaccines. SAGE Open 5(3):2158244015602752. https://doi.org/10.1177/2158244015602752

Hart PS, Nisbet EC (2012) Boomerang effects in science communication: how motivated reasoning and identity cues amplify opinion polarization about climate mitigation policies. Commun Res 39(6):701–723. https://doi.org/10.1177/0093650211416646

Herrick CN (2001) Junk science and environmental policy: obscuring public debate with misleading discourse. Philosophy and Public Policy Quarterly 21(2/3):11–16. https://doi.org/10.13021/G8pppq.212001.359

Holton GJ (1993) Science and anti-science. Harvard University Press

Hornsey MJ (2020) Flux in scepticism raises hopes. Nat Clim Chang 10(4):274–275. https://doi.org/10.1038/s41558-020-0721-4

Hornsey MJ, Harris EA, Bain PG, Fielding KS (2016) Meta-analyses of the determinants and outcomes of belief in climate change. Nat Clim Chang 6(6):622

Huber GA, Malhotra N (2016) Political homophily in social relationships: evidence from online dating behavior. The Journal of Politics 79(1):269–283. https://doi.org/10.1086/687533

Huddy L, Mason L, Aarøe L (2015) Expressive partisanship: campaign involvement, political emotion, and partisan identity. American Political Science Review 109(1):1–17. https://doi.org/10.1017/S0003055414000604

Iyengar S, Krupenkin M (2018) The strengthening of partisan affect. Polit Psychol 39(S1):201–218. https://doi.org/10.1111/pops.12487

Iyengar S, Lelkes Y, Levendusky M, Malhotra N, Westwood SJ (2019) The origins and consequences of affective polarization in the United States. Annu Rev Polit Sci 22(1):129–146. https://doi.org/10.1146/annurev-polisci-051117-073034

Iyengar S, Sood G, Lelkes Y (2012) Affect, not ideology: a social identity perspective on polarization. Public Opin Q 76(3):405–431. https://doi.org/10.1093/poq/nfs038

Iyengar S, Westwood SJ (2015) Fear and loathing across party lines: new evidence on group polarization. American Journal of Political Science 59(3):690–707. https://doi.org/10.1111/ajps.12152

Jacques PJ, Dunlap RE, Freeman M (2008) The organisation of denial: conservative think tanks and environmental scepticism. Environmental Politics 17(3):349–385. https://doi.org/10.1080/09644010802055576

Jann B (2008) The Blinder-Oaxaca decomposition for linear regression models. Stand Genomic Sci 8(4):453–479

Jasanoff S (2004) States of knowledge: the co-production of science and the social order. Routledge

Jenkins W, Berry E, Kreider LB (2018) Religion and climate change. Annu Rev Environ Resour 43(1):85–108. https://doi.org/10.1146/annurev-environ-102017-025855

Jenkins-Smith HC, Ripberger JT, Silva CL, Carlson DE, Gupta K, Carlson N, Ter-Mkrtchyan A, Dunlap RE (2020) Partisan asymmetry in temporal stability of climate change beliefs. Nat Clim Chang 10(4):322–328. https://doi.org/10.1038/s41558-020-0719-y

Kahan D (2012) Why we are poles apart on climate change. Nature News 488(7411):255. https://doi.org/10.1038/488255a

Kim ChangHwan (2010) Decomposing the change in the wage gap between White and Black Men over time, 1980–2005: an extension of the Blinder-Oaxaca Decomposition Method. Sociological Methods & Research 38(4):619–651. https://doi.org/10.1177/0049124110366235

Kozlowski, Austin C. 2021. "How conservatives lost confidence in science: the role of ideological alignment in political polarization." Social Forces (soab020). https://doi.org/10.1093/sf/soab020.

Krosnick, Jon, and Bo MacInnis. 2020. Climate insights 2020: Partisan Divide.

Kuhn TS (1962) The structure of scientific revolutions. University of Chicago Press, Chicago, IL

Latour B, Woolgar S (2013) Laboratory life: the construction of scientific facts. Princeton University Press

Lee JJ (2021) Party polarization and trust in science: what about Democrats? Socius 7:23780231211010100. https://doi.org/10.1177/23780231211010101

Lenz, Gabriel S. 2012. Follow the leader?: How voters respond to politicians' policies and performance. Chicago ; London: University of Chicago Press.

Luhmann N (2018) Trust and power. John Wiley & Sons

Lupia A (2006) How elitism undermines the study of voter competence. Crit Rev 18(1–3):217–232. https://doi.org/10.1080/08913810608443658

MacKendrick N (2017) Out of the labs and into the streets: scientists get political. Sociol Forum 32(4):896–902. https://doi.org/10.1111/socf.12366

Mann M, Schleifer C (2020) Love the Science, hate the scientists: conservative identity protects belief in science and undermines trust in scientists. Soc Forces 99(1):305–332. https://doi.org/10.1093/sf/soz156

Mason L (2018) Uncivil Agreement: how politics became our identity. University of Chicago Press

Mayer A (2019) Partisanship, politics, and the energy transition in the United States: a critical review and conceptual framework. Energy Res Soc Sci 53:85–88. https://doi.org/10.1016/j.erss.2019.02.022

McCright AM, Dentzman K, Charters M, Dietz T (2013a) The influence of political ideology on trust in science. Environ Res Lett 8(4):044029. https://doi.org/10.1088/1748-9326/8/4/044029

McCright AM, Dunlap RE (2003) Defeating Kyoto: the conservative movement's impact on U.S. Climate Change Policy. Soc Probl 50(3):348–373. https://doi.org/10.1525/sp.2003.50.3.348

McCright AM, Dunlap RE (2010) Anti-reflexivity. Theory Cult Soc 27(2–3):100–133. https://doi.org/10.1177/0263276409356001

McCright AM, Dunlap RE (2011) The politicization of climate change and polarization in the American Public's Views of Global Warming, 2001–2010. Sociol Q 52(2):155–194. https://doi.org/10.1111/j.1533-8525.2011.01198.x

McCright AM, Dunlap RE, Xiao C (2013b) Perceived scientific agreement and support for government action on climate change in the USA. Clim Change 119(2):511–518. https://doi.org/10.1007/s10584-013-0704-9

Merkley E, Stecula DA (2018) Party elites or manufactured doubt? The Informational context of climate change polarization. Sci Commun 40(2):258–274. https://doi.org/10.1177/1075547018760334

Merkley, Eric, and Dominik A. Stecula. 2020. "Party cues in the news: democratic elites, republican backlash, and the dynamics of climate skepticism." British Journal of Political Science 1–18https://doi.org/10.1017/S0007123420000113

Merton RK (1938) Science and the social order. Philosophy of Science 5(3):321–337. https://doi.org/10.1086/286513

Mooney C (2005) The Republican war on science. Basic Books

Moser SC (2016) Reflections on Climate Change Communication Research and Practice in the Second Decade of the 21st Century: What More Is There to Say? Wires Clim Change 7(3):345–369. https://doi.org/10.1002/wcc.403

Myers TA, Kotcher J, Stenhouse N, Anderson AA, Maibach E, Beall L, Leiserowitz A (2017) Predictors of trust in the general science and climate science research of US Federal Agencies. Public Underst Sci 26(7):843–860. https://doi.org/10.1177/0963662516636040

Norgaard KM (2011) Living in denial: climate change, emotions, and everyday life. MIT Press

O'Brien TL, Noy S (2015) Traditional, modern, and post-secular perspectives on science and religion in the United States. Am Sociol Rev 80(1):92–115. https://doi.org/10.1177/0003122414558919

Oreskes, Naomi, and Erik M. Conway. 2011. Merchants of doubt: how a handful of scientists obscured the truth on issues from tobacco smoke to global warming. Bloomsbury Publishing USA.

Palan S, Schitter C (2018) Prolific.Ac—a subject pool for online experiments. J Behav Exp Financ 17:22–27. https://doi.org/10.1016/j.jbef.2017.12.004

Peer E, Brandimarte L, Samat S, Acquisti A (2017) Beyond the Turk: alternative platforms for crowdsourcing behavioral research. J Exp Soc Psychol 70:153–163. https://doi.org/10.1016/j.jesp.2017.01.006

Peterson E (2019) The scope of partisan influence on policy opinion. Polit Psychol 40(2):335–353. https://doi.org/10.1111/pops.12495

Rogowski JC, Sutherland JL (2016) How ideology fuels affective polarization. Polit Behav 38(2):485–508. https://doi.org/10.1007/s11109-015-9323-7

Schnaiberg A (1980) The environment: from surplus to scarcity. Oxford University Press, New York

Schwadel P, Johnson E (2017) The religious and political origins of evangelical protestants' opposition to environmental spending. J Sci Study Relig 56(1):179–198. https://doi.org/10.1111/jssr.12322

Slothuus, Rune, and Martin Bisgaard. 2020. "How political parties shape public opinion in the real world." American Journal of Political Science n/a(n/a). https://doi.org/10.1111/ajps.12550.

Smith EK, Mayer A (2019) Anomalous anglophones? Contours of free market ideology, political polarization, and climate change attitudes in English-speaking countries, Western European and Post-Communist States. Clim Change 152(1):17–34. https://doi.org/10.1007/s10584-018-2332-x

Sniderman PM, Stiglitz EH (2012) The reputational premium: a theory of party identification and policy reasoning. Princeton University Press

Stokes LC (2020) Short circuiting policy: interest groups and the battle over clean energy and climate policy in the American States. Oxford University Press

Sturgis P, Allum N (2004) Science in society: re-evaluating the deficit model of public attitudes. Public Underst Sci 13(1):55–74. https://doi.org/10.1177/0963662504042690

Tesler M (2018) Elite domination of public doubts about climate change (not evolution). Polit Commun 35(2):306–326. https://doi.org/10.1080/10584609.2017.1380092

White L (1967) The historical roots of our ecologic crisis. Science 155(3767):1203–1207
Acknowledgements
The author thanks Dr. Mariana Amorim for her considerable assistance with the analysis.
Ethics declarations
Ethics approval
The Institutional Review Board of Washington State University declared the enclosed study exempt.
Consent to participate
Participants were provided with an informed consent form prior to participation in this survey.
Consent for publication
The author consents to publication.
Conflict of interest
The author declares no competing interests.
Additional information
Publisher's Note
Springer Nature remains neutral with regard to jurisdictional claims in published maps and institutional affiliations.
Supplementary Information
Below is the link to the electronic supplementary material.
About this article
Cite this article
Bugden, D. Denial and distrust: explaining the partisan climate gap. Climatic Change 170, 34 (2022). https://doi.org/10.1007/s10584-022-03321-2
Received:

Accepted:

Published:

DOI: https://doi.org/10.1007/s10584-022-03321-2
Keywords
Partisanship

Climate policy

Climate denial

Trust