Abstract
The expectation of a seasonally ice-free Arctic by mid-century has sparked economic and geopolitical interest in potential Arctic opportunities and risks. But substantial sea ice variability across timescales suggests an uncertain future for forecasts of marine accessibility, especially over operational (< 2 years) and infrastructural (> 5 years) time spans that significantly influence decision-makers planning ship routing, emergency management, port investment, and more. Here, we use three marine accessibility schemes applied to CMIP6 scenarios to quantify Arctic shipping season variability and uncertainty across these decision-relevant timescales. We compare route projections across climate models and accessibility schemes to show that the choice of methodology significantly affects information important for decision-making. We find high variability and uncertainty in voyage time notably in the critical "shoulder" seasons on both timescales. This leads to increased risk over the next several decades, with high short-term uncertainty particularly at the end of the shipping season for the next 25 years. Navigation risk is expected to decline from 2045 onward. Knowledge that accounts for sea ice variability, simulation quality, and accessibility algorithm allows for better investment decisions and the minimization of unforeseen costs due to delayed and canceled voyages. Here we develop and demonstrate a framework for developing more timely and salient information to guide decisions on Arctic shipping relevant to both operational and infrastructural horizons as climate projections become spatially and physically better resolved.
Access options
Buy single article
Instant access to the full article PDF.
USD 39.95
Price excludes VAT (USA)
Tax calculation will be finalised during checkout.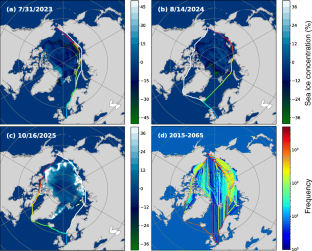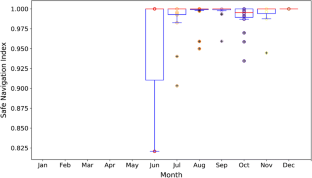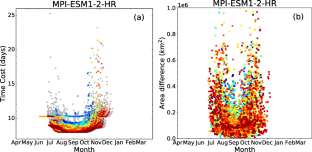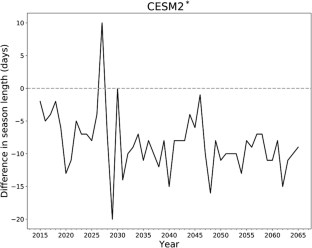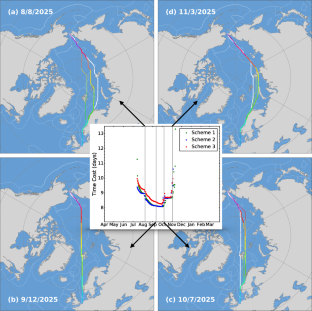 References
Aksenov Y, Popova EE, Yool A, Nurser AJG, Williams TD, Bertino L, Bergh J (2017) On the future navigability of Arctic sea routes: high-resolution projections of the Arctic Ocean and sea ice. Mar Policy 75:300–317

Bailey DA, Holland MM, DuVivier AK, Hunke EC, Turner AK (2020) Impact of a new sea ice thermodynamic formulation in the CESM2 sea ice component. J Adv Model Earth Syst 12:e2020MS002154

Bekkers E, Francois JF, Rojas-Romagosa H (2018) Melting ice caps and the economic impact of opening the Northern Sea Route. Econ J 128:1095–1127

Bennett MM, Stephenson SR, Yang K, Bravo MT, De Jonghe B (2020) The opening of the Transpolar Sea Route: logistical, geopolitical, environmental, and socioeconomic impacts. Mar Policy 121:104178

Bonan DB, Lehner F, Holland MM (2021) Partitioning uncertainty in projections of Arctic sea ice. Environ Res Lett 16:044002

Brigham L (2015) Future perspective: the maritime Arctic in 2050. Fletcher F World Aff 39:109

Brigt D, Berit K (2018) Post-petroleum security in a changing Arctic: narratives and trajectories towards viable futures. Arct Rev 9:244–261. https://doi.org/10.23865/arctic.v9.1251

Christiansen M, Fagerholt K, Ronen D (2004) Ship routing and scheduling: status and perspectives. Transp Sci 38:1–18

Cooley SW, Ryan JC, Smith LC, Horvat C, Pearson B, Dale B, Lynch AH (2020) Coldest Canadian Arctic communities face greatest reductions in shorefast sea ice. Nat Clim Chang 10:533–538

Davy R, Outten S (2020) The Arctic surface climate in CMIP6: status and developments since CMIP5. J Clim 33:8047–8068

Day JJ, Tietsche S, Hawkins E (2014) Pan-Arctic and regional sea ice predictability: initialization month dependence. J Clim 27:4371–4390

Eicken H (2013) Arctic sea ice needs better forecasts. Nature 497:431–433

Fedi L, Etienne L, Faury O, Rigot-Müller P, Stephenson S, Cheaitou A (2018) Stakes, benefits, and limits of POLARIS system for arctic navigation. J Ocean Technol 13:54–67

Fedi L, Faury O, Etienne L (2020) Mapping and analysis of maritime accidents in the Russian Arctic through the lens of the Polar Code and POLARIS system. Mar Policy 118:103984

Fiedler T, Pitman AJ, Mackenzie K, Wood N, Jakob C, Perkins-Kirkpatrick SE (2021) Business risk and the emergence of climate analytics. Nat Clim Chang 11:87–94

Flato G, Marotzke J, Abiodun B, Braconnot P, Chou SC, Collins W, Cox P, Driouech F, Emori S, Eyring V (2014) Evaluation of climate models. Climate change 2013: the physical science basis. Contribution of Working Group I to the Fifth Assessment Report of the Intergovernmental Panel on Climate Change. Cambridge University Press, Cambridge, pp 741-866

Goldstein MA, Lynch AH, Yan R, Veland S, Tallieri W (2021) Regional reinvention and economic viability in a changing Arctic. Proc Natl Acad Sci (In review)

Gunnarsson B (2021) Recent ship traffic and developing shipping trends on the Northern Sea Route—policy implications for future arctic shipping. Mar Policy 124:104369

Gunnarsson B, Moe A (2021) Ten years of international shipping on the Northern Sea Route: trends and challenges. Arct Rev 12:4–30. https://doi.org/10.23865/arctic.v12.2614

Hauser DDW, Laidre KL, Stern HL (2018) Vulnerability of Arctic marine mammals to vessel traffic in the increasingly ice-free Northwest Passage and Northern Sea Route. Proc Natl Acad Sci 115:7617–7622

Hausfather Z, Peters GP (2020) Emissions - the 'business as usual' story is misleading. Nature 577:618–620

Hawkins E, Sutton R (2009) The potential to narrow uncertainty in regional climate predictions. Bull Am Meteorol Soc 90:1095–1108

Holland MM, Landrum L, Bailey D, Vavrus S (2019) Changing seasonal predictability of Arctic summer sea ice area in a warming climate. J Clim 32:4963–4979

Hunke EC, Hebert DA, Lecomte O (2013) Level-ice melt ponds in the Los Alamos sea ice model, CICE. Ocean Model 71:26–42

IMO (2016) Guidance on methodologies for assessing operational capabilities and limitations in ice. MSC.1/Circ.1519, 6 June, 2016. Retrieved from: https://www.nautinst.org/uploads/assets/uploaded/2f01665c-04f7-4488-802552e5b5db62d9.pdf

Izaguirre C, Losada IJ, Camus P, Vigh JL, Stenek V (2020) Climate change risk to global port operations. Nat Clim Chang 11:14–20. https://doi.org/10.1038/s41558-020-00937-z

Khon VC, Mokhov II, Semenov VA (2017) Transit navigation through Northern Sea Route from satellite data and CMIP5 simulations. Environ Res Lett 12:024010

Labe Z, Magnusdottir G, Stern H (2018) Variability of Arctic sea ice thickness using PIOMAS and the CESM Large Ensemble. J Clim 31:3233–3247

Landrum L, Holland MM (2020) Extremes become routine in an emerging new Arctic. Nat Clim Chang 10:1108–1115

Li X, Lynch AH, Bailey DA, Stephenson SR, Veland S (2021) The impact of black carbon emissions from projected Arctic shipping on regional ice transport. Clim Dyn. https://doi.org/10.1007/s00382-021-05814-9

Liu M, Kronbak J (2010) The potential economic viability of using the Northern Sea Route (NSR) as an alternative route between Asia and Europe. J Transp Geogr 18:434–444

Lynch AH, Serreze MC, Cassano EN, Crawford AD, Stroeve J (2016) Linkages between Arctic summer circulation regimes and regional sea ice anomalies. J Geophys Res-Atmos 121:7868–7880

Massonnet F, Vancoppenolle M, Goosse H, Docquier D, Fichefet T, Blanchard-Wrigglesworth E (2018) Arctic sea-ice change tied to its mean state through thermodynamic processes. Nat Clim Chang 8:599–603

Melia N, Haines K, Hawkins E (2016) Sea ice decline and 21st century trans-Arctic shipping routes. Geophys Res Lett 43:9720–9728

Mills CM, Walsh JE (2014) Synoptic activity associated with sea ice variability in the Arctic. J Geophys Res-Atmos 119:12,117–112,131

National Snow and Ice Data Center (2020) Northern Sea Route shipping rises as sea ice falls. November 2020. Retrieved from https://nsidc.org/arcticseaicenews/2020/11/

Perrette M, Yool A, Quartly GD, Popova EE (2011) Near-ubiquity of ice-edge blooms in the Arctic. Biogeosciences 8:515–524

Petrick S, Riemann-Campe K, Hoog S, Growitsch C, Schwind H, Gerdes R, Rehdanz K (2017) Climate change, future Arctic Sea ice, and the competitiveness of European Arctic offshore oil and gas production on world markets. Ambio 46:410–422

Rodrigue J-P (2020) The geography of transport systems. Routledge

Serreze MC, Stroeve J (2015) Arctic sea ice trends, variability and implications for seasonal ice forecasting. Philos Trans R Soc A Math Phys Eng Sci 373:20140159

Shen Z, Duan A, Li D, Li J (2021) Assessment and ranking of climate models in Arctic sea-ice cover simulation: from CMIP5 to CMIP6. J Clim J Clim 34(9):3609–3627. https://doi.org/10.1175/JCLI-D-20-0294.1

SIMIP Community (2020) Arctic sea ice in CMIP6. Geophys Res Lett 47:e2019GL086749

Smith A, Jahn A (2019) Definition differences and internal variability affect the simulated Arctic sea ice melt season. Cryosphere 13:1–20

Stephenson SR, Pincus R (2018) Challenges of sea-ice prediction for Arctic marine policy and planning. J Borderlands Stud 33:255–272

Stephenson SR, Smith LC (2015) Influence of climate model variability on projected Arctic shipping futures. Earth's Future 3:331–343

Stephenson SR, Smith LC, Agnew JA (2011) Divergent long-term trajectories of human access to the Arctic. Nat Clim Chang 1:156–160

Stephenson SR, Smith LC, Brigham LW, Agnew JA (2013) Projected 21st-century changes to Arctic marine access. Clim Chang 118:885–899

Stephenson SR, Brigham LW, Smith LC (2014) Marine accessibility along Russia's Northern Sea Route. Polar Geogr 37:111–133

Sturm M, Goldstein MA, Huntington H, Douglas TA (2017) Using an option pricing approach to evaluate strategic decisions in a rapidly changing climate: Black–Scholes and climate change. Clim Chang 140:437–449

Tokarska KB, Stolpe MB, Sippel S, Fischer EM, Smith CJ, Lehner F, Knutti R (2020) Past warming trend constrains future warming in CMIP6 models. Sci Adv 6:eaaz9549

Veland S, Lynch AH (2017) Arctic ice edge narratives: scale, discourse and ontological security. Area 49:9–17

Veland S, Wagner P, Bailey D, Everett A, Goldstein M, Hermann R, Hjort-Larsen T, Hovelsrud G, Hughes N, Kjøl A, Li X, Lynch A, Müller M, Olsen J, Palerme C, Pedersen JL, Rinaldo Ø, Stephenson S, Storelvmo T (2021) Knowledge needs in sea ice forecasting for navigation in Svalbard and the High Arctic. Svalbard Strategic Grant, Svalbard Science Forum. NF-rapport 4/2021

Walsh JE, Ballinger TJ, Euskirchen ES, Hanna E, Mård J, Overland JE, Tangen H, Vihma T (2020) Extreme weather and climate events in northern areas: a review. Earth Sci Rev 209:103324

Wang Z, Silberman JA, Corbett JJ (2020) Container vessels diversion pattern to trans-Arctic shipping routes and GHG emission abatement potential. Marit Policy Manag: 48:4;543–562. https://doi.org/10.1080/03088839.2020.1795288

Wei T, Yan Q, Qi W, Ding M, Wang C (2020) Projections of Arctic sea ice conditions and shipping routes in the twenty-first century using CMIP6 forcing scenarios. Environ Res Lett 15:104079

Zahn M, von Storch H (2010) Decreased frequency of North Atlantic polar lows associated with future climate warming. Nature 467:309–312

Zhang Z, Huisingh D, Song M (2019) Exploitation of trans-Arctic maritime transportation. J Clean Prod 212:960–973
Acknowledgements
We thank the World Climate Research Programme (WCRP), which makes the CMIP6 datasets available from the Earth System Grid Federation (ESGF). We would also like to thank Dr. Simon Donner and the two anonymous reviewers for their constructive comments.
Funding
This research was jointly funded by the National Science Foundation through grant NNA/CNH-S 1824829 and grant NNA 2022554.
Ethics declarations
Ethics approval
Not applicable.
Consent to participate
Not applicable.
Consent for publication
Not applicable.
Conflict of interest
The authors declare no competing interests.
Additional information
Publisher's note
Springer Nature remains neutral with regard to jurisdictional claims in published maps and institutional affiliations.
Supplementary information
About this article
Cite this article
Li, X., Stephenson, S.R., Lynch, A.H. et al. Arctic shipping guidance from the CMIP6 ensemble on operational and infrastructural timescales. Climatic Change 167, 23 (2021). https://doi.org/10.1007/s10584-021-03172-3
Received:

Accepted:

Published:

DOI: https://doi.org/10.1007/s10584-021-03172-3
Keywords
Decision-relevant climate information

Arctic maritime accessibility

Sea ice variability

CMIP6

Navigation risk