Abstract
Since the 1950s, the East Asian diurnal temperature range (DTR), defined as the difference between the daily maximum (Tmax) and minimum temperatures (Tmin), has gradually decreased. Precipitation changes have often been cited as a primary cause of the change. However, the East Asian DTR change before 1950 and its relationship with precipitation remain unclear. Here, we used a newly developed China Meteorological Administration-Land Surface Air Temperature dataset v1.1 to examine the climatological patterns and long-term trends of the DTR in East Asia from 1901 to 2018 and its relationship with precipitation. The mean annual DTR averaged over East Asia for 1951–2018 was approximately 10.0 °C. East Asian DTR changes during 1901–2018 show two distinct characteristics. First, the DTR decreased significantly by approximately 0.60 °C during 1901–2018, and the decrease rate in the second half of the twentieth century (by ~0.53 °C) was significantly larger than that over the rest of the Northern Hemisphere and the global land due to rapid urbanization over East Asia. Second, before the 1950s, the DTR in East Asia showed a significant non-linear increase especially in middle latitude areas, mainly due to the warming rate of Tmax is higher than that of Tmin. Additionally, we found that the spatial pattern of long-term DTR change shows a significant negative correlation with mean precipitation patterns except in arid and semi-arid areas during 1901–2018. The decreasing trend of DTR gradually became smaller from arid regions to humid regions during 1901–2018, mainly because the difference between Tmax and Tmin warming rate gradually became smaller.
Access options
Buy single article
Instant access to the full article PDF.
US$ 39.95
Tax calculation will be finalised during checkout.
Subscribe to journal
Immediate online access to all issues from 2019. Subscription will auto renew annually.
US$ 119
Tax calculation will be finalised during checkout.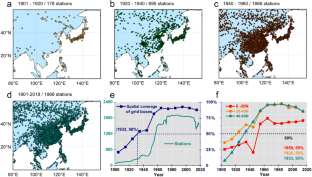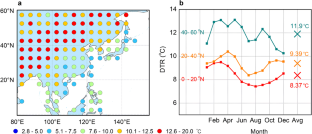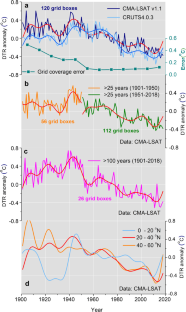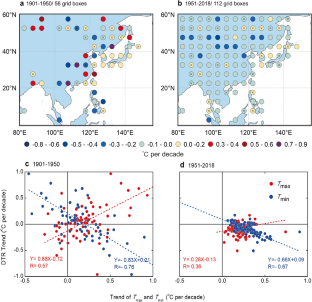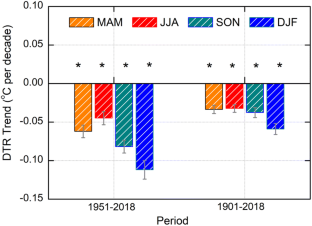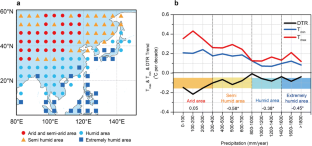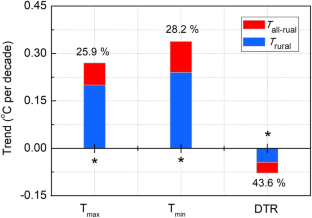 Data availability
The global land use/land cover data could be available from the ESA (www.esa-cci.org.) Due to data management policy, need to contact the National Meteorological Information Center of China Meteorological Administration (http://data.cma.cn/en) for the access of temperature and precipitation data.
References
Alexander LV, Zhang XB, Peterson TC et al (2006) Global observed changes in daily climate extremes of temperature and precipitation. J Geophys Res Atmos 111:D05109. https://doi.org/10.1029/2005JD006290

Arnfield AJ (2003) Two decades of urban climate research: a review of turbulence, exchanges of energy and water, and the urban heat island. Int J Climatol 23:1–26 https://doi.org/10.1002/joc.859

Braganza K, Karoly DJ, Arblaster JM (2004) Diurnal temperature range as an index of global climate change during the twentieth century. Geophys Res Lett 31:L13217

Brohan P, Kennedy JJ, Harris I et al (2006) Uncertainty estimates in regional and global observed temperature changes: a new data set from 1850. J Geophys Res Atmos 111(D12). https://doi.org/10.1029/2005JD006548

Croke MS, Cess RD, Hameed S (1999) Regional cloud cover change associated with global climate change: case studies for three regions of the United States. J Clim 12(7):2128–2134

Dai AG, Del Genio AD, Fung IY (1997) Clouds, precipitation and temperature range. Nature 386(6626):665–666

Dai AG, Trenberth KE, Karl TR (1999) Effects of clouds, soil moisture, precipitation, and water vapor on diurnal temperature range. J Clim 12:2451–2473

Du YG, Tang GL, Wang Y (2012) Uncertainty for change of mean surface air temperature in China in last 100year. Plateau Meteorol 31(2):456–462 (in Chinese)

Easterling DR, Horton B, Jones PD et al (1997) Maximum and minimum temperature trends for the globe. Science 277(5324):364–367

Gallo KP, Easterling DR et al (1996) The influence of land use/land cover on climatological values of the diurnal temperature range. J Clim 9(11):2941–2944

Hollmann R, Hollmann R, Merchant CJ, Saunders R et al (2013) The ESA climate change initiative: satellite data records 726 for essential climate variables. Bull Am Meteorol Soc 94:1541–1552

IPCC (2013) Climate change 2013: the physical science basis. In: Stocker TF, Qin D, Plattner GK (eds) Contribution of working group I to the fifth assessment report of the intergovernmental panel on climate change. Cambridge University Press, Cambridge, p 1535. https://doi.org/10.1017/CBO9781107415324

Jiang SJ, Wang KC, Mao YN (2020) Rapid local urbanization around most meteorological stations explain the observed daily asymmetric warming rates across China from 1985 to 2017. J Clim 33(20):9045–9061

Jones PD (1994) Hemispheric surface air temperature variations: a reanalysis and an update to 1993. J Clim 7:1794–1802

Jones PD, Groisman PY, Coughlan M et al (1990) Assessment of urbanization effects in time series of surface air temperature over land. Nature 347(6289):169–172

Jones PD, Lister DH, Li QX (2008) Urbanization effects in large-scale temperature records, with an emphasis on China. J Geophys Res Atmos 113(D16). https://doi.org/10.1029/2008JD009916

Karl TR, Kukla G, Razuvayev VN et al (1991) Global warming evidence for asymmetric diurnal temperature change. Geophys Res Lett 18(12):2253–2256

Li QX, Dong WJ, Li W et al (2010) Assessment of the uncertainties in temperature change in China during the last century. Chin Sci Bull 55(19):1974–1982

Liu L, Li Z, Yang X et al (2016) The long-term trend in the diurnal temperature range over Asia and its natural and anthropogenic causes. J Geophys Res Atmos 121(7):3519–3533

Lobell DB (2007) Changes in diurnal temperature range and national cereal yields. Agri Forest Meteorol 145(3–4):229–238

Makowski K, Jaeger EB, Chiacchio M et al (2009) On the relationship between diurnal temperature range and surface solar radiation in Europe. J Geophys Res 114:D00D07. https://doi.org/10.1029/2008JD011104

Oke TR, Mills G, Christen A et al (2017) Urban Climates. Cambridge University Press, Cambridge

Ren GY, Zhou YQ (2014) Urbanization effect on trends of extreme temperature indices of national stations over mainland China, 1961-2008. J Clim 27(6):2340–2360

Romanov P (1999) Urban influence on cloud cover estimated from satellite data. Atmos Environ 33(24–25):4163–4172

Shen X, Liu B, Li G et al (2014) Spatiotemporal change of diurnal temperature range and its relationship with sunshine duration and precipitation in China. J Geophys Res Atmos 119:13163–13179

Sun XB, Ren GY, Bhaka SA et al (2017a) Changes in extreme temperature events over the Hindu Kush Himalaya during 1961-2015. Adv Climate Change Res 8(3):157–165

Sun XB, Ren GY, Xu WH et al (2017b) Global land-surface air temperature change based on the new CMA GLSAT data set. Sci Bull 62(4):236–238

Sun XB, Ren GY, You QL et al (2019) Global diurnal temperature range (DTR) changes since 1901. Clim Dyn 52(5):3343–3356

Tang GL, Ding YH, Wang SW et al (2009) Comparative analysis of the time series of surface air temperature over China for the last 100 years. Adv Climate Change Res 2009 5(2):71–78 (in Chinese)

Thorne PW, Parker DE, Christy JR et al (2005) Uncertainties in climate trends: lessons from upper-air temperature records. Bull Am Meteorol Soc 86(10):1437–1442

Thorne PW, Menne MJ, Williams CN et al (2016) Reassessing changes in diurnal temperature range: a new data set and characterization of data biases. J Geophys Res Atmos 121(10):5115–5137

Trenberth KE, Shea DJ (2005) Relationships between precipitation and surface temperature. Geophys Res Lett 32:L14703

Varquez ACG, Kanda M (2018) Global urban climatology: a meta-analysis of air temperature trends (1960–2009). Nature Partner J Climate Atmos Sci 1:32. https://doi.org/10.1038/s41612-018-0042-8

Vasseur DA, Delong JP, Gilbert B et al (2014) Increased temperature variation poses a greater risk to species than climate warming. Proc Royal Soc B Biol Sci 281(1779):20132612

Vose RS, Easterling DR, Gleason B (2005) Maximum and minimum temperature trends for the globe: an update through 2004. Geophys Res Lett 32:L23822

Wang J, Yan ZW, Feng JM (2018) Exaggerated effect of urbanization in the diurnal temperature range via "observation minus reanalysis" and the physical causes. J Geophys Res Atmos 123:7223–7237

Wang K, Ye H, Chen F et al (2012) Urbanization effect on the diurnal temperature range: different roles under solar dimming and brightening. J Clim 25(3):1022–1027

Wang KC, Dickinson RE (2013) Contribution of solar radiation to decadal temperature variability over land. Proc Natl Acad Sci U S A 110(37):14877–14882

Wang KC, Dickinson RE, Liang SL (2009) Clear sky visibility has decreased over land globally from 1973 to 2007. Science 323(5920):1468–1470

Wild M (2012) Enlightening global dimming and brightening. Bull Am Meteorol Soc 93(1):27–37

Xu WH, Li QX, Jones PD et al (2017) A new integrated and homogenized global monthly land surface air temperature dataset for the period since 1900. Clim Dyn 15:1–24. https://doi.org/10.1007/s00382-017-3755-1

Yang P, Ren GY, Liu W (2013) Spatial and temporal characteristics of Beijing urban heat island intensity. J Appl Meteorol Climatol 52(8):1803–1816

Yang S, Xu W, Xu Y et al (2016) Development of a global historic monthly mean precipitation dataset. J Meteorol Res 30(2):217–231

You QL, Min JZ, Jiao Y et al (2016) Observed trend of diurnal temperature range in the Tibetan plateau in recent decades. Int J Climatol 36(6):2633–2643

Zhai PM, Pan XH (2003) Trends in temperature extremes during 1951-1999 in China. Geophys Res Lett 30(17):169–172

Zhang AY, Ren GY, Zhou JX et al (2010) On the urbanization effect on surface air temperature trends over China. Acta Meteorlogica Sinica 68(6):957–966 (in Chinese)

Zhang PF, Ren GY, Qin Y et al (2021) Urbanization effects on estimates of global trends in mean and extreme air temperature. J Climate 34(5):1923–1945

Zhao TB (2014) Correlation between atmospheric water vapor and diurnal temperature range over China. Atmos Oceanic Sci Lett 7(4):369–375

Zhou LM, Dai AG, Dai YJ et al (2009) Spatial dependence of diurnal temperature range trends on precipitation from 1950 to 2004. Clim Dyn 32(2/3):429–440
Acknowledgments
We thank Panfeng Zhang for his help in classifying urban and rural stations. We thank four anonymous reviewers for their valuable comments and suggestions.
Funding
This study is supported by the National Key Research and Development Program of China (2019YFA0606701 and 2018YFA0605603), the Natural Science Foundation of China (42005036 and 41731173), the Strategic Priority Research Program of Chinese Academy of Sciences (XDB42000000 and XDA20060502), the Key Special Project for Introduced Talents Team of Southern Marine Science and Engineering Guangdong Laboratory (Guangzhou) (GML2019ZD0306), Innovation Academy of South China Sea Ecology and Environmental Engineering, Chinese Academy of Sciences (ISEE2018PY06), and the Leading Talents of Guangdong Province Program.
Additional information
Publisher's note
Springer Nature remains neutral with regard to jurisdictional claims in published maps and institutional affiliations.
This article is part of the topical collection on Historical and recent change in extreme climate over East Asia
edited by Guoyu Ren, Danny Harvey, Johnny Chan, Hisayuki Kubota, Zhongshi Zhang, and Jinbao Li.
Supplementary Information
About this article
Cite this article
Sun, X., Wang, C. & Ren, G. Changes in the diurnal temperature range over East Asia from 1901 to 2018 and its relationship with precipitation. Climatic Change 166, 44 (2021). https://doi.org/10.1007/s10584-021-03120-1
Received:

Accepted:

Published:
Keywords
DTR

Long-term trends

Precipitation

East Asia