Abstract
Carbon capture and utilization (CCU) has been highlighted as one element of a climate mitigation strategy that aims to limit global warming. Yet, without broad consumer acceptance, there may not be a reliable end-market for CCU-based products, hindering the economic viability and potential mitigative benefits of CCU. Therefore, through an online survey of US adults, this study measured the influence of product type (carbonated beverages, plastic food storage containers, furniture made with foam or plastic, and shatterproof glass) and carbon capture method (Direct Air Capture or point source capture) on a consumer's willingness to consume or use a CCU-based product. Compared to other products, participants were less accepting of carbonated beverages, particularly those containing carbon captured from point sources. At the same time, the majority of participants (approximately 69%) reported at least some openness to consuming or using a CCU-based product. Several other variables which also influenced consumer acceptance (and could inform future communication strategies surrounding CCU-based products) were identified.
Access options
Buy single article
Instant access to the full article PDF.
USD 39.95
Price excludes VAT (USA)
Tax calculation will be finalised during checkout.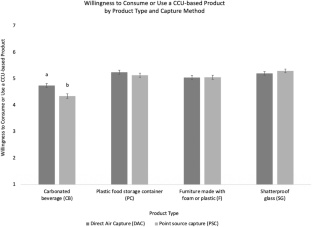 Notes
Incorrect response options to the multiple-choice attention check included the following: Carbon Extraction and Purification; Raw Material Conversion; Atmospheric Correction and Stabilization; or None of the above.
References
Achterberg P (2014) Knowing hydrogen and loving it too? Information provision, cultural predispositions, and support for hydrogen technology among the Dutch. Public Underst Sci 23:445–453

Arning K, Offermann-van Heek J, Linzenich A, Kaetelhoen A, Sternberg A, Bardow A, Ziefle M (2019a) Same or different? Insights on public perception and acceptance of carbon capture and storage or utilization in Germany. Energy Policy 125:235–249

Arning K, Offermann-van Heek J, Sternberg A, Bardow A, Ziefle M (2019b) Risk-benefit perceptions and public acceptance of carbon capture and utilization. Environ Innov Soc Transit 35:292–308

Arning K, van Heek J, Ziefle M (2018) Acceptance profiles for a carbon-derived foam mattress. Exploring and segmenting consumer perceptions of a carbon capture and utilization product. J Clean Prod 188:171–184

Aronow PM, Kalla J, Orr L, and Ternovski J (2020) Evidence of rising rates of inattentiveness on lucid in 2020. Investment Weekly News Preprint:402

Baena-Moreno FM, Rodríguez-Galán M, Vega F, Alonso-Fariñas B, Vilches Arenas LF, Navarrete B (2019) Carbon capture and utilization technologies: a literature review and recent advances. Energ Source Part A 41:1403–1433

Bornstein RF (1989) Exposure and affect. Psychol Bull 106:265–289

Breyer C, Fasihi M, Bajamundi C, Creutzig F (2019) Direct Air Capture of CO2: a key technology for ambitious climate change mitigation. Joule 3:2053–2057

Campbell-Arvai V, Hart PS, Raimi KT, Wolske KS (2017) The influence of learning about carbon dioxide removal (CDR) on support for mitigation policies. Clim Chang 143:321–336

Chinn S, Hart PS, Soroka S (2020) Politicization and polarization in climate change news content, 1985-2017. Sci Commun 42:112–129

CO2 Sciences and The Global CO2 Initiative (2016) A roadmap for the implementation of carbon utilization technologies (Executive Summary)

Cox E, Spence E, Pidgeon N (2020) Public perceptions of carbon dioxide removal in the United States and the United Kingdom. Nat Clim Chang 10:744–749

Drummond C, Fischhoff B (2017) Individuals with greater science literacy and education have more polarized beliefs on controversial science topics. Proc Natl Acad Sci 114:9587

Duetschke E, Schumann D, Pietzner K, Wohlfarth K, Höller S (2014) Does it make a difference to the public where CO2 comes from and where it is stored? Energy Procedia 63:6999–7010

Etale A, Jobin M, Siegrist M (2018) Tap versus bottled water consumption: the influence of social norms, affect and image on consumer choice. Appetite 121:138–146

Finucane ML, Alhakami A, Slovic P, Johnson SM (2000) The affect heuristic in judgments of risks and benefits. J Behav Decis Mak 13:1–17

Global CCS Institute (2019) The global status of CCS: 2019. Australia

IPCC (2018) Summary for policymakers: global warming of 1.5°C. an IPCC special report on the impacts of global warming of 1.5°C above pre-industrial levels and related global greenhouse gas emission pathways, in the context of strengthening the global response to the threat of climate change, sustainable development, and efforts to eradicate poverty. World Meteorological Organization, Geneva, Switzerland

Jang JG, Kim GM, Kim HJ, Lee HK (2016) Review on recent advances in CO2 utilization and sequestration technologies in cement-based materials. Constr Build Mater 127:762–773

Jones CR (2015) Chapter 15 - understanding and assessing public perceptions of carbon dioxide utilisation (CDU) technologies. In: Styring P, Quadrelli EA, Armstrong K (eds) Carbon Dioxide Utilisation. Elsevier, Amsterdam, pp 273–283

Jones CR, Olfe-Kräutlein B, Kaklamanou D (2017) Lay perceptions of carbon dioxide utilisation technologies in the United Kingdom and Germany: an exploratory qualitative interview study. Energy Res Soc Sci 34:283–293

Koytsoumpa EI, Bergins C, Kakaras E (2018) The CO2 economy: review of CO2 capture and reuse technologies. J Supercrit Fluids 132:3–16

L'Orange Seigo S, Arvai J, Dohle S, Siegrist M (2014) Predictors of risk and benefit perception of carbon capture and storage (CCS) in regions with different stages of deployment. Int J Greenh Gas Control 25:23–32

Li Q, Liu G, Cai B, Leamon G, Liu L-C, Chen Z-A, Li X (2017) Public awareness of the environmental impact and management of carbon dioxide capture, utilization and storage technology: the views of educated people in China. Clean Techn Environ Policy 19:2041–2056

Linzenich A, Arning K, Offermann-van Heek J, Ziefle M (2019) Uncovering attitudes towards carbon capture storage and utilization technologies in Germany: insights into affective-cognitive evaluations of benefits and risks. Energy Res Soc Sci 48:205–218

Lorenzoni I, Pidgeon NF (2006) Public views on climate change: European and USA perspectives. Clim Chang 77:73–95

Mac Dowell N, Fennell PS, Shah N, Maitland GC (2017) The role of CO2 capture and utilization in mitigating climate change. Nat Clim Chang 7:243–249

Markewitz P, Kuckshinrichs W, Leitner W, Linssen J, Zapp P, Bongartz R, Schreiber A, Müller TE (2012) Worldwide innovations in the development of carbon capture technologies and the utilization of CO2. Energy Environ Sci 5:7281–7305

Nemeroff C, Rozin P (2018) Back in touch with contagion: some essential issues. J Assoc Consum Res 3:612–624

Nisbet MC (2019) The carbon removal debate: asking critical questions about climate change futures. Institute for Carbon Removal Law and Policy at American University

Olajire AA (2010) CO2 capture and separation technologies for end-of-pipe applications – a review. Energy 35:2610–2628

Park J, Stoel L (2005) Effect of brand familiarity, experience and information on online apparel purchase. Int J Retail Distrib Manag 33:148–160

Perdan S, Jones CR, Azapagic A (2017) Public awareness and acceptance of carbon capture and utilisation in the UK. Sustain Prod Consum 10:74–84

Peters M, Köhler B, Kuckshinrichs W, Leitner W, Markewitz P, Müller TE (2011) Chemical technologies for exploiting and recycling carbon dioxide into the value chain. ChemSusChem 4:1216–1240

Quadrelli EA, Armstrong K, Styring P (2015) Chapter 16 - potential CO2 utilisation contributions to a more carbon-sober future: a 2050 vision. In: Styring P, Quadrelli EA, Armstrong K (eds) Carbon Dioxide Utilisation. Elsevier, Amsterdam, pp 285–302

Segrè Cohen A, Love NG, Nace KK, Árvai J (2020) Consumers' acceptance of agricultural fertilizers derived from diverted and recycled human urine. Environ Sci Technol 54:5297–5305

Shi J, Visschers VHM, Siegrist M, Arvai J (2016) Knowledge as a driver of public perceptions about climate change reassessed. Nat Clim Chang 6:759–762

Siegrist M, Cousin M-E, Kastenholz H, Wiek A (2007) Public acceptance of nanotechnology foods and food packaging: the influence of affect and trust. Appetite 49:459–466

van Heek J, Arning K, Ziefle M (2017a) Differences between laypersons and experts in perceptions and acceptance of CO2-utilization for plastics production. Energy Procedia 114:7212–7223

van Heek J, Arning K, Ziefle M (2017b) Reduce, reuse, recycle: acceptance of CO2-utilization for plastic products. Energy Policy 105:53–66
Acknowledgements
Thanks to Volker Sick and Alex Segrè Cohen for their assistance during this research.
Funding
This research was supported by the US National Science Foundation under award number SES 1728807 to Decision Research and the University of Michigan; research support was also provided by the Erb Institute for Global Sustainable Enterprise, and the Global CO2 Initiative, at the University of Michigan.
Ethics declarations
Competing interests
The authors declare no competing interests.
Additional information
Publisher's note
Springer Nature remains neutral with regard to jurisdictional claims in published maps and institutional affiliations.
Supplementary information
About this article
Cite this article
Lutzke, L., Árvai, J. Consumer acceptance of products from carbon capture and utilization. Climatic Change 166, 15 (2021). https://doi.org/10.1007/s10584-021-03110-3
Received:

Accepted:

Published:

DOI: https://doi.org/10.1007/s10584-021-03110-3
Keywords