Abstract
The extreme temperature events of the mid-eighteenth century can help understand the background climate conditions of the pre-industrial revolution period. However, studies are lacking mainly due to the scarceness of instrumental observations. Based on the observations made by the French Missionary Amiot in Beijing, a daily maximum and minimum temperature dataset during 1757–1762 was established using relationships developed with reference to modern observations of nearby stations. The first result of a comparison between the extreme temperature change of the mid-eighteenth century and the present situation (2014–2019) in central Beijing city shows: (1) There were mean annual summer days (the number of days with daily maximum temperature > 25 °C) exceeding 130 d, and tropical nights (the number of days with daily minimum temperature > 20 °C) of more than 52 d, as compared to more than 150 d and 80 d respectively at present; (2) The mean annual frost days (daily minimum temperature < 0 °C) and ice days (daily maximum temperature < 0 °C) were 126 d and 31 d, respectively, in 1757–1762, but only 110 d and 10 d, respectively, during 2014–2019; (3) The mean annual warm days (days when maximum temperature > 90th percentile) and warm nights (days when minimum temperature > 90th percentile) were 63 d and 30 d, respectively, compared to the present values of more than 65 d and 55 d, respectively; (4) The annual mean cool days (days when maximum temperature < 10th percentile) and cold nights (days when maximum temperature < 10th percentile) were approximately 52 d and 48 d, respectively, in 1757–1762, but they are fewer than 40 d and 30 d, respectively, today. Therefore, the occurrences of most warm events in the mid-eighteenth century were slightly lower than modern times, and the occurrences of most cold events were more frequent compared with those in modern times, with the decrease of cold events from 260 years ago to today more obvious than the increase of warm events. The rapid warming in Beijing in recent decades, especially in the urban center, has exerted a great influence on the change in extreme temperature indices, which may have been caused by both urbanization and global/regional warming.
Access options
Buy single article
Instant access to the full article PDF.
US$ 39.95
Tax calculation will be finalised during checkout.
Subscribe to journal
Immediate online access to all issues from 2019. Subscription will auto renew annually.
US$ 119
Tax calculation will be finalised during checkout.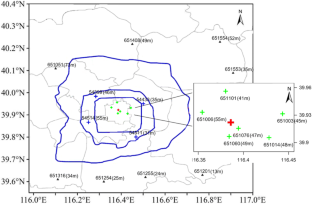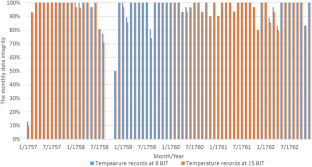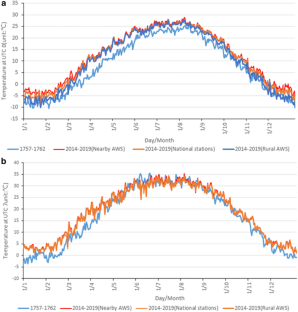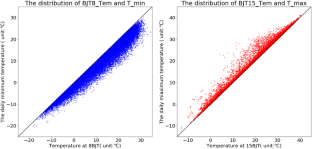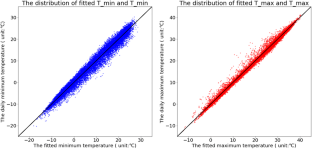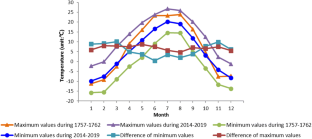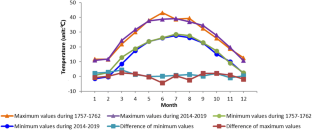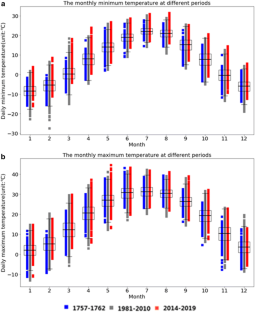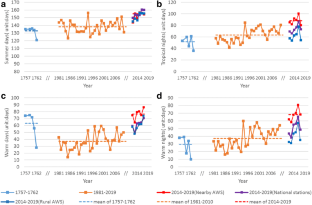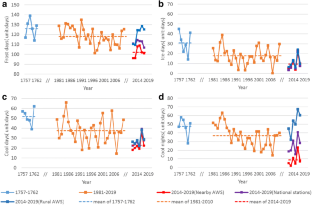 References
Alexander LV, Zhang X, Peterson TC et al (2012) Global observed changes in daily climate extremes of temperature and precipitation. J Geophys Res Atmospheres 111(D5):1042–1063

Ansell T, Jones PD, Allan RJ, Lister D, Parker DE, Brunet M, Moberg A, Jacobeit J, Brohan P, Rayner NA, Aguilar E, Alexandersson H, Barriendos M, Brandsma T, Cox NJ, Della-Marta PM, Drebs A, Founda D, Gerstengarbe F, Hickey K, Jonsson T, Luterbacher J, Nordli O, Oesterle H, Petrakis M, Philipp A, Rodwell MJ, Saladie O, Sigro J, Slonosky V, Srnec L, Swail V, García-Suárez AM, Tuomenvirta H, Wang X, Wanner H, Werner P, Wheeler D, Xoplaki E (2006) Daily mean sea level pressure reconstructions for the European- North Atlantic region for the period 1850–2003. J Clim 19:2717–2742. https://doi.org/10.1175/JCLI3775.1

Ashcroft L, Gergis J, Karoly DJ (2014) A historical climate dataset for southeastern Australia, 1788–1859. Geosci Data J. https://doi.org/10.1002/gdj3.19

Bronnimann S, Allan R, Ashcroft L, Baer S, Barriendos M, Brazdil R, Wyszynski P (2019) Unlocking pre-1850 instrumental meteorological records: a global inventory. Bull Am Meteorolog Soc 100(12). https://doi.org/10.1175/BAMS-D-19-0040.1

Camuffo D, Bertolin C, Jones P, Cornes R, Garnier E (2010) The earliest daily barometric pressure readings in Italy: Pisa, 1657-8 and Modena, 1694 and the circulation index over Europe, 1694. Holocene 20:337–349. https://doi.org/10.1177/0959683609351900.

Camuffo D (2002) History of the long series of daily air temperature in Padova (1725–1998). Clim Chang 53:7–75. https://doi.org/10.1023/A:1014958506923

Cao LJ, Yan ZW, Zhao P, Zhu YN, Yu Y, Tang GL, Jones P (2017) Climatic warming in China during 1901–2015 based on an extended dataset of instrumental temperature records. Environ Res Lett 12:064005. https://doi.org/10.1088/1748-9326/aa68e8.

Cocheo C, Camuffo D (2000) 'L'igrometro di Chiminello e le misure igrometriche effettuate a Padova per la 'Meteorologica Societas Palatina', Mannheim. In: Pigatto L (ed) Giuseppe Toaldo e il suo tempo. Centro per la Storia dell'Università di Padova e Osservatorio Astronomico di Padova, Padova, pp 743–762

Cocheo C, Camuffo D (2002) Corrections of systematic errors and data homogenisation in the daily temperature Padova series (1725–1998). Clim Chang 53:77–100

Cornes R (2008) The barometer measurements of the Royal Society of London: 1774–1842. Weather 63:230–235. https://doi.org/10.1002/wea.278

Cornes RC (2010) Early Meteorological Data from London and Paris: extending the North Atlantic Oscillation Series. Ph.D. thesis, School of Environmental Sciences. University of East Anglia, Norwich

Cui L, Shi J, Zhou W (2009) Characteristics of extreme temperature variations and their response to urbanization in Shanghai. Sci Geogr Sin 29(1):93–97

Domonkos P, Kyselý J, Piotrowicz K et al (2003) Variability of extreme temperature events in south–Central Europe during the 20th century and its relationship with large-scale circulation. Int J Climatol 23(9):987–1010

Easterling DR, Meehl GA, Parmesan C et al (2000) Climate extremes: observations, modeling, and impacts. Science 289(5487):2068–2074

Ge QS (ed) (2011) Climate change of dynasties history in China. Science Press, Beijing, p 607

Guo J, Ren GY, Ren Y (2011) Changes of mean and extreme temperatures in Tianjin in recent 100 years. Plateau Meteorol 30(5):1399–1405 (in Chinese)

Hestmark G, Nordli Ø (2016) Jens Esmark's Christiania (Oslo) meteorological observations 1816–1838: the first long-term continuous temperature record from the Norwegian capital homogenized and analysed. Clim Past 12:2087–2106

IPCC (2011) Changes in climate extremes and their impacts on the natural physical environment. IPCC SREX. https://www.ipcc.ch/report/managing-the-risks-of-extreme-events-and-disasters-to-advance-climate-change-adaptation/changes-in-climate-extremes-and-their-impacts-on-the-natural-physical-environment/

Jones P (2001) Early European instrumental records. In history and climate: memories of the future. In: Jones P, Ogilvie A, Davies T, Briffa K (eds) Kluwer, New York, pp 55–77

Karl TR, Easterling DR (1999) Climate extremes: selected review and future research directions. Clim Chang 42(1):309–325

Können GP, Zaiki M, Baede APM, Mikami TY, Jones PD, Tsukahara T (2003) Pre-1872 extension of the Japanese instrumental meteorological observation series back to 1819. J Clim 16:118–131

Li Z, Yan ZW (2010) Application of multiple analysis of series for homogenization to Beijing daily temperature series (1960–2006). Advances Atmospheric Sci 27:777–787. https://doi.org/10.1007/s00376-009-9052-0

Liu W, Ping Y, Huanling Y et al (2013) Heat island effect and diurnal temperature range in Beijing area. Climatic Environ Res (in Chinese) 18(2):171–177

Liu X, Yin ZY, Shao X et al (2006) Temporal trends and variability of daily maximum and minimum, extreme temperature events, and growing season length over the eastern and central Tibetan plateau during 1961-2003. J Geophys Res Atmospheres 111(D19):4617–4632

Lucas P, Hupfer F, Brugnara Y, Munz L, Villiger L, Meyer L, Schwander M (2019) Francesco Alessandro Isotta, Christian Rohr and Stefan Brönnimann, 2019:Swiss early instrumental meteorological measurements. Clim Past Discuss. https://doi.org/10.5194/cp-2019-26

Manton MJ, Della-Marta PM, Haylock MR et al (2001) Trends in extreme daily rainfall and temperature in Southeast Asia and the South Pacific: 1961–1998. Int J Climatol 21(3):269–284

Panday PK, Thibeault J, Frey KE (2014) Changing temperature and precipitation extremes in the Hindu Kush-Himalayan region: an analysis of CMIP3 and CMIP5 simulations and projections. Int J Climatol 35(10):3058–3077

Rahimzadeh F, Asgari A, Fattahi E (2009) Variability of extreme temperature and precipitation in Iran during recent decades. Int J Climatol 29(3):329–343

Ren G, Ding Y, Zheng J et al (2012) Recent progress in studies of climate change in China. Adv Atmospheric Sci 29(5):958–977

Ren G, Zhou Y (2014) Urbanization effect on trends of extreme temperature indices of national stations over mainland China, 1961–2008. J Clim 27(6):2340–2360

Ren YY, Parke D, Ren GY, Dunn R (2015) Tempo-spatial characteristics of sub-daily temperature trends in mainland China. Climatic Dynamics 46:2737–2748. https://doi.org/10.1007/s00382-015-2726-7

Sillmann J, Kharin VV et al (2013) Climate extremes indices in the CMIP5 multimodel ensemble: part 2. Future climate projections. J Geophys Research-Atmospheres 118(6):2473–2493

Sun XB, Ren GY, Bhaka SA, Ren YY, You QL, Zhan YJ, Rajbhandari R (2017a) Changes in extreme temperature events over the Hindu Kush Himalaya during 1961–2015. Advance Climate Change Res. https://doi.org/10.1016/j.accre.2017.07.001

Sun XB, Ren GY, Xu WH, Li QX, Ren YY (2017b) Global land-surface air temperature change based on the new CMA GLSAT dataset. Sci Bull 62(4):236–238

Vincent LA, Mekis É (2006) Changes in daily and extreme temperature and precipitation indices for Canada over the twentieth century. Atmosphere 44(2):177–193

Williamson F, Allan R, Ren G (2018) The collating historic weather observations for the east Asian region: challenges, solutions, and Reanalyses. Advance Atmospheric Sci 35(8):899–904

Yan L, Liu X (2014) Has climatic warming over the Tibetan plateau paused or continued in recent years? J Earth Ocean Atmospheric Sci 1(1):13–28

Yan Z, Jones PD, Moberg A, Bergström H, Davies TD, Yang C (2001a) Recent trends in weather and seasonal cycles – an analysis of daily data in Europe and China. J Geophys Res 106:5123–5138

Yan ZW, Yang C, Jones P (2001b) Influence of inhomogeneity on the estimation of mean and extreme temperature trends in Beijing and Shanghai. Advance Atmospheric Sci 18(3):309–322

Yan ZW, Jones PD, Davies TD et al (2002) Trends of extreme temperatures in europe and china based on daily observations. Clim Change 53(1):355–392. https://doi.org/10.1023/A:1014939413284

Yang P, Ren GY, Liu WD (2013) Spatial and temporal characteristics of Beijing urban heat island intensity. J Appl Meteorol Climatol 52(8):1803–1816. https://doi.org/10.1175/JAMC-D-12-0125.1

You Q, Kang S, Aguilar E et al (2008) Changes in daily climate extremes in the eastern and central Tibetan plateau during 1961-2005. J Geophys Res Atmospheres 113(D7):1639–1647

Yu XJ, Ren GY, Zhang PF, Hu JB, Liu N, Li JP, and Zhang CC (2020) Extreme temperature change of the last 110 years in Changchun, Northeast China. Adv Atmos Sci 37(4):347−358. https://doi.org/10.1007/s00376-020-9165-z

Zaiki M, Konnen GP, Tsukahara T, Jones PD, Mikami T, Matsumoto K (2006) Recovery of nineteenth-century Tokyo/Osaka meteorological data in Japan. Int J Climatol 26:399–423

Zhai P, Pan X (2003) Trends in temperature extremes during 1951–1999 in China. Geophys Res Lett 30(17):169–172

Zhang, D.E., Demaree, G. 2004. Extreme high temperature of 1743 summer in North China. Chin Sci Bull. 49: 2204–2210. https://doi.org/10.1360/csb2004-49-21-2204

Zhang L, Guoyu R, Yuyu R (2015) Identification of urban effect on a single extreme high temperature event. Clim Environ Res (in Chinese) 20(2):167–176

Zhang X, Alexander L, Hegerl GC, Jones P, Tank AK, Peterson TC, Trewin B, Zwiers FW (2011) Indices for monitoring changes in extremes based on daily temperature and precipitation data. Wiley Interdiscip Rev Clim Chang 2:851–870. https://doi.org/10.1002/wcc.147

Zhang Y, Ren GY (2014) Correcting urban bias for surface air temperature series of Beijing Station over time period 1915-2012. Chin J Geophys- Chin Edition 57(7):2197–2207

Zheng Z, Hua G, Zaiwen W et al (2012) Numerical simulation for the urbanization effects on a heat wave event around Beijing city. Ecol Environ Sci (in Chinese) 21(10):1689–1694

Zhou Y, Ren G (2011) Change in extreme temperature event frequency over mainland China during 1961-2008. Clim Res 50(1–2):125–139
Acknowledgements
This study is financially supported by National Key R&D Program of China (2018YFA0605603) and National Natural Science Foundation of China (41801017).
Additional information
Publisher's note
Springer Nature remains neutral with regard to jurisdictional claims in published maps and institutional affiliations.
This article is part of the topical collection on "Historical and recent change in extreme climate over East Asia," edited by Guoyu Ren, Danny Harvey, Johnny Chan, Hisayuki Kubota, Zhongshi Zhang, and Jinbao Li.
About this article
Cite this article
Ren, Y., Ren, G., Allan, R. et al. Extreme temperature of the mid-eighteenth century as compared to todays in Beijing. Climatic Change 165, 45 (2021). https://doi.org/10.1007/s10584-021-03063-7
Received:

Accepted:

Published:
Keywords
Extreme temperature events

Mid-eighteenth century

Pre-industrial revolution

Climate change

Beijing