Abstract
As the impacts of climate change on human society accelerate, coastal communities are vulnerable to changing environmental conditions. The capacity of communities and households to respond to these changes (i.e., their adaptive capacity) will determine the impacts of climate and co-occurring stressors. To date, empirical evidence linking theoretical measures of adaptive capacity to community and household responses remains limited. Here, we conduct a global meta-analysis examining how metrics of adaptive capacity translate to human responses to change (Adapt, React, Cope response) in 22 small-scale fishing case studies from 20 countries (n = 191 responses). Using both thematic and qualitative comparative analysis, we evaluate how responses to climate, environmental, and social change were influenced by domains of adaptive capacity. Our findings show that adaptive responses at the community level only occurred in situations where the community had Access to Assets, in combination with other domains including Diversity and Flexibility, Learning and Knowledge, and Natural Capital. In contrast, Access to Assets was nonessential for adaptive responses at the household level. Adaptive households demonstrated Diversity and Flexibility when supported by strong Governance or Institutions and were often able to substitute Learning and Knowledge and Natural Capital with one another. Standardized metrics of adaptive capacity are essential to designing effective policies promoting resilience in natural resource-dependent communities and understanding how social and ecological aspects of communities interact to influence responses. Our framework describes how small-scale fishing communities and households respond to environmental changes and can inform policies that support vulnerable populations.
Access options
Buy single article
Instant access to the full article PDF.
US$ 39.95
Tax calculation will be finalised during checkout.
Subscribe to journal
Immediate online access to all issues from 2019. Subscription will auto renew annually.
US$ 119
Tax calculation will be finalised during checkout.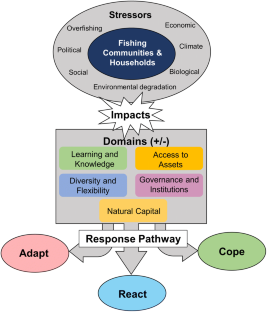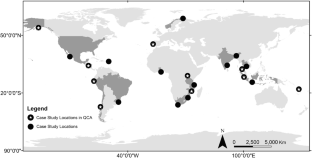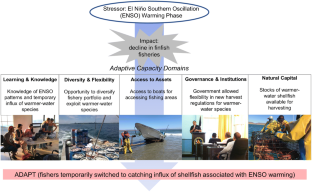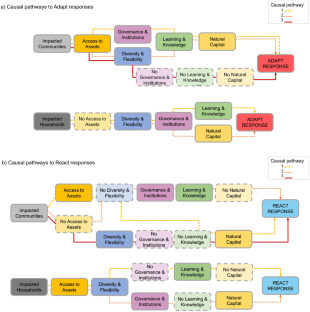 References
Adger WN (2016) Place, well-being, and fairness shape priorities for adaptation to climate change. Glob Environ Chang 100(38):A1–A3

Adger WN (2010) Social capital, collective action, and adaptation to climate change. Der Klimawandel 327–345

Adger WN, Huq S, Brown K, Conway D, Hulme M (2003) Adaptation to climate change in the developing world. Prog Dev Stud 3(3):179–195

Adger WN, Arnell NW, Tompkins EL (2005) Successful adaptation to climate change across scales. Glob Environ Chang 15(2):77–86

Agrawal A, Perrin N (2001) Climate adaptation, local institutions and rural livelihoods. Adapting Clim Change:350–367

Allison EH, Ellis F (2001) The livelihoods approach and management of small-scale fisheries. Mar Policy 25(5):377–388

Allison EH, Perry AL, Badjeck MC, Adger WN, Brown K, Conway D, Halls AS, Pilling GM, Reynolds JD, Andrew NL, Dulvy NK (2009) Vulnerability of national economies to the impacts of climate change on fisheries. Fish Fish 10(2):173–196

Anderson S, Ward E, Shelton A, Adkison M, Beaudreau A, Brenner R, Haynie A, Shriver J, Watson J, William B (2017) Benefits and risks of diversification for individual fishers. Proc Natl Acad Sci 114(40):10797–10802

Badjeck MC, Allison EH, Halls AS, Dulvy NK (2010) Impacts of climate variability and change on fishery-based livelihoods. Mar Policy 34(3):375–383

Barange M, Merino G, Blanchard JL, Scholtens J, Harle J, Allison EH, Allen JI, Holt J, Jennings S (2014) Impacts of climate change on marine ecosystem production in societies dependent on fisheries. Nat Clim Chang 4(3):211

Béné C, Hersoug B, Allison EH (2010) Not by rent alone: analysing the pro-poor functions of small-scale fisheries in developing countries. Dev Policy Rev 28(3):325–358

Benessaiah K, Sengupta R (2014) How is shrimp aquaculture transforming coastal livelihoods and lagoons in Estero Real, Nicaragua?: the need to integrate social–ecological research and ecosystem-based approaches. Environ Manag 54(2):162–179

Bennett NJ, Dearden P, Murray G, Kadfak A (2014) The capacity to adapt? Communities in a changing climate, environment, and economy on the northern Andaman coast of Thailand. Ecol Soc 19(2)

Berkes F, Folke C (1998) Linking social and ecological systems for resilience and sustainability: management practices and social mechanisms for building resilience. 1(4):4

Berrang-Ford L, Pearce T, Ford JD (2015) Systematic review approaches for climate change adaptation research. Reg Environ Chang 15(5):755–769

Biermann F (2007) 'Earth system governance' as a crosscutting theme of global change research. Glob Environ Chang 17(3–4):326–337

Birkmann J (2011) First-and second-order adaptation to natural hazards and extreme events in the context of climate change. Nat Hazards 58(2):811–840

Blasiak R, Spijkers J, Tokunaga K, Pittman J, Yagi N, Österblom H (2017) Climate change and marine fisheries: least developed countries top global index of vulnerability. PLoS One 12(6):e0179632

Blythe J, Murray G, Flaherty M (2014) Strengthening threatened communities through adaptation: insights from coastal Mozambique. Ecol Soc 19(2):6

Bouamrane M, Spierenburg M, Agrawal A, Boureima A, Cormier-Salem MC, Etienne M, Le Page C, Levrel H, Mathevet R (2016) Stakeholder engagement and biodiversity conservation challenges in social-ecological systems: some insights from biosphere reserves in western Africa and France. Ecol Soc 21(4)

Braun V, Clarke V (2006) Using thematic analysis in psychology. Qual Res Psychol 3(2):77–101

Brooks N, Adger WN, Kelly PM (2005) The determinants of vulnerability and adaptive capacity at the national level and the implications for adaptation. Glob Environ Chang 15(2):151–163

Campbell JL, Quincy C, Osserman J, Pedersen OK (2013) Coding in-depth semistructured interviews: problems of unitization and intercoder reliability and agreement. Sociol Methods Res 42(3):294–320

Cheung WWL, Lam VWY, Sarmiento JL et al (2009) Projecting global marine biodiversity impacts under climate change scenarios. Fish Fish 10:235–251

Choudhury MUI, Haque CE, Habib S (2018) Participatory exclusion of women in natural resource management: silent voices from wetland communities in Bangladesh. Community Dev J 53:42–60

Chuenpagdee R, Jentoft S (2018) Transdisciplinarity for small-scale fisheries governance. Springer Nature, Cham

Cinner JE, Huchery C, Hicks CC, Daw TM, Marshall N, Wamukota A, Allison EH (2015) Changes in adaptive capacity of Kenyan fishing communities. Nat Clim Chang 5(9):872

Cinner JE, Adger WN, Allison EH, Barnes ML, Brown K, Cohen PJ, Gelcich S, Hicks CC, Hughes TP, Lau J, Marshall NA (2018) Building adaptive capacity to climate change in tropical coastal communities. Nat Clim Chang 8(2):117–123

Cline TJ, Schindler DE, Hilborn R (2017) Fisheries portfolio diversification and turnover buffer Alaskan fishing communities from abrupt resource and market changes. Nat Commun 8:14042

Conway D, Nicholls RJ, Brown S et al (2019) The need for bottom-up assessments of climate risks and adaptation in climate-sensitive regions. Nat Clim Chang 9:503–511

Costanza R, d'Arge R, de Groot R et al (1997) The value of the world's ecosystem services and natural capital. Nature 387:253–260

Côté IM, Darling ES, Brown CJ (2016) Interactions among ecosystem stressors and their importance in conservation. Proc Biol Sci 283. https://doi.org/10.1098/rspb.2015.2592

Coulthard S (2008) Adapting to environmental change in artisanal fisheries—insights from a South Indian Lagoon. Glob Environ Chang 18:479–489

Coulthard S (2009) Adaptation and conflict within fisheries: insights for living with climate change. In: Adapting to climate change: thresholds, values and governance. Cambridge University Press, Cambridge, pp 255–268

Eriksson H, Albert J, Albert S et al (2017) The role of fish and fisheries in recovering from natural hazards: lessons learned from Vanuatu. Environ Sci Pol 76:50–58

Fazey I, Fazey JA, Fischer J et al (2007) Adaptive capacity and learning to learn as leverage for social–ecological resilience. Front Ecol Environ 5:375–380

Finkbeiner E, Bennett N, Frawley T, Mason J, Briscoe D, Brooks C, Ng C, Ourens R, Seto K, Switzer Swanson S, Urteaga J (2017) Reconstructing overfishing: moving beyond Malthus for effective and equitable solutions. Fish Fish 18(6):1180–1191

Folke C (2006) Resilience: the emergence of a perspective for social–ecological systems analyses. Glob Environ Chang 16:253–267

Ford JD, Berrang-Ford L, Paterson J (2011) A systematic review of observed climate change adaptation in developed nations. Clim Chang 106(2):327–336

Ford JD, McDowell G, Pearce T (2015) The adaptation challenge in the Arctic. Nature Climate Change 5:1046–1053

Forster J, Lake IR, Watkinson AR, Gill JA (2014) Marine dependent livelihoods and resilience to environmental change: a case study of Anguilla. Mar Policy 45:204–212

Frawley TH, Finkbeiner EM, Crowder LB (2019a) Environmental and institutional degradation in the globalized economy: lessons from small-scale fisheries in the Gulf of California. Ecol Soc 24(1):7

Frawley TH, Crowder LB, Broad K (2019b) Heterogeneous perceptions of socio-ecological change among small-scale fishermen in the Central Gulf of California: implications for adaptive response. Front Mar Sci 6:78

Freduah G, Fidelman P, Smith TF (2019) Adaptive capacity of small-scale coastal fishers to climate and non-climate stressors in the Western region of Ghana. Geogr J 185(1):96–110

Galappaththi EK, Ford JD, Bennett EM (2019) A framework for assessing community adaptation to climate change in a fisheries context. Environ Sci Pol 92:17–26

Gallopín GC (2006) Linkages between vulnerability, resilience, and adaptive capacity. Glob Environ Chang 16(3):293–303

Gammage LC, Jarre A, Mather C (2017a) A case study from the southern Cape line fishery 1: the difficulty of fishing in a changing world. S Afr J Sci 113(5–6):1–8

Gerhardinger LC, Godoy EA, Jones PJ (2009) Local ecological knowledge and the management of marine protected areas in Brazil. Ocean Coast Manag 52(3–4):54–165

Goulden MC, Adger WN, Allison EH, Conway D (2013) Limits to resilience from livelihood diversification and social capital in lake social–ecological systems. Ann Assoc Am Geogr 103(4):906–924

Guillotreau P, Bundy A, Perry R (2017) Global change in marine systems: societal and governing responses. Routledge

Gupta J, Termeer C, Klostermann J, Meijerink S, Van Den Brink M, Jong P, Nooteboom S, Bergsma E (2010) The adaptive capacity wheel: a method to assess the inherent characteristics of institutions to enable the adaptive capacity of society. Environ Sci Pol 13(6):459–471

Harper S, Adshade M, Lam V, Pauly D, Sumaila U (2020) Valuing invisible catches: estimating the global contribution by women to small-scale marine capture fisheries production. PLoS One 15(3):e0228912

IPCC (2014) Climate change 2014: impacts, adaptation, and vulnerability. Part A: global and sectoral aspects. Contribution of Working Group II to the Fifth Assessment Report of the Intergovernmental Panel on Climate Change. Climate Change 2014: Impacts, Adaptation, and Vulnerability 1132

Joseph V, Thornton A, Pearson S, Paull D (2013) Occupational transitions in three coastal villages in Central Java, Indonesia, in the context of sea level rise: a case study. Nat Hazards 69:675–694

Karadzic V, Antunes P, Grin J (2014) Adapting to environmental and market change: insights from fish producer organizations in Portugal. Ocean Coast Manag 102:364–374

Kleiber D, Harris LM, Vincent AC (2015) Gender and small-scale fisheries: a case for counting women and beyond. Fish Fish 16(4):547–562

Lazarus RS (2006) Stress and emotion: a new synthesis. Springer Publishing Company

Miller DD, Ota Y, Sumaila UR et al (2018) Adaptation strategies to climate change in marine systems. Glob Chang Biol 24:e1–e14

Morley JW, Selden RL, Latour RJ et al (2018) Projecting shifts in thermal habitat for 686 species on the north American continental shelf. PLoS One 13(5):e0196127

Nelson R, Kokic P, Crimp S et al (2010) The vulnerability of Australian rural communities to climate variability and change: part II—integrating impacts with adaptive capacity. Environ Sci Pol 13:18–27

Nelson DR, Lemos MC, Eakin H, Lo Y-J (2016) The limits of poverty reduction in support of climate change adaptation. Environ Res Lett 11:094011

Oestreich WK, Frawley TH, Mansfield EJ, et al (2019) Chapter 26 - the impact of environmental change on small-scale fishing communities: moving beyond adaptive capacity to community response. In: Cisneros-Montemayor AM, Cheung WWL, Ota Y (eds) Predicting Future Oceans. Elsevier, pp. 271–282

Pahl-Wostl C (2009) A conceptual framework for analysing adaptive capacity and multi-level learning processes in resource governance regimes. Glob Environ Chang 19:354–365

Pauly D, Zeller D (2016) Catch reconstructions reveal that global marine fisheries catches are higher than reported and declining. Nat Commun 7:10244

Perret SR, Yuerlita (2014) Adapting to declining fish resources: the differentiation of livelihood systems and fishing strategies in Singkarak Lake's fishing community, West Sumatra. Reg Environ Chang 14:1203–1214

Perry AL (2005) Climate change and distribution shifts in marine fishes. Science 308:1912–1915

Pörtner HO, Karl DM, Boyd PW, Cheung W, Lluch-Cota SE, Nojiri Y, Schmidt DN, Zavialov PO, Alheit J, Aristegui J, Armstrong C (2014) Ocean systems. In: In: Climate change 2014: impacts, adaptation, and vulnerability. Part A: global and sectoral aspects. contribution of working group II to the fifth assessment report of the Intergovernmental Panel on Climate Change. Cambridge University Press, Cambridge, pp 411–484

Poulain F, Himes-Cornell A, Shelton C (2018) Methods and tools for climate change adaptation in fisheries and aquaculture. In: Impacts of climate change on fisheries and aquaculture. Synthesis of current knowledge, adaptation and mitigation options 535–566

Ragin CC (2009) Redesigning social inquiry: fuzzy sets and beyond. University of Chicago Press

Ragin C, Davey S (2014) Fs/QCA [computer programme], version 2.5. University of California, Irvine

Ragin CC, Rihoux B (2009) Configurational comparative methods: qualitative comparative analysis (QCA) and related techniques. Sage

Rao N, Mishra A, Prakash A et al (2019) A qualitative comparative analysis of women's agency and adaptive capacity in climate change hotspots in Asia and Africa. Nat Clim Chang 9:964–971

Seggel A, De Young C (2016) Climate change implications for fisheries and aquaculture: summary of the findings of the Intergovernmental Panel on Climate Change Fifth Assessment Report. FAO Fish Aquac Circ I

Selgrath JC, Gergel SE, Vincent ACJ (2018) Shifting gears: diversification, intensification, and effort increases in small-scale fisheries (1950-2010). PLoS One 13:e0190232

Siders AR (2019) Adaptive capacity to climate change: a synthesis of concepts, methods, and findings in a fragmented field. Wiley Interdiscip Rev Clim Chang 10(3):e573

Smit B, Pilifosova O (2003) Adaptation to climate change in the context of sustainable development and equity. Sustain Dev 8:9

Stott PA, Christidis N, Otto FEL et al (2016) Attribution of extreme weather and climate-related events. Wiley Interdiscip Rev Clim Chang 7:23–41

Teh L, Sumaila U (2013) Contribution of marine fisheries to worldwide employment. Fish Fish 14(1):77–88

Thoya P, Daw TM (2019) Effects of assets and weather on small-scale coastal fishers' access to space, catches and profits. Fish Res 212:146–153

Wamsler C, Brink E (2014) Moving beyond short-term coping and adaptation. Environ Urban 26:86–111

Whitney CK, Bennett NJ, Ban NC et al (2017) Adaptive capacity: from assessment to action in coastal social-ecological systems. Ecol Soc 22:22

Willroth P, Massmann F, Wehrhahn R, Revilla Diez J (2012) Socio-economic vulnerability of coastal communities in southern Thailand: the development of adaptation strategies. Nat Hazards Earth Syst Sci 12(2012):2647–2658

Wilson DB (2009) Systematic coding. The handbook of research synthesis and meta-analysis, 2nd edn 2:159–176
Acknowledgments
We thank authors Dr. Nathan Bennett, Dr. Johanna Forster, Dr. Rashid Sumaila, and Dr. Ian Perry for providing additional information for case studies included in the meta-analysis. We thank Dr. Jenna Davis at Stanford University for her insight on QCA. We thank the anonymous reviewers who provided detailed and thoughtful comments on the manuscript.
Additional information
Publisher's note
Springer Nature remains neutral with regard to jurisdictional claims in published maps and institutional affiliations.
Supplementary information
About this article
Cite this article
Green, K.M., Selgrath, J.C., Frawley, T.H. et al. How adaptive capacity shapes the Adapt, React, Cope response to climate impacts: insights from small-scale fisheries. Climatic Change 164, 15 (2021). https://doi.org/10.1007/s10584-021-02965-w
Received:

Accepted:

Published:
Keywords
Small-scale fisheries

Adaptive capacity

Social-ecological systems

Environmental change

Quantitative meta-analysis

Qualitative comparative analysis