Abstract
Weather and climate are important considerations for tourists in selecting their destinations, and climate change may impact these decisions, with implications for economic revenue in tourism-dependent locations. In the Coachella Valley, a desert region in Southern California, the warm and dry climate during winter months attracts seasonal visitors from Canada and northern US states ("snowbirds"). However, global warming may adversely impact the snowbird season and other tourist attractions through rising temperatures. We analyzed how increasing temperatures are likely to impact three key components of the tourism industry in the region: climate in the winter snowbird season, visitation at an outdoor tourist attraction, and the likelihood of extreme heat at an annual festival. We used statistically downscaled climate models to make predictions about future visitation to the region by calculating changing probabilities of extreme heat during the tourist season and local events. Our analysis predicts a shortened snowbird season, which we define as the time of year with daily maximum temperatures below a threshold of 30 °C, under two future climate scenarios and time periods. We find a nonlinear relationship between daily maximum temperatures and daily zoo visits, where visitation sharply declines after a threshold of 30 °C. Using this threshold, we predict a decrease in zoo visitation by up to 18% and a shortening of the snowbird season by up to 36% by the end of the century. We also predict an increased likelihood of extreme heat stress during the Coachella Valley Music and Arts Festival.
Access options
Buy single article
Instant access to the full article PDF.
US$ 39.95
Tax calculation will be finalised during checkout.
Subscribe to journal
Immediate online access to all issues from 2019. Subscription will auto renew annually.
US$ 119
Tax calculation will be finalised during checkout.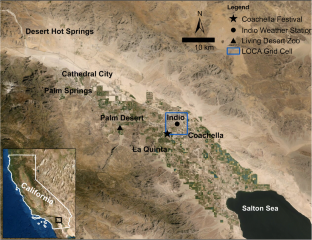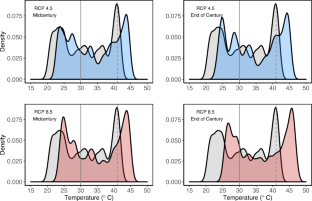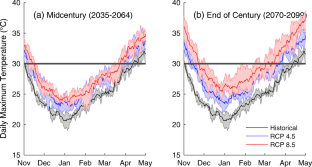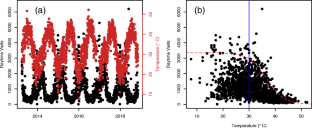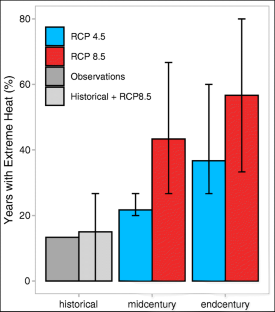 References
Allen RJ, Luptowitz R (2017) El Niño-like teleconnection increases California precipitation in response to warming. Nat Commun 8:16055

Amelung B, Nicholls S, Viner D (2007) Implications of global climate change for tourism flows and seasonality. J Travel Res 45(3):285–296

Aylen J, Albertson K, Cavan G (2014) The impact of weather and climate on tourist demand: the case of Chester Zoo. Clim Chang 127(2):183–197

Bjelde KE, Sanders GF (2012) Change and continuity: experiences of midwestern snowbirds. J Appl Gerontol 31(3):314–335

Bunker A, Wildenhain J, Vandenbergh A, Henschke N, Rocklöv J, Hajat S, Sauerborn R (2016) Effects of air temperature on climate-sensitive mortality and morbidity outcomes in the elderly; a systematic review and meta-analysis of epidemiological evidence. EBioMedicine 6:258–268

Coachella Valley Economic Partnership (2016) Greater Palm Springs Economic Report 2016. Retrieved from https://cvep.com/publications/

Coachella Valley Economic Partnership. (2018) Greater Palm Springs Economic Report 2018. Retrieved from https://cvep.com/publications/

Coates KS, Healy R, Morrison WR (2002) Tracking the snowbirds: seasonal migration from Canada to the USA and Mexico. Am Rev Can Stud 32(3):433–450

Crompton JL (1979) Motivations for pleasure vacation. Ann Tour Res 6(4):408–424

Dahl K, Spanger-Siegfried E, Licker R, Caldas A, Abatzoglou J, Mailloux N, Cleetus R, Udvardy S, Declet-Barreto J, Worth P (2019) Killer Heat in the United States: climate choices and the Future of dangerously hot days. Cambridge, MA: Union of Concerned Scientists. https://www.ucsusa.org/resources/killer-heat-united-states-0

de Freitas CR, Scott D, McBoyle G (2004) A new generation climate index for tourism. Advances in Tourism Climatology 12:19–26

Finger R, Lehmann N (2012) Modeling the sensitivity of outdoor recreation activities to climate change. Clim Res 51(3):229–236

Greater Palm Springs Convention and Tourism Bureau (2017) 2017 economic impact of tourism. Retrieved from https://www.visitgreaterpalmsprings.com/

Greater Palm Springs Convention and Tourism Bureau (2018) 2018 consumer image awareness study. Retrieved from https://www.visitgreaterpalmsprings.com/

Hamilton JM, Lau MA (2005) The role of climate information in tourist destination choice decision making. Tourism and Global Environmental Change: Ecological, Economic, Social and Political Interrelationships, 229

Happel SK, Hogan TD (2002) Counting snowbirds: the importance of and the problems with estimating seasonal populations. Popul Res Policy Rev 21(3):227–240

Health Assessment and Research for Communities (2010) HARC special report on snowbirds. Available online at www.HARCdata.org

Health Assessment and Research for Communities (2017) Coachella Valley community health survey. Available online at www.HARCdata.org

Hewer MJ, Gough WA (2016) Weather sensitivity for zoo visitation in Toronto, Canada: a quantitative analysis of historical data. Int J Biometeorol 60(11):1645–1660

Hewer MJ, Scott DJ, Gough WA (2018) Differential temperature preferences and thresholds among summer campers in Ontario's southern provincial parks: a Canadian case study in tourism climatology. Theor Appl Climatol 133(3–4):1163–1173

IPCC (2014) Climate change 2014: synthesis report. In: Core Writing Team, Pachauri RK, Meyer LA (eds) Contribution of Working Groups I, II and III to the Fifth Assessment Report of the Intergovernmental Panel on Climate Change. IPCC, Geneva 151 pp

Jones B, Scott D, Khaled HA (2006) Implications of climate change for outdoor event planning: a case study of three special events in Canada's national capital region. Event Management 10(1):63–76

Kulkarni S, Huang HP (2014) Changes in surface wind speed over North America from CMIP5 model projections and implications for wind energy. Adv Meteorol 2014

Martin HW, Hoppe SK, Larson CL, Leon RL (1987) Texas snowbirds: seasonal migrants to the Rio Grande valley. Research on Aging 9(1):134–147

McLeman RA, Hunter LM (2010) Migration in the context of vulnerability and adaptation to climate change: insights from analogues. Wiley Interdiscip Rev Clim Chang 1(3):450–461

Meinshausen M, Smith SJ, Calvin K, Daniel JS, Kainuma MLT, Lamarque JF, Matsumoto K, Montzka SA, Raper SCB, Riahi K, Thomson A, Velders GJM, van Vuuren DPP (2011) The RCP greenhouse gas concentrations and their extensions from 1765 to 2300. Clim Chang 109(1–2):213

Mieczkowski Z (1985) The tourism climatic index: a method of evaluating world climates for tourism. Canadian Geographer/Le Géographe Canadien 29(3):220–233

Njoroge JM (2015) Climate change and tourism adaptation: literature review. Tourism and Hospitality Management 21(1):95–108

NWS (2019) Heat Index. https://www.weather.gov/safety/heat-index

Paudyal R, Stein TV, Birendra KC, Adams DC (2019) Effects of weather factors on recreation participation in a humid subtropical region. Int J Biometeorol 63(8):1025–1038

Perkins D, Debbage K (2016) Weather and tourism: thermal comfort and zoological park visitor attendance. Atmosphere 7(3):44

Pickering C (2011) Changes in demand for tourism with climate change: a case study of visitation patterns to six ski resorts in Australia. J Sustain Tour 19(6):767–781

Pierce DW, Cayan DR, Thrasher BL (2014) Statistical downscaling using localized constructed analogs (LOCA). J Hydrometeorol 15(6):2558–2585

Pierce DW, Kalansky JF, Cayan DR (2018) Climate, drought, and sea level rise scenarios for California's fourth climate change assessment. Technical report CCCA4-CEC-2018-006, California Energy Commission

Rothfusz LP (1990) The heat index equation. National Weather Service Technical Attachment (SR 90–23)

Scott D, Jones B (2007) A regional comparison of the implications of climate change for the golf industry in Canada. The Canadian Geographer/Le Géographe Canadien 51(2):219–232

Scott D, McBoyle G (2007) Climate change adaptation in the ski industry. Mitig Adapt Strateg Glob Chang 12(8):1411

Scott D, McBoyle G, Schwartzentruber M (2004) Climate change and the distribution of climatic resources for tourism in North America. Clim Res 27(2):105–117

Scott D, Gössling S, de Freitas CR (2008) Preferred climates for tourism: case studies from Canada, New Zealand and Sweden. Clim Res 38(1):61–73

Scott D, Rutty M, Amelung B, Tang M (2016) An inter-comparison of the holiday climate index (HCI) and the tourism climate index (TCI) in Europe. Atmosphere 7(6):80

Smith SK, House M (2006) Snowbirds, sunbirds, and stayers: seasonal migration of elderly adults in Florida. J Gerontol Ser B Psychol Sci Soc Sci 61(5):S232–S239

USGCRP (2018) In: Reidmiller DR, Avery CW, Easterling DR, Kunkel KE, Lewis KLM, Maycock TK, Stewart BC (eds) Impacts, risks, and adaptation in the United States: Fourth National Climate Assessment, Volume II. U.S. Global Change Research Program, Washington, DC, 1515 pp. https://doi.org/10.7930/NCA4.2018

van der Wiel K, Kapnick SB, Vecchi GA (2017) Shifting patterns of mild weather in response to projected radiative forcing. Clim Chang 140(3–4):649–658

Wilby RL, Charles SP, Zorita E, Timbal B, Whetton P, Mearns LO (2004) Guidelines for use of climate scenarios developed from statistical downscaling methods. Supporting material of the Intergovernmental Panel on Climate Change, available from the DDC of IPCC TGCIA, 27

Wobus C, Small EE, Hosterman H, Mills D, Stein J, Rissing M, Jones R, Duckworth M, Hall R, Kolian M, Creason J, Martinich J (2017) Projected climate change impacts on skiing and snowmobiling: a case study of the United States. Glob Environ Chang 45:1–14

Yu G, Schwartz Z, Walsh JE (2009) A weather-resolving index for assessing the impact of climate change on tourism related climate resources. Clim Chang 95(3–4):551–573
Acknowledgments
CCY acknowledges the support from the University of California, Riverside, Chancellor's Research Fellowship and the National Science Foundation Graduate Research Fellowship Program. The authors also thank Guido Franco as the impetus for this work through the 4th California Climate Assessment and the developers of CalAdapt for downscaled climate model projections. Finally, the authors gratefully acknowledge the Living Desert Zoo and Botanical Gardens for their contribution to this dataset.
Availability of data and material
The modeled climate data used is publicly available on cal-adapt.org. Historical temperature data is also available from the US National Oceanic and Atmospheric Administration (NOAA, www.ncdc.noaa.gov/cdo-web/). Visitation data for the Living Desert Zoo and Botanical Gardens can be made available by the authors upon reasonable request and with permission from the Living Desert Zoo and Botanical Gardens.
Funding
This research was supported by the National Science Foundation's Graduate Research Fellowship Program and the University of California's Chancellor's Research Fellowship.
Ethics declarations
Conflicts of interest
The authors declare that they have no known conflict of interest.
Code availability
The scripts used for this analysis can be made available by the authors upon reasonable request.
Additional information
Publisher's note
Springer Nature remains neutral with regard to jurisdictional claims in published maps and institutional affiliations.
About this article
Cite this article
Yañez, C.C., Hopkins, F.M. & Porter, W.C. Projected impacts of climate change on tourism in the Coachella Valley, California. Climatic Change 162, 707–721 (2020). https://doi.org/10.1007/s10584-020-02843-x
Received:

Accepted:

Published:

Issue Date:
Keywords
Tourism

Snowbird

Extreme heat

Zoo

Festival

Projections