Abstract
Numerous studies to date have interrogated United States (US) think tanks—and their networks—involved in climate change countermovement (CCM). Comparatively in Europe (EU), research has been lacking. This investigation therefore attends to that gap. We conducted a frame analysis on eight most prominent contrarian think tanks in six countries and four languages in Europe over 24 years (1994–2018). We found that there has been consistent contrarian framing through think tanks in the EU regarding climate change. Yet, we found a proliferation of contrarian outputs particularly in recent years. This uptick in quantity correlates with increases in CCM activities in the US. Our content analyses showed that well-worn climate change counter-frames spread by US CCM organizations were consistently circulated by European organizations as well. Moreover, we found that, as in the US, neoliberal ideological stances stood out as the most frequently taken up by contrarian think tanks in Europe. As such, we documented that CCM tropes and activities have flowed strongly between US and EU countries.
Access options
Buy single article
Instant access to the full article PDF.
US$ 39.95
Tax calculation will be finalised during checkout.
Subscribe to journal
Immediate online access to all issues from 2019. Subscription will auto renew annually.
US$ 119
Tax calculation will be finalised during checkout.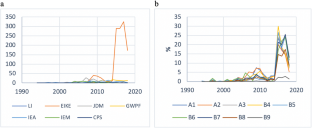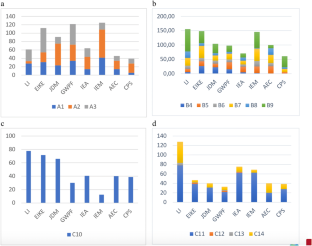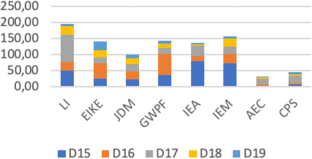 Notes
1.

Global Go to Think Tank Index is an index build upon the nominations and rankings made by a panel of experts on the basis of a large list of qualitative criteria that the experts assess according to their perception. For the 2018 Global Go to Think Tank Index, the panel included over 1796 peer institutions and experts from the print and electronic media, academia, public and private donor institutions, and governments around the world (McGann 2019).
References
Almiron N (2020) Rethinking the ethical challenge in climate change lobbying: a discussion of ideological denial. In: Almiron N, Xifra J (eds) Climate change denial and public relations. Strategic communication and interest groups in climate inaction. Routledge, London, pp 9–25

Anshelm J, Hutman M (2014) A green fatwā? Climate change as a threat to the masculinity of industrial modernity. NORMA Int J Masculinity Stud 9(2):84–96

Bazeley P, Jackson K (eds) (2013) Qualitative data analysis with NVivo. Sage Publications Limited, London

Beder S (2001) Neoliberal think tanks and free market environmentalism. Environment Politics 10(2):128–133

Boykoff MT (2011) Who speaks for the climate? Making sense of media reporting on climate change. Cambridge University Press, Cambridge

Boykoff MT (2016) Consensus and contrarianism on climate change. How the USA case informs dynamics elsewhere. Mètode Sci Stud J 6:89–95

Boykoff M, Olson S (2013) 'Wise contrarians' in contemporary climate science-policy-public interactions. Celebrity Stud J 4(3):276–291

Boykoff MT, Rajan SR (2007) Signals and noise: mass-media coverage of climate change in the USA and the UK. Eur Molecul Biol Organizat Rep 8(3):1–5

Brulle RJ (2014) Institutionalizing delay: foundation funding and the creation of U.S. climate change counter-movement organizations. Clim Chang 122:681–694

Brulle RJ (2020) Denialism: organized opposition to climate change action in the United States. In: Konisky D (ed) Handbook of environmental policy. Edward Elgar Publishing, Northampton, pp 328–341

Capstick SB, Pidgeon NF (2014) What is climate change skepticism? Examination of the concept using a mixed methods study of the UK public. Glob Environ Chang 24(1):390–401

Carmichael JT, Brulle RJ (2017) Elite cues, media coverage, and public concern: an integrated path analysis of public opinion on climate change, 2001–2013. Environ Politics 26(2):232–252

Carmichael JT, Brulle RJ (2018) Media use and climate change concern. Int J Media Cult Politics 14(2):243–253

Carter L, Ross A (2018) Revealed: BP and gambling interests fund secretive free market think tank. Unearthed, retrieved from https://unearthed.greenpeace.org/2018/07/30/bp-funding-institute-of-economic-affairs-gambling/. Accessed 8 Sept 2020

CEO (2010) Concealing their sources - who funds Europe's climate change deniers? Corporate Europe Observatory, December. Retrieved from https://corporateeurope.org/en/funding-climate-change-denial

Clifford KR, Travis WR (2018) Knowing climate as a social-ecological-atmospheric construct. Glob Environ Chang 49:1–9

Cook J, Oreskes N et al (2016) Consensus on consensus: a synthesis of consensus estimates on human-caused global warming. Environ Res Lett 11:048002

Cook J, Ellerton P, Kinkead D (2018) Deconstructing climate misinformation to identify reasoning errors. Environ Res Lett 13(2):024018

Deleja-Hotko V, Müller A-K, Traufetter G (2019) AfD hopes to win votes by opposing climate protection. Spiegel, retrieved from https://www.spiegel.de/international/germany/afd-seeks-votes-by-opposing-climate-protection-a-1265494.html. Accessed 8 Sept 2020

Derrida J (1978) Structure, sign, and play in the discourse of the human sciences. In: Derrida J (ed) Writing and difference. University of Chicago Press, Chicago, pp 278–293

Dunlap RE (2013) Climate change skepticism and denial: an introduction. Am Behav Sci 57(6):691–698

Dunlap RE, Jacques PJ (2013) Climate change denial books and conservative think tanks: exploring the connection. Am Behav Sci 57(6):699–731

Ecologistas en Acción (2018) Balance ambiental negativo de los seis años de Gobierno del Partido Popular [Negative environmental outcome of the six years of Partido Popular's administration]. https://www.ecologistasenaccion.org/36084/balance-ambiental-negativo-de-los-seis-anos-de-gobierno-del-partido-popular/ Accessed 7 July 2020

Farand C, Hope M, Collet-White R (2019) Mapped: a who's who of Brexit and climate science denial. Desmog, retrieved from https://www.desmog.co.uk/2019/06/07/brexit-climate-denier-map#TuftonSt. Accessed 8 Sept 2020

Farrell J (2016) Network structure and influence of climate change countermovement. Nat Clim Chang 6(4):370–374

Forchtner B (ed) (2019) The far right and the environment. Politics, discourse and communication. Routledge, London

Forchtner B, Kroneder A, Wetzel D (2018) Being skeptical? Exploring far-right climate change communication in Germany. Environ Commun 12(5):589–604

Goffman E (1974) Frame analysis: an essay on the organization of experience. Harper & Row, New York

Hornsey MJ, Harris EA, Fielding KS (2018) Relationships among conspiratorial beliefs, conservatism and climate scepticism across nations. Nature Clim Change 8:614–620. https://doi.org/10.1038/s41558-018-0157-2

Howarth C, Sharman A (2017) Influence of labeling and incivility on climate change communication. Oxford Res Encyclopedia Clim Sci 2:772–784

IPCC (2014) Climate change 2014: synthesis report. In: Core Writing Team, Pachauri RK, Meyer LA (eds) Contribution of working groups I, II and III to the fifth assessment report of the intergovernmental panel on climate change. IPCC, Geneva

Jacques PJ, Dunlap RE, Freeman M (2008) The organization of denial: conservative think tanks and environmental scepticism. Environ Politics 17:349–385

Kelstrup JD (2017) Quantitative differences in think tank dissemination activities in Germany, Denmark and the UK. Policy Sci 50:125–137

Krange O, Kaltenborn BP, Hultman M (2019) Cool dudes in Norway: climate change denial among conservative Norwegian men. Environ Sociol 5(1):1–11

Levy DL, Kolk A (2002) Strategic responses to global climate change: conflicting pressures on multinationals in the oil industry. Business Politics 4(3):275–300

Liberales Institute (2020) The Institute. Liberales Institute Website. https://www.libinst.ch/?i=home%2D%2Den. Accessed 1 July 2020

Lockwood M (2018) Right-wing populism and the climate change agenga: exploring the linkages. Environ Politics 27(4):712–732

Mandel K (2016) UK climate denial think tank global warming policy foundation sets up US fundraising arm. Desmog, retrieved from https://www.desmog.co.uk/2016/05/06/uk-climate-denial-think-tank-gwpf-global-warming-policy-foundation-sets-us-fundraising-arm. Accessed 8 Sept 2020

Mayer J (2017) Dark money: the hidden history of the billionaires behind the rise of the radical right. Anchor Books, New York

McCright AM (2007) Climate contrarians. In: Moser SC, Dilling DL (eds) Creating a climate for change: communicating climate change and facilitating social change. Cambridge University Press, Cambridge, pp 200–212

McCright AM, Dunlap RE (2000) Challenging global warming as a social problem: an analysis of the conservative movement's counter-claims. Soc Probl 47:499–522

McCright AM, Dunlap RE (2003) Defeating Kyoto: the conservative movement's impact on U.S. climate change policy. Soc Probl 50:348–373

McCright AM, Dunlap RE (2010) Anti-reflexivity: the American conservative movement's success in undermining climate science and policy. Theory Cult Soc 26:100–133

McCright AM, Charters M, Dentzman K, Dietz T (2015) Examining the effectiveness of climate change frames in the face of a climate change denial counter-frame. Top Cogn Sci 8:76–97

McCright AM, Dunlap RE, Marquart-Pyatt ST (2016) Political ideology and views about climate change in the European Union. Environ Politics 25(2):338–358

McGann JG (2019) 2018 Global Go to Think Thank Index & Abridged Report. University of Pennsylvania, Philadelphia

Medvetz T (2012) Think tanks in America. The University of Chicago Press, Chicago

Monbiot G (2018) Dark money lurks at the heart of our political crisis. The Guardian, retrieved from https://www.theguardian.com/commentisfree/2018645/jul/18/dark-money-democracy-political-crisis-institute-economic-affairs. Accessed 8 Sept 2020

Nelson TE, Oxley RA, Clawson ZM (1997) Media framing of a civil liberties conflict and its effect on tolerance. Am Polit Sci Rev 91(3):567–583

Norgaard KM (2011) Climate denial: emotion, psychology, culture, and political economy. In: Dryzek JS, Norgaard RB, Schlosberg D (eds) The Oxford Handbook of Climate Change and Society. Oxford University Press, Oxford, pp 399–413

O'Neill SJ, Boykoff MT (2010) Climate denier, skeptic, or contrarian? Proc Natl Acad Sci. https://doi.org/10.1073/pnas.1010507107

Oreskes N, Conway EM (2011) Merchants of doubt: how a handful of scientists obscured the truth on issues from tobacco smoke to global warming. Bloomsbury Publishing, New York

Parienté J, Laurent S (2014) Le « jour de libération fiscale » est-il un indicateur sérieux? Le Monde, retrieved from https://www.lemonde.fr/les-decodeurs/article/2014/07/28/le-jour-de-liberation-fiscale-est-il-un-indicateur-serieux_4463709_4355770.html. Accessed 8 Sept 2020

Plehwe D (2011) Transnational discourse coalitions and monetary policy: Argentina and the limited powers of the "Washington Consensus.". Criti Policy Stud 5:127–148

Plehwe D (2014) Think tank networks and the knowledge–interest nexus: the case of climate change. Criti Policy Stud 8(1):101–115

Plehwe D (2017) Social Networks of Influence in Europe – and Beyond. In: Büllesbach D, Cillero M, Stolz L (eds) Shifting baselines of Europe. New perspectives beyond neoliberalism and nationalism transcript, pp 147–157

Plehwe D, Slobodian Q, Mirowski P (eds) (2020) Nine lives of neoliberalism. Verso, London. https://www.econstor.eu/handle/10419/215796

Pulver S (2007) Making sense of corporate environmentalism: an environmental contestation approach to analyzing the causes and consequences of the climate change policy split in the oil industry. Organ Environ 20(1):44–83

Raico R (2011) Neither the wars nor the leaders were great. Misses.org, retrieved from https://mises.org/library/neither-wars-nor-leaders-were-great. Accessed 8 Sept 2020

Rothbard M N (2010) The learned extremist: Juan de Mariana. Mises Institute. https://mises.org/library/learned-extremist-juan-de-mariana. Accessed 1 July 2020

Rowell A (2007) Exxon's foot soldiers: the case of the international policy network. In: Dinan W, Miller D (eds) Thinker, faker, spinner, spy: corporate PR and the assault on democracy. Pluto Press, London, pp 94–116

Stemler S (2001) An overview of content analysis. Pract Assess Res Eval 7(17):137–146

Supran G, Oreskes N (2017) Assessing ExxonMobil's climate change communications (1977-2014). Environ Res Lett 12(8):084019

Tesler M (2018) Elite domination of public doubts about climate change (not evolution). Political Communication 35(2):306–326

Union of Concerned Scientists (2007) Smoke, mirrors & hot air: how ExxonMobil uses big tobaccos tactics to manufacture uncertainty on climate science. Union of Concerned Scientists, Cambridge
Funding
This work was funded by the Spanish State Research Agency (Agencia Estatal de Investigación, AEI) and the European Regional Development Fund (ERDF) under Grant CSO2016-78421-R.
Ethics declarations
Conflict of interest
The authors declare that they have no conflict of interest.
Additional information
Publisher's note
Springer Nature remains neutral with regard to jurisdictional claims in published maps and institutional affiliations.
About this article
Cite this article
Almiron, N., Boykoff, M., Narberhaus, M. et al. Dominant counter-frames in influential climate contrarian European think tanks. Climatic Change 162, 2003–2020 (2020). https://doi.org/10.1007/s10584-020-02820-4
Received:

Accepted:

Published:

Issue Date:
Keywords
Climate change denial

Contrarian counter-movement

Europe

Think tanks

Counter-frames