Abstract
To better address climate unpredictability, green infrastructure is increasingly deployed alongside gray infrastructure as an alternative strategy for flood risk mitigation. Previous research has not clearly distinguished the flood-mitigation effects of green infrastructure at the local scale due to its complex range of functions including socioeconomic benefits, ecosystem services, and amenity value. Using data on 3768 housing sales from 2009 to 2019 in Hong Kong, we employ a difference-in-differences framework to examine the effect of green infrastructure on perceptions of flood risk mitigation, with housing prices as a proxy for risk perception. We find a positive effect of green infrastructure on the value of nearby housing. The effect does not exist in apartment units on higher floors, however. This vertical discrepancy further suggests that the observed pricing effects are due to green infrastructure's capacity to reduce perceptions of flood risk. By contrast, properties near conventional gray infrastructure show no evidence of such effects. The results thus provide quantitative evidence that supports the ongoing shift toward green infrastructure as a form of climate change adaptation.
Access options
Buy single article
Instant access to the full article PDF.
USD 39.95
Price includes VAT (USA)
Tax calculation will be finalised during checkout.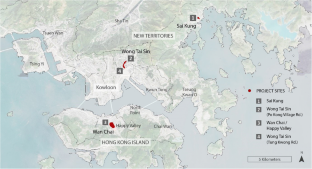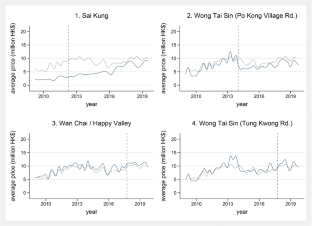 Notes
1.

The Hong Kong tropical cyclone warning system consists of Signals 1 (standby), 3 (strong wind), 8 (gale or storm), 9 (increasing gale or storm), and 10 (hurricane). Signal 8 is issued when a sustained wind speed ranges from 63 to 87 km/h. Signal 9 is issued when wind speed ranges from 88 to 117 km/h. Signal 10, the highest level in the warning system, indicates persistent hurricane-forced winds exceeding 117 km/h.

2.

For instance, if a property is at risk of flooding, market participants may expect substantial repair costs from flood damages, leading demand for lower-risk properties to rise. However, this risk does not affect the actual supply of properties at risk of flooding. The subsequent price differential between such properties thus reveals a market participant's willingness to pay for flood risk reduction.

3.

Overland flood insurance, which is a consideration in many contexts, is another variable that is often included in similar studies. Yet, for Hong Kong and the wider Asia Pacific, such policies are unavailable and/or unpopular (Lamond et al. 2017; Chan et al. 2018). The lack of such policies means that our study does not suffer from a systematic bias. Although some local property insurance covers water damage, this is mostly limited to pipe leakages, seepages, and drainage problems (Chan et al. 2018). Government policy does not typically support private insurers who might wish to offer this service, as there is often a lack of accurate flood risk information. Meanwhile, other private insurers estimate that risks are simply too high to offer flood premium packages.
References
Aerts J, Botzen W, Bowman M, Dircke P, Ward P (2012) Climate adaptation and flood risk in coastal cities. Earthscan, New York

Bajari P, Fruehwirth JC, Timmins C (2012) A rational expectations approach to hedonic price regressions with time-varying unobserved product attributes: the price of pollution. Am Econ Rev 102:1898–1926

Barnhill K, Smardon R (2012) Gaining ground: green infrastructure attitudes and perceptions from stakeholders in Syracuse, New York. Environ Pract 14:6–16

Beckers J, Diermanse F, Verwey A, Tse M, Kan F, Yiu C (2012) Design of flood protection in Hong Kong. In: Klijn F, Schweckendiek T (eds) Comprehensive flood risk management: research for policy and practice. Taylor & Francis, London, p 37

Belanger P, Bourdeau-Brien M (2018) The impact of flood risk on the price of residential properties: the case of England. Hous Stud 33:876–901

Benedict MA, McMahon ET (2002) Green infrastructure: smart conservation for the 21st century. Renew Resour J 20:12–17

Bin O, Landry CE (2013) Changes in implicit flood risk premiums: empirical evidence from the housing market. J Environ Econ Manag 65:361–376

Boinas R, Guimarães AS, Delgado JM (2016) Rising damp in Portuguese cultural heritage–a flood risk map. Struct Surv 34:43–56

Buurman J, Babovic V (2016) Adaptation pathways and real options analysis: an approach to deep uncertainty in climate change adaptation policies. Polic Soc 35:137–150

Carter JG, Handley J, Butlin T, Gill S (2018) Adapting cities to climate change–exploring the flood risk management role of green infrastructure landscapes. J Environ Plan Manag 61:1535–1552

Chambwera MA, Heal G, Dubeux C, Hallegatte S, Leclerc L, Markandya A, McCarl B, Mechler R, Neumann J (2014) Economics of adaptation. Climate change 2014: impacts, adaptation, and vulnerability. Cambridge University Press, Cambridge, pp 945–977

Chan F, Chuah CJ, Ziegler A, Dąbrowski M, Varis O (2018) Towards resilient flood risk management for Asian coastal cities: lessons learned from Hong Kong and Singapore. J Clean Prod 187:576–589

Chan W (2018) Super typhoon Mangkhut is a flood threat for Hong Kong, but climate change will bring a lot worse. South China Morning Post. https://www.scmp.com/comment/letters/article/2164227/super-typhoon-mangkhut-flood-threat-hong-kong-climate-change-will. Accessed 13 December 2019

Chen WY (2017) Environmental externalities of urban river pollution and restoration: a hedonic analysis in Guangzhou (China). Landsc Urban Plan 157:170–179

Cheung E (2017) A brief history of Hong Kong typhoons. South China Morning Post. https://www.scmp.com/news/hong-kong/healthenvironment/article/2107903/brief-history-hong-kong-typhoons. Accessed 11 Nov 2019

Costanza R, Pérez-Maqueo O, Martinez ML, Sutton P, Anderson SJ, Mulder K (2008) The value of coastal wetlands for hurricane protection. AMBIO: A Journal of the Human Environment 37:241–249

Demuzere M, Orru K, Heidrich O, Olazabal E, Geneletti D, Orru H, Bhave A, Mittal N, Feliu E, Faehnle M (2014) Mitigating and adapting to climate change: multi-functional and multi-scale assessment of green urban infrastructure. J Environ Manag 146:107–115

Denant-Boemont L, Hammiche S (2019) Economic measurement of environmental costs for transportation activity. in Faulin J, Grasman S, Juan A, Hirsch P (eds.) Sustainable transportation and smart logistics. Elsevier, Amsterdam, pp. 153–167

Denjean B, Altamirano MA, Graveline N, Giordano R, Van Der Keur P, Moncoulon D, Weinberg J, Costa MM, Kozinc Z, Mulligan M (2017) Natural assurance scheme: a level playing field framework for green-grey infrastructure development. Environ Res 159:24–38

Derkzen ML, van Teeffelen AJ, Verburg PH (2017) Green infrastructure for urban climate adaptation: how do residents' views on climate impacts and green infrastructure shape adaptation preferences? Landsc Urban Plan 157:106–130

DSD (2004) Drainage improvement in Sai Kung–design and construction: final executive summary for the EIA report. in Environmental Protection Department (ed.). Hong Kong Drainage Services Department, Hong Kong

DSD (2019a) Flooding blackspots. Hong Kong Drainage Services Department, Hong Kong

DSD (2019b) List of flood prevention projects. Hong Kong Drainage Services Department, Hong Kong

Environment Bureau (2015) Hong Kong climate change report 2015. Hong Kong Environment Bureau, Hong Kong

European Commission (2013) Building a green infrastructure for Europe. European Union, Luxembourg

Filatova T, Bin O (2014) Changing climate, changing behavior: adaptive economic behavior and housing markets responses to flood risks. Advances in social simulation. Springer, Berlin, pp. 249–258

Green TL, Kronenberg J, Andersson E, Elmqvist T, Gomez-Baggethun E (2016) Insurance value of green infrastructure in and around cities. Ecosystems 19:1051–1063

Hallstrom DG, Smith VK (2005) Market responses to hurricanes. J Environ Econ Manag 50:541–561

Harclerode MA, Lal P, Vedwan N, Wolde B, Miller ME (2016) Evaluation of the role of risk perception in stakeholder engagement to prevent lead exposure in an urban setting. J Environ Manag 184:132–142

Hill K (2015) Coastal infrastructure: a typology for the next century of adaptation to sea-level rise. Front Ecol Environ 13:468–476

Hong Kong Observatory (2019) Storm surge records in Hong Kong during the passage of tropical cyclones. https://www.weather.gov.hk/en/wservice/tsheet/pms/stormsurgedb.htm. Accessed 13 Oct 2019

Jackson B, Wheater H, McIntyre N, Chell J, Francis O, Frogbrook Z, Marshall M, Reynolds B, Solloway I (2008) The impact of upland land management on flooding: insights from a multiscale experimental and modelling programme. J Flood Risk Manag 1:71–80

Jaffe M (2010) Environmental reviews & case studies: reflections on green infrastructure economics. Environ Pract 12:357–365

Keenan JM, Hill T, Gumber A (2018) Climate gentrification: from theory to empiricism in Miami-Dade County, Florida. Environ Res Lett 13:054001

Kim Y, Eisenberg DA, Bondank EN, Chester MV, Mascaro G, Underwood BS (2017) Fail-safe and safe-to-fail adaptation: decision-making for urban flooding under climate change. Clim Chang 145:397–412

Kuminoff NV, Parmeter CF, Pope JC (2010) Which hedonic models can we trust to recover the marginal willingness to pay for environmental amenities? J Environ Econ Manag 60:145–160

Lamond J, Bhattacharya-Mis N, Chan FKS, Kreibich H, Montz B, Proverbs D, Wilkinson S (2017) Flood risk mitigation and commercial property advice: an international comparison. Royal Institution of Chartered Surveyors, London, UK

Lau D (2016) Development of an Operational Storm Surge Prediction System for a Coastal City – Hong Kong Experience. Hong Kong Observatory, Typhoon Committee Roving Seminar 2016. http://www.typhooncommittee.org/docs/roving_seminar/2016/2016_C1.pdf. Accessed 15 Dec 2019

Lau D (2019) Report on sea level observing activities in Hong Kong, China

Lennon M, Scott M, O'Neill E (2014) Urban design and adapting to flood risk: the role of green infrastructure. J Urban Des 19:745–758

List J, Uhlig H (2017) The past, present, and future of economics: a celebration of the 125-year anniversary of the JPE and of Chicago economics introduction. Univ. Chicago Press, Chicago

Liu W, Chen W, Peng C (2014) Assessing the effectiveness of green infrastructures on urban flooding reduction: a community scale study. Ecol Model 291:6–14

Lo AY, Jim CY (2015) Come rain or shine? Public expectation on local weather change and differential effects on climate change attitude. Public Underst Sci 24:928–942

Ludy J, Kondolf GM (2012) Flood risk perception in lands "protected" by 100-year levees. Nat Hazards 61:829–842

Mei C, Liu J, Wang H, Yang Z, Ding X, Shao W (2018) Integrated assessments of green infrastructure for flood mitigation to support robust decision-making for sponge city construction in an urbanized watershed. Sci Total Environ 639:1394–1407

Nordman EE, Isely E, Isely P, Denning R (2018) Benefit-cost analysis of stormwater green infrastructure practices for grand rapids, Michigan, USA. J Clean Prod 200:501–510

Nyce C, Dumm RE, Sirmans GS, Smersh G (2015) The capitalization of insurance premiums in house prices. J Risk Insur 82:891–919

Park J, Seager TP, Rao PSC (2011) Lessons in risk-versus resilience-based design and management. Integr Environ Assess Manag 7:396–399

Rajapaksa D, Zhu M, Lee B, Hoang V-N, Wilson C, Managi S (2017) The impact of flood dynamics on property values. Land Use Policy 69:317–325

Santoro S, Pluchinotta I, Pagano A, Pengal P, Cokan B, Giordano R (2019) Assessing stakeholders' risk perception to promote nature based solutions as flood protection strategies: the case of the Glinščica river (Slovenia). Sci Total Environ 655:188–201

Scherer CW, Cho H (2003) A social network contagion theory of risk perception. Risk Anal 23:261–267

Smith A (2018) 2017 U.S. billion-dollar weather and climate disasters: a historic year in context. https://www.climate.gov/news-features/blogs/beyond-data/2017-us-billion-dollar-weather-and-climate-disasters-historic-year. Accessed October 26, 2019

Sörensen J, Emilsson T (2019) Evaluating flood risk reduction by urban blue-green infrastructure using insurance data. J Water Resour Plan Manag 145:04018099

Sussams L, Sheate W, Eales R (2015) Green infrastructure as a climate change adaptation policy intervention: muddying the waters or clearing a path to a more secure future? J Environ Manag 147:184–193

Thomas K, Littlewood S (2010) From green belts to green infrastructure? The evolution of a new concept in the emerging soft governance of spatial strategies. Plan Pract Res 25:203–222

Thorne CR, Lawson EC, Ozawa C, Hamlin SL, Smith LA (2018) Overcoming uncertainty and barriers to adoption of blue-green infrastructure for urban flood risk management. J Flood Risk Manag 11:S960–S972

Watson KB, Ricketts T, Galford G, Polasky S, O'Niel-Dunne J (2016) Quantifying flood mitigation services: the economic value of Otter Creek wetlands and floodplains to Middlebury, VT. Ecol Econ 130:16–24

Weber T, Sloan A, Wolf J (2006) Maryland's green infrastructure assessment: development of a comprehensive approach to land conservation. Landsc Urban Plan 77:94–110

Wright H (2011) Understanding green infrastructure: the development of a contested concept in England. Local Environ 16:1003–1019
Acknowledgements
We are thankful to Nam Young Kwon for assistance in collecting data on housing sales transactions. We acknowledge support from the University of Hong Kong Faculty of Social Sciences Cities 2050 Research Cluster.
Additional information
Publisher's note
Springer Nature remains neutral with regard to jurisdictional claims in published maps and institutional affiliations.
Appendix
Appendix
About this article
Cite this article
Kim, S.K., Joosse, P., Bennett, M.M. et al. Impacts of green infrastructure on flood risk perceptions in Hong Kong. Climatic Change 162, 2277–2299 (2020). https://doi.org/10.1007/s10584-020-02803-5
Received:

Accepted:

Published:

Issue Date:
Keywords
Green infrastructure

Flood mitigation

Climate change adaptation

Difference-in-differences

Hong Kong

Coastal cities