Abstract
As water systems are likely to experience mounting challenges managing for climate variability and extremes as well as a changing climate, there is increasing interest in what motivates systems to implement adaptive measures. While extreme events have been hypothesized to stimulate organization change and act as "windows of opportunity" and "pacemakers" driving toward adaptation, they do not always seem to do so. We therefore sought to understand the responses and motivations for organizational behavior in the wake of two significant droughts across five smaller water systems in Western Colorado, USA. We conducted interviews and focus groups across these systems to understand whether and why significant droughts in 2002 and 2012 prompted adaptive change. Results indicate that systems did not uniformly decide to change their policies in the wake of drought, and even well-prepared systems were driven to change policies by other pressures, such as peer-system pressure and political pressure from residents. We find that organizational worldviews were important mediators of how the experience of drought manifest, or not, in organizational changes. These findings have implications for assumptions about what might drive organizational learning and change among water managers for climate adaptation in the future.
Access options
Buy single article
Instant access to the full article PDF.
US$ 39.95
Tax calculation will be finalised during checkout.
Subscribe to journal
Immediate online access to all issues from 2019. Subscription will auto renew annually.
US$ 119
Tax calculation will be finalised during checkout.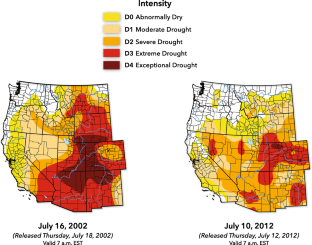 References
Argyris C, Schon D (1996) Organizational learning II: theory, method, and practice. Addison-Wesley, Reading

Bales RC, Molotch NP, Painter TH, Dettinger MD, Rice R, Dozier J (2006) Mountain hydrology of the western United States. Water Resour Res 42:W08432. https://doi.org/10.1029/2005WR004387

Bazeley P, Jackson K (2013) Qualitative data analysis with NVivo. Sage Publications Limited, London

Berkhout F (2012) Adaptation to climate change by organizations. Wiley Interdiscip Rev Clim Chang 3(1):91–106. https://doi.org/10.1002/wcc.154

Birkland TA (2006) Learning from disaster: policy change after catastrophic events. Georgetown University Press, Washington, DC

Birkmann J, Buckle P, Jaeger J, Pelling M, Setiadi N, Garschagen M et al (2010) Extreme events and disasters: a window of opportunity for change? Analysis of organizational, institutional and political changes, formal and informal responses. Nat Hazards 55:637–655. https://doi.org/10.1007/s11069-008-9319-2

Burch S, Robinson J (2007) A framework for explaining the links between capacity and action in response to global climate change and action in response to global climate change. Clim Pol 7(4):304–316

Busenberg GJ (2001) Learning in organizations and public policy. J Public Policy 21(2):173–189

Callihan LM (2013) A robust decision-making technique for water management under decadal scale climate variability. University of Colorado Boulder Dissertation

Carley KM, Harrald JR (1997) Organizational learning under fire: theory and practice. Am Behav Sci 40(3):310–332

Christoplos I (2006) The elusive "window of opportunity" for risk reduction in post-disaster recovery. In ProVention Consortium Forum (pp. 1–4), Bangkok, February 2-3, 2006. Available at: https://www.humanitarianlibrary.org/sites/default/files/2014/02/ProVention_ElusiveWindowOfOpportunity.pdfhttps://www.humanitarianlibrary.org/sites/default/files/2014/02/ProVention_ElusiveWindowOfOpportunity.pdf. Accessed 21 Apr 2020

Diduck A (2010) The learning dimension of adaptive capacity: untangling the multi-level connections. In: Armitage D, Plummer R (eds) Adaptive capacity and environmental governance. Springer Series on Environmental Management. Springer, Berlin, Heidelberg, pp 199–222

Dilling L, Daly M, Travis W, Wilhelmi O, Klein R (2015) The dynamics of vulnerability: why adapting to climate variability may not always prepare us for climate change. WIREs Clim Change 2015. https://doi.org/10.1002/wcc.341

Dilling L, Daly M, Kenney D, Klein R, Miller K, Ray A, Wilhelmi O (2018) Drought in urban water systems: learning lessons for climate adaptive capacity. Clim Risk Manag. https://doi.org/10.1016/j.crm.2018.11.001

Folkes VS (1988) The availability heuristic and perceived risk. J Consum Res 15(1):13–23

Getches DH (1990) Water law in a nutshell. West Pub. Co., St. Paul

Gordon E, Ojima D (2015) Colorado Climate Change Vulnerability Study. A report submitted to the Colorado energy office. Retrieved from http://wwa.colorado.edu/publications/reports/co_vulnerability_report_2015_final.pdf. Accessed 21 Apr 2020

Granderson AA (2014) Making sense of climate change risks and responses at the community level: a cultural-political lens. Clim Risk Manag 3:55–64. https://doi.org/10.1016/j.crm.2014.05.003

Grothmann T, Patt A (2005) Adaptive capacity and human cognition: the process of individual adaptation to climate change. Glob Environ Chang 15(3):199–213. https://doi.org/10.1016/j.gloenvcha.2005.01.002

Hashimoto T, Stedinger JR, Loucks DP (1982) Reliability, resiliency, and vulnerability criteria for water resource system performance evaluation. Water Resour Res 18(1):14–20. https://doi.org/10.1029/WR018i001p00014

Hornberger GM, Hess DJ, Gilligan J (2015) Water conservation and hydrological transitions in cities in the United States. Water Resour Res 51:4635–4649. https://doi.org/10.1002/2016WR019804

Huitema D, Meijerink S (2010) Realizing water transitions: the role of policy entrepreneurs in water policy change. Ecol Soc 15(2):26

Jacobs K, Pulwarty R (2003) Water resource management: science, planning, and decision-making. In: Lawford R, Fort D, Hartmann H, Eden S (eds) Water: science, policy, and management. American Geophysical Union, Washington, D.C., pp 177–204

Kahan DM, Peters E, Wittlin M, Slovic P, Ouellette LL, Braman D, Mandel G (2012) The polarizing impact of science literacy and numeracy on perceived climate change risks. Nat Clim Chang 2(10):732–735. https://doi.org/10.1038/nclimate1547

Kirchhoff CJ, Dilling L (2016) The role of U.S. states in facilitating effective water governance under stress and change. Water Resour Res 52(4):2951–2964. https://doi.org/10.1002/2015wr018431

Klein R, Kenney DS (2006) Use of climate information in municipal drought planning in Colorado. Western Water Assessment White Paper. Boulder, CO. Available at: https://wwa.colorado.edu/publications/reports/WWA_Klein_Kenney_ClimateInfo_2006.pdf. Accessed 21 Apr 2020

Kuranz A (2014) Multi-level collaborative management of Colorado's instream flow program. University of Colorado Boulder Dissertation

Lach D, Ingram H, Rayner S, Wise WA, Library L (2005) Maintaining the status quo: how institutional norms and practices create conservative water organizations. Texas Law Rev 83:2027–2054

Linnenluecke MK, Grif A, Winn M (2012) Extreme weather events and the critical importance of anticipatory adaptation and organizational resilience in responding to impacts. Bus Strateg Environ 21:17–32. https://doi.org/10.1002/bse.708

Livneh B, Deems JS, Schneider D, Barsugli J, Molotch N (2014) Filling in the gaps: inferring spatially distributed precipitation from gauge observations over complex terrain. Water Resour Res 50:8589–8610. https://doi.org/10.1002/2014WR015442

Livneh B, Deems JS, Buma B, Barsugli JJ, Schneider D, Molotch NP et al (2015) Catchment response to bark beetle outbreak and dust-on-snow in the Colorado Rocky Mountains. J Hydrol 523:196–210. https://doi.org/10.1016/j.jhydrol.2015.01.039

Lowrey JL, Ray A, Webb R (2009) Factors influencing the use of climate information by Colorado municipal water managers. Clim Res 40:103–119. https://doi.org/10.3354/cr00827

Lukas J, Barsugli JJ, Doesken N, Rangwala I, Wolter K (2014) Climate change in Colorado: a synthesis to support water resources management and adaptation. Available online at: https://wwa.colorado.edu/climate/co2014report/Climate_Change_CO_Report_2014_FINAL.pdf (last accessed September 13, 2019)

Maitlis S (2005) The social processes of organizational sensemaking. Acad Manag Rev 48(1):21–49

Maitlis S, Christianson M (2014) Sensemaking in organizations: taking stock and moving forward. Acad Manag Ann 8(1):57–125. https://doi.org/10.1080/19416520.2014.873177

McNeeley SM (2014) A "toad's eye" view of drought: regional socio-natural vulnerability and responses in 2002 in Northwest Colorado. Reg Environ Chang 14(4):1451–1461. https://doi.org/10.1007/s10113-014-0585-0

McNeeley SM, Beeton TA, Ojima DS (2016) Drought risk and adaptation in the interior United States: understanding the importance of local context for resource management in times of drought. Weather Clim Soc 8:147–161. https://doi.org/10.1175/WCAS-D-15-0042.1

Moynihan DP (2008) Learning under uncertainty: networks in crisis management. Public Adm Rev 68(2):350–365. https://doi.org/10.1007/s11269-006-9040-4

Muro M, Jeffrey P (2008) A critical review of the theory and application of social learning in participatory natural resource management processes. J Environ Plan Manag 51(3):325–344. https://doi.org/10.1080/09640560801977190

Page R, Dilling L (2019) The critical role of communities of practice and peer learning in scaling hydroclimatic information adoption. Weather Clim Soc 11(4):851–862. https://doi.org/10.1175/wcas-d-18-0130.1

Pelling M, High C, Dearing J, Smith D (2008) Shadow spaces for social learning: a relational understanding of adaptive capacity to climate change within organisations. Environ Plan A 40(4):867–884. https://doi.org/10.1068/a39148

Penning-Rowsell E, Johnson C, Tunstall S (2006) "Signals" from pre-crisis discourse: lessons from UK flooding for global environmental policy change? Glob Environ Chang 16:323–339. https://doi.org/10.1016/j.gloenvcha.2006.01.006

Pielke RA, Doesken N, Bliss O, Green T, Chaffin C, Salas JD et al (2005) Drought 2002 in Colorado: an unprecedented drought or a routine drought? Pure Appl Geophys 162(8–9):1455–1479. https://doi.org/10.1007/s00024-005-2679-6

Pulwarty RS, Melis TS (2001) Climate extremes and adaptive management on the Colorado River: lessons from the 1997–1998 ENSO event. J Environ Manag 63(3):307–324. https://doi.org/10.1006/jema.2001.0494

Ray AJ (2004) Linking climate to multi-purpose reservoir management: adaptive capacity and needs for climate information in the Gunnison Basin, Colorado. University of Colorado Boulder Dissertation

Rayner S, Lach D, Ingram H (2005) Weather forecasts are for wimps: why water resource managers do not use climate forecasts. Clim Chang 69(2–3):197–227. https://doi.org/10.1007/s10584-005-3148-z

Slovic P, Peters E (2006) Risk perception and affect. Curr Dir Psychol Sci 15(6):322–325

Srdjevic B, Medeiros YDP, Faria AS (2004) An objective multi-criteria evaluation of water management scenarios. Water Resour Manag 18(1):35–54. https://doi.org/10.1023/b:Warm.0000015348.88832.52

Travis WR (2014) Weather and climate extremes: pacemakers of adaptation? Weather Clim Extremes 5(1):29–39. https://doi.org/10.1016/j.wace.2014.08.001

Weick KE (1995) Sensemaking in organizations. Sage Publications, Thousand Oaks

Yin RK (2014) Case study research: design and methods (applied social science methods). 5th edn. Sage Publications, Thousand Oaks, CA
Acknowledgments
We thank all of the Western Slope water managers who gave of their time to participate in this study. The authors gratefully acknowledge support from the National Oceanic and Atmospheric Administration's Sectoral Applications Research Program under Grant No. NA16OAR4310132, Ben Livneh, PI. We are also grateful to Eric Kuhn of the Colorado River District, Nolan Doesken of the Colorado Climate Center, and Jeff Lukas of the Western Water Assessment for providing valuable feedback and input into the design of this study. The authors are solely responsible for all content.
Additional information
Publisher's note
Springer Nature remains neutral with regard to jurisdictional claims in published maps and institutional affiliations.
Electronic supplementary material
About this article
Cite this article
Page, R., Dilling, L. How experiences of climate extremes motivate adaptation among water managers. Climatic Change 161, 499–516 (2020). https://doi.org/10.1007/s10584-020-02712-7
Received:

Accepted:

Published:

Issue Date:
Keywords
Drought

Water

Climate adaptation

Organization policy