Abstract
Climate change will significantly impact the future viability and security of food production systems, with increased frequency and intensity of droughts, floods, storms and other extreme climatic events predicted in many regions. In order for food production systems to remain viable and resilient under a changing climate, novel approaches, which integrate risk management (i.e. adaptation) and risk transfer strategies, such as insurance, are required. We argue that the coordinated integration of risk management and risk transfer approaches will support greater resilience of food production systems under climate change. Conversely, if risk management and risk transfer strategies are not carefully integrated, there is potential to undermine adaptive capacity (e.g. insurance subsidies may dissuade farmers from investing in climate adaptation) and ultimately reduce the capacity of food production systems to cope with and recover from the adverse impacts of climate change. Here we propose a resilience-based conceptual framework for integrating risk management and risk transfer strategies along with four key principles, which we believe could underlie their successful integration and thus enhance food production system resilience under climate change. These are as follows: (1) pro-active investments in farmer climate adaptation rather than re-active disaster relief, (2) structuring of government subsidies around insurance and climate disaster relief to incentivise farmer climate adaptation, (3) rewarding farmer efforts towards climate adaptation with cheaper insurance premiums for those farmers that invest resources into climate adaptation and (4) recognising investments in the integration of farm climate adaptation and risk transfer schemes within the broader context of future climate disaster risk management and global food security. Such an integrated investment approach could substantially reduce future economic losses for farmers while also enhancing food security under climate change.
Access options
Buy single article
Instant access to the full article PDF.
US$ 39.95
Tax calculation will be finalised during checkout.
Subscribe to journal
Immediate online access to all issues from 2019. Subscription will auto renew annually.
US$ 119
Tax calculation will be finalised during checkout.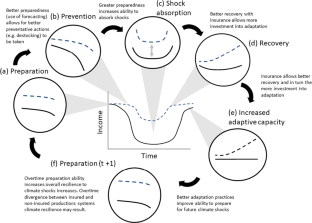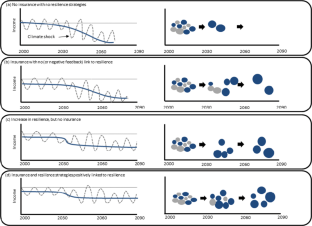 References
Adger WN, Dessai S, Goulden M, Hulme M, Lorenzoni I, Nelson DR, Naess LO, Wolf J, Wreford A (2009) Are there social limits to adaptation to climate change? Clim Chang 93(3–4):335–354

Ali A, Erenstein O (2017) Assessing farmer use of climate change adaptation practices and impacts on food security and poverty in Pakistan. Clim Risk Manag 16:183–194

Arena M (2008) Does insurance market activity promote economic growth? A cross-country study for industrialized and developing countries. Journal of Risk and Insurance 75(4):921–946

Arnold M (2008) The role of risk transfer and insurance in disaster risk reduction and climate change adaptation. Policy brief, Commission on Climate Change and Development, Stockholm

Arrow KJ (1996) The theory of risk-bearing: small and great risks. J Risk Uncertain 12(2/3):103–111

Barrett BC, Constas AM (2014) Toward a theory of resilience for international development applications. Proc Natl Acad Sci 111(40):14625–14630

Carpenter S, Walker B, Anderies JM, Abel N (2001) From metaphor to measurement: resilience of what to what? Ecosystems 4:765. https://doi.org/10.1007/s10021-001-0045-9

Carter M, Barrett C (2006) The economics of poverty traps and persistent poverty: an asset based approach. J Dev Stud 42:178–199

Carter RM, Cheng L, Sarris M (2016) Where and how index insurance can boost the adoption of improved agricultural technologies. J Dev Econ 118:59–71

Chatzopoulos T, Lippert C (2015) Adaptation and climate change impacts: a structural ricardian analysis of farm types in Germany. J Agric Econ 66(2):537–554

Chen M, Wichmann B, Luckert M, Winowiecki L, Forch W, Laderach P (2018) Diversification and intensification of agricultural adaptation from global to local scales. PLOS One 13/5:e0196392

Dovers RS, Hezri AA (2010) Institutions and policy processes: the means to the ends of adaptation. Clim Chang 1:212–231

Dow K, Berkhout F, Preston LB, Klein TJR, Midgley G, Shaw RM (2013) Limits to adaptation. Nat Clim Chang 3:305–307

Engle NL (2011) Adaptive capacity and its assessment. Glob Environ Chang 21(2):647–656

Freudenreich H, Mußhoff O (2018) Insurance for technology adoption: an experimental evaluation of schemes and subsidies with maize farmers in Mexico. J Agric Econ 69(1):96–120

Frisvold GB, Jackson LE, Pritchett JG, Ritten JP (2013) Agriculture and ranching. In: Garfin G, Jardine A, Merideth R, Black M, LeRoy S (eds) Assessment of Climate Change in the Southwest United States. A report prepared for the National Climate Assessment by Southwest Climate Alliance. Island Press, Washington, DC, pp 218–239

Giné X, Yang D (2009) Insurance, credit, and technology adoption: field experimental evidence from Malawi. J Dev Econ 89(1):1–11

Greatrex H, Hansen JW, Garvin S, Diro R, Blakeley S, Le Guen M, Rao KN, Osgood DE (2015) Scaling up index insurance for smallholder farmers: recent evidence and insights. CCAFS report no. 14. CGIAR Research Program on Climate Change, Agriculture and Food Security (CCAFS), Copenhagen

Hecht SB (2008) Climate change and the transformation of risk: insurance matters. UCLA Law Review 55(6). UCLA School of Law research paper no. 08-24

Howden SM, Soussana JF, Tubiello FN, Chhetri N, Dunlop M, Meinke H (2007) Adapting agriculture to climate change. Proc Natl Acad Sci 104:19691–19696

Hudson P, Botzen WJW, Feyen L, Aerts CJHJ (2016) Incentivising flood risk adaptation through risk based insurance premiums: trade-offs between affordability and risk reduction. Ecol Econ 125:1–13

IPCC (2012) Summary for policymakers. In: Field CB (ed) Managing the risks of extreme events and disasters to advance climate change adaptation. A special report of working groups I and II of the Intergovernmental Panel on Climate Change (IPCC). Cambridge University Press, Cambridge, pp 1–19

IPCC (2012a) Managing the risks of extreme events and disasters to advance climate change adaptation. In: Field CB, Barros V, Stocker TF, Qin D, Dokken DJ, Ebi KL, Mastrandrea MD, Mach KJ, Plattner G-K, Allen SK, Tignor M, Midgley PM (eds) A special report of Working Groups I and II of the Intergovernmental Panel on Climate Change. Cambridge University Press, Cambridge 582 pp

Jantarasami LC, Lawler JJ, Thomas CW (2010) Institutional barriers to climate change adaptation in U.S. national parks and forests. Ecology and Society 15(4):33

Jensen N, Barrett C (2017) Agricultural index insurance for development. Applied Economic Perspectives and Policy 39(2):199–219

Kates WR, Travis RW, Wilbanks JT (2012) Transformational adaptation when incremental adaptations to climate change are insufficient. Proc Natl Acad Sci 109:7156–7161

Kath J, Mushtaq S, Henry R, Kouadio L, Adeyinka A, Stone RC, Marcussen T (2019). Efficiency of rainfall index insurance for Australia's wheat regions. Climate Risk Management, vol 24. 2019, pp 13–29

Klein RJT, Midgley GF, Preston BL, Alam M, Berkhout FGH, Dow K, Shaw MR (2014) Adaptation opportunities, constraints, and limits. In: Climate change 2014: impacts, adaptation, and vulnerability part A: global and sectoral aspects. In: Field CB, Barros VR, Dokken DJ, Mach KJ, Mastrandrea MD, Bilir TE, Chatterjee M, Ebi KL, Estrada YO, Genova RC, Girma B, Kissel ES, Levy AN, MacCracken S, Mastrandrea PR, White LL (eds) Contribution of Working Group II to the Fifth Assessment Report of the Intergovernmental Panel on Climate Change. Cambridge University Press, Cambridge, pp 899–943

Kost A, Läderach P, Fisher M, Cook S, Gómez L (2012) Improving index-based drought insurance in varying topography: evaluating basis risk based on perceptions of Nicaraguan hillside farmers. PLoS One 7(12):e51412. https://doi.org/10.1371/journal.pone.0051412

Lester R (2014). Insurance and inclusive growth. Policy research working paper. No. 6943. The Word Bank. https://doi.org/10.1596/1813-9450-6943

Linkov I, Bridges T, Creutzig F, Decker J, Fox-Lent C, Kröger W, Lambert HJ, Levermann A, Montreuil B, Nathwani J, Nyer R, Renn O, Scharte B, Scheffler A, Schreurs M, Thiel-Clemen T (2014) Changing the resilience paradigm. Nat Clim Chang 4:407–409

Linnerooth-Bayer J, Hochrainer-Stigler S (2015) Financial instruments for disaster risk management and climate change adaptation. Clim Chang 133:85–100

Lobell DB, Burke MB, Tebaldi C, Mastrandrea MD, Falcon PW, Naylor LR (2008) Prioritizing climate change adaptation needs for food security in 2030. Science 319:607–610

McKeon GM, Hall WB (2002) Can seasonal forecasting prevent land and pasture degradation? Final report for the climate variability in agriculture program. Land and Water Australia

Meuwissen MPM, Hardaker JB, Huirne RBM, Dijkhuizen AA (2001) Sharing risks in agriculture; principles and empirical results. Netherlunds Journal of Agricultural Science 49:343–356

Moss HR, Edmonds AJ, Hibbard AK, Manning RM, Rose KS, van Vuuren PD, Carter RT, Emori S, Kainuma M, Kram T, Meehl AG, Mitchel FBJ, Nakicenovic N, Riahi K, Smith JS, Stouffer JR, Thomson MA, Weyant PJ, Thomas JW (2010) The next generation of scenarios for climate change research and assessment. Nature 463:747–756

Müller B, Johnson L, Kreuera D (2017) Maladaptive outcomes of climate insurance in agriculture. Glob Environ Chang 46:23–33

Mushtaq S (2018) Managing climate risks through transformational adaptation: economic and policy implications for key production regions in Australia. Clim Risk Manag. https://doi.org/10.1016/j.crm.2017.12.001

Mushtaq S, Cockfield G, White N, Jakeman G (2013) Modelling interactions between farm-level structural adjustment and a regional economy: a case of the Australian rice industry. Agric Syst 123:34–42

National Research Council (2012). Disaster resilience: a national imperative. The National Academies Press, Washington, DC. https://doi.org/10.17226/13457

Nelson R, Howdon M, Smith SM (2008) Using adaptive governance to rethink the way science supports Australian drought policy. Environ Sci Pol 11(7):588–601

Nelson R, Kokic P, Crimp S, Meinke H, Howden SM (2010) The vulnerability of Australian rural communities to climate variability and change: Part I—Conceptualising and measuring vulnerability. Environ Sci Pol 13(1):8–17

Panda A, Sharma U, Ninan NK, Patt A (2013) Adaptive capacity contributing to improved agricultural productivity at the household level: empirical findings highlighting the importance of crop insurance. Glob Environ Chang 23:782–790

Park SE, Marshall NA, Jakku E, Dowd AM, Howden SM, Mendhamf E, Fleming A (2012) Informing adaptation responses to climate change through theories of transformation. Glob Environ Chang 22:115–126

Phaup M, Kirschner C (2010) Budgeting for disasters: focusing on the good times. OECD Journal on Budgeting 2010(1):1–24

Quiggin CJ, Karagiannis G, Stanton J (1993) Crop insurance and crop production: an empirical study of moral hazard and adverse selection. Aust J Agric Econ 37(2):95–113

Salim HK, Padfield R, Hansen SB, Mohamad SE, Yuzir A, Syayuti K, Tham MH, Papargyropoulou E (2018) Global trends in environmental management system and ISO14001 research. J Clean Prod 170:645–653

Schaefer L, Waters E (2016) Climate risk insurance for the poor & vulnerable: how to effectively implement the pro-poor focus of InsuResilience. Access on 28 September 2019 at http://www.climate-insurance.org/fileadmin/mcii/documents/MCII_2016_CRI_for_the_Poor_and_Vulnerable_full_study_lo-res.pdf

Skees RJ (2000) A role for capital markets in natural disasters: a piece of the food security puzzle. Food Policy 25:365–378

Skees J, Barnett B, Collier B (2008) Agricultural insurance background and context for climate adaptation discussions. GlobalAgRisk Inc, Lexington

Smit B (1994) Climate, compensation and adaptation. In: McCulloch J, Etkin D (eds) Proceedings of a workshop on improving responses to atmospheric extremes: the role of insurance and compensation. Environment Canada/The Climate Institute, Toronto

Smit B, Skinner MW (2002) Adaptation options in agriculture to climate change: a typology. Mitig Adapt Strateg Glob Chang 7:85–114

Surminski S, Bouwer ML, Linnerooth-Bayer J (2016) How insurance can support climate resilience. Nat Clim Chang 6:333–334

Varangis P, Skees JR, Barnett BJ (2002) Weather indexes for developing countries. In: Dischel RS (ed) Climate risk and the weather market: financial risk management and weather hedge. Risk Books, Risk Water Group, Ltd., London, pp 279–294

Vermeulen JS, Challinor JA, Thornton KP, Campbell MB, Eriyagamaa N, Vervoort MJ, Kinyangi J, Jarvis A, Läderach P, Ramirez-Villegas J, Nicklin JK, Hawkinsh E, Smith RD (2013) Addressing uncertainty in adaptation planning for agriculture. Proc Natl Acad Sci 110(21):8357–8362

Walker B, Holling CS, Carpenter SR, Kinzig A (2004) Resilience, adaptability and transformability in social–ecological systems. Ecol Soc 9(2):5 http://www.ecologyandsociety.org/vol9/iss2/art5/

World Bank (2018) Brief: agriculture finance & agriculture insurance. World Bank Group, Washington DC. http://www.worldbank.org/en/topic/financialsector/brief/agriculture-finance. Accessed on 23 April 2019

World Food Programme (2017) WFP Ethiopia 2017 emergency situation report #04. World Food Programme, Rome
Acknowledgements
Special thanks to Julian Roberts from Willis Towers Watson for his valuable comments.
Funding
This research is funded through the Queensland Government's Drought and Climate Adaptation Program (DCAP) and the German Federal Ministry for the Environment, Nature Conservation, Building and Nuclear Safety (BMUB) through the International Climate Initiative (IKI). This work was also implemented as part of the CGIAR Research Program on Climate Change, Agriculture and Food Security (CCAFS), which is carried out with support from CGIAR Fund Donors and through bilateral funding agreements. For details, please visit https://ccafs.cgiar.org/donors. David Cobon is supported by the Northern Australia Climate Program funded by Meat and Livestock Australia Donor Company, DCAP and the University of Southern Queensland.
Additional information
Publisher's note
Springer Nature remains neutral with regard to jurisdictional claims in published maps and institutional affiliations.
About this article
Cite this article
Mushtaq, S., Kath, J., Stone, R. et al. Creating positive synergies between risk management and transfer to accelerate food system climate resilience. Climatic Change 161, 465–478 (2020). https://doi.org/10.1007/s10584-020-02679-5
Received:

Accepted:

Published:

Issue Date:
Keywords
Climate change

Adaptation

Risk transfer

Extreme climate

Drought

Resilience

Insurance