Abstract
Developing country case studies have thus far been under-represented in conceptual models attempting to theorize energy transitions. This paper explores the role of climate finance in the process of Madagascar's planned transition to renewable energy sources as envisioned in the country's New Energy Policy in order to demonstrate the different experience in developing countries when compared to hegemonic transition narratives. Drawing upon qualitative interviews with energy finance providers and focus groups in recently electrified rural communities, this paper reveals that Madagascar's transition is dependent on the financial resources mobilized by the government's technical and financial partners. Climate finance emerges as a critical lever to implement environmental legislation. The interview findings were correlated with census data to evaluate how current financing strategies are directly connected to energy justice issues, namely the equality in access to affordable and clean energy. Through an analysis of projected energy finance flows and key financiers' financing strategies, this paper exposes a shift from grant-based climate finance to financial instruments with clear return profiles, such as concessional loans and private capital, and finds that the choice of financial instrument impacts the provision of complementary social services in rural electrification schemes. Grants are linked to higher investments into complementary social services, while private financiers focus on innovation and scale. Purely private financed electrification projects were found to negatively impact social cohesion by increasing the inequality in access to energy. This study concludes that if only commercially viable energy projects were to be financed going forward, up to 19 million Madagascans might be excluded from future electrification efforts. Consequently, this paper urges researchers to consider social justice implications when evaluating climate finance strategies.
Access options
Buy single article
Instant access to the full article PDF.
USD 39.95
Price excludes VAT (USA)
Tax calculation will be finalised during checkout.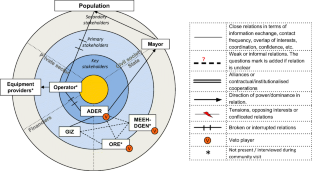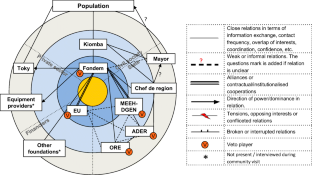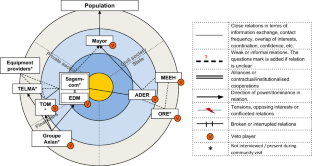 Notes
'Les partenaires techniques et financiers' (PTF) is a French expression used to describe the technical and financial partners that support the Madagascan government in achieving its development goals.

Average estimate of staff of Deutsche Gesellschaft für Internationale Zusammenarbeit GmbH (GIZ)

Madagascar is sometimes referred to as the 'Eighth Continent' due to its unique levels of biodiversity and endemism. It is estimated that 83% of plants, 86% of macroinvertebrates, and 84% of land vertebrates are endemic (Goodman and Benstead 2005).

This calculation does not consider the potential increases in disposable incomes within the rural population that a successful electrification might entail and which might lower the minimum threshold of connections significantly.
References
Abbott A (1988) The system of professions. University of Chicago Press, Chicago

Africa Progress Panel (2015) Power, people, planet: seizing Africa's energy and climate opportunities. Africa Progress Report 2015 https://wwwseforallorg/sites/default/files/l/2015/06/APP_REPORT_2015_FINAL_low1pdf Accessed 16 January 2019

African Development Bank Group (2014) Madagascar—combined report on the 2014–2016 Interim Country Strategy Paper (I-CSP) and the Country Portfolio Performance Review (CPPR). https://www.afdb.org/fileadmin/uploads/afdb/Documents/Project-and-Operations/Madagascar_-_Combined_report_on_the_2014-2016_interim_country_strategy_paper__I-CSP__and_the_country_portfolio_performance_review__CPPR__–_11_2014.pdf Accessed 16 January 2019

Ahlborg H, Hammar L (2014) Drivers and barriers to rural electrification in Tanzania and Mozambique—grid-extension, off-grid, and renewable energy technologies. Renew Energy 61:117–124

Ballesteros A, Moncel R (2010) Additionality of climate finance. World Resources Institute https://wwwunnglsorg/IMG/pdf/WRI_-_Additionality_of_Climate_Financepdf Accessed 13 August 2017

Bandura R (2017) Rethinking private capital for development. Center for Strategic and International Studies

Banerjee S, Wodon Q, Diallo A, Pushak T, Uddin E, Tsimpo C, Foster V (2008) Access, affordability, and alternatives: modern infrastructure services in Africa. World Bank http://documentsworldbankorg/curated/en/715171468202136717/pdf/690870WP0P10460n0Sub0Saharan0Africapdf Accessed 16 January 2019

Berkhout F, Stirling A, Smith A (2004) Socio-technological regimes and transition contexts. System innovation and the transition to sustainability: Theory, evidence and policy 44(106):48–75

Berkhout F, Verbong G, Wieczorek AJ, Raven R, Lebel L, Bai X (2010) Sustainability experiments in Asia: innovations shaping alternative development pathways? Environ Sci Policy 13(4):261–271

Buchner B, Trabacchi C, Mazza F, Abramskiehn D, Wang D (2015) Global landscape of climate finance 2015. Climate Policy Initiative

Bulow J, Rogoff K (2005) Grants versus loans for development banks. Am Econ Rev 95(2):393–397

Castalia (2015) Evaluation of rural electrification concessions in sub-Saharan Africa detailed case study: Madagascar. Report to World Bank. http://documents.worldbank.org/curated/en/781221498152348689/pdf/116643-WP-PUBLIC-P150241-52p-Detailed-Case-Study-Madagascar.pdf Accessed 16 January 2019

Castree N, Adams W, Barry J, Brockington D, Buscher B, Corbera E, Demeritt D, Duffy R, Felt U, Neves K, Newell P, Pellizzoni L, Rigby K, Robbins P, Robin L, Rose D, Ross A, Schlosberg D, Sorlin S, West P, Whitehead M, Wynne B (2014) Changing the intellectual climate. Nat Clim Chang 4(9):763–768

Chakrabarti S, Chakrabarti S (2002) Rural electrification programme with solar energy in remote region—a case study in an island. Energy Policy 30(1):33–42

CIA (Central Intelligence Agency) (2017) The world factbook—urbanization. Available at: https://wwwciagov/library/publications/the-world-factbook/fields/2212html Accessed 13 January 2019

Clements B, Gupta S, Pivovarsky A, Tiongson ER (2004) Foreign aid: grants versus loans. Finance and Development 41(3):46–49

Cohen D, Jacquet P, Reisen H (2007) Loans or grants? Rev World Econ 143(4):764–782

Cook P (2011) Infrastructure, rural electrification and development. Energy for Sustainable Development 15(3):304–313

DAC (Organisation for Economic Co-operation and Development's Development Assistance Committee) (2008) The Paris declaration on aid effectiveness and the Accra Agenda for action. Organisation for Economic Development, Paris

Fouquet R (2009) A brief history of energy. International handbook on the economics of energy, pp. 1–19

Fouquet R (2010) The slow search for solutions: lessons from historical energy transitions by sector and service. Energy Policy 38(11):6586–6596

Fouquet R, Pearson P (2012) Past and prospective energy transitions: insights from history. Energy Policy 50:1–7

GCF (Green Climate Fund) (2018) Funding proposal FP093: Yeleen Rural Electrification Project in Burkina Faso. https://wwwgreenclimatefund/documents/20182/574760/Funding_Proposal_-_FP093_-_AfDB_-_Burkina_Fasopdf/057d1a74-8722-8027-95bf-00a0dc96aa73 Accessed 27 April 2019

GCF (Green Climate Fund) (2019a) Funding proposal FP102: Mali solar rural electrification project. https://wwwgreenclimatefund/documents/20182/574760/Funding_Proposal_-_FP102_-_BOAD_-_Malipdf/cff40df1-01c2-877d-a1fe-706b4cf2429d Accessed (27 April 2019)

GCF (Green Climate Fund) (2019b) Resource mobilization. https://wwwgreenclimatefund/how-we-work/resource-mobilization Accessed 12 January 2019

Goodman SM, Benstead JP (2005) Updated estimates of biotic diversity and endemism for Madagascar. Oryx 39(1):73–77

Gravito L, Haddon J, Alli A, Usanase A (2017) Infrastructure financing in sub-Saharan Africa: best practices from ten years in the field. The Boston Consulting Group and the Africa Finance Corporation

GTZ Deutsche Gesellschaft für Technische Zusammenarbeit (GTZ) GmbH (2009) Capacity WORKS: Le modèle de gestion pour un développement durable. Eschborn 2009

Gupta S, Clements B, Baldacci E, Mulas-Granados C (2004) The persistence of fiscal adjustments in developing countries. Appl Econ Lett 11(4):209–212

Hall S, Foxon TJ, Bolton R (2016) Financing the civic energy sector: how financial institutions affect ownership models in Germany and the United Kingdom. Energy Res Soc Sci 12:5–15

Hildyard N (2016) Energy transitions: some questions from the netherworld. Public lecture on "energy transition – why and for whom?" The Corner House UK, Vienna 18 April 2016 http://wwwthecornerhouseorguk/sites/thecornerhouseorguk/files/QuestionsNetherWorldpdf Accessed 17 January 2019

Hirmer S, Cruickshank H (2014) The user-value of rural electrification: an analysis and adoption of existing models and theories. Renew Sust Energ Rev 34:145–154

INSTAT (Institut National de la Statistique de Madagascar) (2013) Enquête Nationale sur le Suivi des Objectifs du Millénaire et du Développement (ENSOMD) https://www.undp.org/content/dam/madagascar/docs/rapportsUNDP_MDG/doc_OMD/OMD_1.pdf. Accessed 27 April 2019

International Energy Agency (2014) Africa energy outlook. A focus on the energy prospects in sub-Saharan Africa, World Energy Outlook Special Report https://wwwicafricaorg/fileadmin/documents/Knowledge/Energy/AfricaEnergyOutlook-IEApdf Accessed 17 January 2019

International Renewable Energy Agency (2015) Africa power sector: planning and prospects for renewable energy. http://wwwirenaorg/DocumentDownloads/Publications/IRENA_Africa_Power_Sector_synthesis_2015pdf Accessed: 17 January 2019

Islar M, Brogaard S, Lemberg-Pedersen M (2017) Feasibility of energy justice: exploring national and local efforts for energy development in Nepal. Energy Policy 105(Suppl. C):668–676

Janda KB, Parag Y (2013) A middle-out approach for improving energy performance in buildings. Building Res Inf 41(1):39–50

Lenton TM, Held H, Kriegler E, Hall JW, Lucht W, Rahmstorf S, Schellnhuber HJ (2008) Tipping elements in the Earth's climate system. Proc Natl Acad Sci 105(6):1786–1793

Marcotullio PJ, Schulz NB (2007) Comparison of energy transitions in the United States and developing and industrializing economies. World Dev 35(10):1650–1683

Matinga MN, Annegarn HJ (2013) Paradoxical impacts of electricity on life in a rural South African village. Energy Policy 58:295–302

MEEH (Ministère de l'Energie, de l'Eau et des Hydrocarbures) (2015) Assistance pour le Développement d'une Nouvelle Politique de l'Energie et d'une Stratégie pour la République de Madagascar – Phases 2 et 3: Document d'Etude de la Politique et Stratégie de l'Energie. EUEI-PDF

Monyei CG, Adewumi AO, Jenkins KEH (2018) Energy (in)justice in off-grid rural electrification policy: South Africa in focus. Energy Res Soc Sci 44:152–171

Odedokun M (2003) Economics and politics of official loans versus grants: panoramic issues and empirical evidence (no. 2003/04). WIDER Discussion Papers//World Institute for Development Economics (UNU-WIDER)

OECD (2016) Questions & answers: Rio marker climate and environment-related development finance statistics. https://www.oecd.org/dac/stats/FAQ_Tracking%20climate%20finance%20and%20Rio%20markers_February%202016.pdf accessed 19 January 2019

ORE (Office de Regulation de l'Electricité) (2017) Plans indicatifs des réseaux existants. http://wwworemg Accessed 28 August 2017

Osborne T, Belghith N, Belhaj H, Bi C, Thiebaud A, Mcbride L, Jodlowski M (2016) Changements de fortune et persistance de la pauvreté à Madagascar: Récentes découvertes. Washington, D.C. http://documents.worldbank.org/curated/en/117991490012667566/Changements-de-fortune-et-persistance-de-la-pauvreté-à-Madagascar-récentes-découvertes Accessed 19 January 2019

Ozturk I (2010) A literature survey on energy-growth nexus. Energy Policy 38(1):340–349

Parag Y, Janda KB (2010) A middle-out approach to agency, capacity and societal change. BIEE Conference, pp:1–13

Pathania R, Bose A (2014) An analysis of the role of finance in energy transitions. Journal of Sustainable Finance & Investment 4(3):266–271

Praene JP, Radanielina MH, Rakotoson VR, Andriamamonjy AL, Sinama F, Morau D, Rakotondramiarana HT (2017) Electricity generation from renewables in Madagascar: opportunities and projections. Renew Sust Energ Rev 76:1066–1079

Ramos-Mejía M, Franco-Garcia M and Jauregui-Becker JM (2017) Sustainability transitions in the developing world: challenges of socio-technical transformations unfolding in contexts of poverty. Environmental Science and Policy (December 2016). Article in press

Romijn H, Raven R, de Visser I (2010) Biomass energy experiments in rural India: insights from learning-based development approaches and lessons for Strategic Niche Management. Environ Sci Policy 13(4):326–338

Sengers F, Raven R (2014) Metering motorbike mobility: informal transport in transition? Tech Anal Strat Manag 26(4):453–468

Shakya C (2017) Staying below 1.5 to 2C of climate change. The social challenge of our age. International Institute for Environment and Development. Presentation at the Rhodes Trust Conference 'Generation 1.5C'. 23 April 2017. Oxford, United Kingdom

Smith A, Stirling A, Berkhout F (2005) The governance of sustainable socio-technical transitions. Res Policy 34(10):1491–1510

Sokona Y, Mulugetta Y, Gujba H (2012) Widening energy access in Africa: towards energy transition. Energy Policy 47(1):3–10

Sovacool BK, Dworkin MU (2015) Energy justice: conceptual insights and practical applications. Appl Energy 142:435–444

Stadelmann M, Roberts JT, Michaelowa A (2011) New and additional to what? Assessing options for baselines to assess climate finance pledges. Clim Dev 3(3):175–192

Szabó S, Bódis K, Huld T, Moner-Girona M (2013) Sustainable energy planning: leapfrogging the energy poverty gap in Africa. Renewable and Sustainable Energy Reviews, pp:500–509

tradingeconomics.com (2019) Madagascar GDP per capita https://tradingeconomics.com/madagascar/gdp-per-capita Accessed 13 October 2019

Transparency International (2018) Corruption Perceptions Index 2018. https://wwwtransparencyorg/cpi2018 Accessed 13 May 2019

UN (1992) United Nations Framework Convention on Climate Change', Fccc/Informal/84, 1(3), pp. 270–277

UNFCCC (2009) COP15: Copenhagen accord—draft decision, Fccc/Cp/2009/L7 https://unfcccint/resource/docs/2009/cop15/eng/l07pdf Accessed 19 January 2019

UNFCCC (2014) UNFCCC Standing Committee on Finance: 2014 Biennial Assessment and Overview of Climate Finance Flows. https://unfccc.int/topics/climate-finance/resources/biennial-assessment-of-climate-finance. Accessed 19 Jan 2019

Urmee T, Harries D, Schlapfer A (2009) Issues related to rural electrification using renewable energy in developing countries of Asia and Pacific. Renew Energy 34(2):354–357

USAID (2016) Madagascar energy sector overview. https://wwwusaidgov/sites/default/files/documents/1860/MadagascarCountryFactSheet201609_FINALpdf Accessed 19 January 2019

Verbong G, Loorbach D (2012) Governing the energy transition: reality, illusion or necessity? Routledge, New York

Weikmans R, Timmons Roberts J, Baum J, Bustos MC, Durand A (2017) Assessing the credibility of how climate adaptation aid projects are categorized. Dev Pract 27(4):458–471

Williams NJ, Jaramillo P, Taneja J, Ustun TS (2015) Enabling private sector investment in microgrid-based rural electrification in developing countries: a review. Renew Sustain Energy Rev:1268–1281

Wolde-Rufael Y (2009) Energy consumption and economic growth: the experience of African countries revisited. Energy Econ 31(2):217–224

Wood G (2003) Staying secure, staying poor: the "Faustian bargain". World Dev 31(3):455–471

World Bank Group (2016) Doing business 2015: going beyond efficiency. CESifo Forum http://wwwdoingbusinessorg/content/dam/doingBusiness/media/Annual-Reports/English/DB15-Full-Reportpdf Accessed 16 January 2019

Zadek S (2011) Beyond climate finance: from accountability to productivity in addressing the climate challenge. Clim Pol 11:1058–1068

Zerriffi H, Wilson E (2010) Leapfrogging over development? Promoting rural renewables for climate change mitigation. Energy Policy 38(4):1689–1700
Acknowledgements
I would like to express my gratitude to my supervisor Prof Dr. Nick Eyre from the University of Oxford who provided stimulating ideas and guidance throughout the research process. Furthermore, I would like to thank the Deutsche Gesellschaft für Internationale Zusammenarbeit GmbH who have generously supported my field research in Madagascar, particularly the staff of the 'Rural Electrification Through Renewable Energies' project in Madagascar.
Funding
The financial support received for this project by the German National Academic Foundation, the University of Oxford's Environmental Change Institute, and Green Templeton College is gratefully acknowledged.
Additional information
Publisher's note
Springer Nature remains neutral with regard to jurisdictional claims in published maps and institutional affiliations.
This article is part of a Special Issue, "Climate Finance Justice: International Perspectives on Climate Policy, Social Justice, and Capital," edited by Lauren Gifford and Chris Knudson.
Electronic supplementary material
About this article
Cite this article
Cholibois, T. Electrifying the 'eighth continent': exploring the role of climate finance and its impact on energy justice and equality in Madagascar's planned energy transition. Climatic Change 161, 345–364 (2020). https://doi.org/10.1007/s10584-019-02644-x
Received:

Accepted:

Published:

Issue Date:

DOI: https://doi.org/10.1007/s10584-019-02644-x
Keywords