Abstract
Climate change has become one of the signature issues that divide the American public. Numerous empirical studies of the past two decades have identified the politicization of this issue. In recent years, the concurrence of rising extreme weather events and uptick in public concern for climate change has led to common speculation that the former may drive up the latter. Using a nationally representative survey dataset combined with climate extremes data including extreme heat, extreme precipitation, and mild drought or worse, we use Structural Equation Modeling to examine how politics and climate extremes altogether shape American public concern for climate change. In addition to confirming politicization of climate change, we find that approval of President Trump not only promotes skeptical climate change perceptions but also serves as an intervening amplifier of these perceptions for Republicans and conservatives. Thus, one's concern for climate change is partially explained by their political identification and partially explained by their levels of approval of Trump. With the 2020 presidential election underway, it remains to be seen how attitudes towards presidential candidates can affect climate change perceptions and support for climate policies. The widely speculated role of climate extremes however fails to show significant effects in views towards climate change. We provide explanations for this insignificant finding. The study ends by calling for more studies to further investigate the drivers of formation of opinions towards climate change.
Access options
Buy single article
Instant access to the full article PDF.
US$ 39.95
Tax calculation will be finalised during checkout.
Subscribe to journal
Immediate online access to all issues from 2019. Subscription will auto renew annually.
US$ 119
Tax calculation will be finalised during checkout.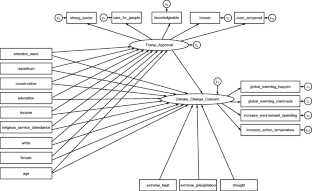 Notes
1.

Missing value is not a significant concern because most variables used in the analyses have over 4,200 valid responses. To check the robustness of the results, we ran the SEM by using the listwise deletion option and the results are analogous.

2.

Other variables such as interest in politics, attention to politics, and news consumption were originally included in the model but none would show significant effects on the outcome variable.

3.

We conducted sensitivity analyses by analyzing the 3-year and 10-year climate extreme indicators and the coefficients are insignificant.

4.

We also analyzed the effects of climate extremes among Democrats and Republicans separately, and among Conservatives and Liberals separately. The extreme heat, precipitation, and drought indicators remain insignificant.
References
Abramowitz AI, Saunders KL (2008) Is polarization a myth? The J Politics 70(2):542–555

Acock AC (2013) Discovering structural equation modeling using Stata. Stata Press, College Station, TX

American National Election Studies. 2018. User's Guide and Codebook for the ANES 2016 Time Series Study.

Bollen KA (1989) Structural equations with latent variables. John Wiley, New York

Bolsen T, Druckman JN, Cook FL (2014) The influence of partisan motivated reasoning on public opinion. Political Behav 36(2):235–262

Bolsen T, Druckman JN, Cook FL (2015) Citizens', scientists', and policy advisors' beliefs about global warming. The Annals Am Acad Pol and Soc Sci 658(1):271–295. https://doi.org/10.1177/0002716214558393

Centers for Disease Control and Prevention. National Environmental Public Health Tracking Network. Web. Accessed: 07/08/2019. www.cdc.gov/ephtracking.

Clements JM, McCright AM, Xiao C (2013) Green Christians? An empirical examination of environmental concern within the U.S. general public. Organ Environ 27(1):85–102

Demski C, Capstick S, Pidgeon N, Sposato RG, Spence A (2017) Experience of extreme weather affects climate change mitigation and adaptation responses. Clim Change 140(2):149–164

Druckman J, Peterson E, Slothuus R (2013) How elite partisan polarization affects public opinion formation. Am Political Sci Rev 107(1):57–79. https://doi.org/10.1017/S0003055412000500

Dunlap RE, McCright AM, Yarosh JH, J.H. (2016) The political divide on climate change: partisan polarization widens in the U.S. Environ Sci Policy Sustain Dev 58(5):4–23

Economist, 2018. How political leaders shape public opinion. Accessed: 09/23/2019. https://www.economist.com/democracy-in-america/2018/01/03/how-political-leaders-shape-public-opinion

Egan PJ, Mullin M (2012) Turning personal experience into political attitudes: the effect of local weather on Americans' perceptions about global warming. J Politics 74(3):796–809

Egan PJ, Mullin M (2017) Climate change: US public opinion. Annu Rev Political Sci 20:209–227

Hamilton LC, Keim BD (2009) Regional variation in perceptions about climate change. Int J Climatol. 29:2348–2352

Hamilton LC, Stampone MD (2013) Blowin' in the wind: short-term weather and belief in anthropogenic climate change. Wea Climate Soc. 5:112–119

Hamilton LC (2017) On renewable energy and climate, Trump voters stand apart. Carsey School of Public Policy, Durham, NH http://scholars.unh.edu/carsey/293/

Hamilton LC (2019) Climate-change views of New Hampshire primary voters. Carsey School of Public Policy, Durham, NH https://scholars.unh.edu/carsey/373/

Hao F, Michaels JL, Bell SE (2019) Social capital's Influence on environmental concern in China: an analysis of the 2010 Chinese General Social Survey. Sociol Perspect. 62(6): 844–864.https://doi.org/10.1177/%2F0731121419835504

Hao F, Song L (2019) Environmental concern in China: a multilevel analysis. Chin Sociol Rev. https://doi.org/10.1080/21620555.2019.1654367

Hao F, Huang W, Sloan MM (2018) Environmental concern in the United States and China: the influence of measurement in national context. Soc Curr 5(5): 479–493. https://doi.org/10.1177/%2F2329496518759130

Howe PD, Marlon J, Mildenberger M, Shileld BS (2019) How will climate change shape climate opinion? Environ Res Lett. https://doi.org/10.1088/1748-9326/ab466a/meta

Joireman J, Truelove HB, Duell B (2010) Effect of outdoor temperature, heat primes and anchoring on belief in global warming. J Environ Psychol 30:358–367

Li Y, Johnson EJ, Zaval L (2011) Local warming: daily temperature change influences belief in global warming. Psychol Sci 22(4):454–459

Marquart-Pyatt ST (2008) Are there similar sources of environmental concern? Comparing industrialized countries. Soc Sci Q 89(5):1312–1335

Marquart-Pyatt ST, McCright AM, Dietz T, Dunlap RE (2014) Political orientation eclipses climate extremes for climate change perception. Global Environ Chang 29:246–257

McCright AM, Dunlap RE (2011) The politicization of climate change: political polarization in the American public's views of global warming. Sociol Q 52:155–194

Mutz DC (2018) Status threat, not economic hardship, explains the 2016 presidential vote. Proc Natl Acad Sci 115(19):E4330–E4339. https://doi.org/10.1073/pnas.1718155115

New York Times, 2019. How the weather get weaponized in climate change messaging. Accessed: 09/23/2019. https://www.nytimes.com/2019/03/01/climate/weather-climate-change.html

Pew Research Center, 2017. The partisan divide on political values grows even wider. [Available online at http://www.people-press.org/2017/10/05/the-partisan-divide-on political-values-grows-even-wider/].

Pew Research Center, 2019. U.S. Politics. Accessed: 02/25/2019. https://www.people-press.org/

Shao W (2017) Weather, Climate, Politics or God? – Determinants of American public opinions toward global warming. Environ Politics 26(1):71–96. https://doi.org/10.1080/09644016.2016.1223190

Shao W (2016) Are actual weather and perceived weather the same? Understanding perceptions of local weather and their effects on risk perceptions of global warming. J Risk Res 19(6):722–742

Shao W, Goidel K (2016) Seeing is believing? An examination of perceptions of local weather conditions and climate change among residents in the US Gulf Coast. Risk Anal 36(11):2136–2157

Shao W, Keim BD, Garand JC, Hamilton LC (2014) Weather, climate, and the economy: explaining risk perceptions of global warming, 2001–10. Weather Clim Soc 6(1):119–134

Wang F (2006) Quantitative methods and applications in GIS. CRC Press, Boca Raton, FL

Xiao C, Dunlap RE, Hong D (2013) The nature and bases of environmental concern among Chinese citizens. Soc Sci Q 94(3):672–690

Xiao C, Dunlap RE, Hong D (2018) Ecological worldview as the central component of environmental concern: clarifying the role of the NEP. Soc Nat Resour 32(1):53–72. https://doi.org/10.1080/08941920.2018.1501529

Yale Program on Climate Change Communication. Accessed: 07/08/2019. https://climatecommunication.yale.edu/publications/americans-are-increasingly-alarmed-about-global-warming/
Acknowledgements
The authors thank the American National Election Studies (ANES) for making available its 2016 Time Series Study. The authors also thank the Center for Disease and Control for making available its data on extreme precipitation, heat, and drought. The authors acknowledge that the data sources bear no responsibility for the interpretations presented or conclusions that we have reached based on our analyses of these data. The authors thank Ryan O'Connor for estimating the 115th Congressional District Population weighted centroids.
Additional information
Publisher's note
Springer Nature remains neutral with regard to jurisdictional claims in published maps and institutional affiliations.
About this article
Cite this article
Shao, W., Hao, F. Approval of political leaders can slant evaluation of political issues: evidence from public concern for climate change in the USA. Climatic Change 158, 201–212 (2020). https://doi.org/10.1007/s10584-019-02594-4
Received:

Accepted:

Published:

Issue Date:
Keywords
Concern for climate change

Approval of Trump

Climate extremes

Structural Equation Modeling