Abstract
Advertising by fossil fuel companies is a ubiquitous element of modern political life. Promotional campaigns in the service of a corporation's position toward environmental issues such as climate change are prevalent in the oil and gas sectors, where corporate image is seen as a valuable asset in managing risk, controlling negative media attention, and overcoming resistance by antagonistic civil society groups. This article assesses advertising expenditures by five major oil and gasoline companies for the time period 1986 to 2015. We examine four major factors that may influence spending on advertising by the oil and gas sectors: (1) the overall reputation of the oil and gas sector; (2) congressional attention to climate change; (3) media attention to climate change; and (4) a series of control variables including major oil spills, the publication of major climate change reports, overall public concern about climate change, GDP, and oil prices. We find that the factors that most influence corporate promotional spending are media coverage and congressional attention to the issue of climate change.
Access options
Buy single article
Instant access to the full article PDF.
US$ 39.95
Tax calculation will be finalised during checkout.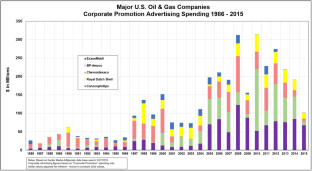 Notes
1.

2.

3.

4.

5.

Issue advertising is also sometimes referred to as marketplace advocacy, in reference to the idea that unlike product/service advertising and image advertising, issue advertising represents an effort to "protect the company's market by influencing a legislative outcome or a policy debate" (Gaither and Gaither 2016; Miller and Lellis 2016).

6.

1977_Schmertz_Mobil Oil_Speech_PRSA171–5.pdf

7.

Data obtained from Kantar Media Ad$pender data base for the time period 1995 to 2015. Data from 1986 to 1994 obtained from the predecessor publication to the Kantar Media database, The Advertising Red Books. Only corporate promotion spending was counted. Figure represents this data, adjusted for inflation in constant 2015 dollars. Totals for corporations include previously separate corporations. See Table S-1 in Supplemental Material for data compilation.

8.

See Supplemental Material for full description of the construction of this scale.

9.

See Supplemental Material for full description of the construction of this scale.
References
Anderegg W, Goldsmith GR (2014) Public interest in climate change over the past decade and the effects of the "Climategate" media event. Environ Res Lett 9:1–8

Aronczyk M (2018) Public relations, issue management, and the transformation of American environmentalism, 1948–1992. Enterprise & Society, 1–28

Austin PC, Steyerberg EW (2015) The number of subjects per variable required in linear regression analyses. J Clin Epidemiol 68:627–636

Barnett ML, Hoffman AJ (2008) Beyond corporate reputation: managing reputational interdependence. Corp Reput Rev 11:1–9

Beder S (2002) Global spin: the corporate assault on environmentalism. Chelsea Green Publishing

Bennett WL, Manheim J (2001) The big spin: strategic communication and the transformation of pluralist democracy. In: Bennett WL, Entman R (eds) Mediated politics: communication in the future of democracy. Cambridge University Press, Cambridge, pp 279–298

Bortree DS (2009) The impact of green initiatives on environmental legitimacy and admiration for the organization. Public Relat Rev 35:133–135

Brown C, Waltzer H (2005) Every thursday: advertorials by Mobil Oil on the op-ed page of The New York Times. Public Relat Rev 31:197–208

Brulle RJ, Carmichael J, Jenkins JC (2012) Shifting public opinion on climate change: an empirical assessment of factors influencing concern over climate change in the US, 2002–2010. Clim Chang 114(2):169–188

Calhoun C (ed) (1993) Habermas and the public sphere. The MIT Press, Cambridge

Carey A (1995) Taking the risk out of democracy: corporate propaganda versus freedom and liberty. University of Illinois Press, Chicago

Carmichael JT, Brulle RJ (2017) Elite cues, media coverage, and public concern: an integrated path analysis of public opinion on climate change, 2001-2013. Environmental Politics 26(2):232–252

Carmichael JT, Brulle RJ, Huxster JK (2017) The great divide: understanding the role of media and other drivers of the partisan divide in public concern over climate change in the USA, 2001-2014. Clim Chang 141(4):599–612

Cho CH, Patten DM, Roberts RW (2006) Corporate political strategy: an examination of the relation between political expenditures, environmental performance, and environmental disclosure. J Bus Ethics 67:139–154

Collison D (2003) Corporate propaganda: its implications for accounting and accountability. Account Audit Account J 16(5):853–886

Conley II JG (2006) Environmentalism contained: a history of corporate responses to the new environmentalism. PhD Dissertation, Princeton University

Cooper C, Nownes A (2004) Money well spent? An experimental investigation of the effects of advertorials on citizen opinion. Am Politics Res 32(5):546–569

Driessen P (2003) BP – Back to petroleum. Institute of Public Affairs 55(1) 13–14

Dunlap R, McCright A (2015) Challenging climate change: the denial countermovement. In: Dunlap R, Brulle RJ (eds) Climate change and society: sociological perspectives on climate change. Oxford University Press, New York, pp 300–332

Falk E, Grizard E, McDonald G (2006) Legislative issue advertising in the 108th congress: pluralism or peril?. Harvard International Journal of Press/Politics 11(4):148–164

Fombrun C, Shanley M (1990) What's in a name? Reputation building and corporate strategy. Acad Manag J 33(2):233–258

Frandsen F, Johansen W (2011) Rhetoric, climate change, and corporate identity management. Manag Commun Q 25(3):511–530

Frynas G (2010) Oil industry's increasing focus on CSR. Petroleum Economist (Feb)

Gaither BM, Gaither TK (2016) Marketplace advocacy by the U.S. fossil fuel industries: issues of representation and environmental discourse. Mass Commun Soc 19(5):585–603

Gatzert N (2015) The impact of corporate reputation and reputation damaging events on financial performance: empirical evidence from the literature. Eur Manag J 33:485–499

Greenberg J, Knight G, Westersund E (2011) Spinning climate change; corporate and NGO public relations strategies in Canada and the United States. Int Commun Gaz 73(1–2):65–82

Habermas J (1989) The structural transformation of the public sphere: An inquiry into a category of bourgeois society (T. McCarthy, Trans.). The MIT Press, Cambridge, MA (Original work published 1962)

Harvey B, Bice B (2014) Social impact assessment, social development programmes and social licence to operate: tensions and contradictions in intent and practice in the extractive sector. Impact Assessment and Project Appraisal 32(4):327–335

Hoggan J (2009) Climate cover-up. Greystone Books

Howard P (2006) New media campaigns and the managed citizen. Cambridge University Press, Cambridge

Johnston J, DiNardo J (1997) Econometric methods. McGraw-Hill, New York

Karpf D (2016) Analytic activism: digital listening and the new political strategy. Oxford University Press, New York

Kerr R (2004) Creating the corporate citizen: Mobil Oil's editorial-advocacy campaign in the New York Times to advance the right and practice of corporate political speech, 1970-80. Am Journal 21(4):39–62

Kerr R (2005) The rights of corporate speech: Mobil Oil and the legal development of the voice of big business. LFB Scholarly Publishing, New York

Knight G (2010) Activism, branding, and the promotional public sphere. In: Aronczyk M, Powers D (eds) Blowing up the brand: critical perspectives on promotional culture. New York, Peter Lang, pp 173–193

Kreiss D (2016) Prototype politics: technology-intensive campaigning and the data of democracy. Oxford University Press, New York

Ledbetter J (1997) Made possible by…: the death of public broadcasting in the United States. Verso, London

Ludlam C (1974) Abatement of corporate image environmental advertising. Ecology LQ 4(2):247–278

Magnan A (2006) Refeudalizing the public sphere: "manipulated publicity" in the Canadian debate on GM foods. Can J Sociol 31(1):25–53

Manheim JB (2011) Strategy in information and influence campaigns. Routledge, New York

Marchand R (1998) Creating the corporate soul: the rise of public relations and corporate imagery in American big business. University of California Press, Berkeley

McGarity T (2014) The disruptive politics of climate disruption. Nova L Rev 38(3):392–472

Miller BM, Lellis J (2016) Audience responses to values-based marketplace advocacy by the fossil fuel industries. Environ Commun 10(2):249–268

Mix TL, Waldo KG (2015) Know(ing) your power: risk society, astroturf campaigns, and the battle over the red rock coal-fired plant. Sociol Q 56(1):125–151

Mobil Oil (1982) Evolution of Mobil's public affairs programs 1970–81. Mobil Oil Company: Fairfax VA

Palenchar M, Fitzpatrick K (2009) Secret persuaders: ethical and rhetorical perspectives on the use of public relations front groups. In: Heath RL, Toth EL, Waymer E (eds) Rhetorical and critical approaches to public relations II. Routledge, New York, pp 272–289

Pfau M, Haigh M, Sims J, Wigley S (2007) The influence of corporate front-group stealth campaigns. Commun Res 34:73–99

Plec E, Pettenger M (2012) Greenwashing consumption: the didactic framing of ExxonMobil's energy solutions. Environ Commun 6(4):459–476

Pomering A, Johnson LW (2009) Constructing a corporate social responsibility reputation using corporate image advertising. Australas Mark J 17:106–114

Porter WM (1992) The environment of the oil company: a semiotic analysis of Chevron's "People Do" commercials. In: Toth E, Heath R (eds) Rhetorical and critical approaches to public relations. Lawrence Erlbaum Associates, Hillsdale, pp 279–300

Porter ME, Kramer MR (2002) The competitive advantage of corporate philanthropy. Harv Bus Rev 80(12):56–68

Schlichting I (2014) Consumer campaigns in corporate public affairs management: the case of climate change and the German energy industry. J Commun Manag 18(4):402–421

Schmertz H (1977) Problems in communicating with and through the media. Public lecture to the Business International Chief Executives Round Table, January 12

Schmertz H (1986) Good-bye to the low profile: the art of creative confrontation. Little, Brown and Company, Boston

Schmertz H (1988) Mobil on track. Sports Inc. 14 March: 56. Accessed at: http://industrydocuments.library.ucsf.edu/tobacco/docs/trnw0022

Schumann D, Hathcote J, West S (1991) Corporate advertising in America: a review of published studies on use, measurement, and effectiveness. J Advert 20(3):35–55

Sethi SP (1977) Advocacy advertising and large corporations: social conflict, big business image, the news media, and public policy. Lexington Books, Lexington

Shell Oil (1978) Shell Oil Company: the long range plan: go to the public to shine a tarnished Image. Madison Avenue Magazine May: 58–59

Sievers B (2010) Civil society, philanthropy, and the fate of the commons. Tufts University Press, Lebanon

Smith, K. T., Smith, L. M., & Dunbar, S. (2014). Using corporate advertising to improve public perception of energy companies. J Strat Market 22(4):347–35

St. John B III (2014a) The "creative confrontation" of Herbert Schmertz: public relations sense making and the corporate persona. Public Relat Rev 40(5):772–779

St. John B III (2014b) Conveying the sense-making corporate persona: the Mobil Oil "observations" columns, 1975–1980. Public Relat Rev 40(4):692–699

Stauber J, Rampton S (2002) Toxic sludge is good for you! Common Cause Press

Supran G, Oreskes N (2017) Assessing ExxonMobil's climate change communications (1977-2014). Environ Res Lett 12:1–18

Tedlow R (1979) Keeping the corporate image: public relations and business, 1900–1950. JAI Press, Greenwich

Tischer S, Hildebrandt L (2014) Linking corporate reputation and shareholder value using the publication of reputation rankings. J Bus Res 67:1007–1017

Vogel D (1989) Fluctuating fortunes: the political power of business in America. Beard Books, Washington, DC

Walker ET (2014) Grassroots for hire: public affairs consultants in American democracy. Cambridge University Press, Cambridge

Waltzer H (1988) Corporate advocacy advertising and political influence. Public Relat Rev 14:41–55

Waxman, Rep. Henry and Markey, Rep. Edward, H.R.2454, "American Clean Energy and Security Act of 2009," released May 15, 2009
Additional information
Publisher's note
Springer Nature remains neutral with regard to jurisdictional claims in published maps and institutional affiliations.
Electronic supplementary material
About this article
Cite this article
Brulle, R.J., Aronczyk, M. & Carmichael, J. Corporate promotion and climate change: an analysis of key variables affecting advertising spending by major oil corporations, 1986–2015. Climatic Change 159, 87–101 (2020). https://doi.org/10.1007/s10584-019-02582-8
Received:

Accepted:

Published:

Issue Date:
Keywords
Major oil corporations

Climate change

Advertising