Abstract
Green businesses based on economic, social and technological innovations are engines of green growth and climate change adaptation across the world. However, without proper interactive mechanisms with the city, green businesses are particularly vulnerable in today's fast-changing socio-economic and political urban contexts. Existing research on climate change adaptation and low-carbon transitions have not explained the crucial components and mechanisms involved in realising sustainable transformations through green businesses in cities. Synthesizing the latest green innovation and urban transformation literature, the paper analyses four distinctive urban green business cases: free-floating bike sharing in Shanghai (Mobike), a renewable energy cooperative in Girona (Som Energia), urban agriculture in Venice and green building start-ups in Istanbul. Based on a comparative analysis, we theorize a 3-Co model to explain the city-green-business transformation process consisting of: first, co-creation of sustainable values between green business and the respective society; second, co-evolution between the business ecosystem and the city's visions and policies; and third, co-governance of sustainable trade-offs during the business development and implementation process.
This is a preview of subscription content,
to check access.
Access this article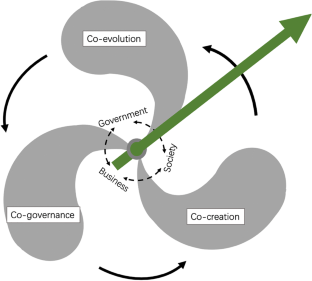 Notes
Among the 35 Chapters necessary to complete the accession process
References
Akenji L (2014) Consumer scapegoatism and limits to green consumerism. J Clean Prod 63:13–23

Ballard D (2005) Using learning processes to promote change for sustainable development. Action Res 3(2):135–156

Becker S, Kunze C, Vancea M (2017) Community energy and social entrepreneurship: addressing purpose, organisation and embeddedness of renewable energy projects. J Clean Prod 147:25–36

Bisaro A, Hinkel J (2016) Governance of social dilemmas in climate change adaptation. Nat Clim Chang 6(4):354–359

Broto VC, Bulkeley H (2013) A survey of urban climate change experiments in 100 cities. Glob Environ Chang 23(1):92–102

Bulkeley H, Broto VC (2013) Government by experiment? Global cities and the governing of climate change. Transactions 38(3):361–375

Castán Broto V, Bulkeley H (2013) A survey of urban climate change experiments in 100 cities. Glob Environ Chang 23(1):92–102

Cohen B, Kietzmann J (2014) Ride on! Mobility business models for the sharing economy. Organ Environ 27(3):279–296

Cohen B, Almirall E, Chesbrough H (2016) The city as a lab: open innovation meets the collaborative economy. Calif Manag Rev 59(1):5–13

d'Angelo MJ, Brunstein J (2014) Social learning for sustainability: supporting sustainable business in Brazil regarding multiple social actors, relationships and interests. Int J Sustain Dev World Ecol 21(3):273–289

Dyllick T, Muff K (2016) Clarifying the meaning of sustainable business. Organ Environ 29(2):156–174

Emerson K, Nabatchi T, Balogh S (2012) An integrative framework for collaborative governance. J Public Adm Res Theory 22(1):1–29

Farla J, Markard J, Raven R, Coenen L (2012) Sustainability transitions in the making: a closer look at actors, strategies and resources. Technol Forecast Soc Chang 79(6):991–998

Foster SR, Iaione C (2015) The city as a commons. Yale Law Policy Rev 34:281–239

Geels FW (2010) Ontologies, socio-technical transitions (to sustainability), and the multi-level perspective. Res Policy 39(4):495–510

Geels FW (2014) Reconceptualising the co-evolution of firms-in-industries and their environments: developing an inter-disciplinary triple embeddedness framework. Res Policy 43(2):261–277

Geels FW (2018) Disruption and low-carbon system transformation: progress and new challenges in socio-technical transitions research and the multi-level perspective. Energy Res Soc Sci 37:224–231

Gillard R, Gouldson A, Paavola J, Van Alstine J (2016) Transformational responses to climate change: beyond a systems perspective of social change in mitigation and adaptation. Wiley Interdiscip Rev Clim Chang 7(2):251–265

Grabs J, Langen N, Maschkowski G, Schäpke N (2016) Understanding role models for change: a multilevel analysis of success factors of grassroots initiatives for sustainable consumption. J Clean Prod 134:98–111

Griffin L (2010) Governance innovation for sustainability: exploring the tensions and dilemmas. Environ Policy Gov 20(6):365–369

Hendriks F (2014) Understanding good urban governance: essentials, shifts, and values. Urban Aff Rev 50(4):553–576

Hodson M, Geels FW, Mcmeekin A (2017) Reconfiguring urban sustainability transitions, analysing multiplicity. Sustainability 9(2):299

Holden E, Linnerud K, Banister D (2014) Sustainable development: our common future revisited. Glob Environ Chang 26:130–139

Iaione C (2017) The right to the co-city. Ital J Public Law 80

IPCC (2014) The fifth assessment report. IPCC Secretariat, Geneva

Kates RW, Travis WR, Wilbanks TJ (2012) Transformational adaptation when incremental adaptations to climate change are insufficient. Proc Natl Acad Sci 109(19):7156–7161

Kummitha RKR, Crutzen N (2017) How do we understand smart cities? An evolutionary perspective. Cities 67:43–52

Lan J, Ma Y, Zhu D, Mangalagiu D, Thornton TF (2017) Enabling value co-creation in the sharing economy: the case of Mobike. Sustainability 9(9)

Lillo P, Pellicer V (2014) Analysing the influence of the energy model on fuel poverty and the role of citizenship mobilisation: a case study of the platform for a new energy model in Spain. Queen's Polit Rev 2:25–45

Lonsdale K, Pringle P, Turner B (2015) Transformative adaptation: what it is, why it matters & what is needed, UK Climate Impacts Programme. University of Oxford, Oxford, UK

Ma Y, Rong K, Mangalagiu D, Thornton TF, Zhu D (2018a) Co-evolution between urban sustainability and business ecosystem innovation: evidence from the sharing mobility sector in Shanghai. J Clean Prod 188:942–953

Ma Y, Lan J, Thornton T, Mangalagiu D, Zhu D (2018b) Challenges of collaborative governance in the sharing economy: the case of free-floating bike sharing in Shanghai. J Clean Prod 197:356–365

Mahalingam A, Reiner D (2016) Energy subsidies at times of economic crisis: a comparative study and scenario analysis of Italy and Spain. In: Cambridge Working Papers in Economics

Martin CJ (2016) The sharing economy: a pathway to sustainability or a nightmarish form of neoliberal capitalism? Ecol Econ 121:149–159

Martin CJ, Upham P (2016) Grassroots social innovation and the mobilisation of values in collaborative consumption: a conceptual model. J Clean Prod 134(Part A):204–213

Maxwell JA (1996) Qualitative research design: an interactive approach. Sage Publications, Thousand Oaks, Calif

Park S, Marshall N, Jakku E, Dowd A, Howden SM, Mendham E, Fleming A (2012) Informing adaptation responses to climate change through theories of transformation. Global Environmental Change-Human And Policy Dimensions 22(1):115–126

Patterson, J., Schulz, K., Vervoort, J., Adler, C., Hurlbert, M., van der Hel, S., Schmidt, A., Barau, A., Obani, P. and Sethi, M. 2015, 'Transformations towards sustainability': emerging approaches, critical reflections, and a research agenda, Earth System Governance Project, Lund and Amsterdam

Pellicer-Sifres V, Belda-Miquel S, Cuesta-Fernandez I, Boni A (2018) Learning, transformative action, and grassroots innovation: insights from the Spanish energy cooperative Som Energia. Energy Res Soc Sci 42:100–111

Pelling M, O'Brien K, Matyas D (2015) Adaptation and transformation. Climatic Change; An Interdisciplinary, International Journal Devoted to the Description, Causes and Implications of Climatic Change 133(1):113–127

Prahalad CK, Ramaswamy V (2004) Co- creation experiences: the next practice in value creation. J Interact Mark 18(3):5–14

Ritzer G (2015) The "new" world of prosumption: evolution, "return of the same" or revolution? Sociol Forum 30(1):1–17

Rohracher H, Späth P (2014) The interplay of urban energy policy and socio- technical transitions: the eco-cities of Graz and Freiburg in retrospect. Urban Stud 51(7):1415–1431

Rong K, Shi Y (2015) Business ecosystems: constructs, configurations, and the nurturing process. Palgrave Macmillan, Basingstoke

Truffer B, Coenen L (2012) Environmental innovation and sustainability transitions in regional studies. Reg Stud 46(1):1–21

TUPDI (2017) 2017 China bike sharing and urban development report, Tsinghua urban planning and design Institute, Beijing

Vargo S, Lusch R (2010) From repeat patronage to value co- creation in service ecosystems: a transcending conceptualization of relationship. J Bus Mark Manag 4(4):169–179

Vogel B, Henstra D (2015) Studying local climate adaptation: A heuristic research framework for comparative policy analysis. Global Environmental Change 31:110–120

Walker B, Meyers JA (2004) Thresholds in ecological and social-ecological systems: a developing database. Ecol Soc 9(2)

Westman L, Luederitz C, Kundurpi A, Mercado AJ, Weber O, Burch SL (2019) Conceptualizing businesses as social actors: a framework for understanding sustainability actions in small-and medium-sized enterprises. Bus Strateg Environ 28(2):388–402

Wiek A, Ness B, Schweizer-Ries P, Brand FS, Farioli F (2012) From complex systems analysis to transformational change: a comparative appraisal of sustainability science projects. 7(1):5–24

Wolfram M, Frantzeskaki N (2016) Cities and systemic change for sustainability: prevailing epistemologies and an emerging research agenda. Sustainability 8(2):144
Acknowledgements
This paper benefited from the thoughtful comments of three anonymous reviewers.
Funding
This research is part of the EU-funded H2020 project GREEN-WIN—Green Growth and Win-Win Strategies for Sustainable Climate Action (Grant Agreement No 642018; www.green-win-project.eu).
Additional information
Publisher's note
Springer Nature remains neutral with regard to jurisdictional claims in published maps and institutional affiliations.
This article is part of a Special Issue on Win-Win Solutions to Climatic Change edited by Diana Mangalagiu, Alexander Bisaro, Jochen Hinkel, and Joan David Tàbara
About this article
Cite this article
Ma, Y., Thornton, T.F., Mangalagiu, D. et al. Co-creation, co-evolution and co-governance: understanding green businesses and urban transformations. Climatic Change 160, 621–636 (2020). https://doi.org/10.1007/s10584-019-02541-3
Received:

Accepted:

Published:

Issue Date:

DOI: https://doi.org/10.1007/s10584-019-02541-3
Keywords