Abstract
There are numerous studies that have estimated the number of deaths attributable to heat and cold using city-level or provincial-level data. However, none of these studies have assessed temperature-mortality relationships using meteorological climate zones and data that covers an entire population/country. This analysis uses a national data set of death records to create time-series data for different regional aggregations. Temperature-mortality relationships are estimated using this data set of 1,717,224 deaths, which covers the whole of Australia between 2006 and 2017. This paper finds that the majority of deaths related to temperature in Australia are caused by heat. It also finds that the reference temperature used to separate impacts into heat-/cold-related mortality has a notable impact on the magnitude of these estimates. Previous studies (using the same methodology) found that most of the temperature-related mortality burden in Australia was attributed to cold temperatures. This led to studies that associated this with a net benefit from climate change. This analysis indicates that studies that found net benefits from climate change need to be re-assessed, especially for Australia and warmer climate zones.
Access options
Buy single article
Instant access to the full article PDF.
US$ 39.95
Tax calculation will be finalised during checkout.
Subscribe to journal
Immediate online access to all issues from 2019. Subscription will auto renew annually.
US$ 119
Tax calculation will be finalised during checkout.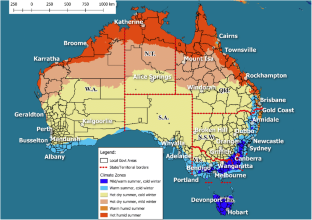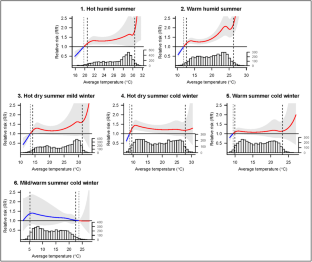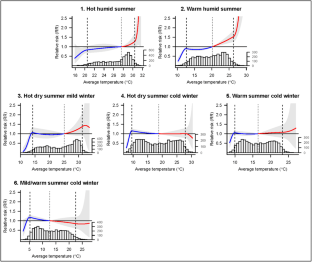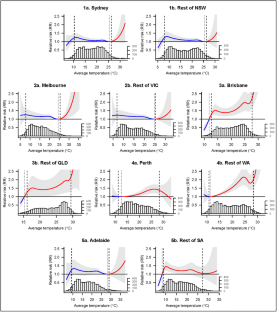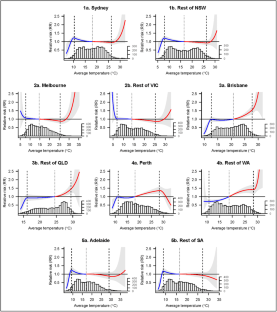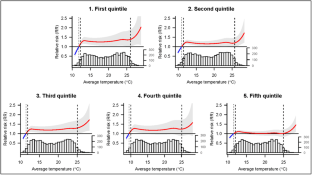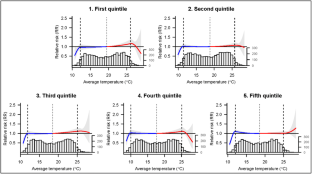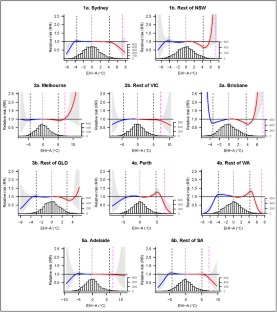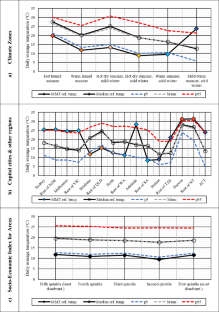 References
ABS (2012) 1270.0.55.006 - Australian Statistical Geography Standard (ASGS): correspondences, July 2011 http://www.abs.gov.au/AUSSTATS/abs@.nsf/DetailsPage/1270.0.55.006July%202011?OpenDocument. Accessed 24 July 2018

ABS (2013) 2033.0.55.001 - Census of population and housing: Socio-Economic Indexes for Areas (SEIFA), Australia, 2011. http://www.abs.gov.au/AUSSTATS/abs@.nsf/Lookup/2033.0.55.001Main+Features12011?OpenDocument. Accessed 24 July 2018

Ackerman F, Stanton EA (2008) A comment on "Economy-wide estimates of the implications of climate change: human health". Ecol Econ 66:8–13. https://doi.org/10.1016/j.ecolecon.2007.10.006

Ackerman F, Stanton EA, Hope C, Alberth S (2009) Did the Stern Review underestimate US and global climate damages? Energy Policy 37:2717–2721. https://doi.org/10.1016/j.enpol.2009.03.011

Barnett AG, Hajat S, Gasparrini A, Rocklöv J (2012) Cold and heat waves in the United States. Environ Res 112:218–224. https://doi.org/10.1016/j.envres.2011.12.010

Barreca A, Clay K, Deschênes O, Greenstone M, Shapiro JS (2015) Convergence in adaptation to climate change: evidence from high temperatures and mortality, 1900-2004. Am Econ Rev 105:247–251

Barreca A, Clay K, Deschenes O, Greenstone M, Shapiro JS (2016) Adapting to climate change: the remarkable decline in the US temperature-mortality relationship over the twentieth century. J Polit Econ 124:105–159. https://doi.org/10.1086/684582

Basu R, Malig B (2011) High ambient temperature and mortality in California: exploring the roles of age, disease, and mortality displacement. Environ Res 111:1286–1292

Basu R, Pearson D, Malig B, Broadwin R, Green R (2012) The effect of high ambient temperature on emergency room visits. Epidemiology 813–820

Bobb JF, Peng RD, Bell ML, Dominici F (2014) Heat-related mortality and adaptation to heat in the United States. Environ Health Perspect 122:811–816. https://doi.org/10.1289/ehp.1307392

BOM (2016) Climate classifications—thermal climate zone classification (temperature/humidity zones). http://www.bom.gov.au/jsp/ncc/climate_averages/climate-classifications/index.jsp. Accessed 24 July 2018 2018

Cui Y et al (2016) Heat or cold: which one exerts greater deleterious effects on health in a basin climate city? Impact of ambient temperature on mortality in Chengdu, China. Int J Environ Res Public Health 13:1225

Dang TN et al (2016) Characterizing the relationship between temperature and mortality in tropical and subtropical cities: a distributed lag non-linear model analysis in Hue, Viet Nam, 2009–2013. Glob Health Action 9

Egondi T, Kyobutungi C, Kovats S, Muindi K, Ettarh R, Rocklöv J (2012) Time-series analysis of weather and mortality patterns in Nairobi's informal settlements. Glob Health Action 5:19065

European Commission (2008) Impact assessment: document accompanying the package of implementation measures for the EU's objectives on climate change and renewable energy for 2020. Commission Staff Working Paper,

Garnaut R (2008) The Garnaut climate change review. Cambridge, Cambridge

Gasparrini A et al (2015) Mortality risk attributable to high and low ambient temperature: a multicountry observational study. Lancet 386:369–375

Gasparrini A et al (2017) Projections of temperature-related excess mortality under climate change scenarios. Lancet Planetary Health 1:e360–e367. https://doi.org/10.1016/S2542-5196(17)30156-0

Gosling SN, McGregor GR, Páldy A (2007) Climate change and heat-related mortality in six cities. Part 1: model construction and validation. Int J Biometeorol 51:525–540

Gosling SN, Lowe JA, McGregor GR, Pelling M, Malamud BD (2009a) Associations between elevated atmospheric temperature and human mortality: a critical review of the literature. Clim Chang 92:299–341

Gosling SN, McGregor GR, Lowe JA (2009b) Climate change and heat-related mortality in six cities. Part 2: climate model evaluation and projected impacts from changes in the mean and variability of temperature with climate change. Int J Biometeorol 53:31–51. https://doi.org/10.1007/s00484-008-0189-9

Guo Y, Li S, Li Liu D, Chen D, Williams G, Tong S (2016) Projecting future temperature-related mortality in three largest Australian cities. Environ Pollut 208:66–73

Herold N, Ekström M, Kala J, Goldie J, Evans JP (2018) Australian climate extremes in the 21st century according to a regional climate model ensemble: implications for health and agriculture. Weather Clim Extremes 20:54–68. https://doi.org/10.1016/j.wace.2018.01.001

Jegasothy E, McGuire R, Nairn J, Fawcett R, Scalley B (2017) Extreme climatic conditions and health service utilisation across rural and metropolitan New South Wales. Int J Biometeorol 61:1359–1370

King AD, Karoly DJ, Henley BJ (2017) Australian climate extremes at 1.5 °C and 2 °C of global warming. Nat Clim Chang 7:–412. https://doi.org/10.1038/nclimate3296

Langlois N, Herbst J, Mason K, Nairn J, Byard RW (2013) Using the excess heat factor (EHF) to predict the risk of heat related deaths. J Forensic Legal Med 20:408–411

Lee M, Nordio F, Zanobetti A, Kinney P, Vautard R, Schwartz J (2014) Acclimatization across space and time in the effects of temperature on mortality: a time-series analysis. Environ Health 13:89

Lee W, Kim H, Hwang S, Zanobetti A, Schwartz JD, Chung Y (2017) Monte Carlo simulation-based estimation for the minimum mortality temperature in temperature-mortality association study. BMC Med Res Methodol 17:137

Lo YTE et al (2019) Increasing mitigation ambition to meet the Paris Agreement's temperature goal avoids substantial heat-related mortality in U.S. cities. Sci Adv 5:eaau4373. https://doi.org/10.1126/sciadv.aau4373

Lomborg B (2016) An overheated climate alarm: the White House launches a scary campaign about deadly heat. Guess what: cold kills more people

Longden T (2018) Measuring temperature-related mortality using endogenously determined thresholds. Clim Chang 150:343–375. https://doi.org/10.1007/s10584-018-2269-0

Longden T (2019) Temperature-related mortality and climate change in Australia. Lancet Planetary Health 3:e121

Markandya A, Sampedro J, Smith SJ, Van Dingenen R, Pizarro-Irizar C, Arto I, González-Eguino M (2018) Health co-benefits from air pollution and mitigation costs of the Paris Agreement: a modelling study. Lancet Planetary Health 2:e126–e133

Martens WJ (1998) Climate change, thermal stress and mortality changes. Soc Sci Med 46:331–344

Muscatello DJ, Newall AT, Dwyer DE, MacIntyre CR (2013) Mortality attributable to seasonal and pandemic influenza, Australia, 2003 to 2009, using a novel time series smoothing approach. PLoS One 8:e64734

Nairn JR, Fawcett RJ (2014) The excess heat factor: a metric for heatwave intensity and its use in classifying heatwave severity. Int J Environ Res Public Health 12:227–253

Nairn J, Fawcett R (2015) The Excess heat factor: a metric for heatwave intensity and its use in classifying heatwave severity. Int J Environ Res Public Health 12:227

Nairn JR, Fawcett RG, Day KA (2013) Defining heatwaves: heatwave defined as a heat-impact event servicing all community and business sectors in Australia. Centre for Australian Weather and Climate Research

Nordhaus WD (1993) Optimal greenhouse-gas reductions and tax policy in the "DICE" model. Am Econ Rev 83:313–317

Nordio F, Zanobetti A, Colicino E, Kloog I, Schwartz J (2015) Changing patterns of the temperature–mortality association by time and location in the US, and implications for climate change. Environ Int 81:80–86. https://doi.org/10.1016/j.envint.2015.04.009

Scalley BD, Spicer T, Jian L, Xiao J, Nairn J, Robertson A, Weeramanthri T (2015) Responding to heatwave intensity: excess heat factor is a superior predictor of health service utilisation and a trigger for heatwave plans. Aust N Z J Public Health 39:582–587

Schwartz J (2000) Harvesting and long term exposure effects in the relation between air pollution and mortality. Am J Epidemiol 151:440–448

Sim G, Kim H, Zanobetti A, Schwartz J, Chung Y (2018) Non-parametric Bayesian multivariate metaregression: an application in environmental epidemiology. Journal of the Royal Statistical Society: Series C (Applied Statistics)

Stern N (2006) Stern review report on the economics of climate change

Tol RSJ (2002a) Estimates of the damage costs of climate change. Part I: benchmark estimates. Environ Resour Econ 21:47–73. https://doi.org/10.1023/a:1014500930521

Tol RSJ (2002b) Estimates of the damage costs of climate change, part II. Dyn Estimates Environ Resour Econ 21:135–160. https://doi.org/10.1023/a:1014539414591

Tol RSJ (2013) The economic impact of climate change in the 20th and 21st centuries. Clim Chang 117:795–808. https://doi.org/10.1007/s10584-012-0613-3

Vicedo-Cabrera AM et al (2018) Temperature-related mortality impacts under and beyond Paris Agreement climate change scenarios. Clim Chang 150:391–402. https://doi.org/10.1007/s10584-018-2274-3

Xiao J et al (2017) Variation in population vulnerability to heat wave in Western Australia. Front Public Health:5. https://doi.org/10.3389/fpubh.2017.00064

Yu W, Mengersen K, Wang X, Ye X, Guo Y, Pan X, Tong S (2012) Daily average temperature and mortality among the elderly: a meta-analysis and systematic review of epidemiological evidence. Int J Biometeorol 56:569–581. https://doi.org/10.1007/s00484-011-0497-3

Zanobetti A, Wand M, Schwartz J, Ryan L (2000) Generalized additive distributed lag models: quantifying mortality displacement. Biostatistics 1:279–292
Acknowledgements
The author thanks Associate Professor Antonio Gasparrini and co-authors for making their R code available online (via http://www.ag-myresearch.com/2015_gasparrini_lancet.html). The author thanks Mahbub Hakim for research assistance (i.e. assisting with matching weather stations to local government areas). The Cause of Death Unit Record File (COD URF) was provided by the Australian Coordinating Registry for the COD URF on behalf of Australian Registries of Births, Deaths and Marriages, Australian Coroners and the National Coronial Information System.
Funding
This research was funded by the Lord Mayor's Charitable Foundation and a UTS Business School Research Grant.
Ethics declarations
This project was conducted under CHERE's programme ethics approval from the UTS Human Research Ethics Committee (UTS HREC reference no. 2015000135).
Conflict of interest
The author declares that he has no conflict of interest.
Additional information
Publisher's note
Springer Nature remains neutral with regard to jurisdictional claims in published maps and institutional affiliations.
Electronic supplementary material
About this article
Cite this article
Longden, T. The impact of temperature on mortality across different climate zones. Climatic Change 157, 221–242 (2019). https://doi.org/10.1007/s10584-019-02519-1
Received:

Accepted:

Published:

Issue Date: