Abstract
The field of climate services has arisen rapidly out of a desire to enable climate science to meet the information needs of society to respond to climate variability and change. In order for knowledge to be "usable" for decision-making, in the field of climate adaptation and beyond, it must meet the criteria of credibility, salience, and legitimacy (Cash et al., PNAS 100:8086–8091, 2003). Deliberate "co-production" of knowledge between "producers" and "users" has the potential to increase usability for decision-making and policy in some contexts. While co-production is increasingly advanced as an instrumental approach to facilitate the production of usable climate services, such efforts have paid scant attention to the role of power relations. In this article, we bring together literature on normative approaches to co-production—which treats co-production as an instrumental means to an end—with analytical interpretations of co-production within the field of Science and Technology Studies to examine efforts to develop usable climate services in Tanzania. We show that without reflexive processes that are explicitly attentive to power dynamics, normative co-production within climate services development can serve to reinforce, rather than overcome, power imbalances among actors.
Access options
Buy single article
Instant access to the full article PDF.
USD 39.95
Price excludes VAT (USA)
Tax calculation will be finalised during checkout.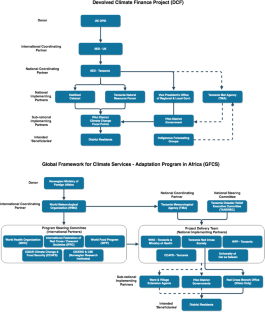 References
Agrawal A (1995) Dismantling the Divide Between Indigenous and Scientific Knowledge. Development and Change 26(3), 413–439

Armitage D, Berkes F, Dale A, Kocho-Schellenberg E, Patton E (2011) Co-management and the co-production of knowledge: learning to adapt in Canada's Arctic. Glob Environ Chang 21:995–1004

Bazeley P, Jackson K (2013) Qualitative Data Analysis with NVivo. SAGE Publications, Thousand Oaks, California

Berkes F, Reid WV, Wilbanks TJ, Capistrano D (2006) Bridging scales and knowledge systems. Bridging scales and knowledge systems: concepts and applications in ecosystem assessment. Island Press, Washington, DC

Brasseur GP, Gallardo L (2016) Climate services: lessons learned and future prospects. Earth's Future 4:79–89

Bremer S, Meisch S (2017) Co-production in climate change research: reviewing different perspectives. Wiley Interdiscip Rev Clim Chang 8:e482

Bremer S, Wardekker A, Dessai S, Sobolowski S, Slaattelid R, van der Sluijs J (2019) Toward a multi-faceted conception of co-production of climate services. Climate Services 13:42–50

Cash DW, Clark WC, Alcock F, Dickson NM, Eckley N, Guston DH et al (2003) Knowledge systems for sustainable development. PNAS 100:8086–8091

Cash DW, Borck JC, Patt AG (2006) Countering the loading-dock approach to linking science and decision making: comparative analysis of El Niño/Southern Oscillation (ENSO) forecasting systems. Sci Technol Hum Values 31(4):465–494

Chilvers J, Kearnes M (eds) (2015) Remaking participation: science, environment and emergent publics. Routledge

Clausewitz C (1982) On war. Penguin Books, New York

Daly ME, Yanda PZ, and West JJ (2015) Climate Change Policy Inventory and Analysis for Tanzania. CICERO Center for International Climate and Environmental Research-Oslo. Report 2015:5

Daly ME, West JJ, & Yanda PZ (2016) Establishing a baseline for monitoring and evaluating user satisfaction with climate services in Tanzania. CICERO Center for International Climate and Environmental Research-Oslo, Report 2016:2

Daly M, Dessai S (2018) Examining the goals of the Regional Climate Outlook Forums: what role for user engagement? Weather Climate Soc 10:693–708

Dilling L, Lemos MC (2011) Creating usable science: opportunities and constraints for climate knowledge use and their implications for science policy. Glob Environ Chang 21:680–689

Esguerra A, Beck S, Lidskog R (2017) Stakeholder engagement in the making: IPBES legitimization politics. Global Environ Polit 17:59–76

Fisher S, Dodman D, Van Epp M, Garside B (2018) The usability of climate information in sub-national planning in India, Kenya and Uganda: the role of social learning and intermediary organisations. Clim Chang 151:219–245

Galvin KA (2009) Transitions: pastoralists living with change. Annu Rev Anthropol 38:185–198

Georgeson L, Maslin M, Poessinouw M (2017) Global disparity in the supply of commercial weather and climate information services. Sci Adv 3:e1602632

GFCS (2013) Climate services adaptation programme in Africa: building resilience in disaster risk management, food security, nutrition and health. Proposal to the Norwegian Ministry of Foreign Affairs.

Gibbons M (ed) (1994) The new production of knowledge: the dynamics of science and research in contemporary societies. Sage, Thousand Oaks, California

Gieryn TF (1999) Cultural boundaries of science: credibility on the line. University of Chicago Press, Chicago

Goldman M (2006) Imperial nature. Yale University Press, New Haven

Goldman MJ, Turner MD, Daly ME (2018) A critical political ecology of human dimensions of climate change: epistemology, ontology, and ethics. WIREs Climate Change:e526. https://doi.org/10.1002/wcc.526

Hewitt C, Mason S, Walland D (2012) The global framework for climate services. Nat Clim Chang 2:831

Hodgson DL (2001) Once intrepid warriors: gender, ethnicity, and the cultural politics of Maasai development. Indiana University Press, Bloomington

Hodgson DL (2011) Being Maasai, Becoming Indigenous: Postcolonial Politics in a Neoliberal World. Indiana University Press

Hoppe R, Wesselink A, Cairns R (2013) Lost in the problem: the role of boundary organisations in the governance of climate change. Wiley Interdiscip Rev Clim Chang 4:283–300

IIED (2011) Strengthening voices: how pastoralist communities and local government are shaping strategies for adaptive environmental management and poverty reduction in Tanzania's drylands. Tanzania Natural Resource Forum. http://www.tnrf.org.

IIED (2016) Decentralising climate finance to reach the most vulnerable. International Institute for Environment and Development. http://pubs.iied.org/G04103/.

Jasanoff S (1996) Beyond Epistemology: Relativism and Engagement in the Politics of Science. Social Studies of Science 26(2), 393–418

Jasanoff S (2004) States of knowledge: the co-production of science and social order. Routledge, New York

Kruk MC, Parker B, Marra JJ, Werner K, Heim R, Vose R, Malsale P (2017) Engaging with users of climate information and the coproduction of knowledge. Weather Climate Soc 9:839–849

Leach M, Scoones I, Wynne B (2005) Science and citizens: globalization and the challenge of engagement. Zed Books, London

Leith P, Vanclay F (2015) Translating science to benefit diverse publics: engagement pathways for linking climate risk, uncertainty, and agricultural identities. Sci Technol Hum Values 40:939–964

Lemos MC, Morehouse BJ (2005) The co-production of science and policy in integrated climate assessments. Glob Environ Chang 15:57–68

Lofland J (2006) Analyzing social settings: a guide to qualitative observation and analysis. Wadsworth Publishing, Belmont, California

Lövbrand E (2011) Co-producing European climate science and policy: a cautionary note on the making of useful knowledge. Sci Public Policy 38:225–236

McNie EC (2007) Reconciling the supply of scientific information with user demands: an analysis of the problem and review of the literature. Environmental Science & Policy 10(1), 17–38

McNie EC (2008) Co-producing useful climate science for policy: lessons from the RISA program Doctoral dissertation. University of, Colorado at Boulder

Meadow AM, Ferguson DB, Guido Z, Horangic A, Owen G, Wall T (2015) Moving toward the deliberate coproduction of climate science knowledge. Weather Climate Soc 7:179–191

Miller CA, Wyborn C (2018) Co-production in global sustainability: histories and theories. Environ Sci Policy. https://doi.org/10.1016/j.envsci.2018.01.016

Mitchell RB, Clark WC, Cash DW (2006) Information and influence. In: Mitchell RB, Clark WC, Cash DW, Dickson NM (eds) Global environmental assessments: information and influence, pp 307–338

Mollel HA & Tollenaar A (2013) Decentralization in Tanzania: Design and Application in Planning Decisions. International Journal of Public Administration 36(5), 344–353

Muñoz-Erickson TA (2014) Co-production of knowledge-action systems in urban sustainable governance: The KASA approach. Environ Sci Policy 37:182–191

O'Reilly K (2005) Ethnographic methods. Routledge, London

Odora Hoppers CA (2011) Toward the integration of knowledge systems: Challenges to thought and practice. In: Harding S (ed) The Postcolonial Science and Technology Studies Reader. Duke University Press, Durham, pp 389–402

Parkipuny MLO (1979) Some crucial aspects of the Maasai predicament. In: Coulson J (ed) African socialism in practice: the Tanzanian experience. Spokesman Publishing, Nottingham

Prokopy LS, Carlton JS, Haigh T, Lemos MC, Mase AS, Widhalm M (2017) Useful to usable: developing usable climate science for agriculture. Clim Risk Manag 15:1–7

Rubin HJ, Rubin IS (2005) Qualitative interviewing: The art of hearing data. Sage Publications, Los Angeles

Sarewitz D, Pielke RA Jr (2007) The neglected heart of science policy: reconciling supply of and demand for science. Environ Sci Policy 10:5–16

Schut M, van Paassen A, Leeuwis C, Klerkx L (2013) Towards dynamic research configurations: a framework for reflection on the contribution of research to policy and innovation processes. Sci Public Policy 41:207–218

Scott JC (1998) Seeing like a state: how certain schemes to improve the human condition have failed. Yale University Press, New Haven

Sharma V, Orindi V, Hesse C, Pattison J, Anderson S (2014) Supporting local climate adaptation planning and implementation through local governance and decentralised finance provision. Dev Pract 24:579–590

TNRF (2012) Mainstreaming climate change adaptation in drylands development planning in Tanzania. http://pubs.iied.org/G03550/.

Turnhout E, Stuiver M, Klostermann J, Harms B, Leeuwis C (2013) New roles of science in society: different repertoires of knowledge brokering. Sci Public Policy 40:354–365

Vaughan C, Dessai S (2014) Climate services for society: origins, institutional arrangements, and design elements for an evaluation framework. Wiley Interdiscip Rev Clim Chang 5:587–603

Vincent K, Daly M, Scannell C, Leathes B (2018) What can climate services learn from theory and practice of co-production? Climate Services 12:48–58

Visbeck M (2008) From climate assessment to climate services. Nat Geosci 1:2

Watson-Verran H, Turnbull D (1995) Science and other indigenous knowledge systems. In: Jasanoff S et al (eds) Handbook of science and technology studies. Sage Publications, Thousand Oaks, California

WMO (2011) Climate knowledge for action: a global framework for climate services—empowering the most vulnerable. World Meteorological Organization, Geneva, Switzerland.

Woolgar S, Latour B (1986) Laboratory life: the construction of scientific facts. Princeton University Press

Wyborn C (2015) Co-productive governance: a relational framework for adaptive governance. Glob Environ Chang 30:56–67

Wynne B (1992) Misunderstood misunderstanding: social identities and public uptake of science. Public Underst Sci 1:281–304

Yanda PZ, West JJ, & Daly ME (2015) Institutional Analysis for Climate Services Development and Delivery in Tanzania: A Report for the Global Framework for Climate Services Adaptation Program in Africa. CICERO Center for International Climate and Environmental Research-Oslo, Report 2015:2
Acknowledgments
The authors thank three anonymous reviewers and the guest editor, Sophie Webber, for their insightful comments, which greatly improved the article. The authors gratefully acknowledge the support of the National Science Foundation SES—Division of Science, Technology, and Society (Grant No. 1354542), the U.S. Agency for International Development (USAID) Climate Change Resilient Development Small Grants Program (Grant No. CCRDACD0001), and the University of Colorado Boulder Innovative Seed Grant Program. The authors thank Dr. Mara Goldman, Dr. Eric Lovell, Dr. Elifuraha Laltaika, Mr. Alais Morindat, and Mr. Shayo Alakara for their support of the project. The authors are also grateful to residents in the villages of Arkaria and Kiserian, the Tanzanian Meteorological Agency, and the many other individuals and organizations in Tanzania who participated in this research.
Ethics declarations
Data collection undertaken with human subjects was reviewed and approved the University of Colorado Boulder Internal Review Board (IRB) under Protocol No. 14-0017 and the Tanzania Commission for Science and Technology under research permits No. 2013-105-NA-2013-7, No. 2014-63-ER-2013-17, and No. 2015-94-ER-2013-17.
Additional information
Publisher's note
Springer Nature remains neutral with regard to jurisdictional claims in published maps and institutional affiliations.
This article is part of a Special Issue on "Putting Climate Services in Contexts: Advancing Multi-disciplinary Understandings" edited by Sophie Webber.
About this article
Cite this article
Daly, M., Dilling, L. The politics of "usable" knowledge: examining the development of climate services in Tanzania. Climatic Change 157, 61–80 (2019). https://doi.org/10.1007/s10584-019-02510-w
Received:

Accepted:

Published:

Issue Date:

DOI: https://doi.org/10.1007/s10584-019-02510-w
Keywords