Abstract
The Ming-Qing transition (MQT) was a watershed in Chinese history. Events in three critical regions—North China Plain (NCP), southern Inner Mongolia (IM), and the Liaodong Peninsula (LP)—paved the way for political change in the latter years of the Ming dynasty. These developments occured in part as a response to climate change. Climate in these regions is controlled by topography and monsoon intensity (summer and winter). Here, we compare historical records with multi-proxy temperature and moisture reconstructions to understand the linkage between climate, the rise of the Manchu, and the collapse of the Ming dynasty and Mongolian steppe. In the last decades of the Ming, both the Ming and Mongolian steppe suffered from the most severe drought and winter cold of the past 500 years. Under the stress of this event, the political and economic systems of the Ming dynasty collapsed, although drought and cooling in the LP were not so intense, due to a maritime effect on climate. This allowed for enhanced precipitation by typhoons, and sustained agricultural development. During this period, the Later Jin (then Qing) seized an opportunity and occupied the LP. Simultaneously, a Manchu-Mongolian alliance formed. They defeated Lindan Khan and conquered North Korea, which removed the military threat from the east. This alleviated the economic pressure imposed by war, and rapid population expansion ensued. Finally, a new dynasty was established in the Central Plains.
Access options
Buy single article
Instant access to the full article PDF.
USD 39.95
Price excludes VAT (USA)
Tax calculation will be finalised during checkout.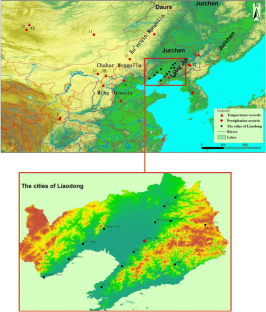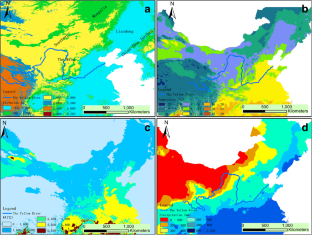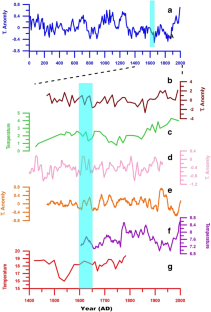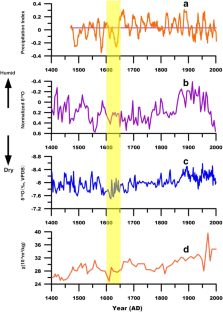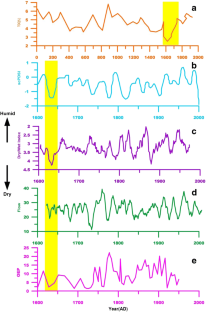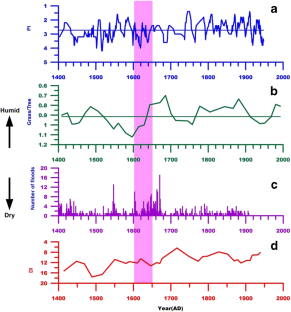 References
Atwell WS (1986) Some observations on the 'seventeenth-century crisis' in China and Japan. J Asian Stud 45:223–244

Bao G, Bao Y, Qin Z, Zhou Y, Shiirev A (2013) Vegetation cover changes in Mongolian Plateau and its response to seasonal climate changes in recent 10 years. Sci Geogr Sin 33:613–621

Barfield TJ (1992) The perilous frontier: nomadic empires and China, 221 B. C to A.D. 1757. Wiley-Blackwell, Cambridge

Bra'zdil R, Vala'sek H, Macková J (2003) Climate in the Czech lands during the 1780s in light of the daily weather records of parson Karel Bernhard Hein of Hodonice (south-western Moravia): comparison of documentary and instrumental data. Clim Chang 60:297–327

Brázdil R, Kiss A, Luterbacher J, Nash DJ, Rˇeznícková L (2018) Documentary data and the study of past droughts: a global state of the art. Clim Past 14:1915–1960

Brook T (2010) The troubled empire: China in the Yuan and Ming dynasties. Harvard University Press, Cambridge

CAMS (1981) Zhong guo jin wu bai nian han lao fen bu tu ji. Cartological Press, Beijing

Cao J, Jin Z, Shen J, Wang S (2003) An 800-year temperature reconstruction in Daihai Lake area of Inner Mongolia. Sci Geogr Sin 23:298–303

Chan A (1982) The glory and fall of the Ming dynasty. University of Oklahoma Press, Norman

Chen Q (2014) Climate shocks, dynastic cycles and nomadic conquests: evidence from historical China. Oxf Econ Pap:1–20

Chen J, Chen F, Feng S, Huang W, Liu J, Zhou A (2015) Hydroclimatic changes in China and surroundings during the Medieval Climate Anomaly and Little Ice Age: spatial patterns and possible mechanisms. Quat Sci Rev 107:98–111

Cheng K (2015) Research on the drought and floods events in Shaanxi during the Ming Dynasty. Dissertation, Shaanxi Normal University

Chu G et al (2011) Seasonal temperature variability during the past 1600 years recorded in historical documents and varved lake sediment profiles from northeastern China. The Holocene 22:785–792

Cook ER, Anchukaitis KJ, Buckley BM, D'Arrigo RD, Jacoby GC, Wright WE (2010) Asian monsoon failure and megadrought during the last millennium. Science 328:486–489

Cook ER, Krusic PJ, Anchukaitis KJ, Buckley BM, Nakatsuka T, Sano M (2013) Tree-ring reconstructed summer temperature anomalies for temperate East Asia since 800 C.E. Clim Dyn 41:2957–2972

Cui J, Chang H, Cheng K, Burr GS (2017) Climate change, desertification, and societal responses along the Mu Us Desert margin during the Ming dynasty. Weather Clim Soc 9:81–94

Davi NK, Pederson N, Leland C, Nachin B, Suran B, Jacoby GC (2013) Is eastern Mongolia drying? A long-term perspective of a multidecadal trend. Water Resour Res 49:151–158

Degroot D (2018a) Climate change and society in the 15th to 18th centuries. Wiley Interdiscip Rev Clim Chang 9:e518

Degroot D (2018b) The Frigid Golden Age: climate change, the Little Ice Age, and the Dutch Republic, 1560–1720. Cambridge University Press, New York

Di Cosmo N (2010) The Manchu conquest in World-Historical perspective: A note on trade and silver. Journal of Central Asian Studies 1:43-60

Di Cosmo N (2012) From alliance to tutelage: A historical analysis of Manchu-Mongol relations before the Qing conquest. Frontiers of History in China 7:175-197

Feng X (2011) Social reaction to Jiangnan Delta flooding in the reign of the Emperor Wanli. Ming Stud:16

Fu L (2011) Agricultural climate yields assessment research in three provinces of Northeast China. Dissertation, Chinese Academy of Meteorological Sciences

Ge QS, Hao ZX, Zheng JY, Shao XM (2013) Temperature changes over the past 2000 yr in China and comparison with the Northern Hemisphere. Clim Past 9:1153–1160

Goldstone JA (1988) East and West in the seventeenth century:political crises in Stuart England, Ottoman Turkey, and Ming China. Comp Stud Soc Hist 30:103–142

Ho P-t (2000) Studies in the population history of China. Shenghuo▪Dushu▪Xinzhi Sanlian Shudian, Beijing, pp 1368–1953

Hong YT et al (2000) Response of climate to solar forcing recorded in a 6000-year δ18O time-series of Chinese peat cellulose. The Holocene 10:1–7

Jia R (2013) Weather shocks, sweat potatoes and peasant revolts in historical China. Econ J 124:92–118

Kim GS, Choi IS (1987) A preliminary study on long-term variation of unusual climate phenomena during the past 1000 years in Korea. In: Ye D, Fu C, Chao J, Yoshino M (eds) The climate of china and global climate. China Ocean Press, Beijing, pp 30–37

Liang F (1980) Zhongguo lidai hukou tiandi tianfu tongji. Shanghai Renmin Chubanshe, Shanghai

Liu Y et al (2007) Tree-ring-derived precipitation records from Inner Mongolia, China, since A.D. 1627. Tree-Ring Res 63:3–14

Liu J, Chen F, Chen J, Xia D, Xu Q, Wang Z, Li Y (2011) Humid medieval warm period recorded by magnetic characteristics of sediments from Gonghai Lake, Shanxi, North China. Chin Sci Bull 56:2464–2474

Lyu S, Li Z, Zhang Y, Wang X (2016) A 414-year tree-ring-based April–July minimum temperature reconstruction and its implications for the extreme climate events, Northeast China. Clim Past 12:1879–1888

Miao L, Jiang C, He B, Liu Q, Feng Z, Cui X (2014) Response of vegetation coverage to climate change in Mongolian Plateau during recent 10 years. Acta Ecol Sin 34:1295–1301

Parker G (2013) Global crisis: war, climate change and catastrophe in the seventeenth century. Yale University Press, New Haven

Pederson N, Hesslb AE, Baatarbileg N, Anchukaitisd KJ, Di Cosmo N (2014) Pluvials, droughts, the Mongol Empire, and modern Mongolia. Proc Natl Acad Sci 111:4375–4379

Perdue P (2005) China marches west: The Qing conquest of central Eurasia. The Belknap Press of harvard University Press, Cambridge

Pfister C, Brázdil R (1999) Climatic variability in sixteenth century Europe and its social dimension: a synthesis. Clim Chang 43:5–53

Sam W (2011) The climate of rebellionin in the early modern ottoman empire. Cambridge University Press, New York

Sam W (2017) A cold welcome: the little ice age and Europes envounter with North America. Harvard University Press, Cambridge

Shindell DT, Schmidt GA, Mann ME, Rind D, Waple A (2001) Solar forcing of regional climate change during the Maunder Minimum. Science 29:2149–2152

Sinha A et al (2011) A global context for megadroughts in monsoon Asia during the past millennium. Quat Sci Rev 30:47–62

Sun Q et al (2013) Alkanes, compound-specific carbon isotope measures and climate variation during the last millennium from varved sediments of Lake Xiaolongwan, Northeast China. J Paleolimnol 50:331–344

Tan L, Cai Y, An Z, Edwards RL, Cheng H, Shen C-C, Zhang H (2010) Centennial- to decadal-scale monsoon precipitation variability in the semi-humid region, northern China during the last 1860 years: records from stalagmites in Huangye Cave. The Holocene 21:287–296

Trouet V, Esper J, Graham NE, Baker A, Scourse JD, Frank DC (2009) Persistent positive North Atlantic oscillation mode dominated the Medieval Climate Anomaly. Science 324:78–80

Wakeman FE (1986) China and the seventeenth-century crisis. Late Imperial China 7:1–26

Wang S (1998) Climate in China during the Little Ice Age. Quat Sci 38:54–64

Xiao J, Si B, Zhai D, Itoh S, Lomtatidze Z (2007) Hydrology of Dali Lake in central-eastern Inner Mongolia and Holocene East Asian monsoon variability. J Paleolimnol 40:519–528

Xiao L, Fang X, Zheng J, Zhao W (2015) Famine, migration and war: comparison of climate change impacts and social responses in North China between the late Ming and late Qing dynasties. The Holocene 25:900–910

Yancheva G et al (2007) Influence of the intertropical convergence zone on the East Asian monsoon. Nature 445:74–77

Yi B (1994) Dongbei diqu nongye fazhan de lishi xiansuo. Zhong Guo Nong Shi 13:66–71

Yi L, Yu H, Ge J, Lai Z, Xu X, Qin L, Peng S (2011) Reconstructions of annual summer precipitation and temperature in north-central China since 1470 AD based on drought/flood index and tree-ring records. Clim Chang 110:469–498

Yoo C, Park M, Kim HJ, Choi J, Sin J, Jun C (2015) Classification and evaluation of the documentary-recorded storm events in the Annals of the Choson Dynasty (1392–1910), Korea. J Hydrol 520:387–396

Zhang P et al (2008) A test of climate, sun, and culture relationships from an 1810-year Chinese cave record. Science 322:940–942

Zhang Z, Tian H, Cazelles B, Kausrud KL, Bräuning A, G F, Stenseth NC (2010) Periodic climate cooling enhanced natural disasters and wars in China during AD 10-1900. Proc R Soc B Biol Sci 277:3745–3753

Zhang DD, Lee HF, Wang C, Li B, Pei Q, Zhang J, An Y (2011) The causality analysis of climate change and large-scale human crisis. Proc Natl Acad Sci 108:17296–17301

Zhang Q, Wu S, Zhao D, Dai E (2013) Responses of growing season vegetation changes to climatic factors in Inner Mongolia grassland. J Nat Resour 28:754–764

Zhang Y, Liu X, Lin Q, Gao C, Wang J, Wang G (2014) Vegetation and climate change over the past 800 years in the monsoon margin of northeastern China reconstructed from n-alkanes from the Great Hinggan Mountain ombrotrophic peat bog. Org Geochem 76:128–135

Zhao X (2016) Rise of the Later Jin (Qing) based on climate and agriculture economic records. Dissertation, Shaanxi Normal University

Zheng J, Xiao L, Fang X, Hao Z, Ge Q, Li B (2014) How climate change impacted the collapse of the Ming dynasty. Clim Chang 127:169–182

Zheng J, Yu Y, Zhang X, Hao Z (2018) Variation of extreme drought and flood in North China revealed by document-based seasonal precipitation reconstruction for the past 300 years. Clim Past 14:1135–1145

Zhuang S (2018) Manwen dang'an suojian qingchao ruguanqian de nongye. Minzu Yanjiu:84–93
Funding
This research was supported by the Special Program for Basic Resources Investigation of the Ministry of Science and Technology (Grant No.2017FY101002), the National Natural Science Foundation of China (Grant No. 41571190 and 41572166) and the Fundamental Research Funds for the Central Universities.
Ethics declarations
Conflict of interest
The authors declare that they have no conflict of interest.
Additional information
Publisher's note
Springer Nature remains neutral with regard to jurisdictional claims in published maps and institutional affiliations.
About this article
Cite this article
Cui, J., Chang, H., Burr, G.S. et al. Climatic change and the rise of the Manchu from Northeast China during AD 1600–1650. Climatic Change 156, 405–423 (2019). https://doi.org/10.1007/s10584-019-02471-0
Received:

Accepted:

Published:

Issue Date:

DOI: https://doi.org/10.1007/s10584-019-02471-0