Abstract
Resilience has experienced exponential growth in scholarship and practice over the past several decades. We conduct a meta-analysis of recent review papers on resilience from all relevant fields to distill key themes emanating from both research and practice. These themes reflect prevalent debates, trends and insights from the thousands of underlying papers. The seven themes are: 1) the distinction between resilience as a system trait, process, or outcome; 2) the importance of resilience as a strategy for dealing with uncertainty; 3) a shift from understanding resilience to active resilience building; 4) the incorporation of transformation into resilience; 5) the increasingly normative interpretation of resilience; 6) the growing emphasis on measuring and evaluating resilience; and 7) the mounting critiques of the resilience agenda demanding attention. We discuss each in detail and find that they help explain both why resilience has attracted widespread attention, but also why it is an increasingly contested concept. We offer several steps to engage in productive dialogue across differences in resilience interpretations and conclude that this interand transdisciplinary dialogue is the difficult and necessary work that must be done, if resilience scholarship and practice is to advance in productive ways in the future.
This is a preview of subscription content, log in to check access.
Access options
Buy single article
Instant access to the full article PDF.
US$ 39.95
Price includes VAT for USA
Subscribe to journal
Immediate online access to all issues from 2019. Subscription will auto renew annually.
US$ 199
This is the net price. Taxes to be calculated in checkout.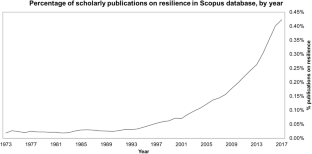 Notes
1.

2.

These search terms reflected the expertise of Aspen workshop invitees and—inter alia—the expertise of this author team.

3.

It is precisely this opportunity afforded by resilience as a boundary object that brought the transdisciplinary group of researchers and practitioners together in Aspen, resulting in a week of grappling with imprecise or divergent meanings and searching for mutual understanding.
References
AGCI (2015a) Fostering dialogue to support community resilience. Resilience Road Marker #1: Ideas for Implementation from Research & Practice

AGCI (2015b) The possibility of resilience. resilience road marker #2: ideas for implementation from research & practice

Ahern J (2011) From fail-safe to safe-to-fail: sustainability and resilience in the new urban world. Landsc Urban Plan 100:341–343. https://doi.org/10.1016/j.landurbplan.2011.02.021

Alexander DE (2013) Resilience and disaster risk reduction: an etymological journey. Nat Hazards Earth Syst Sci 13:2707–2716. https://doi.org/10.5194/nhess-13-2707-2013

Angeler DG, Allen CR, Barichievy C et al (2016) Review: quantifying resilience: management applications of discontinuity theory. J Appl Ecol 53:688–698. https://doi.org/10.1111/1365-2664.12494

Angell E (2014) Psychological resilience in clinical practice: a discussion. Clin Psychol Forum 260:12–15

Angell GB, Jones GM (2003) Recidivism, risk, and resiliency among North American Indian probationers, parolees, and former prisoners: An examination of the Lumbee First Nation. Journal of Ethnic & Cultural Diversity in Social Work 12: 61–77. https://doi.org/10.1300/J051v12n02_04

Arora-Jonsson S (2016) Does resilience have a culture? Ecocultures and the politics of knowledge production. Ecol Econ 121:98–107. https://doi.org/10.1016/j.ecolecon.2015.11.020

Bahadur AV, Ibrahim M, Tanner T (2013) Characterising resilience: unpacking the concept for tackling climate change and development. Clim Dev 5:55–65. https://doi.org/10.1080/17565529.2012.762334

Beck U (2016) The metamorphosis of the world. Polity Press, Cambridge

Bene C, Newsham A, Davies M et al (2014) Review article: resilience, poverty, and development. J Int Dev 26:598–623. https://doi.org/10.1002/jid

Bergström J, van Winsen R, Henriqson E (2015) On the rationale of resilience in the domain of safety: a literature review. Reliab Eng Syst Saf 141:131–141. https://doi.org/10.1016/j.ress.2015.03.008

Bhamra R, Dani S, Burnard K (2011) Resilience: the concept, a literature review and future directions. Int J Prod Res 49:5375–5393. https://doi.org/10.1080/00207543.2011.563826

Biggs R, Schlüter M, Biggs D et al (2012) Toward principles for enhancing the resilience of ecosystem services. Annu Rev Environ Resour 37:421–448. https://doi.org/10.1146/annurev-environ-051211-123836

Bohm D (1996) On dialogue. Routledge, London and New York

Brand FS, Jax K (2007) Focusing the meaning(s) of resilience: resilience as a descriptive concept and a boundary object. Ecol Soc 12:23 https://www.ecologyandsociety.org/vol12/iss1/art23/

Brown K (2014) Global environmental change I: a social turn for resilience? Prog Hum Geogr 38:107–117. https://doi.org/10.1177/0309132513498837

Brown K, Westaway E (2011) Agency, capacity, and resilience to environmental change: lessons from human development, well-being, and disasters. Annu Rev Environ Resour 36:321–342. https://doi.org/10.1146/annurev-environ-052610-092905

Brownlee K, Rawana J, Franks J et al (2013) A systematic review of strengths and resilience outcome literature relevant to children and adolescents. Child Adolesc Soc Work J 30:435–459. https://doi.org/10.1007/s10560-013-0301-9

Cabel JF, Oelofse M (2012) An indicator framework for assessing agroecosystem resilience. Ecol Soc 17(1):18. https://doi.org/10.5751/ES-04666-170118

Coaffee J, Clarke J (2015) On securing the generational challenge of urban resilience. Town Plan Rev 86:249–255. https://doi.org/10.3828/tpr.2015.16

Deppisch S, Hasibovic S (2013) Social-ecological resilience thinking as a bridging concept in transdisciplinary research on climate-change adaptation. Nat Hazards 67:117–127. https://doi.org/10.1007/s11069-011-9821-9

Evans B, Reid J (2015) Exhausted by resilience: response to the commentaries. Resilience 3:154–159. https://doi.org/10.1080/21693293.2015.1022991

Fletcher D, Sarkar M (2013) Psychological resilience: a review and critique of definitions, concepts, and theory. Eur Psychol 18:12–23. https://doi.org/10.1027/1016-9040/a000124

Flood S, Schechtman J (2014) The rise of resilience: evolution of a new concept in coastal planning in Ireland and the US. Ocean Coast Manag 102:19–31. https://doi.org/10.1016/j.ocecoaman.2014.08.015

Francis R, Bekera B (2014) A metric and frameworks for resilience analysis of engineered and infrastructure systems. Reliab Eng Syst Saf 121:90–103. https://doi.org/10.1016/j.ress.2013.07.004

Fujimura J (1992) Crafting science: standardized packages, boundary objects, and "translation". In: Pickering A (ed) Science as a Culture and Practice. Chicago University Press, Chicago

Gillard R (2014) Questioning the diffusion of resilience discourses in pursuit of transformational change. Glob Environ Polit 16:13–20. https://doi.org/10.1162/GLEP

Harris LM, Chu EK, Ziervogel G (2017) Negotiated resilience. Resilience, online first, 1–19. https://doi.org/10.1080/21693293.2017.1353196

Hassler U, Kohler N (2014) Resilience in the built environment. Build Res Inf 42:119–129. https://doi.org/10.1080/09613218.2014.873593

Herzig M, Chasin L (2006) Fostering dialogue across divides. Watert Public Conversations Proj 188

Holling C (1973) Resilience and stability of ecological systems. Annu Rev Ecol Syst 4:1–23

Isaacs W (1999) dialogue: the art of thinking together. Currency Books, New York City

Island Press, Kresge Foundation (2015) Bounce forward: urban resilience in the era of climate change. A strategy paper. Island Press, Washington, DC

Jarvie J, Sutarto R, Syam D, Jeffery P (2015) Lessons for Africa from urban climate change resilience building in Indonesia. Curr Opin Environ Sustain 13:19–24. https://doi.org/10.1016/j.cosust.2014.12.006

Johnson C, Blackburn S (2014) Advocacy for urban resilience: UNISDR's making cities resilient campaign. Environ Urban 26:29–52. https://doi.org/10.1177/0956247813518684

Kinzig AP (2001) Bridging disciplinary divides to address environmental and intellectual challenges. Ecosystems 4(8):709–715. https://doi.org/10.1007/s10021-001-0039-7

Leichenko R (2011) Climate change and urban resilience. Curr Opin Environ Sustain 3:164–168. https://doi.org/10.1016/j.cosust.2010.12.014

MacInnis B, Krosnick JA, Abeles A et al (2015) The American public's preference for preparation for the possible effects of global warming: impact of communication strategies. Clim Chang 128:17–33. https://doi.org/10.1007/s10584-014-1286-x

Martin-Breen P, Anderies JM (2011) Resilience: a literature review. Bellagio Initiat Futur Philanthr Dev Purs Hum Wellbeing 67. http://opendocs.ids.ac.uk/opendocs/handle/123456789/3692

Matyas D, Pelling M (2014) Positioning resilience for 2015: the role of resistance, incremental adjustment and transformation in disaster risk management policy. Disasters 39:S1–S18. https://doi.org/10.1111/disa.12107

McGreavy B (2016) Resilience as discourse. Environ Commun 10:104–121. https://doi.org/10.1080/17524032.2015.1014390

McLellan B, Zhang Q, Farzaneh H et al (2012) Resilience, sustainability and risk management: a focus on energy. Challenges 3:153–182. https://doi.org/10.3390/challe3020153

Meerow S, Newell JP, Stults M (2016) Defining urban resilience : a review. Landsc Urban Plan 147:38–49. https://doi.org/10.1016/j.landurbplan.2015.11.011

Molyneaux L, Wagner L, Froome C, Foster J (2012) Resilience and electricity systems: a comparative analysis. Energy Policy 47:188–201. https://doi.org/10.1016/j.enpol.2012.04.057

Moser, SC (2014) Communicating climate change adaptation: The art and science of public engagement when climate change comes home. Wiley Interdiscip Rev Clim Change 5: 337-358. https://doi.org/10.1002/wcc.276

Moser SC (2017) Communicating climate change adaptation and resilience. In: Nisbet M (ed) Oxford research encyclopedia, climate science. Oxford University Press, Oxford

Olsson L, Jerneck A, Thoren H et al (2015) Why resilience is unappealing to social science: theoretical and empirical investigations of the scientific use of resilience. Sci Adv 1:e1400217–e1400217. https://doi.org/10.1126/sciadv.1400217

Panter-Brick C (2014) Health, risk, and resilience: interdisciplinary concepts and applications. Annu Rev Anthropol 43:431–448. https://doi.org/10.1146/annurev-anthro-102313-025944

Perz SG, Muñoz-Carpena R, Kiker G, Holt RD (2013) Evaluating ecological resilience with global sensitivity and uncertainty analysis. Ecol Model 263:174–186. https://doi.org/10.1016/j.ecolmodel.2013.04.024

Pizzo B (2015) Problematizing resilience: implications for planning theory and practice. Cities 43:133–140. https://doi.org/10.1016/j.cities.2014.11.015

Quinlan AE, Berbs-Blzquez M, Haider LJ et al (2016) Measuring and assessing resilience: broadening understanding through multiple disciplinary perspectives. J Appl Ecol 53:677–687. https://doi.org/10.1111/1365-2664.12550

Reid R, Botterill LC (2013) The multiple meanings of "resilience": an overview of the literature. Aust J Public Adm 72:31–40. https://doi.org/10.1111/1467-8500.12009

Righi AW, Saurin TA, Wachs P (2015) A systematic literature review of resilience engineering: research areas and a research agenda proposal. Reliab Eng Syst Saf 141:142–152. https://doi.org/10.1016/j.ress.2015.03.007

Rogers CDF, Bouch CJ, Williams S et al (2012) Resistance and resilience—paradigms for critical local infrastructure. Proc Inst Civ Eng - Munic Eng 165:73–83. https://doi.org/10.1680/muen.11.00030

Romero-Lankao P, Dodman D (2011) Cities in transition: transforming urban centers from hotbeds of GHG emissions and vulnerability to seedbeds of sustainability and resilience. Introduction and editorial overview. Curr Opin Environ Sustain 3:113–120. https://doi.org/10.1016/j.cosust.2011.02.002

Ross H, Berkes F (2014) Research approaches for understanding, enhancing, and monitoring community resilience. Soc Nat Resour 27:787–804. https://doi.org/10.1080/08941920.2014.905668

Sasaki T, Furukawa T, Iwasaki Y et al (2015) Perspectives for ecosystem management based on ecosystem resilience and ecological thresholds against multiple and stochastic disturbances. Ecol Indic 57:395–408. https://doi.org/10.1016/j.ecolind.2015.05.019

Sharma D, Singh R, Singh R (2014) Building urban climate resilience: learning from the ACCCRN experience in India. Int J Urban Sustain Dev 6:133–153. https://doi.org/10.1080/19463138.2014.937720

Smith-Osborne A, Whitehill Bolton K (2013) Assessing resilience: a review of measures across the life course. J Evid Based Soc Work 10:111–126. https://doi.org/10.1080/15433714.2011.597305

Standish RJ, Hobbs RJ, Mayfield MM et al (2014) Resilience in ecology: abstraction, distraction, or where the action is? Biol Conserv 177:43–51. https://doi.org/10.1016/j.biocon.2014.06.008

Stone-Jovicich S (2015) Probing the interfaces between the social sciences and social-ecological resilience: insights from integrative and hybrid perspectives in the social sciences. Ecol Soc 20:23. https://doi.org/10.5751/es-07347-200225

Tendall DM, Joerin J, Kopainsky B et al (2015) Food system resilience: defining the concept. Glob Food Sec 6:17–23. https://doi.org/10.1016/j.gfs.2015.08.001

Thorén H, Olsson L (2018) Is resilience a normative concept? Resilience 6(2):112–128. https://doi.org/10.1080/21693293.2017.1406842

Tyler S, Moench M (2012) A framework for urban climate resilience. Clim Dev 4:311–326. https://doi.org/10.1080/17565529.2012.745389

Weichselgartner J, Kelman I (2015) Geographies of resilience: challenges and opportunities of a descriptive concept. Prog Hum Geogr 39:249–267. https://doi.org/10.1177/0309132513518834

Wilkinson C (2012) Social-ecological resilience: insights and issues for planning theory. Plan Theory 11:148–169. https://doi.org/10.1177/1473095211426274

Wilson GA (2014) Community resilience: path dependency, lock-in effects and transitional ruptures. J Environ Plan Manag 57:1–26. https://doi.org/10.1080/09640568.2012.741519

Wu G, Feder A, Cohen H et al (2013) Understanding resilience. Front Behav Neurosci 7:1–15. https://doi.org/10.3389/fnbeh.2013.00010

Xu L, Marinova D, Guo X (2015) Resilience thinking: a renewed system approach for sustainability science. Sustain Sci 10:123–138. https://doi.org/10.1007/s11625-014-0274-4

Zell C, Hubbart JA (2013) Interdisciplinary linkages of biophysical processes and resilience theory: pursuing predictability. Ecol Model 248:1–10. https://doi.org/10.1016/j.ecolmodel.2012.09.021
Additional information
Publisher's note
Springer Nature remains neutral with regard to jurisdictional claims in published maps and institutional affiliations.
About this article
Cite this article
Moser, S., Meerow, S., Arnott, J. et al. The turbulent world of resilience: interpretations and themes for transdisciplinary dialogue. Climatic Change 153, 21–40 (2019). https://doi.org/10.1007/s10584-018-2358-0
Received:

Accepted:

Published:

Issue Date: