Abstract
Recent scholarship has thoroughly documented climate change attitudes within the majority of the English-speaking countries of the USA, the UK, Canada, and Australia. In these nations, political identity is widely recognized as a uniquely powerful predictor of climate change attitudes and, at least in the USA, several studies have found that education moderates the effect of political identity. The cross-national dynamics of climate change attitudes and political identity are not well-characterized, particularly in nations with a history of state socialism. In this manuscript, we consider the role of political and free market ideological polarization around climate change within Anglophone, Western European, and post-Communist states. Further, we investigate education as a moderator of political and ideological factors cross-nationally. We suggest that, in comparison to Western European and post-Communist states, the role of political and ideological polarization in Anglophone states is exceptional in shaping climate change attitudes. Using data for 20 countries in the 2010 ISSP Environmental Module, we find that the effect of party affiliation and free market ideology on the perception of climate change's danger and importance is strongest in Anglophone states, more modest in Western European countries, and limited within post-Communist states. Further, education moderates most intensely in Anglophone states. Our results suggest that there is something exceptional occurring within Anglophone states with regard to political polarization and climate change attitudes.
Access options
Buy single article
Instant access to the full article PDF.
USD 39.95
Price excludes VAT (USA)
Tax calculation will be finalised during checkout.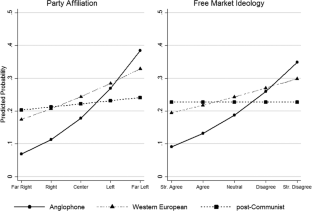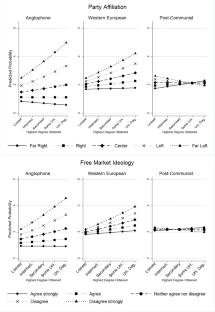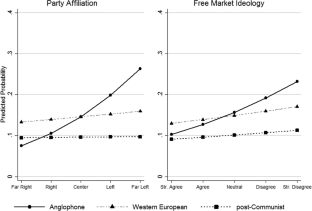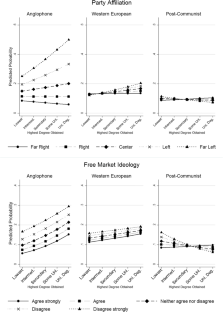 Notes
Austria (AT), Belgium (BE), Bulgaria (BG), Canada (CA), Czech Republic (CZ), Germany (DE), Denmark (DK), Spain (ES), Finland (FI), France (FR), Great Britain (GB), Croatia (HR), Lithuania (LT), Latvia (LV), New Zealand (NZ), Russia (RU), Sweden (SE), Slovenia (SI), Slovakia (SK), and United States (US).

For further information, please refer to International Social Survey Programme (Environment III, 2010) Study Monitoring documentation.

See Figure A in the electronic supplementary materials.

See Figure B in the electronic supplementary materials.

See ISSP Background Variables report for further detail (ISSP Demographic Methods Group 2009).

Anglophone: CA, GB, NZ, and US

Western European: AT, BE, DE (West), DK, ES, FI, FR, and SE

Post-Communist: BG, CZ, DE (East), HR, LV, LT, RU, SI, and SK

Table A in the electronic supplementary materials contains descriptive statistics and item response wording for all variables

Supplementary analyses were performed treating post-materialism as a categorical variable, with negligible substantive changes to the effects of the focal predictors.

The highest ordered response category for climate danger

All focal predictors are treated as continuous variables. We have performed supplementary analysis with these indicators treated as categorical variables as a robustness check, finding very minimal substantive differences. As such, we have adopted the more parsimonious modeling approach.
References
Ai C, Norton EC (2003) Interaction terms in logit and probit models. Econ Lett 80:123–129. https://doi.org/10.1016/S0165-1765(03)00032-6

Arceneaux K (2008) Can partisan cues diminish democratic accountability? Polit Behav 30:139–160. https://doi.org/10.1007/s11109-007-9044-7

Berry WD, DeMeritt JHR, Esarey J (2010) Testing for interaction in binary logit and probit models: is a product term essential? Am J Polit Sci 54:248–266

Brambor T, Clark WR, Golder M (2006) Understanding interaction models: improving empirical analyses. Polit Anal 14:63–82. https://doi.org/10.1093/pan/mpi014

Bryan ML, Jenkins SP (2016) Multilevel modelling of country effects: a cautionary tale. Eur Sociol Rev 32:3–22. https://doi.org/10.1093/esr/jcv059

Campbell TH, Kay AC (2014) Solution aversion: on the relation between ideology and motivated disbelief. J Pers Soc Psychol 107:809–824

Carmin J, Fagan A (2010) Environmental mobilisation and organisations in post-socialist Europe and the former Soviet Union. Environ Polit 19:689–707

Carter N (2014) The politics of climate change in the UK. Clim Chang 5:423–433

Carter N, Clements B (2015) From 'greenest government ever' to 'get rid of all the green crap': David Cameron, the Conservatives and the environment. Br Polit 10:204–225. https://doi.org/10.1057/bp.2015.16

Chaisty P, Whitefield S (2015) Attitudes towards the environment: are post-Communist societies (still) different? Environ Polit 24:598–616

Cohen G (2003) Party over policy: the dominating impact of group influence on political beliefs. J Pers Soc Psychol 85:808–822

Colvin RM, Witt GB, Lacey J (2015) The social identity approach to understanding socio-political conflict in environmental and natural resources management. Glob Environ Change 34:237–246. https://doi.org/10.1016/j.gloenvcha.2015.07.011

Dietz T, Stern PC, Guagnano GA (1998) Social structural and social psychological bases of environmental concern. Environ Behav 30:450–471. https://doi.org/10.1177/001391659803000402

Drummond C, Fischhoff B (2017) Individuals with greater science literacy and education have more polarized beliefs on controversial science topics. Proc Natl Acad Sci 201704882. doi: https://doi.org/10.1073/pnas.1704882114

Dunlap RE, McCright AM, Yarosh JH (2016) The political divide on climate change: partisan polarization widens in the U.S. Environ Sci Policy Sustain Dev 58:4–23. https://doi.org/10.1080/00139157.2016.1208995

Feldman L, Maibach EW, Roser-Renouf C, Leiserowitz A (2012) Climate on cable: the nature and impact of global warming coverage on Fox News, CNN, and MSNBC. Int J Press 17:3–31. https://doi.org/10.1177/1940161211425410

Flynn DJ, Nyhan B, Reifler J (2017) The nature and origins of misperceptions: understanding false and unsupported beliefs about politics. Polit Psychol 38:127–150. https://doi.org/10.1111/pops.12394

Franzen A, Vogl D (2013) Two decades of measuring environmental attitudes: a comparative analysis of 33 countries. Glob Environ Change 23:1001–1008. https://doi.org/10.1016/j.gloenvcha.2013.03.009

Gendall P (2012) International social survey programme study monitoring 2010 environment III. International Social Survey Programme

Greenberg J, Knight G, Westersund E (2011) Spinning climate change: corporate and NGO public relations strategies in Canada and the United States. Int Commun Gaz 73:65–82

Greene S (2004) Social identity theory and party identification*. Soc Sci Q 85:136–153. https://doi.org/10.1111/j.0038-4941.2004.08501010.x

Guber DL (2013) A cooling climate for change? Party polarization and the politics of global warming. Am Behav Sci 57:93–115. https://doi.org/10.1177/0002764212463361

Hadler M, Wohlkönig P (2012) Environmental behaviours in the Czech Republic, Austria and Germany between 1993 and 2010: macro-level trends and individual-level determinants compared. Sociol Cas 48:467–492

Haller M, Hadler M (2008) Dispositions to act in favor of the environment: fatalism and readiness to make sacrifices in a cross-national perspective1. Sociol Forum 23:281–311. https://doi.org/10.1111/j.1573-7861.2008.00059.x

Hamilton C (2007) Scorcher: the dirty politics of climate change. Black Inc., Melbourne Australia

Hamilton LC (2011) Education, politics and opinions about climate change evidence for interaction effects. Clim Chang 104:231–242. https://doi.org/10.1007/s10584-010-9957-8

Hamilton LC (2016) Public awareness of the scientific consensus on climate. SAGE Open 6:2158244016676296. https://doi.org/10.1177/2158244016676296

Hamilton LC, Hartter J, Saito K (2015) Trust in scientists on climate change and vaccines. SAGE Open 5:2158244015602752. https://doi.org/10.1177/2158244015602752

Hamilton LC, Saito K (2015) A four-party view of US environmental concern. Environ Polit 24:212–227. https://doi.org/10.1080/09644016.2014.976485

Hamilton LC, Stampone MD (2013) Blowin' in the wind: short-term weather and belief in anthropogenic climate change. Weather Clim Soc 5:112–119. https://doi.org/10.1175/WCAS-D-12-00048.1

Heath Y, Gifford R (2006) Free-market ideology and environmental degradation: the case of belief in global climate change. Environ Behav 38:48–71. https://doi.org/10.1177/0013916505277998

Hmielowski JD, Feldman L, Myers TA et al (2014) An attack on science? Media use, trust in scientists, and perceptions of global warming. Public Underst Sci 23:866–883. https://doi.org/10.1177/0963662513480091

Hoggan J, Littlemore R (2009) Climate cover-up: the crusade to deny global warming. Greystone Books Ltd

Inglehart R, Abramson PR (1999) Measuring postmaterialism. Am Polit Sci Rev 93:665–677. https://doi.org/10.2307/2585581

ISSP Demographic Methods Group (2009) ISSP background variables guidelines. International Social Survey Programme

Iyengar S, Sood G, Lelkes Y (2012) Affect, not ideology: a social identity perspective on polarization. Public Opin Q 76:405–431

Jacques PJ, Dunlap RE, Freeman M (2008) The organisation of denial: conservative think tanks and environmental scepticism. Environ Polit 17:349–385. https://doi.org/10.1080/09644010802055576

Johnston R, Deeming C (2016) British political values, attitudes to climate change, and travel behaviour. Policy Polit 44:191–213. https://doi.org/10.1332/030557315X14271297530262

Kahan DM (2015) The politically motivated reasoning paradigm, part 1: what politically motivated reasoning is and how to measure it. Emerg Trends Soc Behav Sci Interdiscip Searchable Linkable Resour:1–16

Kahan DM (2017) 'Ordinary science intelligence': a science-comprehension measure for study of risk and science communication, with notes on evolution and climate change. J Risk Res 20:995–1016. https://doi.org/10.1080/13669877.2016.1148067

Kahan DM, Peters E, Wittlin M et al (2012) The polarizing impact of science literacy and numeracy on perceived climate change risks. Nat Clim Chang 2:732. https://doi.org/10.1038/nclimate1547

Lachapelle E, Borick CP, Rabe B (2012) Public attitudes toward climate science and climate policy in federal systems: Canada and the United States compared1. Rev Policy Res 29:334–357. https://doi.org/10.1111/j.1541-1338.2012.00563.x

Layman GC, Carsey TH (2002) Party polarization and "conflict extension" in the American electorate. Am J Polit Sci 46:786–802

Leiserowitz A (2006) Climate change risk perception and policy preferences: the role of affect, imagery, and values. Clim Chang 77:45–72. https://doi.org/10.1007/s10584-006-9059-9

Lewandowsky S, Gignac GE, Oberauer K (2013) The role of conspiracist ideation and worldviews in predicting rejection of science. PLoS One 8:e75637. https://doi.org/10.1371/journal.pone.0075637

Lewis GB, Palm R, Feng B (2018) Cross-national variation in determinants of climate change concern. Environ Polit 0:1–29. doi: https://doi.org/10.1080/09644016.2018.1512261

MacNeil R, Paterson M (2016) This changes everything? Canadian climate policy and the 2015 election. Environ Polit 25:553–557

Malka A, Lelkes Y (2010) More than ideology: conservative–liberal identity and receptivity to political cues. Soc Justice Res 23:156–188. https://doi.org/10.1007/s11211-010-0114-3

Marquart-Pyatt ST (2012) Contextual influences on environmental concerns cross-nationally: a multilevel investigation. Soc Sci Res 41:1085–1099. https://doi.org/10.1016/j.ssresearch.2012.04.003

Mason L (2015) "I disrespectfully agree": the differential effects of partisan sorting on social and issue polarization. Am J Polit Sci 59:128–145. https://doi.org/10.1111/ajps.12089

McCright AM (2011) Political orientation moderates Americans' beliefs and concern about climate change. Clim Chang 104:243–253. https://doi.org/10.1007/s10584-010-9946-y

McCright AM, Dunlap RE (2011a) The politicization of climate change and polarization in the American public's views of global warming, 2001–2010. Sociol Q 52:155–194. https://doi.org/10.1111/j.1533-8525.2011.01198.x

McCright AM, Dunlap RE (2011b) Cool dudes: the denial of climate change among conservative white males in the United States. Glob Environ Change 21:1163–1172. https://doi.org/10.1016/j.gloenvcha.2011.06.003

McCright AM, Dunlap RE (2003) Defeating Kyoto: the conservative movement's impact on U.S. climate change policy. Soc Probl 50:348–373. https://doi.org/10.1525/sp.2003.50.3.348

McCright AM, Dunlap RE, Marquart-Pyatt ST (2016) Political ideology and views about climate change in the European Union. Environ Polit 25:338–358. https://doi.org/10.1080/09644016.2015.1090371

McCright AM, Xiao C, Dunlap RE (2014) Political polarization on support for government spending on environmental protection in the USA, 1974–2012. Soc Sci Res 48:251–260. https://doi.org/10.1016/j.ssresearch.2014.06.008

McKewon E (2012) Talking points ammo. Journal Stud 13:277–297. https://doi.org/10.1080/1461670X.2011.646403

Mood C (2010) Logistic regression: why we cannot do what we think we can do, and what we can do about it. Eur Sociol Rev 26:67–82. https://doi.org/10.1093/esr/jcp006

Pampel FC, Hunter LM (2012) Cohort change, diffusion, and support for environmental spending in the United States. Am J Sociol 118:420–448. https://doi.org/10.1086/666506

Poortinga W, Spence A, Whitmarsh L et al (2011) Uncertain climate: an investigation into public scepticism about anthropogenic climate change. Glob Environ Change 21:1015–1024. https://doi.org/10.1016/j.gloenvcha.2011.03.001

Rohrschneider R, Miles MR (2015) Representation through parties? Environmental attitudes and party stances in Europe in 2013. Environ Polit 24:617–640

Selin H, VanDeveer SD (2012) Federalism, multilevel governance, and climate change policies across the Atlantic. In: Steinberg PF, VanDeveer SD (eds) Comparative environmental politics: theory, practice, and prospects. MIT Press, Cambridge, Mass., pp 341–368

Stegmueller D (2013) How many countries for multilevel modeling? A comparison of frequentist and Bayesian approaches. Am J Polit Sci 57:748–761. https://doi.org/10.1111/ajps.12001

Stevenson KT, Peterson MN, Bondell HD et al (2014) Overcoming skepticism with education: interacting influences of worldview and climate change knowledge on perceived climate change risk among adolescents. Clim Chang 126:293–304. https://doi.org/10.1007/s10584-014-1228-7

Tesler M (2017) Elite domination of public doubts about climate change (not evolution). Polit Commun 0:1–21. https://doi.org/10.1080/10584609.2017.1380092

Tranter B (2011) Political divisions over climate change and environmental issues in Australia. Environ Polit 20:78–96. https://doi.org/10.1080/09644016.2011.538167

Tranter B (2013) The great divide: political candidate and voter polarisation over global warming in Australia. Aust J Polit Hist 59:397–413. https://doi.org/10.1111/ajph.12023

Tranter B, Booth K (2015) Scepticism in a changing climate: a cross-national study. Glob Environ Change 33:154–164. https://doi.org/10.1016/j.gloenvcha.2015.05.003

Tvinnereim E (2015) A polarized climate? Party sorting over climate change and the environment among candidates and voters in Europe. Uni Research Rokkan Centre Working Paper

Tynkkynen N (2010) A great ecological power in global climate policy? Framing climate change as a policy problem in Russian public discussion: Environmental Politics: Vol 19, No 2. Environ Polit 19:179–195

Unsworth KL, Fielding KS (2014) It's political: how the salience of one's political identity changes climate change beliefs and policy support. Glob Environ Change 27:131–137. https://doi.org/10.1016/j.gloenvcha.2014.05.002

Van Hiel A, Kossowska M (2007) Contemporary attitudes and their ideological representation in Flanders (Belgium), Poland, and the Ukraine. Int J Psychol 42:16–26. https://doi.org/10.1080/00207590500411443

Way L (2011) An energy superpower or a super sales pitch? Building the case through an examination of Canadian newspapers coverage of oil sands. Can Polit Sci Rev 5:74–98

Whitmarsh L (2011) Scepticism and uncertainty about climate change: dimensions, determinants and change over time. Glob Environ Change 21:690–700. https://doi.org/10.1016/j.gloenvcha.2011.01.016

Ziegler A (2017) Political orientation, environmental values, and climate change beliefs and attitudes: an empirical cross country analysis. Energy Econ 63:144–153. https://doi.org/10.1016/j.eneco.2017.01.022
Acknowledgements
This project was partly financially supported by the Leibniz Association (SAW-2017-PIK-4). We are grateful for the valuable comments and suggestions of the editor and the anonymous reviewers.
Additional information
Publisher's Note
Springer Nature remains neutral with regard to jurisdictional claims in published maps and institutional affiliations.
About this article
Cite this article
Smith, E.K., Mayer, A. Anomalous Anglophones? Contours of free market ideology, political polarization, and climate change attitudes in English-speaking countries, Western European and post-Communist states. Climatic Change 152, 17–34 (2019). https://doi.org/10.1007/s10584-018-2332-x
Received:

Accepted:

Published:

Issue Date:

DOI: https://doi.org/10.1007/s10584-018-2332-x