Abstract
Climate change and variability have created widespread risks for farmers' food and livelihood security in the Himalayas. However, the extent of impacts experienced and perceived by farmers varies, as there is substantial diversity in the demographic, social, and economic conditions. Therefore, it is essential to understand how farmers with different resource-endowment and household characteristics perceive climatic risks. This study aims to analyze how farmer types perceive climate change processes and its impacts to gain insight into locally differentiated concerns by farming communities. The present study is based in the Uttarakhand state of Indian Western Himalayas. We examine farmer perceptions of climate change and how perceived impacts differ across farmer types. Primary household interviews with farming households (n = 241) were done in Chakrata and Bhikiyasian tehsil in Uttarakhand, India. In addition, annual and seasonal patterns of historical data of temperature (1951–2013) and precipitation (1901–2013) were analyzed to estimate trends and validate farmers' perception. Using statistical methods farmer typology was constructed, and five unique farmer types are identified. Majority of respondents across all farmer types noticed a decrease in summer and winter precipitation and an increase in summer temperature. Whereas the perceptions of impacts of climate change diverged across farmer types, as specific farmer types exclusively experienced few impacts. Impact of climatic risks on household food security and income was significantly perceived stronger by low-resource-endowed subsistence farmers, whereas the landless farmer type exclusively felt impacts on the communities social bond. This deeper understanding of the differentiated perception of impacts has strong implications for agricultural and development policymaking, highlighting the need for providing flexible adaptation options rather than specific solutions to avoid inequalities in fulfilling the needs of the heterogeneous farming communities.
Access options
Buy single article
Instant access to the full article PDF.
US$ 39.95
Tax calculation will be finalised during checkout.
Subscribe to journal
Immediate online access to all issues from 2019. Subscription will auto renew annually.
US$ 119
Tax calculation will be finalised during checkout.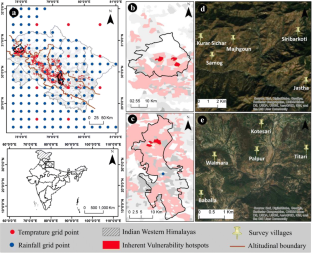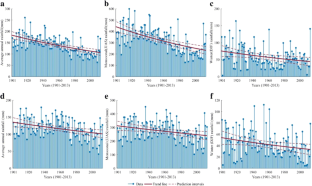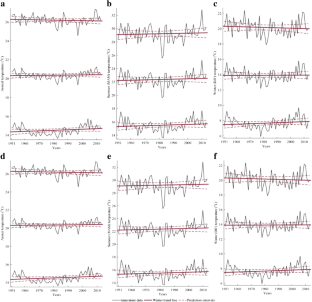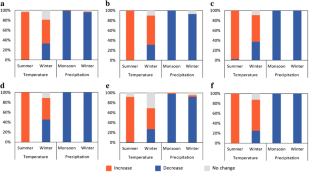 Notes
1.

Tehsil is an administrative division which consists of villages and municipalities, often described as a sub-district.
References
Bajpai M, Rathore S, Kaur M (2007) Training needs of rice growers: a case of Uttarakhand. Indian Res J Ext Educ 7:23

Barnes AP, Islam MM, Toma L (2013) Heterogeneity in climate change risk perception amongst dairy farmers: a latent class clustering analysis. Appl Geogr 41:105–115. https://doi.org/10.1016/J.APGEOG.2013.03.011

Basistha A, Arya D, Goel N (2009) Analysis of historical changes in rainfall in the Indian Himalayas. Int J Climatol 29:555–572. https://doi.org/10.1002/joc

Bhutiyani MR, Kale VS, Pawar NJ (2007) Long-term trends in maximum, minimum and mean annual air temperatures across the Northwestern Himalaya during the twentieth century. Clim Change 85:159–177. https://doi.org/10.1007/s10584-006-9196-1

Chakra MA, Bumann S, Schenk H et al (2018) Immediate action is the best strategy when facing uncertain climate change. Nat Commun 9:2566. https://doi.org/10.1038/s41467-018-04968-1

Charrad M, Ghazzali N, Boiteau V, Niknafs A (2014) NbClust: An R package for determining the relevant number of clusters in a data set. J Stat Softw 61:1–36. https://doi.org/10.18637/jss.v061.i06

Chhetri NB, Easterling WE (2010) Adapting to climate change: retrospective analysis of climate technology interaction in the Rice-based farming system of Nepal. Ann Assoc Am Geogr 100:1156–1176. https://doi.org/10.1080/00045608.2010.518035

Choudhary A, Dimri AP (2017) Assessment of CORDEX-South Asia experiments for monsoonal precipitation over Himalayan region for future climate. Clim Dyn 0:1–22. https://doi.org/10.1007/s00382-017-3789-4

Das S, Ashrit R, Moncrieff MW (2006) Simulation of a Himalayan cloudburst event. J Earth. Syst Sci 115:299–313

Deressa TT, Hassan RM, Ringler C et al (2009) Determinants of farmers' choice of adaptation methods to climate change in the Nile Basin of Ethiopia. Glob Environ Chang 19:248–255. https://doi.org/10.1016/j.gloenvcha.2009.01.002

Devkota RP, Pandey VP, Bhattarai U et al (2017) Climate change and adaptation strategies in Budhi Gandaki River Basin, Nepal: a perception-based analysis. Clim Chang 140:195–208. https://doi.org/10.1007/s10584-016-1836-5

Dimri a P, Dash SK (2011) Wintertime climatic trends in the western Himalayas. Clim Chang 111:775–800. https://doi.org/10.1007/s10584-011-0201-y

Gentle P, Maraseni TN (2012) Climate change, poverty and livelihoods: adaptation practices by rural mountain communities in Nepal. Environ Sci Pol 21:24–34. https://doi.org/10.1016/j.envsci.2012.03.007

Gentle P, Thwaites R, Race D, Alexander K (2014) Differential impacts of climate change on communities in the middle hills region of Nepal. 815–836. https://doi.org/10.1007/s11069-014-1218-0

Guhathakurta P, Rajeevan M (2008) Trends in the rainfall pattern over India. Int J Climatol 28:1453–1469. https://doi.org/10.1002/joc.1640

Hirabayashi Y, Mahendran R, Koirala S et al (2013) Global flood risk under climate change. Nat Clim Chang 3:816–821. https://doi.org/10.1038/nclimate1911

IPCC (2014) Climate change 2014: impacts, adaptation and vulnerability—summary for policy makers. Contribution of Working Group II to the Fifth Assessment Report of the Intergovernmental panel on Climate Change. World Meterological Organization, Geneva

ISA (2001) Code of Ethics of the International Sociological Association (ISA). Faculty of Political Sciences and Sociology, University Complutense, 28223 Madrid, Spain

Jones L, Boyd E (2011) Exploring social barriers to adaptation: insights from Western Nepal. Glob Environ Chang 21:1262–1274. https://doi.org/10.1016/j.gloenvcha.2011.06.002

Kelkar U, Narula KK, Sharma VP, Chandna U (2008) Vulnerability and adaptation to climate variability and water stress in Uttarakhand State, India. Glob Environ Chang 18:564–574. https://doi.org/10.1016/j.gloenvcha.2008.09.003

Kuivanen KS, Alvarez S, Michalscheck M et al (2016) Characterising the diversity of smallholder farming systems and their constraints and opportunities for innovation: a case study from the Northern Region, Ghana. NJAS - Wageningen J Life Sci 78:153–166. https://doi.org/10.1016/j.njas.2016.04.003

Kumar K, Joshi S, Joshi V (2008) Climate variability, vulnerability, and coping mechanism in Alaknanda catchment, central Himalaya, India. Ambio 37:286–291. https://doi.org/10.1579/0044-7447(2008)37[286:CVVACM]2.0.CO;2

Kumar A, Asthana A, Priyanka RS et al (2017) Assessment of landslide hazards induced by extreme rainfall event in Jammu and Kashmir Himalaya, northwest India. Geomorphology 284:72–87. https://doi.org/10.1016/J.GEOMORPH.2017.01.003

Kuniyal JC (2003) Regional imbalances and sustainable crop farming in the Uttaranchal Himalaya, India. Ecol Econ 46:419–435. https://doi.org/10.1016/S0921-8009(03)00165-4

Lê S, Josse J, Husson F (2008) FactoMineR: An R package for multivariate analysis. J Stat Softw 25:1–18. https://doi.org/10.18637/jss.v025.i01

Macchi M, Gurung AM, Hoermann B (2014) Community perceptions and responses to climate variability and change in the Himalayas. Clim Dev 37–41. https://doi.org/10.1080/17565529.2014.966046

Maikhuri RK, Rao KS, Semwal RL (2001) Changing scenario of Himalayan agroecosystems: loss of agrobiodiversity, an indicator of environmental change in central Himalaya, India. Environmentalist 21:23–39

Mann HB (1945) Nonparametric Tests Against Trend. Econometrica 13:245. https://doi.org/10.2307/1907187

Mathison C, Wiltshire A, Dimri AP et al (2013) Regional projections of north Indian climate for adaptation studies. Sci Total Environ 468–469:S4–S17. https://doi.org/10.1016/j.scitotenv.2012.04.066

Menapace L, Colson G, Raffaelli R (2015) Climate change beliefs and perceptions of agricultural risks: an application of the exchangeability method. Glob Environ Chang 35:70–81. https://doi.org/10.1016/J.GLOENVCHA.2015.07.005

Niles MT, Mueller ND (2016) Farmer perceptions of climate change: associations with observed temperature and precipitation trends, irrigation, and climate beliefs. https://doi.org/10.1016/j.gloenvcha.2016.05.002

Norris J, Carvalho LMV, Jones C et al (2017) The spatiotemporal variability of precipitation over the Himalaya: evaluation of one-year WRF model simulation. Clim Dyn 49:2179–2204. https://doi.org/10.1007/s00382-016-3414-y

Ojha HR, Shrestha KK, Subedi YR et al (2017) Agricultural land underutilisation in the hills of Nepal: investigating socio-environmental pathways of change. J Rural Stud 53:156–172. https://doi.org/10.1016/j.jrurstud.2017.05.012

Pai DS, Sridhar L, Badwaik MR, Rajeevan M (2015) Analysis of the daily rainfall events over India using a new long period (1901–2010) high resolution (0.25° × 0.25°) gridded rainfall data set. Clim Dyn 45:755–776. https://doi.org/10.1007/s00382-014-2307-1

Panday PK, Thibeault J, Frey KE (2015) Changing temperature and precipitation extremes in the Hindu Kush-Himalayan region: an analysis of CMIP3 and CMIP5 simulations and projections. Int J Climatol 35:3058–3077. https://doi.org/10.1002/joc.4192

Pandey R, Jha S (2012) Climate vulnerability index - measure of climate change vulnerability to communities: a case of rural Lower Himalaya, India. Mitig Adapt Strateg Glob Chang 17:487–506. https://doi.org/10.1007/s11027-011-9338-2

Ren Y-Y, Ren G-Y, Sun X-B et al (2017) Observed changes in surface air temperature and precipitation in the Hindu Kush Himalayan region over the last 100-plus years. Adv Clim Chang Res 8:148–156. https://doi.org/10.1016/J.ACCRE.2017.08.001

Sapkota P, Keenan RJ, Paschen J-A, Ojha HR (2016) Social production of vulnerability to climate change in the rural middle hills of Nepal. J Rural Stud 48:53–64. https://doi.org/10.1016/j.jrurstud.2016.09.007

Sati VP (2012) Agricultural diversification in the Garhwal Himalaya: a spatio-temporal analysis. Sustain Agric Res 1:77–86. https://doi.org/10.5539/sar.v1n1p77

Scherer CW, Cho H (2003) A social network contagion theory of risk perception. Risk Anal 23:261–267. https://doi.org/10.1111/1539-6924.00306

Schlüter M, Baeza A, Dressler G et al (2017) A framework for mapping and comparing behavioural theories in models of social-ecological systems. Ecol Econ 131:21–35. https://doi.org/10.1016/j.ecolecon.2016.08.008

Sen PK (1968) Estimates of the regression coefficient based on Kendall's tau. J Am Stat Assoc 63(324):1379–1389

Shekhar MS, Chand H, Kumar S et al (2010) Climate-change studies in the western Himalaya. Ann Glaciol 51:105–112

Shukla R, Sachdeva K, Joshi PK (2016) Inherent vulnerability of agricultural communities in Himalaya: a village-level hotspot analysis in the Uttarakhand state of India. Appl Geogr 74:182–198. https://doi.org/10.1016/j.apgeog.2016.07.013

Simelton E, Quinn CH, Batisani N et al (2013) Is rainfall really changing? Farmers' perceptions, meteorological data, and policy implications. Clim Dev 5:123–138. https://doi.org/10.1080/17565529.2012.751893

Singh RK, Zander KK, Kumar S et al (2017) Perceptions of climate variability and livelihood adaptations relating to gender and wealth among the Adi community of the eastern Indian Himalayas. Appl Geogr 86:41–52. https://doi.org/10.1016/j.apgeog.2017.06.018

Skjeflo S (2013) Measuring household vulnerability to climate change—why markets matter. Glob Environ Chang 23:1694–1701. https://doi.org/10.1016/j.gloenvcha.2013.08.011

Smit B, Wandel J (2006) Adaptation, adaptive capacity and vulnerability. Glob Environ Chang 16:282–292. https://doi.org/10.1016/j.gloenvcha.2006.03.008

Sujakhu NM, Ranjitkar S, Niraula RR et al (2016) Farmers' perceptions of and adaptations to changing climate in the Melamchi Valley of Nepal. Mt Res Dev 36:15–30. https://doi.org/10.1659/MRD-JOURNAL-D-15-00032.1

Tiwari PC, Joshi B (2012) Natural and socio-economic factors affecting food security in the Himalayas. Food Secur 4:195–207. https://doi.org/10.1007/s12571-012-0178-z

Vedwan N, Rhoades RE (2001) Climate change in the Western Himalayas of India: a study of local perception and response. Clim Res 19:109–117. https://doi.org/10.3354/cr019109
Acknowledgements
PKJ is thankful to DST-PURSE of JNU, New Delhi, for support. We would like gratefully thank to the farmers for their precious time and participation in the survey. Authors would also the Dr. Stephanie Natho for her helpful suggestions and editing the initial draft of the paper.
Funding
RS, KS, and PKJ are financially supported by the MoEFCC, GoI (R&D/NNRMS/2/2013-14). RS is supported by the Erasmus+ funding for her research in Germany. AA is financially supported by the Deutsche Forschungsgemeinschaft (DFG) (GRK 2043/1) within the "NatRiskChange" graduate research training group at the University of Potsdam.
About this article
Cite this article
Shukla, R., Agarwal, A., Sachdeva, K. et al. Climate change perception: an analysis of climate change and risk perceptions among farmer types of Indian Western Himalayas. Climatic Change 152, 103–119 (2019). https://doi.org/10.1007/s10584-018-2314-z
Received:

Accepted:

Published:

Issue Date: