Abstract
Plan quality has become an established framework for analyzing the contents of plans and assessing their strengths and deficiencies. The research presented in this paper contributes to academic scholarship on plan quality by evaluating the strengths and weaknesses of climate change plans in 63 of the most populous communities across Canada. Plans were evaluated using a coding protocol consisting of 46 indicators based on eight plan quality characteristics: fact base, goals, policies, implementation, monitoring and evaluation, inter-organizational coordination, participation, and plan organization and presentation. The analysis revealed three key findings that are important for policy and practice. First, Canadian municipal climate change plans prioritize climate change mitigation over adaptation. Second, implementation, monitoring, and evaluation are relatively weak aspects of municipal climate change plans in Canada. Finally, despite the importance that scholars and practitioners ascribe to stakeholder engagement, Canadian municipalities appear to have given insufficient consideration to this element of the climate change plan-making process.
Access options
Buy single article
Instant access to the full article PDF.
US$ 39.95
Tax calculation will be finalised during checkout.
Subscribe to journal
Immediate online access to all issues from 2019. Subscription will auto renew annually.
US$ 119
Tax calculation will be finalised during checkout.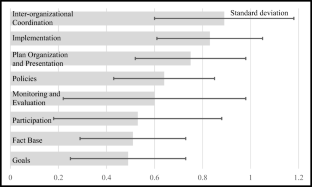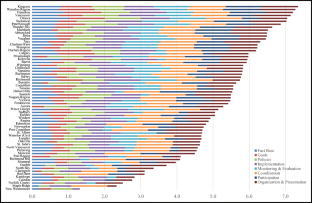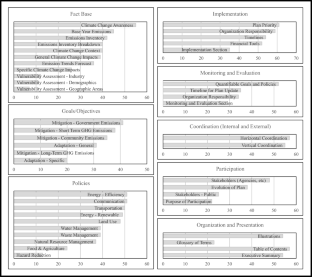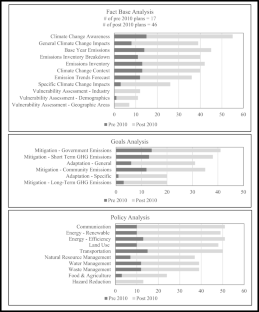 References
Aguiar FC, Bentz J, Silva JMN, Fonseca AL, Swart R, Santos FD, Penha-Lopes G (2018) Adaptation to climate change at local level in Europe: an overview. Environ Sci Pol 86:38–63

Araos M, Berrang-Ford L, Ford JD, Austin SE (2016) Climate change adaptation planning in large cities: a systematic global assessment. Environ Sci Pol 66(1–8)

Aylett A (2015) Institutionalizing the urban governance of climate change adaptation: results of an international survey. Urban Clim 14:4–16

Baer WC (1997) General plan evaluation criteria: an approach to making better plans. J Am Plan Assoc 63:329–344

Baker I, Peterson A, Brown G, McAlpine C (2012) Local government response to the impacts of climate change: an evaluation of local climate adaptation plans. Landsc Urban Plan 107:127–136

Bassett E, Shandas V (2010) Innovation and climate action planning: perspectives from municipal plans. J Am Plan Assoc 76:435–450

Baynham M, Stevens M (2014) Are we planning effectively for climate change? An evaluation of official community plans in British Columbia. J Environ Plan Manag 57:557–587

Beaulieu N, Santos Silva J, Plante S (2016) Using a vision of a desired future in climate change adaptation planning: lessons learned in the municipality of Rivière-Au-Tonnerre (Québec, Canada). Clim Dev 8:447–457

Berke P, Godschalk D (2009) Searching for the good plan: a meta-analysis of plan quality studies. J Plan Lit 23:227–240

Berke P, Smith G, Lyles W (2012) Planning for resiliency: evaluation of state hazard mitigation plans under the disaster mitigation act. Nat Hazards Rev 13:139–149

Berke P, Spurlock D, Hess G, Band L (2013) Local comprehensive plan quality and regional ecosystem protection: the case of the Jordan Lake watershed, North Carolina, U.S.A. Land Use Policy 31:450–459

Berke PR, Godschalk DR, Kaiser EJ, Rodriguez DA (2006) Urban land use planning. University of Illinois Press, Chicago

Betsill MM, Bulkeley H (2006) Cities and the multilevel governance of global climate change. Cities Multilevel Gov Glob Clim Change 12:141–159

Boyer MA, Meinzer M, Bilich A (2016) The climate adaptation imperative: local choices targeting global problems? Local Environ 22:1–19

Brody SD (2003a) Are we learning to make better plans? A Longitudinal Analysis of Plan Quality Associated with Natural Hazards. J Plan Educ Res 23:191–201

Brody SD (2003b) Implementing the principles of ecosystem management through local land use planning. Popul Environ 24:511–540

Bunnell G, Jepson EJ (2011) The effect of mandated planning on plan quality: a fresh look at what makes "a good plan". J Am Plann Assoc 77:338–353

Burby RJ (2003) Making plans that matter: citizen involvement and government action. J Am Plan Assoc 69:33–49

Fowler, E.P., and Siegel, D. (2002). Urban public policy at the turn of the century (Toronto: Oxford University Press)

Fu X, Gomaa M, Deng Y, Peng Z-R (2017) Adaptation planning for sea level rise: a study of US coastal cities. J Environ Plan Manag 60:249–265

Geneletti D, Zardo L (2016) Ecosystem-based adaptation in cities: an analysis of European urban climate adaptation plans. Land Use Policy 50:38–47

Godschalk, D., Beatley, T., Berke, P., Brower, D., and Kaiser, E.J. (1999). Natural hazard mitigation: recasting disaster policy and planning (Washington, D.C.: Island Press)

Guyadeen D (2018) Do practicing planners value plan quality? Insights from a survey of planning professionals in Ontario, Canada. J Am Plan Assoc 84:21–32

Heidrich O, Dawson RJ, Reckien D, Walsh CL (2013) Assessment of the climate preparedness of 30 urban areas in the UK. Clim Chang 120:771–784

Horney J, Nguyen M, Salvesen D, Dwyer C, Cooper J, Berke P (2017) Assessing the quality of rural hazard mitigation plans in the southeastern United States. J Plan Educ Res 37:56–65

ICLEI Canada (2017). Partners for Climate Protection

Johansson ACH, Svedung I, Andersson R (2006) Management of risks in societal planning – an analysis of scope and variety of health, safety and security issues in municipality plan documents. Saf Sci 44:675–688

Kaiser, E.J., Godschalk, D.R., and Chapin, S.F. (1995). Urban land use (Urbana: University of Illinois Press)

Koski C, Siulagi A (2016) Environmental harm or natural hazard? Problem identification and adaptation in U.S. municipal climate action plans. Rev Policy Res 33:270–290

Laukkonen J, Blanco PK, Lenhart J, Keiner M, Cavric B, Kinuthia-Njenga C (2009) Combining climate change adaptation and mitigation measures at the local level. Habitat Int 33:287–292

Li, C., and Song, Y. (2016). Government response to climate change in China: A study of provincial and municipal plans. 59, 1679–1710

Lyles W, Stevens M (2014) Plan quality evaluation 1994-2012: growth and contributions, limitations, and new directions. J Plan Educ Res 34:433–450

Lyles W, Berke P, Smith G (2016) Local plan implementation: assessing conformance and influence of local plans in the United States. Environ Plan B Plan Des 43:381–400

Lysák M, Bugge-Henriksen C (2016) Current status of climate adaptation plans across the United States. Mitig Adapt Strateg Glob Change 21:323–342

Mazmanian DA, Jurewitz J, Nelson HT (2013) The paradox of "acting globally while thinking locally": discordance in climate change adaption policy. J Environ Dev 22:186–206

Measham TG, Preston BL, Smith TF, Brooke C, Gorddard R, Withycombe G, Morrison C (2011) Adapting to climate change through local municipal planning: barriers and challenges. Mitig Adapt Strateg Glob Change 16:889–909

Norton RK (2008) Using content analysis to evaluate local master plans and zoning codes. Land Use Policy 25:432–454

Nova Scotia (2011). Municipal climate change action plan guidebook (Halifax, NS: Service Nova Scotia and Municipal Relations)

Pietrapertosa F, Khokhlov V, Salvia M, Cosmi C (2018) Climate change adaptation policies and plans: a survey in 11 south east European countries. Renew Sust Energ Rev 81:3041–3050

Reckien D, Flacke J, Dawson RJ, Heidrich O, Olazabal M, Foley A, Hamann JJ-P, Orru H, Salvia M, De Gregorio Hurtado S et al (2014) Climate change response in Europe: what's the reality? Analysis of adaptation and mitigation plans from 200 urban areas in 11 countries. Clim Chang 122:331–340

Reckien D, Flacke J, Olazabal M, Heidrich O (2015) The influence of drivers and barriers on urban adaptation and mitigation plans—an empirical analysis of European cities. PLoS One 10:1–21

Reckien D, Salvia M, Heidrich O, Church JM, Pietrapertosa F, Gregorio-Hurtado SD, D'Alonzo V, Foley A, Simoes SG, Lorencova EK et al (2018) How are cities planning to respond to climate change? Assessment of local climate plans from 885 cities in the EU-28. J Clean Prod 191:207–219

Rosenzweig C, Solecki W, Hammer SA, Mehrotra S (2010) Cities lead the way in climate-change action. Cities 467:909–911

Sancton A (2000) The municipal role in the governance of Canadian cities. In: Don Mills ON (ed) Canadian cities in transition, T. Bunting, and P. Filion. Oxford University Press, pp 425–442

Stevens MR (2013) Evaluating the quality of official community plans in southern British Columbia. J Plan Educ Res 33:471–490

Stevens MR, Senbel M (2012) Examining municipal response to a provincial climate action planning mandate in British Columbia, Canada. Local Environ 17:1–25

Stevens MR, Shoubridge J (2015) Municipal hazard mitigation planning: a comparison of plans in British Columbia and the United States. J Environ Plan Manag 58:1988–2014

Stevens MR, Lyles W, Berke PR (2014) Measuring and reporting intercoder reliability in plan quality evaluation research. J Plan Educ Res 34:77–93

Tang Z (2008) Evaluating local coastal zone land use planning capacities in California. Ocean Coast Manag 51:544–555

Tang Z, Brody SD (2009) Linking planning theories with factors influencing local environmental plan quality. Environ Plan B Plan Des 36:522–537

Tang Z, Brody SD, Quinn C, Chang L, Wei T (2010) Moving from agenda to action: evaluating local climate change action plans. J Environ Plan Manag 53:41–62

Tang Z, Lindell MK, Prater C, Wei T, Hussey CM (2011) Examining local coastal zone management capacity in U.S. pacific coastal counties. Coast Manag 39:105–132

Wheeler SM (2008) State and municipal climate change plans: the first generation. J Am Plan Assoc 74:481–496

Woodruff SC, Stults M (2016) Numerous strategies but limited implementation guidance in US local adaptation plans. Nat Clim Chang 6:796–802

Zimmerman R, Faris C (2011) Climate change mitigation and adaptation in north american cities. Curr Opin Environ Sustain 3:181–187
Additional information
Publisher's Note
Springer Nature remains neutral with regard to jurisdictional claims in published maps and institutional affiliations.
Appendix
Appendix
About this article
Cite this article
Guyadeen, D., Thistlethwaite, J. & Henstra, D. Evaluating the quality of municipal climate change plans in Canada. Climatic Change 152, 121–143 (2019). https://doi.org/10.1007/s10584-018-2312-1
Received:

Accepted:

Published:

Issue Date: