Abstract
Lobbying is considered to be an important factor in the success or failure of climate change legislation. This paper provides an estimate of lobbying expenditures related to climate change legislation in the U.S. Congress from 2000 to 2016. During this time period, over $2 billion was spent on this activity, constituting 3.9% of total lobbying expenditures. Major sectors involved in lobbying were fossil fuel and transportation corporations, utilities, and affiliated trade associations. Expenditures by these sectors dwarf those of environmental organizations and renewable energy corporations. Levels of expenditures on lobbying appear to be related to the introduction and probability of passage of significant climate legislation. Future research should focus on tying particular positions on climate legislation and lobbying expenditures at the corporate level.
This is a preview of subscription content, log in to check access.
Access options
Buy single article
Instant access to the full article PDF.
US$ 39.95
Price includes VAT for USA
Subscribe to journal
Immediate online access to all issues from 2019. Subscription will auto renew annually.
US$ 199
This is the net price. Taxes to be calculated in checkout.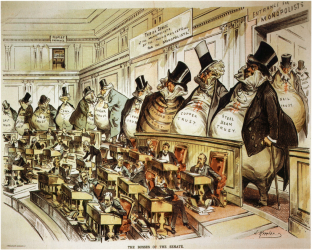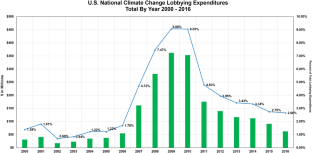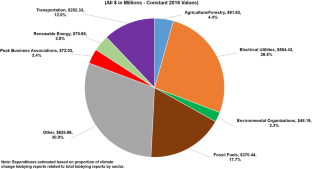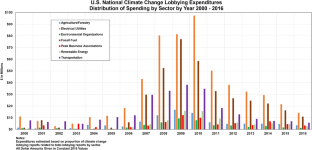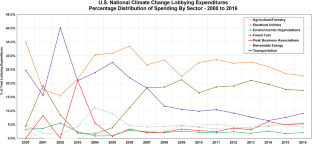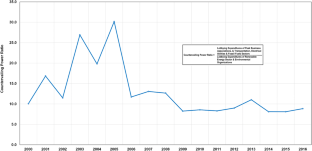 References
Baumgartner F, Leech B (1998) Basic interests: the importance of groups in politics and in political science. Princeton University Press, Princeton

Baumgartner F, Berry J, Hojnacki M, Leech B, Kimball D (2009) Lobbying and policy change: who wins, who loses, and why. University of Chicago Press, Chicago

Brulle RJ (2014) Institutionalizing delay: foundation funding and the creation of US climate change counter-movement organizations. Clim Chang 122:681–694

Brulle R, Dunlap R (2015) Sociology and climate change introduction: pp. 1–31 in Dunlap, Riley, Brulle, Robert J., (eds.) Climate change and society: sociological perspectives. Oxford Press: New York

Brulle RJ, Carmichael J, Jenkins JC (2012) Shifting public opinion on climate change: an empirical assessment of factors influencing concern over climate change in the US, 2002–2010. Clim Chang 114(2):169–188

Burstein P (2010) Public opinion, public policy, and democracy. In: Leicht K, Jenkins J (eds) Handbook of politics: state and society in global perspective. Springer, New York, pp 63–79

Cook KS, Whitmeyer JM (1992) Two approaches to social structure: exchange theory and network analysis. Annu Rev Sociol 18:109–127

De Figueiredo JM, Richter BK (2014) Advancing the empirical research on lobbying. Annual Review of Political Science. (17)163–185

Delmas M, Lim J, Nairn-Birch N (2016) Corporate environmental performance and lobbying. Academy of Management Discoveries 2(2):175–197

Downie C (2017) Business actors, political resistance, and strategies for policymakers. Energy Policy 108:583–592

Drutman L (2015) The business of America is lobbying. Oxford University Press, New York

Edwards L (2016) The role of public relations in deliberative systems. J Commun 66:60–81

Farrell J (2016) Corporate funding and ideological polarization about climate change. Proc Natl Acad Sci 113(1):92–97

Fuchs S (2001) Against essentialism: a theory of culture and society. Harvard University Press, Cambridge

Grossmann M (2014) Artists of the possible. Oxford University Press, New York

Grumbach JM (2015) Polluting industries as climate protagonists: cap and trade and the problem of business preferences. Business and Politics 17(4):633–659

Gulati R, Gargiulo M (1999) Where do interorganizational networks come from? Am J Sociol 104(5):1439–1493

Kim S, Urpelainen J, Yang J (2016) Electric utilities and American climate policy: lobbying by expected winners and losers. Journal of Public Policy 36(2):251–275

Knoke D (1990) Political networks: the structural perspective. Cambridge University Press, Cambridge

Knoke D, Yang S (2008) Social network analysis (Vol. 154). Sage

LaPira TM, Thomas HF (2014) Revolving door lobbyists and interest representation. Interest Groups & Advocacy. 3(1):4–29

Laumann EO, Knoke D (1987) The organizational state: social choice in national policy domains. Univ of Wisconsin Press, Madison

McGarity TO (2014) The disruptive politics of climate disruption. Nova Law Review 38(3):3

Milbrath L (1963) The Washington lobbyists. Rand McNally, Chicago

Podolny JM, Page KL (1998) Network forms of organization. Annu Rev Sociol 24:57–76

Shove E (2010) Beyond the ABC: climate change policy and theories of social change. Environ Plan A 42:1273–1285

Somerville I, Ramsey P (2012) Public relations and politics. In: Theaker A (ed) The public relations handbook, 4th edn. Routledge, New York, pp 38–59
Electronic supplementary material
About this article
Cite this article
Brulle, R.J. The climate lobby: a sectoral analysis of lobbying spending on climate change in the USA, 2000 to 2016. Climatic Change 149, 289–303 (2018). https://doi.org/10.1007/s10584-018-2241-z
Received:

Accepted:

Published:

Issue Date: