Abstract
Cities in the USA engage in action on climate change, even as the federal government remains resistant to comprehensive climate policy. While experts generally agree that local level adaptation and mitigation policies are critical to avoiding the worst climate impacts, the degree to which cities communicate climate change issues to their constituents has yet to be fully explored. In this article, we evaluate how US cities communicate climate change-related issues, problems, and policies. We use a computer-assisted approach to evaluate climate change efforts by cities by examining the full text of press releases of 82 large cities in the USA. We first identify who discusses climate change, finding that many large cities in the USA address climate change in their public communication. Second, we examine the content of these discussions. Many cities discuss weather-related concerns in conjunction with broad collaborative efforts to address global warming, while city-based policy discussions focus more on energy and transportation efforts. Third, we evaluate the local factors associated with these discussions. We find that the city's climate vulnerability is particularly influential in shaping the level and timing of climatic communication.
This is a preview of subscription content, log in to check access.
Access options
Buy single article
Instant access to the full article PDF.
US$ 39.95
Price includes VAT for USA
Subscribe to journal
Immediate online access to all issues from 2019. Subscription will auto renew annually.
US$ 199
This is the net price. Taxes to be calculated in checkout.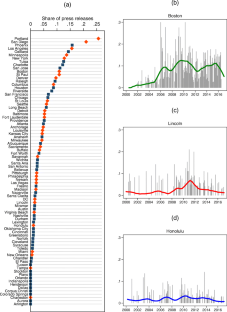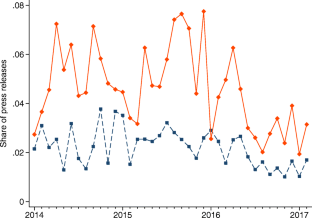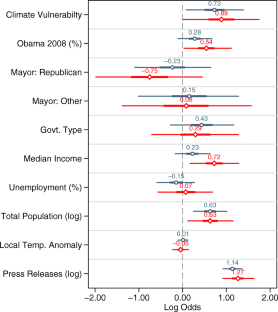 Notes
1.

2.

Our usage of the term "vulnerability" in this study corresponds mostly to the expected exposure of a given locale to future climate-related hazards. That is, we focus on the external and biophysical dimensions of vulnerability (Füssel 2007).

3.

4.

5.

The lists include 1) Climate Disruption Index (Weather.com), Cities That Could Disappear List (Huffington Post), or the Hallegatte Rankings (Hallegatte et al. 2013), which are based on projected sea level rise and storm surge risk. We also note how the Climate Disruption Index evaluates US cities (population > 200,000) according to vulnerability to sea level rise, extreme precipitation, drought, and heat, and average temperature and precipitation change. See https://goo.gl/j4c61m for methodology discussions and https://goo.gl/X771Rn for a response from climate scientists.

6.

Specifically, our sample of 82 cities accounts for 982 million tCO2e/yr out of a total US city footprint of 6,232 million tCO2e/yr. See Jones and Kammen (2014) for more details.

7.

See Holman (2015) for a discussion of issues of data availability and reliability in smaller cities.

8.

Consider the following reference to "energy" by New York City mayor Bill de Blasio (November 22, 2015), "Because we embraced wave after wave of immigrants who brought their energy..."

9.

Prior to training the model, we removed common "stop words," stemmed, and converted the raw tokens to term frequency-inverse document frequency (TF-IDF) features.

10.

See Appendix E for a list of starting base periods.
References
Bambrick HJ, Capon AG, Barnett GB, Beaty RM, Burton AJ (2011) Climate change and health in the urban environment: adaptation opportunities in australian cities. Asia-Pac J Publ Health 23(2):67S–79S

Bohr J (2017) Is it hot in here or is it just me? Temperature anomalies and political polarization over global warming in the American public. Clim Chang 142(1-2):271–285

Boussalis C, Coan TG, Poberezhskaya M (2016) Measuring and modeling russian newspaper coverage of climate change. Glob Environ Chang 41:99–110

Boykoff M, Daly M, Gifford L, Luedecke G, McAllister L, Nacu-Schmidt A, Andrews K (2015) World newspaper coverage of climate change or global warming, 2004–2015. Center for Science and Technology Policy Research, Cooperative Institute for Research in Environmental Sciences, University of Colorado. http://sciencepolicy.colorado.edu/media_coverage

Bromley-Trujillo R, Stoutenborough JW, Kirkpatrick KJ, Vedlitz A (2014) Climate scientists and environmental interest groups: the intersection of expertise and advocacy. Polit Groups Identities 2(1):120–134

Bromley-Trujillo R, Butler JS, Poe J, Davis W (2016) The spreading of innovation: state adoptions of energy and climate change policy. Rev Policy Res 33 (5):544–565

Brulle RJ, Carmichael J, Jenkins JC (2012) Shifting public opinion on climate change: an empirical assessment of factors influencing concern over climate change in the US, 2002–2010. Clim Chang 114(2):169–188

Badger E, Bui Q, Pearce A (2016) The election highlighted a growing rural-urban split. The New York Times. https://www.nytimes.com/2016/11/12/upshot/this-election-highlighted-a-growing-rural-urban-split.html

Coan TG, Holman MR (2008) Voting green. Soc Sci Q 89(5):1121–1135

Comrie M (1997) Media tactics in New Zealand's crown health enterprises. Public Relat Rev 23(2):161–176

Dunlap RE, McCright AM, Yarosh JH (2016) The political divide on climate change: partisan polarization widens in the US. Environ Sci Policy Sustain Dev 58 (5):4–23

Egan PJ (2013) Partisan priorities: How issue ownership drives and distorts American politics. Cambridge University Press, Cambridge

Foran C (2016) Donald Trump and the triumph of climate-change denial. The Atlantic. https://www.theatlantic.com/politics/archive/2016/12/donald-trump-climate-change-skeptic-denial/510359/

Franzen A, Vogl D (2013) Two decades of measuring environmental attitudes: a comparative analysis of 33 countries. Glob Environ Chang 23(5):1001–1008

Füssel H-M (2007) Vulnerability: a generally applicable conceptual framework for climate change research. Glob Environ Chang 17(2):155–167

Gelissen J (2007) Explaining popular support for environmental protection a multilevel analysis of 50 nations. Environ Behav 39(3):392–415

Genovese F (2014) States' interests at international climate negotiations: new measures of bargaining positions. Environ Polit 23(4):610–631

Golitsynskiy S (2013) Computational methods applied to mass communication research: the case of press release content in news media (Doctoral dissertation)

Greene Z, O'Brien D (2016) Diverse parties, diverse agendas? Female politicians and the parliamentary party's role in platform formation. Eur J Polit Res 55(3):435–453

Grimmer J (2010) A Bayesian hierarchical topic model for political texts: measuring expressed agendas in Senate press releases. Polit Anal 18(1):1–35

Grimmer J, Messing S, Westwood SJ (2012) How words and money cultivate a personal vote: the effect of legislator credit claiming on constituent credit allocation. Amer Polit Sci Rev 106(4):703–719

Grimmer J (2013a) Appropriators not position takers: the distorting effects of electoral incentives on congressional representation. Am J Polit Sci 57(3):624–642

Grimmer J (2013b) Representational style in congress: what legislators say and why it matters. Cambridge University Press, Cambridge

Grimmer J, Stewart BM (2013) Text as data: the promise and pitfalls of automatic content analysis methods for political texts. Polit Anal 21(3):267–297

Guber DL (2003) Grassoots of the green revolution: polling America on the environment. MIT Press, Cambridge

Hallegatte S, Green C, Nicholls RJ, Corfee-Morlot J (2013) Future flood losses in major coastal cities. Nat Clim Chang 3(9):802–806

Herrnstadt E, Muehlegger E (2014) Weather, salience of climate change and congressional voting. J Environ Econ Manag 68(3):435–448

Holman MR (2015) Women in politics in the American city. Temple University Press, Philadelphia

Inglehart R (1995) Public support for environmental protection: objective problems and subjective values in 43 societies. PS: Polit Sci Polit 28(01):57–72

Jones C, Kammen DM (2014) Spatial distribution of us household carbon footprints reveals suburbanization undermines greenhouse gas benefits of urban population density. Environ Sci Technol 48 (2):895– 902

Kahn ME, Kotchen MJ (2011) Business cycle effects on concern about climate change: the chilling effect of recession. Clim Chang Econ 2(03):257–273

King G, Pan J, Roberts ME (2013) How censorship in China allows government criticism but silences collective expression. Amer Polit Sci Rev 107(02):326–343

Kiousis S, Mitrook M, Wu X, Seltzer T (2006) First- and second-level agenda-building and agenda-setting effects: exploring the linkages among candidate news releases, media coverage, and public opinion during the 2002 Florida gubernatorial election. J Public Relat Res 18(3):265–285

Kjellstrom T, Mcmichael AJ (2013) Climate change threats to population health and well-being: the imperative of protective solutions that will last. Global Health Action 6(1):20816

Koronowski R (2017) The climate denier caucus in Trump's Washington. https://thinkprogress.org/115th-congress-climate-denier-caucus-65fb825b3963

Krause RM (2011) Policy innovation, intergovernmental relations, and the adoption of climate protection initiatives by US cities. J Urban Aff 33(1):45–60

Li Y, Johnson EJ, Zaval L (2011) Local warming daily temperature change influences belief in global warming. Psychological Science 22(4):454–459

Liu X, Lindquist E, Vedlitz A (2011) Explaining media and congressional attention to global climate change, 1969–2005: an empirical test of agenda-setting theory. Political Research Quarterly 64(2):405–419

Lubell M, Feiock RC, La Cruz D, Ramirez EE (2009) Local institutions and the politics of urban growth. Am J Polit Sci 53(3):649–665

Lutsey N, Sperling D (2008) America's bottom-up climate change mitigation policy. Energy Policy 36(2):673–685

Marquart-Pyatt ST, McCright AM, Dietz T, Dunlap RE (2014) Politics eclipses climate extremes for climate change perceptions. Glob Environ Chang 29:246–257

McCormick S (2016) Assessing climate change vulnerability in urban America: stakeholder-driven approaches. Clim Chang 138(3):397–410

Norman J (2017) Democrats drive rise in concern about global warming. http://www.gallup.com/poll/206513/democrats-drive-rise-concern-global-warming.aspx

Palser B (2006) Artful disguises. Amer J Rev 28(5):90–90

Picard RR, Cook RD (1984) Cross-validation of regression models. J Am Stat Assoc 79(387):575–583

Reckien D, Flacke J, Dawson RJ, Heidrich O, Olazabal M, Foley A, Hamann JJ-P, Orru H, Salvia M, Hurtado SDG, Geneletti D, Pietrapertosa F (2014) Climate change response in europe: what's the reality? analysis of adaptation and mitigation plans from 200 urban areas in 11 countries. Clim Chang 122(1):331–340

Rosenzweig C, Solecki W, Hammer SA, Mehrotra S (2010) Cities lead the way in climate-change action. Nature 467(7318):909–911

Scruggs L, Benegal S (2012) Declining public concern about climate change: can we blame the great recession?. Global Environmental Change 22(2):505–515

Sharp EB, Daley DM, Lynch MS (2011) Understanding local adoption and implementation of climate change mitigation policy. Urban Aff Rev 47(3):433–457

Shum RY (2012) Effects of economic recession and local weather on climate change attitudes. Clim Pol 12(1):38–49

UN-HABITAT (2011) Hot Cities: battle-ground for climate change. https://unhabitat.org/wp-content/uploads/2012/06/P1HotCities.pdf https://unhabitat.org/wp-content/uploads/2012/06/P1HotCities.pdf

Vavreck L (2009) The message matters: the economy and presidential campaigns. Princeton University Press, Princeton

Waters RD, Tindall NTJ, Morton TS (2010) Media catching and the journalist–public relations practitioner relationship: how social media are changing the practice of media relations. J Public Relat Res 22(3):241–264
Acknowledgements
For helpful comments, we wish to thank Anna Harper and participants at the 2017 Text in Politics Workshop, PolitcologenEtmaal, University of Leiden; the 2017 European Political Science Association Annual Conference, Milan; the 2017 American Political Science Association meeting, San Francisco, CA; and the 2017 Political Studies Association of Ireland meeting, Dublin. Any remaining errors are the authors' exclusively.
Electronic supplementary material
Below is the link to the electronic supplementary material.
About this article
Cite this article
Boussalis, C., Coan, T.G. & Holman, M.R. Climate change communication from cities in the USA. Climatic Change 149, 173–187 (2018). https://doi.org/10.1007/s10584-018-2223-1
Received:

Accepted:

Published:

Issue Date: