Abstract
Global climate models predict increases in the frequency and intensity of extreme heat events across the African continent during the remainder of the twenty-first century. Projected increases in temperature extremes have significant implications for humanity, particularly in the African Great Lakes region (GLR) where some of the world's poorest and most vulnerable populations reside. Using high-resolution Community Earth System Model (CESM) simulations to investigate the impacts of climate change under Representative Concentration Pathway (RCP) 8.5 and spatially explicit population trajectories consistent with two shared socio-economic pathways (SSPs), we contrast early and projected late century human exposure to temperature extremes and the associated potential health impacts for nine countries of the GLR. While all countries are projected to experience increases in the number of heat stress days, the greatest increases occur in the north and west, in parts of Kenya, Uganda, and the Democratic Republic of Congo. Nighttime relief diminishes due to 3–8° increases in average minimum temperatures. Country-wide population exposure to extreme heat stress increases 7- to 269-fold over current levels. Total population growth as well as rural-urban distribution patterns strongly influence outcomes, but to a lesser degree than the warming climate.
Access options
Buy single article
Instant access to the full article PDF.
US$ 39.95
Tax calculation will be finalised during checkout.
Subscribe to journal
Immediate online access to all issues from 2019. Subscription will auto renew annually.
US$ 119
Tax calculation will be finalised during checkout.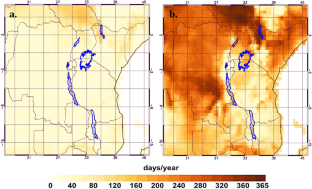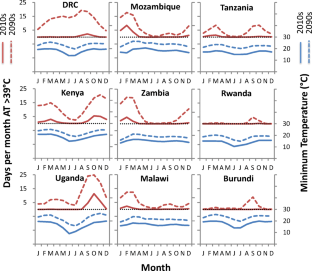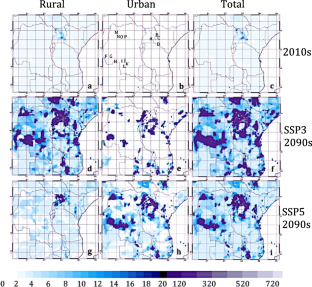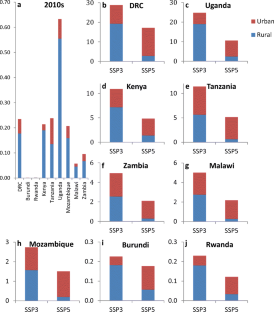 References
Alkire S, Conconi A, Seth S (2014) Multidimensional Poverty Index 2014: brief methodological note and results. Available at:www.ophi.org.uk/multidimensional-poverty-index/mpi-country-briefings/

Anyah RO, Qiu W (2012) Characteristic 20th and 21st century precipitation and temperature patterns and changes over the Greater Horn of Africa. Int J Climatol 32(3):347–363

Azongo DK, Awine T, Wak G, Binka FN, Rexford Oduro A (2012) A time series analysis of weather variables and all-cause mortality in the Kasena-Nankana Districts of Northern Ghana, 1995–2010. Glob Health Action 5(1):19073

Baccini M, Biggeri A, Accetta G, Kosatsky T, Katsouyanni K, Analitis A, Anderson HR, Bisanti L, D'ippoliti D, Danova J, Forsberg B (2008) Heat effects on mortality in 15 European cities. Epidemiology 19(5):711–719

Bacmeister JT, Reed KA, Hannay C, Lawrence P, Bates S, Truesdale JE, Rosenbloom N, Levy M (2016) Projected changes in tropical cyclone activity under future warming scenarios using a high-resolution climate model. Clim Chang. https://doi.org/10.1007/s10584-016-1750-x

Burkart K, Khan MM, Schneider A, Breitner S, Langner M, Krämer A, Endlicher W (2014) The effects of season and meteorology on human mortality in tropical climates: a systematic review. Trans R Soc Trop Med Hyg 108(7):393–401

Collins JM (2011) Temperature variability over Africa. J Clim 24(14):3649–3666

Diboulo E, Sie A, Rocklöv J, Niamba L, Ye M, Bagagnan C, Sauerborn R (2012) Weather and mortality: a 10 year retrospective analysis of the Nouna Health and Demographic Surveillance System, Burkina Faso. Glob Health Action 5(1):19078

Diffenbaugh NS, Scherer M (2011) Observational and model evidence of global emergence of permanent, unprecedented heat in the 20th and 21st centuries. Clim Chang 107(3):615–624

Egondi T, Kyobutungi C, Kovats S, Muindi K, Ettarh R, Rocklöv J (2012) Time-series analysis of weather and mortality patterns in Nairobi's informal settlements. Glob Health Action 5(1):19065

Engelbrecht F, Adegoke J, Bopape MJ, Naidoo M, Garland R, Thatcher M, McGregor J, Katzfey J, Werner M, Ichoku C, Gatebe C (2015) Projections of rapidly rising surface temperatures over Africa under low mitigation. Environ Res Lett 10(8):085004

Garland RM, Matooane M, Engelbrecht FA, Bopape MJ, Landman WA, Naidoo M, Merwe JV, Wright CY (2015) Regional projections of extreme apparent temperature days in Africa and the related potential risk to human health. Int J Environ Res Public Health 12(10):12577–12604

Giorgi F (2006) Climate change hot-spots. Geophys Res Lett 33(8). https://doi.org/10.1029/2006GL025734

Guo Y, Gasparrini A, Armstrong B, Li S, Tawatsupa B, Tobias A, Lavigne E, Coelho MD, Leone M, Pan X, Tong S (2014) Global variation in the effects of ambient temperature on mortality: a systematic evaluation. Epidemiology 25(6):781

Hajat S, Kosatky T (2010) Heat-related mortality: a review and exploration of heterogeneity. J Epidemiol Community Health 64(9):753–760

Harlan SL, Chowell G, Yang S, Petitti DB, Morales Butler EJ, Ruddell BL, Ruddell DM (2014) Heat-related deaths in hot cities: estimates of human tolerance to high temperature thresholds. Int J Environ Res Public Health 11(3):3304–3326

Im ES, Pal JS, Eltahir EA (2017) Deadly heat waves projected in the densely populated agricultural regions of South Asia. Sci Adv 3(8):e1603322

IPCC 2013 Climate change 2013: the physical science basis. Contribution of Working Group I to the Fifth Assessment Report of the Intergovernmental Panel on Climate Change. In: Stocker TF, Qin D, Plattner G-K, Tignor M, Allen SK, Boschung J, Nauels A, Xia Y, Bex V, Midgley PM (eds) Cambridge University Press, Cambridge, 1535 pp

Jiang L, O'Neill BC (2015) Global urbanization projections for the shared socioeconomic pathways. Glob Environ Chang

Jones B, O'Neill BC (2016) Spatially explicit global population scenarios consistent with the shared socioeconomic pathways. Environ Res Lett 11(8):084003

Jones B, O'Neill BC, McDaniel L, McGinnis S, Mearns LO, Tebaldi C (2015) Future population exposure to US heat extremes. Nat Clim Chang 5(7):652–655

Kovats RS, Hajat S (2008) Heat stress and public health: a critical review. Annu Rev Public Health 29:41–55

Kynast-Wolf G, Preuß M, Sié A, Kouyaté B, Becher H (2010) Seasonal patterns of cardiovascular disease mortality of adults in Burkina Faso, West Africa. Tropical Med Int Health 15(9):1082–1089

Medina-Ramón M, Schwartz J (2007) Temperature, temperature extremes, and mortality: a study of acclimatisation and effect modification in 50 US cities. J Occup Environ Med 64(12):827–833

Meehl GA, Washington WM, Arblaster JM, Hu A, Teng H, Tebaldi C, Sanderson BN, Lamarque JF, Conley A, Strand WG, White JB III (2012) Climate system response to external forcings and climate change projections in CCSM4. J Clim 25(11):3661–3683

Motesharrei S, Rivas J, Kalnay E, Asrar GR, Busalacchi AJ, Cahalan RF, Cane MA, Colwell RR, Feng K, Franklin RS, Hubacek K (2016) Modeling sustainability: population, inequality, consumption, and bidirectional coupling of the Earth and Human Systems. Natl Sci Rev 3(4):470–494

Mrema S, Shamte A, Selemani M, Masanja H (2012) The influence of weather on mortality in rural Tanzania: a time-series analysis 1999–2010. Glob Health Action 5(1):19068

Niang I, Ruppel OC, Abdrabo MA, Essel A, Lennard C, Padgham J, Urquhart P (2014) Africa. In Climate change 2014: impacts, adaptation, and vulnerability. Part B: regional aspects. Contribution of Working Group II to the Fifth Assessment Report of the Intergovernmental Panel of Climate Change. In: Barros VR, Field CB, Dokken DJ, Mastrandrea MD, Mach KJ, Bilir TE, Chatterjee M, Ebi KL, Estrada YO, Genova RC et al (eds) Cambridge University Press, Cambridge, pp. 1199–1265

Omondi PA, Awange JL, Forootan E, Ogallo LA, Barakiza R, Girmaw GB, Fesseha I, Kululetera V, Kilembe C, Mbati MM, Kilavi M (2014) Changes in temperature and precipitation extremes over the Greater Horn of Africa region from 1961 to 2010. Int J Climatol 34(4):1262–1277

Orlowsky B, Seneviratne SI (2012) Global changes in extreme events: regional and seasonal dimension. Clim Chang 110(3):669–696

Ren X, Weitzel M, O'Neill BC, Lawrence P, Meiyappan P, Levis S, Balistreri EJ, Dalton M (2016) Avoided economic impacts of climate change on agriculture: integrating a land surface model (CLM) with a global economic model (iPETS). Clim Chang 1–15

Riahi K, Van Vuuren DP, Kriegler E, Edmonds J, O'neill BC, Fujimori S, Bauer N, Calvin K, Dellink R, Fricko O, Lutz W (2017) The shared socioeconomic pathways and their energy, land use, and greenhouse gas emissions implications: an overview. Glob Environ Chang 42:153–168

Scovronick N, Sera F, Acquaotta F, Garzena D, Fratianni S, Wright CY, Gasparrini A (2018) The association between ambient temperature and mortality in South Africa: a time-series analysis. Environ Res 161:229–235

SeimonA, IngramJC, WatsonJEM (2012) Conservation strategy for the Great Lakes Region of east and central Africa, Ch. 5 (BirdLife International, 2012)

Sherwood SC, Huber M (2010) An adaptability limit to climate change due to heat stress. Proc Natl Acad Sci 107(21):9552–9555

United Nations, Department of Economic and Social Affairs, Population Division (2015a). World population prospects: the 2015 revision, Key Findings and Advance Tables (ESA/P/WP241)

United Nations, Department of Economic and Social Affairs, Population Division (2015b). World urbanization prospects: the 2014 revision, Highlights (ST/ESA/SER.A/366)

Van Vuuren DP, Kriegler E, O'Neill BC, Ebi KL, Riahi K, Carter TR, Edmonds J, Hallegatte S, Kram T, Mathur R, Winkler H (2014) A new scenario framework for climate change research: scenario matrix architecture. Clim Chang 122(3):373–386

Wichmann J (2017) Heat effects of ambient apparent temperature on all-cause mortality in Cape Town, Durban and Johannesburg, South Africa: 2006–2010. Sci Total Environ 587:266–272
Funding
We appreciate support from the University of Virginia, the National Center for Atmospheric Research, and a John D. and Catherine T. MacArthur Foundation grant (no. 108015) to the Appalachian State University.
Electronic supplementary material
About this article
Cite this article
Asefi-Najafabady, S., Vandecar, K.L., Seimon, A. et al. Climate change, population, and poverty: vulnerability and exposure to heat stress in countries bordering the Great Lakes of Africa. Climatic Change 148, 561–573 (2018). https://doi.org/10.1007/s10584-018-2211-5
Received:

Accepted:

Published:

Issue Date: