Abstract
The Klimalotse ("climate navigator") is an online tool to support climate change adaptation. Its target audience is decision makers at the local and regional levels. The tool was first published in 2010 by the German Federal Environment Agency. After several years, the Agency evaluated the changing needs of decision makers and the real use of the tool. Decision makers are confronted with various challenges and barriers both prior to and while creating and implementing climate change adaptation measures. In order to be able to take these factors into account in the revision of the Klimalotse, the accompanying research looked into climate change adaptation from the perspective of public institutions and their decision-making processes. In the light of that work, the Agency published a completely revised second edition. This article summarises the lessons learned on that journey.
Access options
Buy single article
Instant access to the full article PDF.
US$ 39.95
Tax calculation will be finalised during checkout.
Subscribe to journal
Immediate online access to all issues from 2019. Subscription will auto renew annually.
US$ 119
Tax calculation will be finalised during checkout.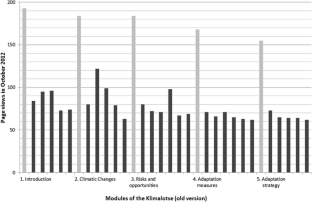 Notes
1.

For on overview on adaptation in developed countries at the time, see Gagnon-Lebrun and Agrawala 2007.

2.

3.

4.

5.

It must be stated that small and medium municipalities are not that far yet in developing adaptation strategies and adaptation measures, but they are making up 85% of all municipalities in Germany.
References
Bundesregierung (2008) German strategy for adaptation to climate change summary. Bonn Retrieved from www.bmub.bund.de/N42783-1/

Gagnon-Lebrun F, Agrawala S (2007) Implementing adaptation in developed countries: an analysis of progress and trends. Clim Pol 7(5):392–408. https://doi.org/10.1080/14693062.2007.9685664

Jick TD (1979) Mixing qualitative and quantitative methods: triangulation in action. Adm Sci Q 24(4):602–611. https://doi.org/10.2307/2392366

Kahlenborn W, Kind C, Becker R, Grothmann T (2016) Ansätze und Erfolgsbedingungen in der Kommunikation zum Umgang mit Extremereignissen. Anpassung an den Klimawandel alltagstauglich machen und Eigenvorsorge stärken. Umweltbundesamt, Climate Change 25/2016, Dessau-Roßlau

Kind C, Sartison K (2017) Wie deutsche Großstädte sich an den Klimawandel anpassen. Umweltbundesamt. https://www.umweltbundesamt.de/themen/wie-deutsche-grossstaedte-sich-an-den-klimawandel. Accessed 22 May 2017

Kind C, Protze N, Savelsberg J, Lühr O, Ley S, Lambert J (2015) Entscheidungsprozesse zur Anpassung an den Klimawandel in Kommunen. Umweltbundesamt. Climate Change 04/2015, Dessau-Roßlau https://www.umweltbundesamt.de/publikationen/entscheidungsprozesse-zur-anpassung-an-den

Krug S (2005) Don't make me think: a common sense approach to Web usability. Pearson Education, India

Schönthaler K, Andrian-Werburg S, van Rüth P, Hempen S (2015) Monitoringbericht 2015 zur Deutschen Anpassungsstrategie an den Klimawandel. Umweltbundesamt, Dessau-Roßlau. Retrieved from https://www.umweltbundesamt.de/publikationen/monitoringbericht-2015

Stecker R, Mohns T, Eisenack K (2012) Anpassung an den Klimawandel – Agenda Setting und Politikintegration in Deutschland. Z Umweltpolitik Umweltrecht 2(2012):179–208

Willows R, Reynard N, Meadowcroft I, Connell R (2003) Climate adaptation: risk, uncertainty and decision-making. UKCIP technical report. UK Climate Impacts Programme
Funding
This work was funded by the German Environment Agency (UFOPLAN FKZ 3712 48100).
Additional information
This article is part of a Special Issue on "Decision Support Tools for Climate Change Adaptation" edited by Jean Palutikof, Roger Street and Edward Gardiner.
About this article
Cite this article
Haße, C., Kind, C. Updating an existing online adaptation support tool: insights from an evaluation. Climatic Change 153, 559–567 (2019). https://doi.org/10.1007/s10584-018-2166-6
Received:

Accepted:

Published:

Issue Date: