Abstract
The global incidence of very intense cyclones has increased in recent decades with climate projections signaling that this trend will intensify. To what degree can vulnerability to extreme weather events be mitigated by access to a rural livelihoods program, particularly with regard to the impacts on women? This paper addresses this question through a natural experiment arising from two independent but overlapping sources of variation: exposure to a devastating cyclone that occurred in the Bay of Bengal region of India and the staggered rollout of a rural livelihoods intervention. Comparisons from household surveys across communities more or less exposed to the storm before and after the introduction of the program reveal that the storm led to significant reductions in overall household expenditure, and that these reductions were indeed the largest for women, adding to the emerging evidence for the frequently-posed hypothesis that women bear the brunt of the effects of disasters on overall household consumption. Participation in the livelihoods program mitigated some of the reductions in household nonfood expenditure and women's consumption, but not on food expenditure. These results from a densely populated region whose topography makes it particularly vulnerable to storms can inform future policy approaches and aid in modeling the impact of these policies on the effects of climate change.
Access options
Buy single article
Instant access to the full article PDF.
USD 39.95
Price excludes VAT (USA)
Tax calculation will be finalised during checkout.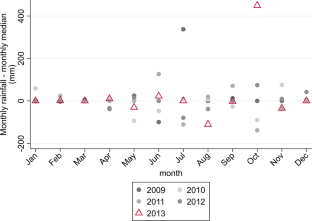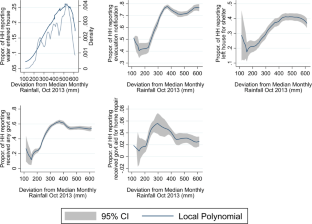 Notes
The interpolated data are provided to us at a monthly scale. Summing rainfall over the month ensures that we capture the full effect of the storm. Taking deviations from historical levels ensures that any seasonally typical rainfall not associated with Phailin is not captured by our measure of shock.

The correlation between the July 2009 shock and the October 2013 shock across grid squares is low (− 0.08).

To the extent that rainfall deviations are correlated with other factors creating damage such as wind or storm surge, this measure captures the effects of these factors as well. If rainfall is uncorrelated with wind or storm surge, these estimates understate the full effect of the storm on well-being. If effects of the storm spill over from areas that received high rainfall to neighboring areas, the impacts will similarly be underestimated.

SHGs were linked with the Odisha State Seed & Organic Product Certification Agency for certification and the Odisha State Seed Corporation and the Odisha Agro Industries Corporation for seed production and subsidy, while the Animal Husbandry Department subsidized poultry purchases and related inputs. District Industries Centers helped farmers' groups establish linkages with agricultural markets. The state-run Mo-Badi program helped SHGs start kitchen gardens in member households, while the Directorate of Horticulture provided compost facilities to treated households. Many SHGs were also engaged in managing the mid-day meal program.

Gram Panchayats are local government units encompassing an average of eight villages each.

The rating of SHGs is an exercise that helps establish the SHG's credit-worthiness by comparing repayment rates and attendance to area averages. SHGs that "pass" the rating were deemed credit-worthy for TRIPTI. There are typically three grades, with the highest grades allowing SHGs to access credit directly from banks, etc. The rating process is conducted by the state government federation of SHGs.

NREGS is one of India's flagship social protection programs, offering guaranteed work on public projects for adults in rural areas.
References
Alam MdM, Arif MdH, Shafee S (2003) Frequency of bay of Bengal cyclonic storms and depressions crossing different coastal zones. Int J Climatol 23(9):1119–1125

Anttila-Hughes JK, Hsiang SM (2013) Destruction, disinvestment, and death: economic and human losses following an environmental disaster. Technical Report

Bacmeister JT, Reed KA, Hannay C, Lawrence P, Bates S, Truesdale JE, Rosenbloom N, Levy M (2018) Projected changes in tropical cyclone activity under future warming scenarios using a high-resolution climate model. Clim Change 146(3-4):547–560

Balaguru K, Taraphdar S, Ruby Leung L, Foltz GR (2014) Increase in the intensity of postmonsoon Bay of Bengal tropical cyclones. Geophys Res Lett 41 (10):3594–3601

Banerjee A, Karlan D, Zinman J (2015) Six randomized evaluations of microcredit: introduction and further steps. Am Econ J Appl Econ 7(1):1–21

Brody C, de Hoop T, Vojtkova M, Warnock R, Dunbar M, Murthy P, Dworkin SL (2015) Economic self-help group programs for improving women's empowerment: a systematic review. Campbell Syst Rev, 19

Carleton TA, Hsiang SM (2016) Social and economic impacts of climate. Science 353:6304

Datta U (2015) Socio-economic impacts of JEEViKA: a large-scale self-help group project in Bihar, India. World Dev 68:1–18

Deininger K, Liu Y (2013) Economic and social impacts of an innovative self-help group model in India. World Dev 43:149–163

Deryugina T, Kawano L, Levitt S (2014) The economic impact of hurricane katrina on its victims: evidence from individual tax returns. Technical Report, National Bureau of Economic Research

Gallagher J (2014) Learning about an infrequent event: evidence from flood insurance take-up in the United States. Am Econ J Appl Econ 6(3):206–233

Gallagher J, Hartley D (2017) Household finance after a natural disaster: the case of hurricane Katrina. Am Econ J Econ Polic 9(3):199–228

Government of India (2011) national rural livelihoods mission framework for implementation. Technical report

Government of Orissa (2010) Special relief commissioner's annual report on natural calamities 2009-10. Technical Report

Hallegatte S, Vogt-Schilb A, Bangalore M, Rozenberg J (2016) Unbreakable: building the resilience of the poor in the face of natural disasters. World Bank Publications

Hashemi S M, Schuler SR, Riley AP (1996) Rural credit programs and women's empowerment in Bangladesh. World Dev 24(4):635–653

Intergovernmental Panel on Climate Change (2014) Climate change 2014–impacts, adaptation and vulnerability: regional aspects. Cambridge University Press

Joshi S, Palaniswamy N, Rao V (2016) Impact evaluation framework and results: Odisha rural livelihoods project. Technical report, World Bank

Kishor S, Gupta K (2004) Women's empowerment in India and its states: evidence from the NFHS. Econ Pol Wkly, 694–712

Mendelsohn R, Emanuel K, Chonabayashi S, Bakkensen L (2012) The impact of climate change on global tropical cyclone damage. Nat Clim Change 2(3):205–209

Nair N, Tripathy P, Costello A, Prost A (2012) Mobilizing women's groups for improved maternal and newborn health: evidence for impact, and challenges for sustainability and scale up. Int J Gyn Obstetr, 119 (S1)

Neumayer E, Plümper T (2007) The gendered nature of natural disasters: the impact of catastrophic events on the gender gap in life expectancy, 1981–2002. Ann Assoc Am Geogr 97(3):551–566

Prime Minister's Council on Climate Change (2008) National action plan on climate change. Technical Report, Government of India

Rajeevan M, Bhate J, Kale JD, Lal B (2006) A high resolution daily gridded rainfall for the Indian region: analysis of break and active monsoon spells. Curr Sci, 91 (3)

Rao V (2001) Celebrations as social investments: festival expenditures, unit price variation and social status in rural India. J Develop Stud 38:71–97

Sanyal P, Rao V, Majumdar S (2013) Recasting culture to undo gender: a sociological analysis of Jeevika in Rural Bihar, India. Technical Report, World Bank Policy Research Working Paper

Singh D, Jeffries A (2013) India cyclone Phailin in Odisha: rapid damage and needs assessment, technical report, Asian Development Bank. Government of Odisha, and World Bank, 12

UN Population Fund (2009) State of the World population: women. Population and Climate Change, Technical Report

Walsh KJE, McBride JL, Klotzbach PJ, Balachandran S, Camargo SJ, Holland G, Knutson TR, Kossin JP, Lee TC, Sobel A et al (2016) Tropical cyclones and climate change. Wiley Interdiscip Rev Clim Chang 7(1):65–89

World Bank Group (2014) India - sustainable livelihoods adaptation to climate change project, technical report

World Health Organization (2011) Gender, climate change and health, technical report
Acknowledgements
We thank Madhulika Khanna and Aditya Shrinivas for research assistance; and SUTRA consultancy and the Social Observatory for data collection. We gratefully acknowledge suggestions and support from Saurabh Dani, Samik Sundar Das and DV Swamy, and financial support from the South Asia Disaster Management and Climate Change team at the World Bank, and from the contributions of (1) UK Aid from the UK government; (2) the Australian Department's of Foreign Affairs and Trade (DFAT); and (3) the European Commission (EC) through the South Asia Food and Nutrition Security Initiative (SAFANSI), which is administered by the World Bank. The findings, interpretations, and conclusions expressed in this paper are entirely those of the authors. They do not necessarily represent the views of the International Bank for Reconstruction and Development/World Bank and its affiliated organizations, or those of the Executive Directors of the World Bank or the governments they represent. The views expressed also do not necessarily reflect the UK, EC or Australian government's official policies or the policies of the World Bank and its Board of Executive Directors.
Additional information
Publisher's note
Springer Nature remains neutral with regard to jurisdictional claims in published maps and institutional affiliations.
Author contributions
PC and EK designed and conducted the research. PC, EK, and VR wrote the paper. NP designed the trial of the livelihoods intervention.
Appendix
Appendix
About this article
Cite this article
Christian, P., Kandpal, E., Palaniswamy, N. et al. Safety nets and natural disaster mitigation: evidence from cyclone Phailin in Odisha. Climatic Change 153, 141–164 (2019). https://doi.org/10.1007/s10584-018-02364-8
Received:

Accepted:

Published:

Issue Date:

DOI: https://doi.org/10.1007/s10584-018-02364-8