Abstract
Cattle ranchers and dairy farmers operating throughout many tropical regions are experiencing major challenges associated with climate change such as higher incidence of heat stress and drought. These effects can result in reduced productivity of rangeland, shortage of nutritional feed, increased heat stress on animals, and high energy costs for cooling. High temperatures and resultant heat stress reduce animal productivity and increase the proliferation and survival of parasites and disease pathogens. Warming reduces the ability of dairy cattle to produce milk and gain weight and can also lower conception rates. This paper reviews research from the Caribbean on heat tolerant traits in bovine and presents evidence that introducing a "slick hair" gene into Holstein cows by crossbreeding with Senepols may increase thermo-tolerance and productivity. As in other parts of the tropics, principal cattle breeds in Puerto Rico and the US Virgin Islands have been largely introduced from temperate regions. Research indicates these animals may be poorly adapted to rising temperatures, leaving them increasingly vulnerable to chronic heat stress and reduced productivity. Adaptive practices have been developed in breeding and pasture management programs including selection for more heat-resistant genotypes, silvopasturing and crop diversification in forage production, and optimizing facilities and practices to reduce heat stress. Given the nature of climate vulnerability, an integrated approach to adaptation will likely have the greatest success in reducing future risk for producers.
Access options
Buy single article
Instant access to the full article PDF.
USD 39.95
Price excludes VAT (USA)
Tax calculation will be finalised during checkout.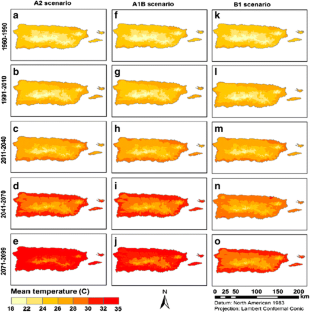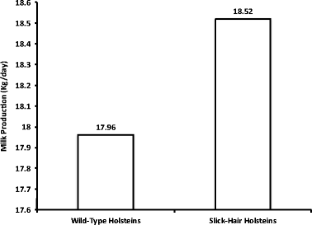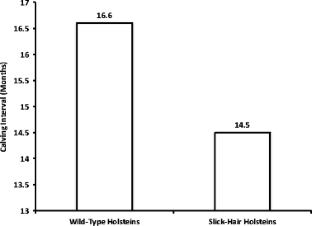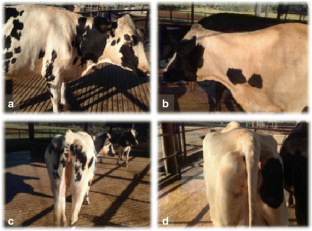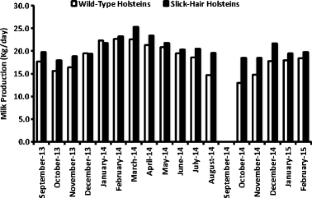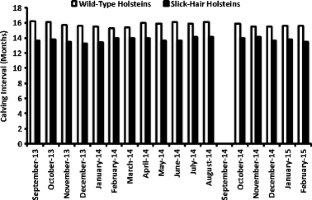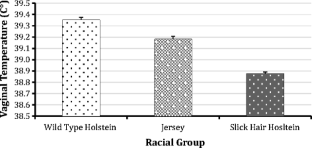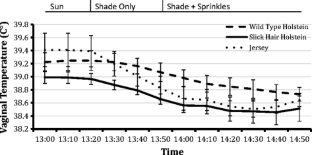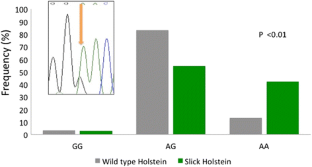 References
Allen MR et al (2014) IPCC fifth assessment synthesis report—Climate Change 2014 synthesis report

Araújo XJ (2011) Auguran Fin De La Carne De Res Local. El Nuevo Día

Beede DK, Collier RJ (1986) Potential nutritional strategies for intensively managed cattle during thermal stress. J Anim Sci 62:543–554

Berman A (2011) Invited review: are adaptations present to support dairy cattle productivity in warm climates? J Dairy Sci 94:2147–2158

Blackburn J (2011) Island dairies to close after 52 years; 25 jobs to be lost. Virgin Islands Daily News

Borges R, (2015) Personal communication with dairy farmer agro. Rafael Borges

Casas Guernica A (2010) COMITÉ DE EVALUACIÓN DE COSTOS DE PRODUCCIÓN PARA LA EMPRESA DE CARNE DE RES: INFORME DE LAS OPERACIONES DE CRÍA Y CEBA. Grupo de Trabajo en Bovinos para Carne Departamento de Industria Pecuaria Colegio de Ciencias Agrícolas Recinto Universitario de Mayagüez

Centro de Recursos Informativos Digitales Agrícolas de Puerto Rico (CRIDAG) (2018) http://www.cridag.net/industrias/carne/

Curbelo-Rodríguez JE, Rodríguez-Cruz V Almeida-Montenegro A (2016) Evaluation of the thermoregulatory capacity of wild-type Holstein cows, Slick-Hair Holstein cows and Jersey cows. [Evaluación de la capacidad termoregulatoria en bovinos lecheros Holstein pelona puertorriqueña, Holstein normal y Jersey]. Approved for publication in Journal of Agriculture of the University of Puerto Rico:100(1):1-12

De Alba J (1987) Criolo cattle of Latin America. In: Hodges J (ed) Animal genetic resources: strategies for improved use and conservation FAO animal production and health paper 66 Rome, Food and agriculture organization of the United Nations, pp 17–40

Dikmen S, Alava E, Pontes E, Fear JM, Dikmen BY, Olson TA, Hansen PJ (2008) Differences in thermoregulatory ability between slick-haired and wild-type lactating Holstein cows in response to acute heat stress. J Dairy Sci 91:3395–3402

Dikmen S, Cole JB, Null DJ, Hansen PJ (2012) Heritability of rectal temperature and genetic correlations with production and reproduction traits in dairy cattle. J Dairy Sci 95(6):3401–3405

Dikmen SF, Khan A, Huson HJ, Sonstegard TS, Moss JI, Dahl GE, Hansen PJ (2014) The SLICK hair locus derived from Senepol cattle confers thermotolerance to intensively managed lactating Holstein cows. J Dairy Sci 97:5508–5520

Duewer LA, Nelson KE, & Crawford TL (1989) Effects of meat imports on the Puerto Rican livestock-meat industry animal industry. Economic Research Service: Department of Agriculture, pp 49

Flori L, Gonzatti MI, Thevenon S, Chantal I, Pinto J, Berthier D, …, & Gautier M (2012) A quasi-exclusive European ancestry in the Senepol tropical cattle breed highlights the importance of the slick locus in tropical adaptation. PLoS One 7(5):e36133

Gould WA, Fain SJ, Pares IK, McGinley K, Perry A, and Steele RF (2015) Caribbean regional climate sub hub assessment of climate change vulnerability and adaptation and mitigation strategies. United States Department of Agriculture, 67 pp.

Hayes BJ, Bowman PJ, Chamberlain AJ, Savin K, Van Tassell CP, Sonstegard TS, Goddard ME (2009) A validated genome wide association study to breed cattle adapted to an environment altered by climate change. PLoS One 4(8):e6676

Hayhoe K (2013) Quantifying key drivers of climate variability and change for Puerto Rico and the Caribbean final report 1 Oct 2011–30 Sep 2012, pp 241

Henareh Khalyani A, Gould WA, Harmsen E, Terando A, Quinones M, & Collazo JA (2016) Climate change implications for tropical islands: interpolating and interpreting statistically downscaled GCM projections for management and planning. J Appl Meteorol Climatol (2015)

Karmalkar AV, Taylor MA, Campbell J, Stephenson T, New M, Centella A, …, & Charlery J (2013) A review of observed and projected changes in climate for the islands in the Caribbean. Atmósfera 26(2):283–309

López-López R (2015) Personal communication with dairy farmer agro. Rafael López-López

Mariasegaram M, Chase CC, Chaparro JX, Olson TA, Brenneman RA, Niedz RP (2007) The slick hair coat locus maps to chromosome 20 in Senepol-derived cattle. Anim Genet 38(1):54–59

Mejía RM, Ortuño JA, Lascano GJ, & Vélez M (2010) Effects on lactation performance when slick hair gene is simulated in dairy cattle in the tropics. J. Anim. Sci. Vol. 88, E­Suppl. 2/J. Dairy Sci. Vol. 93, E­Suppl. 1/Poult. Sci. Vol. 89, E­Suppl. 1 643 

Molina-Fernández JF (2001) Origin and development of the dairy industry of Puerto Rico. The Dairy Industry of Puerto Rico [Origen y desarrollo de la industria lechera en Puerto Rico. Página 30 en La industria lechera en Puerto Rico]. NUPRESS of Miami, Inc, Miami, pp 30

Monclova H (2014) Can Puerto Rico revive agriculture? Caribbean business edition, pp 42–16

National Agricultural Statistics Service (2014) State and county profiles. Retrieved from: http://www.agcensus.usda.gov/Publications/2012/Online_Resources/County_Profiles/

Olson TA, Lucena C, Chase CC, Hammond AC (2003) Evidence of a major gene influencing hair length and heat tolerance in Bos taurus cattle. J Anim Sci 81(1):80–90

Ortiz-Colón G (2011) Impacto Sobre La Producción Agrícola Y Prácticas De Adaptación: La Industria Lechera De Puerto Rico Frente Al Cambio Climático Guía Curricular del Servicio de Extensión Agrícola

Pantoja J, Olson T, Ruiz T, Custodio Á, Vallejo B, Pagán M (2005) Evaluation of factors that influence dairy productivity in dairy cows with short hair in the tropics. Proc Annu Meet Puerto Rican Soc Agric Sci 27:70

Patiño-Chaparro JM, Pagán-Morales M, Ortiz-Colón G, Jiménez-Cabán E (2014) Association between genetic variation in the follicule stimulating hormone receptor (FSHR) promoter and economic important traits in Holstein cows genotipically charaterized as Slick or Wild type hair type. Proc Annu Meet Puerto Rican Soc Agric Sci 38:12

Ramírez A (1998) The Cooperative Extension Service and the development of the dairy industry in Puerto Rico. [El Servicio de Extensión Agrícola y el desarrollo de la industria lechera en Puerto Rico. Proceedings of the Annual Meeting of the Puerto Rican Society of Agricultural Sciences. 22:1

Ravagnolo O, Misztal I (2000) Genetic component of heat stress in dairy cattle, parameter estimation. J Dairy Sci 83(9):2126–2130

Puerto Rico Department of Agriculture (PRDA), Regulatory Office of the Dairy Industry (2014) Annual report. San Juan, Puerto Rico. http://www.2pr.gov/agencias/Agricultura/ORIL/Documents/INFORME%20ANUAL%202013-2014.pdf

West JW (2003) Effects of heat-stress on production in dairy cattle. J Dairy Sci 86:2131–2144

Wheelock JB, Rhoads RP, Van Baale MJ, Sanders SR, Baumgard LH (2010) Effects of heat stress on energetic metabolism in lactating Holstein cows1. J Dairy Sci 93:644–655
Additional information
This article is part of a Special Issue on "Vulnerability Assessment of US Agriculture and Forests developed by the USDA Climate Hubs" edited by Jerry L. Hatfield, Rachel Steele, Beatrice van Horne, and William Gould.
About this article
Cite this article
Ortiz-Colón, G., Fain, S.J., Parés, I.K. et al. Assessing climate vulnerabilities and adaptive strategies for resilient beef and dairy operations in the tropics. Climatic Change 146, 47–58 (2018). https://doi.org/10.1007/s10584-017-2110-1
Received:

Accepted:

Published:

Issue Date:

DOI: https://doi.org/10.1007/s10584-017-2110-1
Keywords