Abstract
Study on variability in area, production, and productivity of coffee in India during last decade indicates that area and production of coffee is increasing whereas yield of coffee is decreasing trend during the period 1990–1991 to 2015–2016. There was increasing trend of Robusta coffee and decreasing trend of Arabica coffee yields in India with three distinct periods due to climate change. Micro-level study was conducted on variability in yield of Arabica and Robusta coffee vis-à-vis climate change, variability of parameters like rainfall (RF), maximum temperature (Tmax), minimum temperature (Tmin), and mean relative humidity (RH) was undertaken with data recorded at Regional Coffee Research Station, Chundale, Wayanad, Kerala State. The yield data for 35 years (1980 to 2014) revealed that the yield of Robusta coffee was higher than that of Arabica coffee in most of the years due to favorable climate requirements in Kerala. There was increasing trend of yield of Robusta coffee in Kerala and decreasing trend of Arabica coffee. Blossom showers had significance influence in increasing the yield of coffee rather than total annual rainfall in Robusta coffee. El Niño events have little effect on coffee production in India in general, and out of 11 El Niño years, only 3 years coffee productivity was adversely affected. However, with respect to Kerala, Arabica yield was adversely affected in strong El Niño years, which was again confirmed with NDVI anomaly too.
Access options
Buy single article
Instant access to the full article PDF.
US$ 39.95
Tax calculation will be finalised during checkout.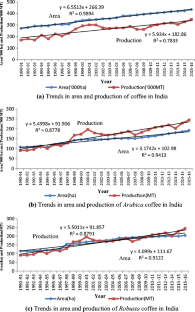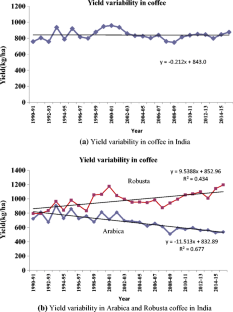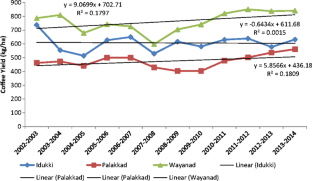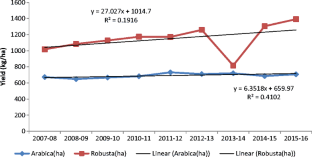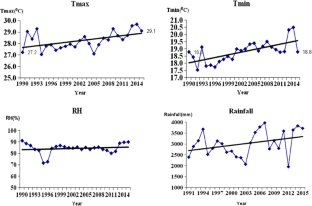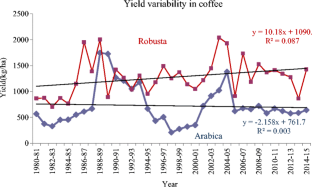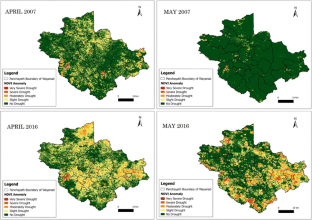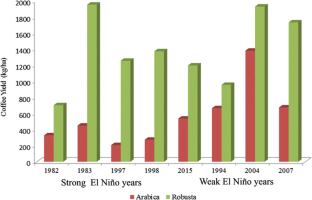 References
Ashoka N, Naik BK, Kulkarni VS (2013) Analysis of trends and instability in area, production and productivity of Indian coffee. Int J Commer Bus Manag 6(1):103–107

Avelino J, Cristancho M, Georgiou S, Imbach P, Aguilar L, Bornemann G, Läderach P, Anzueto F, Hruska AJ, Morales C (2015) The coffee rust crises in Colombia and central America (2008–2013): impacts, plausible causes and proposed solutions. 7:303–321. https://doi.org/10.1007/s12571-015-0446-9

Bunn C, Läderach P, Ovalle Rivera O, Kirschke D (2014) A bitter cup: climate change profile of global production of Arabica and Robusta coffee. Clim Chang 129:89–101

Coffee Guide (2010) Climate change and the coffee industry (technical paper). Abstract for trade information services, International Trade Centre (ITC), Geneva, p 28

Craparo ACW, Van Asten PJA, Läderach P, Jassogne LTP, Grab SW (2015) Coffea arabica yields decline in Tanzania due to climate change: global implications. Agric For Meteorol 207:1–10

Davis APGT, Baena S, Moat J (2012) The impact of climate change on indigenous arabica coffee (Coffea arabica): predicting future trends and identifying priorities. PLoS One 7(11):e47981. https://doi.org/10.1371/journal. pone.0047981

Fisher RA, Yates F (1938) Statistical tables for biological, agricultural and medical research. Oliver and Boyd, London, p 146

Garcia LJ, Posada-Suarez H, Läderach P (2014) Recommendations for the regionalizing of coffee cultivation in Colombia: a methodological proposal based on agro-climatic indices. PLoS One 9:e113510

GoK (2005) Area, production and productivity trend of important crops in Kerala(from 1985–86 to 2004–05). Department of Economics & Statistics, Thiruvananthapuram, p 25

Gopakumar CS (2011). Impacts of climate variability on agriculture in Kerala, Ph.D thesis submitted to the Cochin University of Science and Technology, Cochin, p.1–267

ICC (2009) Climate change and coffee. ICC 103–6 Rev. 1, International Coffee Council 103rd Session 23–25 September 2009 London, England

Illy A, Viani, R(2005) Espresso coffee: the science of quality. Academic Press, p. 47. ISBN 0–12–370371-9

IMD (2015) Annual climate summary—2014.Indian Meteorological Department, Government of India. Pp- 24

Jayakumar M, Rajavel M (2017) Coffee yield forecasting using climate indices based agrometeorological model in Kerala. Mausam 68:309–316

Jayakumar M, Rajavel M, Surendran U (2016) Climate-based statistical regression models for crop yield forecasting of coffee in humid tropical Kerala, India. Int J Biometeorol 60:1943–1952. https://doi.org/10.1007/s00484-016-1181-4

Jayakumar M, Rajavel M, Solaimalai A (2013) Climate variability and yield of coffee in Kerala. Asian Acad Res J Multidiscip 15(1):366–379

Kannan K, Devadas VS, Thomas CG (1987) Effect of weather parameters on the productivity of coffee and pepper in Wayanad. In: Proceedings of National Seminar on Agrometeorology of plantation crops held at RARS, Pilicode during March 12–13, 1987, p.187

Keshavamurthy RN (1982) Response of the atmosphere to sea surface temperature anomalies over the equatorial Pacific and the teleconnections of the southern oscillation. J Atmos Sci 39:1241–1259

KSAPCC (2014) State action plan on climate change. Department of environment and climate change, Government of Kerala, Thiruvananthapuram, p 35

Malyadri P (2016) Status of coffee plantation in India: a high time for innovation and sustainability towards make in India. VSRD Int J Bus Manag Res 6(2):47–50

Null J (2011) El Niño and La Niña intensities. http://ggweather.com/enso/oni.htm

Ovalle-Rivera O, Läderach P, Bunn C, Obersteiner M, Schroth G (2015) Projected shifts in Coffea arabica suitability among major global producing regions due to climate change. https://doi.org/10.1371/journal.pone.0124155

Pant GB, Kumar RK (1997) Climates of South Asia. John Wiley & Sons, Chichester, p 320

Peter L, Julian RV, Carlos NR, Carlos Z, Armando MV, Andy J (2017) Climate change adaptation of coffee production in space and time. Clim Chang 141:47–62

Rao GSLHVP (2016) Weather extremes and plantation crops the tropics. Mausam 67(1):251–258

Shree (2013) A study on the impact of climate change on the productivity and women employment in coffee and tea plantations in India. Int J Sci Res 2:505–509

Sunil KM, Devadas VS (2004) Effect of weather on the productivity of black pepper and coffee under Wayanad conditions. In: Proceedings of the National Seminar on Climate change Adaptation strategies held at KAU Main Campus during, December 3–4, 2004. p.171–175

Surendran U, Jayakumar M, Marimuthu S (2016) Low cost drip irrigation: impact on sugarcane yield, water and energy saving in semiarid tropical agro ecosystem in India. Sci Total Environ 570:1430–1440

Surendran U, Sushanth CM, George Mammen Joseph EJ (2017) FAO-CROPWAT model-based estimation of crop water need and appraisal of water resources for sustainable water resource management: pilot study for Kollam district—humid tropical region of Kerala. India Curr Sci 112:76–86

Surendran U, Sushanth CM, George Mammen Joseph EJ (2014) Modeling the impacts of increase in temperature on irrigation water requirements in Palakkad district—a case study in humid tropical Kerala. J Water Clim Chang 5(3):471–487
Acknowledgements
The authors are thankful to the CWRDM, Coffee Board, IMD and TNAU for providing the necessary support and encouragement for smooth completion of this study. Research funding support from the TIFAC- DST, MoWR, Government of India is gratefully acknowledged.
About this article
Cite this article
Jayakumar, M., Rajavel, M., Surendran, U. et al. Impact of climate variability on coffee yield in India—with a micro-level case study using long-term coffee yield data of humid tropical Kerala. Climatic Change 145, 335–349 (2017). https://doi.org/10.1007/s10584-017-2101-2
Received:

Accepted:

Published:

Issue Date: