Abstract
Adaptation gaps are shortcomings of a system responding to climate change, whereas adaptation deficits are shortcomings in providing services. These two drivers for adaptation are often in conflict in many secondary cities in the global south (SCGS). It is possible to align these seemingly conflicting drivers into a productive unity, a conceptual alignment, which is the first step in achieving harmony while implementing adaptation actions. This paper focuses on the practical aspects of implementing aligned adaptation action that leads to improvements in liveability, sustainability, and resilience of SCGS. At an abstract level, the nature of the adaptation problem is similar to the complex problems identified in various domains, such as software development, manufacturing, and supply chain management. The widely accepted "agile principles"—used in the above domains—is the basis for developing a set of twelve principles for urban adaptation, which are synthesized from numerous recent studies that have implicitly proposed or applied most of these principles to climate change adaptation in urban settings. These principles lead to four essential objectives appertaining to the process of sustainable urban adaptation. The urban agile principles are used to analyze the current state of adaptation of Can Tho City in Vietnam and to ascertain the agile ways of addressing its adaptation challenges. Analysis of the outcomes shows that harmonized approaches can simultaneously address both adaptation deficits and gaps.
Access options
Buy single article
Instant access to the full article PDF.
US$ 39.95
Tax calculation will be finalised during checkout.
Subscribe to journal
Immediate online access to all issues from 2019. Subscription will auto renew annually.
US$ 119
Tax calculation will be finalised during checkout.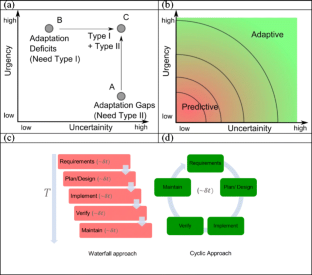 Notes
1.

Path dependency is the causal dependence of a decision on past decisions. For example, some types of sustainable drainage systems (e.g., detention storage) will depend on the separation of storm water and sewage. Historical decision to have a combined sewer system has major implications on how these will be implemented in today's context.
References
100 Resilient Cities (2017) City Strategies. http://www.100resilientcities.org/strategies#/-_/. Accessed 27th March 2017

Aerts JCJH, Botzen WJW, Emanuel K, Lin N, de Moel H, Michel-Kerjan EO (2014) Evaluating flood resilience strategies for coastal megacities. Science 344:473–475. https://doi.org/10.1126/science.1248222

Allen C, Birge H, Bartelt-Hunt S, Bevans R, Burnett J, Cosens B, Cai X, Garmestani A, Linkov I, Scott E, Solomon M, Uden D (2016) Avoiding decline: fostering resilience and sustainability in midsize cities. Sustainability 8:844

Ashley RM, Blanskby J, Newman R, Gersonius B, Poole A, Lindley G, Smith S, Ogden S, Nowell R (2012) Learning and action alliances to build capacity for flood resilience. J Flood Risk Manag 5:14–22. https://doi.org/10.1111/j.1753-318X.2011.01108.x

Ashley MR, Digman CJ, Horton B (2016) Demonstrating and monetizing the multiple benefits from using sustainable drainage. In: World Water Congress, Brisbane, Australia, IWA

Beck K, Beedle M, van Bennekum A, Cockburn A, Cunningham W, Fowler M, Grenning J, Highsmith J, Hunt A, Jeffries R, Kern J, Marick B, Martin R, Mallor S, Shwaber K, Sutherland J (2001) The Agile Manifesto. Agile manifesto.org. http://agilemanifesto.org/. Accessed 06/10/2016 2016

Bernardes ES, Hanna MD (2009) A theoretical review of flexibility, agility and responsiveness in the operations management literature: toward a conceptual definition of customer responsiveness. Int J Oper Prod Manag 29:30–53. https://doi.org/10.1108/01443570910925352

Birkmann J, Garschagen M, Van Tuan V, Binh N (2012) Vulnerability, coping and adaptation to water related hazards in the Vietnamese Mekong Delta. In: Renaud FG, Kuenzer C (eds) The Mekong Delta System. Springer Environmental Science and Engineering. Springer Netherlands, pp 245–289. doi:https://doi.org/10.1007/978-94-007-3962-8_10

Brown R, Keath N, Wong T (2009) Urban water management in cities: historical, current and future regimes. Water Sci Technol—WST 59:847–855

Burton I (2004) Climate change and adaptation deficit. In: Adam Fenech RBR, Don MacIver and Heather Auld (ed) International Conference on Adaptation Science, Management and Policy Options, Lijiang, Yunnan, China, May 17–19, 2004. AIRG, Meteorogical Service of Canada, Environment Canada, pp 25–33

Cettner A, Ashley R, Hedström A, Viklander M (2014) Assessing receptivity for change in urban stormwater management and contexts for action. J Environ Manag 146:29–41. https://doi.org/10.1016/j.jenvman.2014.07.024

Chang M (2010) Agile and Crystal Clear with Library IT Innovations. In: VALA2010 Conference

Chu E, Anguelovski I, Carmin J (2015) Inclusive approaches to urban climate adaptation planning and implementation in the global south climate policy:1-21 doi:https://doi.org/10.1080/14693062.2015.1019822

Clemens M, Rijke J, Pathirana A, Quan NH (2014) Effective stakeholder analysis for urban flood resilience in Vietnam using design proposition. Paper presented at the 13 th International Conference on Urban Drainage, Sarawak, Malaysia, 7–12 September 2014

Dunn G, Brown R, Bos JJ, Bakker K (2016) Standing on the shoulders of the giants: understanding changes in urban water practices through the lens of complexity sciences. Urban Water. https://doi.org/10.1080/1573062X.2016.1241284

EEA (2016) Urban adaptation to climate change in Europe : transforming cities in a changing climate. European Environment Agency, Copenhagen

Fowler M, Highsmith J (2001) The agile manifesto Software Development 9:28–35

Garschagen M (2014) Risky change? Vulnerability and adaptation between climate change and transformation dynamics in Can Tho City, Vietnam vol 15. Megacities and Global Change, Steiner

Gersonius B, Ashley R, Pathirana A, Zevenbergen C (2012a) Adaptation of flood risk infrastructure to climate resilience. Proc Inst Civ Eng Civ Eng 165:40–45. https://doi.org/10.1680/cien.11.00053

Gersonius B, Nasruddin F, Ashley R, Jeuken A, Pathirana A, Zevenbergen C (2012b) Developing the evidence base for mainstreaming adaptation of stormwater systems to climate change. Water Res 46:6824–6835. https://doi.org/10.1016/j.watres.2012.03.060

Gersonius B, Ashley R, Pathirana A, Zevenbergen C (2013) Climate change uncertainty: building flexibility into water and flood risk infrastructure. Clim Chang 116:411–423. https://doi.org/10.1007/s10584-012-0494-5

Hallegatte S, Henriet F, Corfee-Morlot J (2011) The economics of climate change impacts and policy benefits at city scale: a conceptual framework. Clim Chang 104:51–87. https://doi.org/10.1007/s10584-010-9976-5

Holweg M (2005) The three dimensions of responsiveness. Int J Oper Prod Manag 25:603–622. https://doi.org/10.1108/01443570510605063

Huong H, Pathirana A (2013) Urbanization and climate change impacts on future urban flood risk in Can Tho city. Vietnam Hydrol Earth Syst Sci Discuss 17:379–394. https://doi.org/10.5194/hess-17-379-2013

Hurley L, Ashley R, Mounce S (2008) Addressing practical problems in sustainability assessment frameworks. Proc Inst Civ Eng - Eng Sustain 161:23–30. https://doi.org/10.1680/ensu.2008.161.1.23

IPCC (2014) Climate change 2014: impacts, adaptation, and vulnerability. Summaries, frequently asked questions, and cross-chapter boxes A Contribution of Working Group II to the Fifth Assessment Report of the Intergovernmental Panel on Climate Change [Field, C.B., V.R. Barros, D.J. Dokken, K.J. Mach, M.D. Mastrandrea, T.E. Bilir, M. Chatterjee, K.L. Ebi, Y.O. Estrada, R.C. Genova, B. Girma, E.S. Kissel, A.N. Levy, S. MacCracken,P.R. Mastrandrea, and L.L. White (eds.)]:190

Kettunen P (2009) Adopting key lessons from agile manufacturing to agile software product development—a comparative study. Technovation 29:408–422. https://doi.org/10.1016/j.technovation.2008.10.003

Klijn F, Kreibich H, de Moel H, Penning-Rowsell E (2015) Adaptive flood risk management planning based on a comprehensive flood risk conceptualisation. Mitig Adapt Strateg Glob Change:1–20 doi:https://doi.org/10.1007/s11027-015-9638-z

Koste LL, Malhotra MK (1999) A theoretical framework for analyzing the dimensions of manufacturing flexibility. J Oper Manag 18:75–93. https://doi.org/10.1016/S0272-6963(99)00010-8

Leffingwell D (2010) Agile software requirements: lean requirements practices for teams, programs, and the enterprise. Addison-Wesley Professional

McGaughey RE (1999) Internet technology: contributing to agility in the twenty-first century. Int J Agil Manag Syst 1:7–13. https://doi.org/10.1108/14654659910266655

MDP (2013) Mekong Delta Plan—Long-term vision and strategy for a safe, prosperous and sustainable delta. Ministry of Natural Rescources and Environment—Vietnam, Ministry of Agriculture and Rural Development—Vietnam, Kingdom of Netherlands, Consortium of Royal HaskoningDHV, Wageningen University and Research Centre, Deltares, Rebel, Water.nl, Amersfoot, Nertherlands

Moench M, Tyler S, Lage J (2011) Catalyzing Urban Climate Resilience: Applying Resilience Concepts to Planning Practice in the ACCCRN Program (2009–2011). Institute for Social and Environmental Transition, International

Pathirana A, Radhakrishnan M, Quan NH, Zevenbergen C (2017) Managing urban water systems with significant adaptation deficits—unified framework for secondary cities : part I—conceptual framework. Clim Change:1–14 doi:https://doi.org/10.1007/s10584-017-1953-9

Pham CH, Ehlers E, Subramanian SV (2009) Dyke system planning: theory and practice in Can Tho City, Vietnam. ZEF Working Paper Series,

PM (2013) Decision 567, 568 dated 14 September 2013 of the Prime Minister (PM) approving Socio Economic Development Plan of Can Tho city till 2020 and Vision 2030. Prime Ministers Office, Ha Noi

Poustie MS, Frantzeskaki N, Brown RR (2016) A transition scenario for leapfrogging to a sustainable urban water future in Port Vila, Vanuatu. Technol Forecast Soc Chang 105:129–139. https://doi.org/10.1016/j.techfore.2015.12.008

Pressman RS (2005) Software engineering: a practitioner's approach. Palgrave Macmillan

Quan NH, Phi HL, Tran PG, Radhakrishnan M, Quang CNX, Thuyen LX, Vinh KQ (2014) Urban retention basin in developing city: from theoretical effectiveness to practical feasibility. Paper presented at the 13th International Conference on Urban Drainage, Kuching, Malaysia

Radhakrishnan M (2015) Closing the gap between knowledge and practice. Mare Asia. http://mare-asia.net/closing-the-gap-between-knowledge-and-practice/. Accessed 12 Feb 2016

Radhakrishnan M, Quan NH, Gersonius B, Pathirana A, Vinh KQ, Ashley MR, Zevenbergen C (2017) Coping capacities for improving adaptation pathways for flood protection in Can Tho, Vietnam Clim Change doi:https://doi.org/10.1007/s10584-017-1999-8

Revi A, Satterthwaite DE, Aragón-Durand F, Corfee-Morlot J, Kiunsi RBR, Pelling M, Roberts DC, Solecki W (2014) Urban areas. In: Field CB et al. (eds) Climate Change 2014: Impacts, Adaptation, and Vulnerability. Part A: Global and Sectoral Aspects. Contribution of Working Group II to the Fifth Assessment Report of the Intergovernmental Panel of Climate Change. Cambridge University Press, Cambridge, United Kingdom and New York, NY, USA, pp 535–612

Roberts BH (2014) Managing Systems of Secondary Cities—policy responses in international development. City Alliance / UNOPS, Brussels

Rogers CD, Lombardi DR, Leach JM, Cooper R (2012) The urban futures methodology applied to urban regeneration proceedings of ICE engineering. Sustainability 165:5–20

Sánchez AM, Pérez MP (2005) Supply chain flexibility and firm performance: a conceptual model and empirical study in the automotive industry. Int J Oper Prod Manag 25:681–700. https://doi.org/10.1108/01443570510605090

Sayers P, Galloway G, Penning-Rowsell E, Yuanyuan L, Fuxin S, Yiwei C, Kang W, Le Quesne T, Wang L, Guan Y (2015) Strategic flood management: ten 'golden rules' to guide a sound approach international. J River Basin Manag 13:137–151. https://doi.org/10.1080/15715124.2014.902378

SCE (2013) Can Tho ( Vietnam) : Comprehensive Resilience Planning For Integrated Flood Risk Mangement—Final Report WorldBank

Spiller M, Vreeburg JHG, Leusbrock I, Zeeman G (2015) Flexible design in water and wastewater engineering—definitions, literature and decision guide. J Environ Manag 149:271–281. https://doi.org/10.1016/j.jenvman.2014.09.031

Tyler S, Moench M (2012) A framework for urban climate resilience. Clim Dev 4:311–326. https://doi.org/10.1080/17565529.2012.745389

UNEP (2014) The adaptation gap report 2014. United Nations Environment Programme (UNEP), Nairobi

Wendler R (2013) The structure of agility from different perspectives. In: Computer Science and Information Systems (FedCSIS), 2013 Federated Conference on, 8–11 Sept. 2013 pp 1177–1184

World Bank (2014) Can Tho, Vietnam enhancing urban resilience : cities strength—resilient cities program. The World Bank Group, Washington

Young K, Hall JW (2015) Introducing system interdependency into infrastructure appraisal: from projects to portfolios to pathways. Infrastructure Complexity 2:1–18. https://doi.org/10.1186/s40551-015-0005-8

Zevenbergen C, van de Guchte C, Pathirana A, Wieriks K, Heineke N V (2015) Water and Delta-Cities: Accelerating Urban Resilience Paper presented at the International Conference on Earth Observation & Societal Impacts and ICLEI Resilience Forum, Kaohsiung, Taiwan, ROC, June 28–30
Additional information
This article is part of a Special Issue on "Climatic Change and Development in the Mekong River Basin" edited by Jaap Evers and Assela Pathirana
About this article
Cite this article
Pathirana, A., Radhakrishnan, M., Ashley, R. et al. Managing urban water systems with significant adaptation deficits—unified framework for secondary cities: part II—the practice. Climatic Change 149, 57–74 (2018). https://doi.org/10.1007/s10584-017-2059-0
Received:

Accepted:

Published:

Issue Date: