Abstract
In their recent publication "Carbon balance effects of U.S. biofuel production and use," DeCicco et al. present an empirical assessment of net CO2 emission effects over the period 2005–2013 after the US renewable fuel standard (RFS) came into existence and conclude that biofuels have resulted in a net increase in CO2 emissions over the period. The analysis presented by DeCicco et al. relies on three key assertions. First, that if biofuel carbon combustion emissions are not completely offset by additional net ecosystem production (NEP), then the biofuel should not receive full biogenic carbon credit. Second, that changes in agricultural NEP related to biofuel production can be accurately estimated from national-level agricultural production statistics. Third, that agricultural NEP is a pertinent measure of biofuel global warming impacts. We show that following the conventional definition of NEP the combustion of biofuel by definition leads to an exactly equal increase in NEP; therefore, the first assertion is not meaningful. Regarding the second assertion, we show that estimation of biofuel-related NEP changes from agricultural production statistics is not a robust methodology. Finally, we argue that agricultural NEP is an important parameter for estimating land-use change effects, but in isolation is an irrelevant GHG metric for current biofuels. We find that the conclusions above from DeCicco et al. are unfounded and do not invalidate the application of biogenic carbon offsets in life cycle assessments of biofuels currently used in national and international regulations.
Access options
Buy single article
Instant access to the full article PDF.
US$ 39.95
Tax calculation will be finalised during checkout.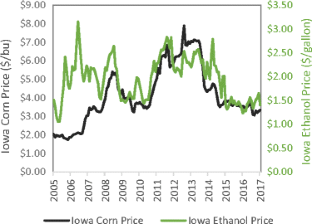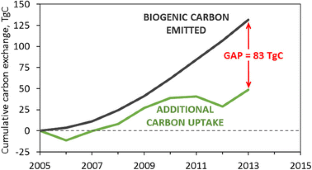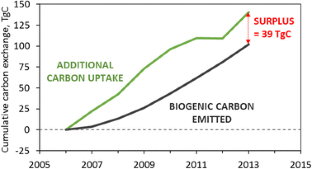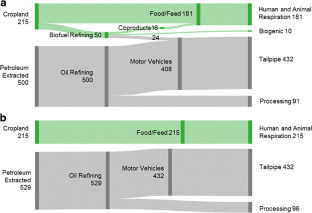 References
AGMRC (2017) Monthly comparison—energy prices vs. grain prices. Agricultural Marketing Resource Center. http://www.agmrc.org/renewable-energy/ethanol/fuel-and-grain-price-historic-comparisons/ Accessed March 15, 2017

Chapin FS, Woodwell GM, Randerson JT, et al. (2006) Reconciling Carbon-cycle Concepts, Terminology, and Methods. Ecosystems 9: 1041–1050.

DeCicco JM (2013) Biofuel's carbon balance: doubts, certainties and implications. Clim Chang 121(4):801–814

DeCicco JM, Liu DY, Heo J et al (2016) Carbon balance effects of U.S. biofuel production and use. Clim Chang 138:667–680

GREET (2016) GREET model, the greenhouse gases, regulated emissions, and energy use in transportation model, https://greet.es.anl.gov

IPCC (2000) In: Watson RT, Noble IR, Bolin B, Ravindranath NH, Verardo DJ, Dokken DJ (eds) Land use, land-use change, and forestry. Cambridge University Press, UK, p 375 http://www.ipcc.ch/ipccreports/sres/land_use/index.php?idp=24

Lovett GM, Cole JJ, Pace ML (2006) Is net ecosystem production equal to ecosystem carbon accumulation? Ecosystems 9:152–155

Mueller S (2016) Review of John DeCicco et al. article titled "Carbon balance effects of U.S. biofuel production and use." In: Energy Resources Center; The University of Illinois at Chicago. http://www.erc.uic.edu/assets/img/documents/UIC_Review_of_DeCicco_Sept_6sub.pdf. Accessed 10 Sep 2016

UNFCCC (2006) United Nations Framework Convention on Climate Change, updated UNFCCC reporting guidelines on annual inventories following incorporation of the provisions of decision 14/CP.11, report FCCC/SBSTA/2006/9

Westcott P, Jewison M (2013) Weather effects on expected corn and soybean yields. United States Department of Agriculture, Washington, DC

Woodwell GM, Whittaker RH (1968) Primary production in terrestrial ecosystems. Am Zool 8:19–30
About this article
Cite this article
De Kleine, R.D., Wallington, T.J., Anderson, J.E. et al. Commentary on "carbon balance effects of US biofuel production and use," by DeCicco et al. (2016). Climatic Change 144, 111–119 (2017). https://doi.org/10.1007/s10584-017-2032-y
Received:

Accepted:

Published:

Issue Date: