Abstract
Climate change studies consistently conclude that the Pacific Northwest (PNW) will increase in temperature with the greatest change occurring as hotter summer temperatures, precipitation becomes more uncertain with projections for wetter winters and drier summers, a decline in snowpack and an increase in wildfire risk. These impacts on rangeland and pastures affect forage growth and the timing of forage availability for grazing, affecting stocking rates, turn-out dates, and end of grazing gather dates. The magnitude of projected climate change will be dynamic year to year which adds significant challenges to implementing effective grazing management plans. The PNW has about 1.3 million head of beef cows that are the primary grazing resource users. Cow-calf producers' production costs will increase to offset climate change impacts, but PNW cattle producers have an economic comparative advantage to other regions more negatively impacted by climate change such as the Southwest. The PNW is projected to have lower drought risk and the PNW's extensive irrigation system can produce feedstuffs to offset drought-reduced grazing resources.
This is a preview of subscription content, log in to check access.
Access options
Buy single article
Instant access to the full article PDF.
US$ 39.95
Price includes VAT for USA
Subscribe to journal
Immediate online access to all issues from 2019. Subscription will auto renew annually.
US$ 199
This is the net price. Taxes to be calculated in checkout.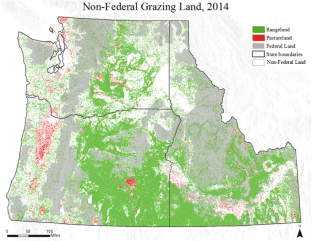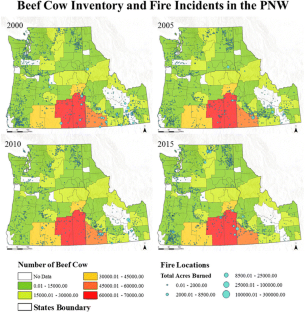 References
Archer SR, Predick KI (2008) Climate change and ecosystems of the Southwestern United States. Rangelands 30(3):23–28

Blackwood I (2006) Sawdust—a suitable roughage in drought? Primefacts, http://www.dpi.nsw.gov.au/__data/assets/pdf_file/0010/95779/sawdust-a-suitable-roughage-in-drought.pdf

Booth DT, Tueller TE (2003) Rangeland monitoring using remote sensing. Arid Land Res Manag 17(4):455–467

Chambers JC, Pellant M (2008) Climate change impacts on northwestern and intermountain United States rangelands. Rangelands 30(3):29–33

ESRI (2016) ESRI releases Drone2Maps for ArcGIS, http://www.esri.com/esri-news/releases/16-1qtr/esri-releases-drone2map-for-arcgis

Feuz DM (2009) A comparison of the effectiveness of using futures, options, LRP insurance, or AGR-Lite insurance to manage risk for cow-calf producers. Proceedings of the NCCC-134 Conference on Applied Commodity Price Analysis, Forecasting, and Market Risk Management. St. Louis, MO. http://www.farmdoc.illinois.edu/nccc134/conf_2009/pdf/confp12-09.pdf

Forabosco F, Groen AF, Bozzi R, Van Arendonk JA, Filippini F, Boettcher P, Bijma P (2004) Phenotypic relationships between longevity, type traits, and production in Chianina beef cattle. J Anim Sci 82:1572–1580

Gregory NG (2010) How climatic changes could affect meat quality. Food Res Int 43(7):1866–1873

Hunt JR, Raymond E, Everitt JH, Ritchie JC, Moran M, Booth D, Anderson T, Gerald L, Clark PE, Seyfried MS (2003) Applications and research using remote sensing for rangeland management. Photogramm Eng Remote Sens 6:675–693

IPCC (2013) In: Stocker TF, Qin D, Plattner G-K, Tignor M, Allen SK, Boschung J, Nauels A, Xia Y, Bex V, Midgley PM (eds) Climate change 2013: the physical science basis. Contribution of Working Group I to the Fifth Assessment Report of the Intergovernmental Panel on Climate Change. Cambridge University Press, Cambridge, p 1535

Mitlohner FM, Morrow JL, Dailey JS, Wilson SC, Galyean ML, Miller MF, McGlone JJ (2001) Shade and water misting effects on behavior, physiology, performance, and carcass traits of heat-stressed feedlot cattle. J. Anim Sci 79:2327–2335

Mote PW, Hamlet AF, Clark MP, Lettenmaier DP (2005) Declining mountain snowpack in western North America. Bull Am Meteorol Soc 86(1):39–49

Nardone A, Ronchi B, Lacetera N, Ranieri MS, Bernabucci U (2010) Effects of climate changes on animal production and sustainability of livestock systems. Livest Sci 130(1):57–69

Neibergs JS, Galinato SP, Tozer P, Brady M (2015) 2014 Economic contribution analysis of the Washington beef industry, Washington State University WP2015:21

NOAA National Centers for Environmental Information (2000) State of the climate: drought for summer, published online September 2000, retrieved on August 9, 2016 from http://www.ncdc.noaa.gov/sotc/drought/200016

Pechony O, Shindell DT (2010) Driving forces of global wildfires over the past millennium and the forthcoming century. Proc Natl Acad Sci U S A 107:19167–19170

Polly WH, Briske DD, Morgan JA, Wolter K, Bailey DW, Brown JR (2013) Climate change and North American rangelands: trends, projections and implications. Rangel Ecol Manag 66(5):493–511

Reeves MC, Moreno AL, Bagne KE, Running SW (2014) Estimating climate change effects on net primary production of rangeland in the United States. Climate Change 126:429–442

Roath LR, Krueger WC (1982) Cattle grazing and behavior on a forested range. J Range Manag 35(1):332–338

Rorig ML, Ferguson SA (2002) The 2000 fire season: lightning-caused fires. J Appl Meteorol 41:786–791

Society for Range Management (1998) Glossary of Terms. https://globalrangelands.org/glossary/O?term=

Tronstad R, Gum R (1994) Cow culling decisions adapted for management with CART. Am J Agric Econ 76(2):237–249

USDA FSA (2016) Livestock forage disaster program. 2014 Farm bill fact sheet. https://www.fsa.usda.gov/Assets/USDA-FSA-Public/usdafiles/FactSheets/2016/2016_livestock_forage_disaster_program.pdf

USDA RMA (2015) Pasture, rangeland, forage pilot insurance program. Risk Management Agency fact sheet. http://www.rma.usda.gov/pubs/rme/prfinsprog.pdf

USDOI Bureau of Reclamation (2016) Reclamation managing water in the west: chapter 4 Columbia River Basin, http://www.usbr.gov/climate/secure/docs/2016secure/2016SECUREReport-chapter4.pdf

Watts MJ, Shimshack JP, LaFrance JT (2006) Grazing fees versus stewardship on federal lands, California Agricultural Experiment Station, Giannini Foundation of Agricultural Economics, http://ageconsearch.umn.edu/bitstream/7151/2/wp061022.pdf

Williams JR, Saffert AT, Barnaby GA, Llewelyn RV, Langemeier MR (2014) A risk analysis of Adjusted Gross Revenue-Lite on beef farms. http://econpapers.repec.org/article/agsjoaaec/169057.htm
Additional information
This article is part of a Special Issue on ' Vulnerability Assessment of US Agriculture and Forests developed by the USDA Climate Hubs' edited by Jerry L. Hatfield, Rachel Steele, Beatrice van Horne, and William Gould.
About this article
Cite this article
Neibergs, J.S., Hudson, T.D., Kruger, C.E. et al. Estimating climate change effects on grazing management and beef cattle production in the Pacific Northwest. Climatic Change 146, 5–17 (2018). https://doi.org/10.1007/s10584-017-2014-0
Received:

Accepted:

Published:

Issue Date: