Abstract
The planning and phasing of adaptation responses are essential to tackle uncertainties and ensure positive outcomes while adapting to changing circumstances. Understanding the evolution of coping and adaptation responses and their capacities is a prerequisite for preparing an effective flood management plan for the future. The aim of this paper is to determine the effect of coping capacity on longer term adaptation responses in a flood risk management system. The objectives, requirements, targets, design, and performance of flood protection measures will have to be determined after taking into account, or in conjunction with, the coping capacities. A methodology has been developed and demonstrated based on an adaptation pathway approach to account for coping capacities and to assess the effect of these on flood protection measures. Application of this methodology for flood protection measures in Can Tho City in the Mekong Delta shows the effect of considering coping capacity for flood protection measures and the value in delaying the occurrence of tipping points. Coping measures such as elevating property floor levels can postpone the tipping points when dikes are no longer effective. Consideration of coping capacity in the system improves adaptation responses and leads to better adaptation outcomes.
Access options
Buy single article
Instant access to the full article PDF.
USD 39.95
Price excludes VAT (USA)
Tax calculation will be finalised during checkout.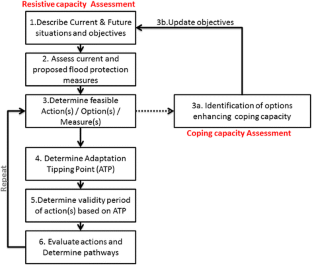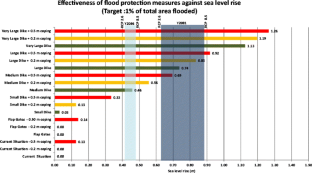 References
Adger WN et al (2009) Are there social limits to adaptation to climate change? Clim Chang 93:335–354. doi:10.1007/s10584-008-9520-z

Apel H, Martínez Trepat O, Hung NN, Chinh DT, Merz B, Dung NV (2016) Combined fluvial and pluvial urban flood hazard analysis: concept development and application to Can Tho City, Mekong Delta, Vietnam. Nat Hazards Earth Syst Sci 16:941

Ashley R, Gersonius B, Blanksby J, Stam J-M, Doncaster S (2013) Water sensitive urban design for the flood resilient city. Paper presented at the 8th International Conference on planning & technologies for sustainable urban water management, Lyon, France, June 23–27, 2013

Balmforth D, Digman C, Kellagher R, Butler D (2006) CIRIA C635: designing for exceedance in urban drainage—good practice. CIRIA, London

Birkmann J, Garschagen M, Kraas F, Quang N (2010) Adaptive urban governance: new challenges for the second generation of urban adaptation strategies to climate change. Sustain Sci 5:185–206

Bryant BP, Lempert RJ (2010) Thinking inside the box: a participatory, computer-assisted approach to scenario discovery. Technol Forecast Soc Chang 77:34–49. doi:10.1016/j.techfore.2009.08.002

De Neufville R, Scholtes S (2011) Flexibility in engineering design. The MIT Press

DWF (2011) Survey on perception of risk in Can Tho City. Development Workshop France, Lauzerte

Füssel H-M (2007) Adaptation planning for climate change: concepts, assessment approaches, and key lessons. Sustain Sci 2:265–275

Garschagen M (2014) Risky change? Vulnerability and adaptation between climate change and transformation dynamics in Can Tho City, Vietnam. Vol 15. Megacities and global change. Steiner, Stuttgart

Garschagen M (2015) Risky change? Vietnam's urban flood risk governance between climate dynamics and transformation. Pac Aff 88:599–621. doi:10.5509/2015883599

Groves DG, Lempert RJ (2007) A new analytic method for finding policy-relevant scenarios. Glob Environ Chang 17:73–85. doi:10.1016/j.gloenvcha.2006.11.006

Haasnoot M, Van Deursen W (2015) Pathways generator. Deltares and Carthago Consultancy. https://publicwiki.deltares.nl/display/AP/Adaptation+Pathways. Accessed 21 Sep 2016 2016

Haasnoot M, Middelkoop H, van Beek E, van Deursen WPA (2011) A method to develop sustainable water management strategies for an uncertain future. Sustain Dev 19:369–381. doi:10.1002/sd.438

Haasnoot M, Middelkoop H, Offermans A, Beek E, Deursen WPA (2012) Exploring pathways for sustainable water management in river deltas in a changing environment. Clim Chang 115:795–819. doi:10.1007/s10584-012-0444-2

Haasnoot M, Kwakkel JH, Walker WE, ter Maat J (2013) Dynamic adaptive policy pathways: a method for crafting robust decisions for a deeply uncertain world. Glob Environ Chang 23:485–498. doi:10.1016/j.gloenvcha.2012.12.006

Haasnoot M, van Deursen WPA, Guillaume JHA, Kwakkel JH, van Beek E, Middelkoop H (2014) Fit for purpose? Building and evaluating a fast, integrated model for exploring water policy pathways. Environ Model Softw 60:99–120. doi:10.1016/j.envsoft.2014.05.020

Huong H, Pathirana A (2013) Urbanization and climate change impacts on future urban flood risk in Can Tho City, Vietnam. Hydrol Earth Syst Sci Discuss 17:379–394. doi:10.5194/hess-17-379-2013

IPCC (2007) Climate Change 2007: impacts, adaptation and vulnerability contribution of Working Group II to the Fourth Assessment Report of the Intergovernmental Panel on Climate Change. Cambridge University Press, Cambridge

IPCC (2013) Working Group I contribution to the IPCC Fifth Assessment Report, Climate Change 2013: the Physical Science Basis,Summary for Policymakers IPCC, Geneva, Switzerland

James W, Huber W, Pitt R, Dickinson R, Rosener L, Aldrich J, James W (2002) SWMM4 user's manual (user's guide to the EPA Stormwater Management Model and to PCSWMM). University of Guelph and CHAI

Kasprzyk JR, Reed PM, Hadka DM (2016) Battling arrow's paradox to discover robust water management alternatives. J Water Resour Plan Manag 142:04015053. doi:10.1061/(ASCE)WR.1943-5452.0000572

Kwadijk JCJ et al (2010) Using adaptation tipping points to prepare for climate change and sea level rise: a case study in the Netherlands. Wiley Interdiscip Rev Clim Chang 1:729–740. doi:10.1002/wcc.64

Kwakkel JH, Walker WE, Marchau V (2010) Adaptive airport strategic planning. European Journal of Transport and Infrastructure Research (EJTIR) 10(3):2010

Kwakkel JH, Haasnoot M, Walker WE (2015) Developing dynamic adaptive policy pathways: a computer-assisted approach for developing adaptive strategies for a deeply uncertain world. Clim Chang 132:373–386. doi:10.1007/s10584-014-1210-4

Lempert RJ (2003) Shaping the next one hundred years: new methods for quantitative, long-term policy analysis. Rand Corporation

MDP (2013) Mekong Delta plan—long-term vision and strategy for a safe, prosperous and sustainable delta. Ministry of Natural Rescources and Environment—Vietnam, Ministry of Agriculture and Rural Development—Vietnam, Kingdom of Netherlands, Consortium of Royal HaskoningDHV, Wageningen University and Research Centre, Deltares, Rebel, Water.nl, Amersfoot

Newman R, Ashley R, Molyneux-Hodgson S, Cashman A (2011) Managing water as a socio-technical system: the shift from 'experts' to 'alliances'. Proceedings of the ICE-Engineering Sustainability 164:95–102

Offermans A, Haasnoot M, Valkering P (2011) A method to explore social response for sustainable water management strategies under changing conditions. Sustain Dev 19:312–324. doi:10.1002/sd.439

Quan NH, Phi HL, Tran PG, Radhakrishnan M, Quang CNX, Thuyen LX, Vinh KQ (2014) Urban retention basin in developing city: from theoretical effectiveness to practical feasibility. Paper presented at the 13th International Conference on Urban Drainage, Kuching, Malaysia

Rossman LA (2010) Storm water management model user's manual—version 5.0. United States Environmental Protection Agency, Cincinaati

SCE (2013) Can Tho ( Vietnam): comprehensive resilience planning for integrated flood risk mangement—final report WorldBank

SIWRP (2011) The flood protection plan for Can Tho City. Southern Institute for Water Resources Planning (SIWRP), Ho Chi Minh City

Van P, Popescu I, Van Griensven A, Solomatine D, Trung N, Green A (2012) A study of the climate change impacts on fluvial flood propagation in the Vietnamese Mekong Delta. Hydrol Earth Syst Sci 16:4637–4649

VIAP-SUIP (2013) Master plan of Can Tho City until 2030 and Vision to 2050 Southern Sub-Institute of Urban and Rural Planning (VIAP-SIUP), Ha Noi

Walker WE, Rahman SA, Cave J (2001) Adaptive policies, policy analysis, and policy-making. Eur J Oper Res 128:282–289. doi:10.1016/S0377-2217(00)00071-0

Walker WE, Haasnoot M, Kwakkel JH (2013) Adapt or perish: a review of planning approaches for adaptation under deep uncertainty. Sustainability 5:955–979

Wang T, De Neufville R (2005) Real options "in" projects 9th Real Options Annual International Conference, Paris, FR

Wassmann R, Hien N, Hoanh C, Tuong T (2004) Sea level rise affecting the Vietnamese Mekong Delta: water elevation in the flood season and implications for rice production. Clim Chang 66:89–107. doi:10.1023/B:CLIM.0000043144.69736.b7

World Bank (2014) Can Tho, Vietnam enhancing urban resilience: cities strength—resilient cities program. The World Bank Group, Washington

Zeff HB, Herman JD, Reed PM, Characklis GW (2016) Cooperative drought adaptation: integrating infrastructure development, conservation, and water transfers into adaptive policy pathways. Water Resour Res 52:7327–7346. doi:10.1002/2016wr018771
Acknowledgements
This technical paper is an outcome of an ongoing research funded by (a) Cooperative Research Centre for Water Sensitive Cities (CRC), an initiative of the Australian government and (b) PRoACC (Post-doctoral Programme on Climate Change Adaptation in the Mekong River Basin) programme by the Netherlands Ministry of Development Cooperation (DGIS) through the UNESCO-IHE Partnership Research Fund. PCSWMM software used for 1D-2D modelling was provided by Computational Hydraulics Education through an educational grant.
Additional information
This article is part of a Special Issue on "Climatic Change and Development in the Mekong River Basin" edited by Jaap Evers and Assela Pathirana.
About this article
Cite this article
Radhakrishnan, M., Nguyen, H., Gersonius, B. et al. Coping capacities for improving adaptation pathways for flood protection in Can Tho, Vietnam. Climatic Change 149, 29–41 (2018). https://doi.org/10.1007/s10584-017-1999-8
Received:

Accepted:

Published:

Issue Date:

DOI: https://doi.org/10.1007/s10584-017-1999-8