Abstract
We analyzed the effects of 10,748 weather events on attention to climate change between December 2011 and November 2014 in local areas across the USA. Attention was gauged by quantifying the relative increase in Twitter messages about climate change in the local area around the time of each event. Coastal floods, droughts, wildfires, strong wind, hail, excessive heat, extreme cold, and heavy snow events all had detectable effects. Attention was reliably higher directly after events began, compared to directly before. Financial damage associated with the weather events had a positive and significant effect on attention, although the effect was small. The abnormality of each weather event's occurrence compared to local historical activity was also a significant predictor. In particular and in line with past research, relative abnormalities in temperature (local warming) generated attention to climate change. In contrast, wind speed was predictive of attention to climate change in absolute levels. These results can be useful to predict short-term attention to climate change for strategic climate communications and to better forecast long-term climate policy support.
Access options
Buy single article
Instant access to the full article PDF.
USD 39.95
Price excludes VAT (USA)
Tax calculation will be finalised during checkout.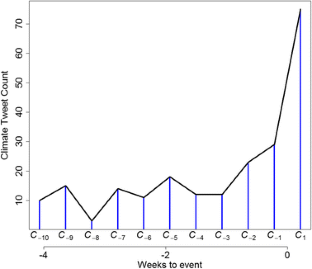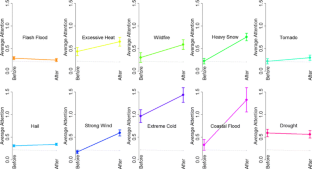 Notes
As a robustness check, we re-ran the analysis excluding all re-tweets. This produced results almost identical to the analysis of all tweets and re-tweets.

Investigating the differences between trends in messages that mention "global warming" versus messages that mention "climate change" is outside the scope of this paper. However, we did re-run the mixed-effects regression using only climate change messages and then only global warming messages. These results can be seen in Appendix I.

Descriptive statistics on message counts for all event types are shown in Appendix K.

When the events with a raw abnormality score of <1 (indicating negative abnormality) are removed from the analysis, the effect of abnormality is essentially unchanged.

A visualization of the transformation from the raw abnormality scores to the final abnormality scores can be seen in Appendix D.

The algorithm for this matching procedure can be found in the electronic supplementary material "control_matching_algorithm_ESM2."

We also ran this analysis with the attention before as the dependent variable. These results are included in Appendix G.

We also evaluated a model excluding the outliers from the regression instead of winsorizing them, which produced almost identical results as the winsorized regression.

The weather event "co-occurrence" matrix can be seen in Appendix J.

See Appendix L for an analysis of the mix of political ideologies in our sample.
References
Arcury TA, Christianson EH (1990) Environmental worldview in response to environmental problems Kentucky 1984 and 1988 compared. Environ Behav 22(3):387–407

Bates D, Maechler M, Bolker B, Walker S (2015) Fitting linear mixed-effects models using lme4. J Stat Softw 67(1):1–48. doi:10.18637/jss.v067.i01

Brody SD, Zahran S, Vedlitz A, Grover H (2008) Examining the relationship between physical vulnerability and public perceptions of global climate change in the United States. Environ Behav 40(1):72–95

Brulle R J, Carmichael J, Jenkins JC (2012) Shifting public opinion on climate change: an empirical assessment of factors influencing concern over climate change in the U.S., 2002–2010. Climatic Change 114(2):169–188. doi:10.1007/s10584-012-0403-y

Capstick SB, Pidgeon NF (2014) Public perception of cold weather events as evidence for and against climate change. Clim Chang 122(4):695–708

Cutler MJ (2016) Class, ideology, and severe weather: how the interaction of social and physical factors shape climate change threat perceptions among coastal US residents. Environmental Sociology (2)3:275-285. doi:10.1080/23251042.2016.1210842

Egan PJ, Mullin M (2012) Turning personal experience into political attitudes: the effect of local weather on Americans' perceptions about global warming. The Journal of Politics 74(03):796–809. doi:10.1017/S0022381612000448

Egan PJ, Mullin M (2016) Recent improvement and projected worsening of weather in the United States. Nature 532(7599):357–360

Goebbert K, Jenkins-Smith HC, Klockow K, Nowlin MC, Silva CL (2012) Weather, climate, and worldviews: the sources and consequences of public perceptions of changes in local weather patterns*. Weather, Climate, and Society 4:132–144. doi:10.1175/WCAS-D-11-00044.1

Graham M, Hale SA, Gaffney D (2014) Where in the world are you? Geolocation and language identification in Twitter. Prof Geogr 66(4):568–578

Hamilton LC, Stampone MD (2013) Blowin' in the wind: short-term weather and belief in anthropogenic climate change. Weather, Climate, and Society 5(2):112–119. doi:10.1175/WCAS-D-12-00048.1

Howe PD, Leiserowitz A (2013) Who remembers a hot summer or a cold winter? The asymmetric effect of beliefs about global warming on perceptions of local climate conditions in the U.S. Glob Environ Chang 23(6):1488–1500. doi:10.1016/j.gloenvcha.2013.09.014

Joireman J, Barnes Truelove H, Duell B (2010) Effect of outdoor temperature, heat primes and anchoring on belief in global warming. J Environ Psychol 30(4):358–367. doi:10.1016/j.jenvp.2010.03.004

Kirilenko AP, Molodtsova T, Stepchenkova SO (2015) People as sensors: mass media and local temperature influence climate change discussion on Twitter. Glob Environ Chang 30:92–100

Konisky DM, Hughes L, Kaylor CH (2015) Extreme weather events and climate change concern. Clim Chang. doi:10.1007/s10584-015-1555-3

Lang C (2014) Do weather fluctuations cause people to seek information about climate change? Clim Chang 125(3–4):291–303

Lang C, Ryder JD (2016) The effect of tropical cyclones on climate change engagement. Clim Chang 135(3):625–638. doi:10.1007/s10584-015-1590-0

Li Y, Johnson EJ, Zaval L (2011) Local warming: daily temperature change influences belief in global warming. Psychol Sci 22:454–459

Myers TA, Maibach EW, Roser-Renouf C, Akerlof K, Leiserowitz AA (2013) The relationship between personal experience and belief in the reality of global warming. Nat Clim Chang 3(4):343–347

National weather service (2007) National weather service instruction—storm data preparation. Retrieved from: https://www.ncdc.noaa.gov/stormevents/pd01016005curr.pdf

Ricke KL, Caldeira K (2014) Natural climate variability and future climate policy. Nat Clim Chang 4(5):333–338. doi:10.1038/nclimate2186

Rudman LA, McLean MC, Bunzl M (2013) When truth is personally inconvenient, attitudes change: the impact of extreme weather on implicit support for green politicians and explicit climate-change beliefs. Psychol Sci 24(11):2290–2296. doi:10.1177/0956797613492775

Spence A, Poortinga W, Butler C, Pidgeon NF (2011) Perceptions of climate change and willingness to save energy related to flood experience. Nat Clim Chang 1(4):46–49. doi:10.1038/nclimate1059

Weber EH (1978) The sense of touch. Academic Pr, London

Weber EU (2004) Perception matters: psychophysics for economists. In: Carrillo J, Brocas I (eds) Psychology and economics. Oxford University Press, Oxford, pp 165–176

Weber EU (2013) Psychology: seeing is believing. Nat Clim Chang 3(4):312–313

Weber EU, Sonka S (1994) Production and pricing decisions in cash-crop farming: effects of decision traits and climate change expectations. In: Jacobsen BH, Pedersen DF, Christensen J, Rasmussen S (eds) Farmers' decision making: a descriptive approach. European Association of Agricultural Economists, Copenhagen, pp 203–218

Whitmarsh L (2016) Are flood victims more concerned about climate change than other people? The role of direct experience in risk perception and behavioural response. Journal of Risk Research 11(3):351–374. doi:10.1080/13669870701552235

Wilcox RR 2014 Winsorized robust measures. Wiley StatsRef: Statistics Reference Online

Zaval L, Keenan EA, Johnson EJ, Weber EU (2014) How warm days increase belief in global warming. Nat Clim Chang 4(2):143–147. doi:10.1038/nclimate2093
Acknowledgements
The research leading to these results received funding from the European Research Council under the European Community's Programme "Ideas"—Call identifier: ERC-2013-StG/ERC grant agreement no. 336703—project RISICO "Risk and uncertainty in developing and implementing climate change policies." Funding was also provided under the cooperative agreement NSF SES-0951516 awarded to the Center for Research on Environmental Decisions. Funding and training for the first author was also provided by the From Data to Solutions IGERT program NSF-1144854. We thank Andrei Kirilenko for helping us access additional public Twitter messages in our time range.
Electronic supplementary material
About this article
Cite this article
Sisco, M.R., Bosetti, V. & Weber, E.U. When do extreme weather events generate attention to climate change?. Climatic Change 143, 227–241 (2017). https://doi.org/10.1007/s10584-017-1984-2
Received:

Accepted:

Published:

Issue Date:

DOI: https://doi.org/10.1007/s10584-017-1984-2
Keywords