Abstract
The Paris Agreement solidified the participation of subnational governments in global mitigation efforts, continuing the shift towards a polycentric landscape of climate action. Many scholars have suggested that the success of this emergent regime will depend, at least in part, on its ability to integrate climate action from non-state and subnational entities. Vertical alignment, the linking and coordination of policies between different levels of government, and horizontal alignment, the connection of peer cities and regions through networks of transnational climate governance, can help facilitate needed coherence. But, how do multiple actors link or interact at multiple scales and domains? In this article, we develop an analytical framework for examining different modes of vertical and horizontal alignment that subnational actors have employed to address climate change mitigation. We identify key elements in nine case studies of subnational climate action to examine the intersectionalities of alignment mechanisms that catalyze subnational climate actions. The paper concludes with a discussion about how vertical and horizontal alignment pathways overlap, intersect, and exhibit trade-offs.
This is a preview of subscription content, log in to check access.
Access options
Buy single article
Instant access to the full article PDF.
US$ 39.95
Price includes VAT for USA
Subscribe to journal
Immediate online access to all issues from 2019. Subscription will auto renew annually.
US$ 199
This is the net price. Taxes to be calculated in checkout.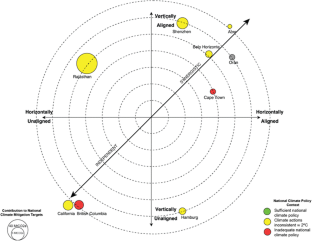 Notes
1.

Abbott et al. (2015) define orchestration as "the facilitation and coordination of intermediary actors on a voluntary basis by providing them with material and ideational support in order to achieve governance goals with respect to target actors."

2.

3.

Oberthür and Gehring (2006) examined 163 cases of interactions between international agreements and EU legal instruments and found no cases of disruptive interaction effects in the environmental domain.
References
Abbott K et al. (eds) (2015) International organizations as orchestrators. Cambridge University Press, Cambridge

Abbott KW et al (2016) Organizational ecology and institutional change in global governance. Int Organ 70(2):247–277

Andonova LB et al (2009) Transnational climate governance. Global environmental politics 9(2):52–73

Aylett A (2015) Institutionalizing the urban governance of climate change adaptation: results of an international survey. Urban Climate 14:4–16

Bartley T (2011) Transnational governance as the layering of rules: intersections of public and private standards. Theoretical inquiries in law 12(2):517–542

Berger G, Steurer R (2007) The regional level in national sustainable development strategy processes: experiences with vertical policy integration in Europe. In Pursuit of Sustainable Development: New Governance Practices at the Sub-National Level in Europe

Betsill M, Bulkeley H (2004) Transnational networks and global environmental governance: the cities for climate protection program. Int Stud Q 48(2):471–493

Betsill M et al (2015) Building productive links between the UNFCCC and the broader global climate governance landscape. Global Environmental Politics 15(2):1–10

Biermann F et al (2009) The fragmentation of global governance architectures: a framework for analysis. Global Environmental Politics 9(4):14–40

Broekhoff D et al (2015) What cities do best: piecing together an efficient global climate governance. Stockholm Environment Institute Working Paper 2015–15

Brown K (2009) Human development and environmental governance: a reality check. In: Adger W, Jordan A (eds) Governing Sustainability. Cambridge University Press, Cambridge, pp 32–52

C40 Cities Climate Leadership Group (2016) Unlocking climate action in megacities. Retrieved: https://issuu.com/c40cities/docs/unlocking_climate_action_in_megacit/4?e=10643095/35384119

Centre for Public Impact (2016) Integrated solid waste management in Belo Horizonte, Brazil. Retrieved: http://www.centreforpublicimpact.org/case-study/integrated-waste-management-brazil/

Chadha M (2014) Indian state of Rajasthan simplifies regulations to boost solar power capacity by 25 GW. CleanTechnica. Retrieved: http://cleantechnica.com/2014/10/08/indian-state-rajasthan-simplifies-regulations-boost-solar-power-capacity-25-gw/

Chan S et al (2015) Reinvigorating international climate policy: a comprehensive framework for effective non-state action. Global Policy 6(4):466–473

China Emissions Exchange (2014) Annual report on Shenzhen Emissions Trading Scheme first-year operation: a comprehensive analysis of Shenzhen's cap-and-trade program. Retrieved: http://www.ieta.org/resources/China/shenzhen-2013etsreport.pdf

City of Hamburg (2013) Status quo report. Retrieved: http://urbantransform.eu/wp-content/uploads/sites/2/2015/07/Status-Quo-Report_Hamburg.pdf

Climate Action Tracker (CAT) (2016). Retrieved: http://climateactiontracker.org/

Climate Focus, Governors' Task Force on Climate & Forests (2013) Acre, Brazil: Subnational Leader in REDD+. Retrieved: http://www.gcftaskforce.org/documents/20130520_acre_case_study_final.pdf

George AL, Bennett A (2005) Case studies and theory development in the social sciences. MIT, Cambridge

Gordon D (2016) The Politics of Accountability in Networked Urban Climate Governance. Global Environmental Politics 16(2):82–100

Hakelberg L (2014) Governance by diffusion: transnational municipal networks and the spread of local climate strategies in Europe. Global Environmental Politics 14(1):107–129

Hale T (2016) "All hands on deck": the Paris Agreement and nonstate climate action. Global Environmental Politics 16(3)

Hale T, Roger C (2014) Orchestration and transnational climate governance. Review of International Organizations 9(1):59–82

Happaerts S (2013) Does autonomy matter? Subnational governments and the challenge of vertical policy integration for sustainable development. Canadian Journal of Political Science 45(1):141–161

Harrison K (2010) Multilevel governance and carbon pricing in Canada, the United States, and the European Union. In: Courchene Thomas (ed) Canada: the State of the Federation 2009—carbon pricing and environmental federalism. McGill-Queen's University Press, Kingston, pp 11–128

Harrison K (2012) Multilevel governance and American influence on Canadian climate policy: the California effect vs. the Washington effect. Zeitschrift für Kanada-Studien 32(2):45–64

Hoffmann M (2011) Climate governance at the crossroads. Oxford University Press, New York

Hsu A et al (2015) The global impact of sub-national climate action. R-20 regions for climate change. Retrieved: http://regions20.org/images/ScalingUp.pdf

Hsu A et al (2016) Track climate pledges of cities and companies. Nature 532:303–305

Interview 1 (2016) Official at the City of Belo Horizonte

Interview 2 (2016) Implementing partner in City of Belo Horizonte's waste management plan

Interview 3 (2016) Member of transnational climate group supporting Acre's deforestation prevention initiatives

Interview 4 (2016) Officials at California Environmental Protection Agency

Interview 5 (2016) Expert in British Columbia carbon tax policy

Interview 6 (2016) Official at the City of Cape Town

Interview 7 (2016) Member of transnational climate group supporting Cape Town's Kuyasa Project

Interview 8 (2016) Member of transnational climate group supporting Oran, Algeria's waste management program

Ivanova M, Roy J (2007) The architecture of global environmental governance: pros and cons of multiplicity. In: Swart L and Perry E (eds), Center for UN Reform Education, Global environmental governance: perspectives on the current debate, pp 48–66

Jordan A et al (2012) Understanding the paradoxes of multilevel governing: climate change policy in the European Union. Global Environmental Politics 12(2):43–66

Jordan AJ et al (2015) Emergence of polycentric climate governance and its future prospects. Nat Clim Chang 5:977–982. doi:10.1038/nclimate2725

Jörgensen K (2007) Sub-national trans-Atlantic lesson-drawing related to governance for sustainable development. In: Jänicke Martin and Jacob Klaus (ed) Environmental governance in global perspective: new approaches to ecological and political modernisation. Berlin, Freie Universität Berlin, Department of Political and Social Sciences, pp 145–164

Keohane RO, Victor DG (2011) The regime complex for climate change. Perspectives on politics 9(01):7–23

Larson A (2002) Natural resources and decentralization in Nicaragua: are local governments up to the job? World Development 30(1):17–31

Meadowcroft J (2008) Who is in charge here? Governance for sustainable development in a complex world. In: Newig Jens, Voß Jan-Peter and Monstadt Jochen (eds) Governance for sustainable development: coping with ambivalence, uncertainty and distributed power. Routledge, pp 107–123

Ministry of Finance, BC (2013) Myths and facts about the carbon tax. Retrieved:http://www.fin.gov.bc.ca/tbs/tp/climate/A6.htm

Oberthür S, Gehring T (2006) Institutional interaction in global environmental governance: the case of the Cartagena Protocol and the World Trade Organization. Global Environmental Politics 6(2):1–31

Rabe BG (2008) States on steroids: the intergovernmental odyssey of American climate policy. Review of Policy Research 25(2):105–128

Risse-Kappen T (1995) Bringing transnational relations back in: introduction. In: Risse-Kappen T (ed) Bringing transnational relations back in: nonstate actors, domestic structures and international institutions. Cambridge University Press, Cambridge, pp 3–33

Roger C et al (2015) How do domestic politics shape participation in transnational climate governance? BSG Working paper, BSG-WP-2015-001. University of Oxford. Retrieved: https://www.bsg.ox.ac.uk/sites/www.bsg.ox.ac.uk/files/documents/BSG-WP-2015-001.pdf

Ryan D (2014) From commitment to action: a literature review on climate policy implementation at city level. Climatic Change (2015) 131:519–529

Salon D et al (2014) Local climate action motives enabling factors and barriers. Carbon Management 5(1):67–79

Steinberg PF (2015) Can we generalize from case studies? Glob Environ Polit 15(3):152–175

Steinberg P, Vandeveer S (2012) Comparative environmental politics in a global world. Comparative environmental politics: theory, practices and prospect, 424

Stokke OS (2001) The interplay of international regimes: putting effectiveness theory to work. FNI report, 14, 2001

Tews K, Busch P (2002) Governance by diffusion? Potentials and restrictions of environmental policy diffusion. In: Global environmental change and the nation state. Proceedings of the 2001 Berlin Conference on the Human Dimensions of Global Environmental Change, pp 168–182

The Times of India (2015) Rajasthan pips Gujarat in solar power, becomes No. 1 in country. Retrieved: http://timesofindia.indiatimes.com/india/Rajasthan-pips-Gujarat-in-solar-power-becomes-No-1-in-country/articleshow/47776965.cms

Toner G, Meadowcroft J 2009 The struggle of the Canadian Federal Government to institutionalize sustainable development. In: VanNijnatten Debora L and Boardman Robert (eds) Canadian environmental policy and politics: prospects for leadership and innovation. Oxford University Press, Oxford, pp 77–90

UNEP (2016) The emissions gap report 2016. Retrieved: http://web.unep.org/emissionsgap/

UNFCCC (2015) Synthesis report on the aggregate effect of the intended nationally determined contributions. Retrieved: http://unfccc.int/resource/docs/2015/cop21/eng/07.pdf

Van Asselt H (2014) The fragmentation of global climate governance: consequences and management of regime interactions. Edward Elgar, Cheltenham

Van Asselt H, Zelli F (2014) Connect the dots: managing the fragmentation of global climate governance. Environ Econ Policy Stud 16:137. doi:10.1007/s10018-013-0060-z

Van Asselt H et al (2015) Climate policy integration. In: Bäckstrand K, Lövbrand E (eds) Research handbook on climate governance. Edward Elgar Publishing, pp 388–399

VCS (2015) Two new JNR guidance documents released and first JNR program in Acre, Brazil has documents open for public comment. Retrieved: http://www.v-c-s.org/news-events/news/two-new-jnr-guidance-documents-released-and-first-jnr-program-acre-brazil-has

Watson M, Bulkeley H, Hudson R (2004) Vertical and horizontal integration in the governance of UK municipal waste policy. IDHP Berlin Conference on the Human Dimensions of Global Environmental Change 'Greening of Policies–Interlinkages and Policy Integration', Freie Universität Berlin

Young O.R. (1996) Institutional linkages in international society: polar perspectives. Global Governance 2:1–24
Acknowledgments
We thank the following: David Albertani, Christophe Nuttall, Kristina Haddad, Qiuping Li, Terry Tamminen, and Denise Welch, R20; Felipe Bittencourt, WayCarbon; Ana Caetano and Weber Coutinho, City of Belo Horizonte; Kathryn Harrison, University of British Columbia; Naomi Swickard, VCS; William Dean and Mark Wenzel, CalEPA; Nesamani Kalandiyur, California Air Resources Board; Bing Han, Yin Lin, and Lavender Luo, China Emission Exchange; Aromar Revi, Indian Institute for Human Settlements; Sarang Shidore, University of Texas; Kartikeya Singh, CSIS; Steve Thorne, Energy Transformations cc/SouthSouthNorth; Sarah Ward, City of Cape Town; and Xiliang Zhang of Tsinghua University. We would also like to thank Sander Chan, German Development Institute, and Oscar Widerberg, University of Amsterdam, for their valuable insights; Stefanie Wnuck, who contributed to this research in an earlier version of this paper; Yale F&ES masters students Allison Khoe and Isabelle Rui; Ryan Thomas for interview assistance; Carlin Rosengarten for editing assistance; and three anonymous reviewers for their helpful comments.
Electronic supplementary material
About this article
Cite this article
Hsu, A., Weinfurter, A.J. & Xu, K. Aligning subnational climate actions for the new post-Paris climate regime. Climatic Change 142, 419–432 (2017). https://doi.org/10.1007/s10584-017-1957-5
Received:

Accepted:

Published:

Issue Date:
Keywords
Climate Policy

British Columbia

Emission Trading Scheme

Climate Action

Vertical Alignment