Abstract
The lack of resilience of urban systems to weather and climate variability—termed type I adaptation—and also to climate change—type II adaptation—are both major challenges to the livability and sustainability of cities in the Global South. However, there is often competition and conflict in these cities between actions that address existing adaptation deficits (type I) and projected adaptation gaps (type II). Extending the concept of the environmental Kuznets curve, this paper argues that synergistic action on type I and type II adaptation is essential in order for these cities to maintain their livability and build resilience to climate variability and climate change in the face of growing urban populations. A proposed unifying framework has been demonstrated in Can Tho, Vietnam, where there are significant adaptation deficits due to rapid urbanization and adaptation gaps due to climate change and socioeconomic changes. The analysis in Can Tho reveals the lack of integration between type I and type II measures that could be overcome by closer integration between various stakeholders in terms of planning, prioritizing, and implementing adaptation measures.
Access options
Buy single article
Instant access to the full article PDF.
US$ 39.95
Tax calculation will be finalised during checkout.
Subscribe to journal
Immediate online access to all issues from 2019. Subscription will auto renew annually.
US$ 119
Tax calculation will be finalised during checkout.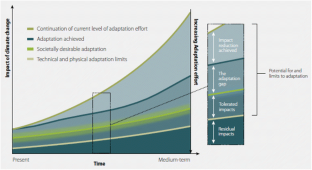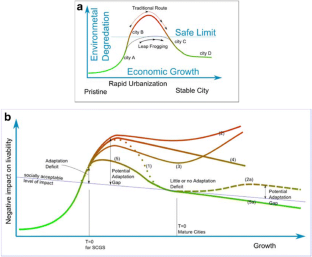 Notes
1.

MOVE Framework is a vulnerability assessment framework based on system theory. This framework aims at holistic assessment of various dimensions of vulnerability such as social, economic, environmental, and institutional vulnerability.
References
Adger WN, Dessai S, Goulden M, Hulme M, Lorenzoni I, Nelson DR, Naess LO, Wolf J, Wreford A (2009) Are there social limits to adaptation to climate change? Clim Chang 93(3):335–354

Angel S (2012) Planet of cities. Lincoln Institute of Land Policy, Cambridge

Bennett (1985) Urban air pollution worldwide. Environmental Science Technology 19:298–304

Birkmann J, Garschagen M, Van Tuan V, Binh N (2012) Vulnerability, coping and adaptation to water related hazards in the Vietnamese Mekong Delta. In: Renaud FG, Kuenzer C (eds) The Mekong Delta system. Springer environmental science and engineering. Springer, Amsterdam, pp 245–289. doi:10.1007/978-94-007-3962-8_10

Brown K (2011) Sustainable adaptation: an oxymoron? Climate and Development 3:21–31. doi:10.3763/cdev.2010.0062

Burton I (2004) Climate Change and Adaptation Deficit. In: Adam Fenech RBR, Don MacIver and Heather Auld (ed) International Conference on Adaptation Science, Management and Policy Options, Lijiang, Yunnan, China, May 17–19, 2004. AIRG, Meteorogical Service of Canada, Environment Canada, p 25–33

Buuren A, Driessen P, Teisman G, Rijswick M (2013) Toward legitimate governance strategies for climate adaptation in the Netherlands: combining insights from a legal, planning, and network perspective. Reg Environ Chang 14:1021–1033. doi:10.1007/s10113-013-0448-0

Chu TH, Diana S, Le TA (2014) Irrigation development in the Vietnamese Mekong Delta: towards polycentric water governance? International Journal of Water Governance 02:61–82. doi:10.7564/14-IJWG59

Clemens M, Rijke J, Pathirana A, Quan NH (2014) Effective stakeholder analysis for urban flood resilience in Vietnam using design proposition. Paper presented at the 13 th International Conference on Urban Drainage, Sarawak, Malaysia, 7–12 September 2014

Deltacommissaris (2014) Delta Prgramme 2015: working on the Dutch Delta in the 21st century : a new phase in the battle against the water. The Ministry of Infrastructure and Environment, The Ministry of Economic Afffairs, The Hague

Digman CJ, Horton B, Ashley RM, Gill E (2016) BeST (Benefits of SuDS Tool) User Manual. W045d, vol RP993. CIRIA, Griffin Court, 15 Long Lane, London, EC1A 9PN, UK

Ekins P (1997) The Kuznets curve for the environment and economic growth: examining the evidence. Environment and Planning A 29:805–830. doi:10.1068/a290805

Garschagen M (2014) Risky change? Vulnerability and adaptation between climate change and transformation dynamics in Can Tho City, Vietnam vol 15. Megacities and global change. Steiner, Stuttgart

GoI (2008) National Action plan on Climate change Government of India New Delhi

Grossman GM, Krueger AB (1991) Environmental impacts of a North American free trade agreement. National Bureau of Economic Research, Cambridge. doi:10.3386/w3914

Haasnoot M, Kwakkel JH, Walker WE, ter Maat J (2013) Dynamic adaptive policy pathways: a method for crafting robust decisions for a deeply uncertain world. Glob Environ Chang 23:485–498. doi:10.1016/j.gloenvcha.2012.12.006

Huong H, Pathirana A (2013) Urbanization and climate change impacts on future urban flood risk in Can Tho city, Vietnam. Hydrol Earth Syst Sci Discuss 17:379–394. doi:10.5194/hess-17-379-2013

IPCC (2007) Contribution of working group II to the fourth assessment report of the intergovernmental panel on climate change, 2007. Intergovernmental Panel on Climate Change, Cambridge

Kuznets S (1955) Economic growth and income inequality. Am Econ Rev 45:1–28

MDP (2013) Mekong Delta Plan - Long-term vision and strategy for a safe, prosperous and sustainable delta. Ministry of Natural Rescources and Environment - Vietnam, Ministry of Agriculture and Rural Development - Vietnam, Kingdom of Netherlands, Consortium of Royal HaskoningDHV, Wageningen University and Research Centre, Deltares, Rebel, Water.nl, Amersfoot, Nertherlands

Noble IR, Huq S, Anokhin YA, Carmin J, Goudou D, Lansigan FP, Osman-Elasha B, Villamizar A (2014) Adaptation needs and options. In: Field CB, Barros VR, Dokken DJ, Mach KJ, Mastrandrea MD, Bilir TE, Chatterjee M, Ebi KL, Estrada YO, Genova RC, Girma B, Kissel ES, Levy AN, MacCracken S, Mastrandrea PR, White LL (eds) Climate Change 2014: impacts, adaptation, and vulnerability. Part A: global and sectoral aspects. Contribution of working group II to the fifth assessment report of the intergovernmental panel on climate change. Cambridge University Press, Cambridge, pp 833–868

O'Neill BC, Kriegler E, Riahi K, Ebi KL, Hallegatte S, Carter TR, Mathur R, van Vuuren DP (2014) A new scenario framework for climate change research: the concept of shared socioeconomic pathways. Clim Chang 122(3):387–400

PC-CanTho (2014) Can Tho climate change acivities stratergy in the period 2015–2030. People's Committee Can Tho, Can Tho

Pielke R Jr (1999) Nine fallacies of floods. Clim Chang 42:413–438. doi:10.1023/a:1005457318876

Pillai P, Philips BR, Shyamsundar P, Ahmed K, Wang L (2010) Climate risks and adaptation in Asian coastal megacities : a synthesis report. World Bank, Washington, DC

PM (2011) Decision 2139/QD-TTg dated 5 December 5th, 2011 of the Prime Minister (PM) approving "NATIONAL CLIMATE CHANGE STRATEGY". Prime Ministers Office, Hanoi

PM (2013) Decision 567, 568 dated 14 September 2013 of the Prime Minister (PM) approving socio economic development plan of Can Tho city till 2020 and vision 2030. Prime Ministers Office, Ha Noi

Preston B, Westaway R, Yuen E (2011) Climate adaptation planning in practice: an evaluation of adaptation plans from three developed nations. Mitig Adapt Strateg Glob Change 16:407–438. doi:10.1007/s11027-010-9270-x

Quan NH, Phi HL, Tran PG, Radhakrishnan M, Quang CNX, Thuyen LX, Vinh KQ (2014) Urban retention basin in developing city: from theoretical effectiveness to practical feasibility. Paper presented at the 13th International Conference on Urban Drainage, Kuching, Malaysia

Radhakrishnan M, Quan NH, Gersonius B, Pathirana A, Vinh KQ, Ashley MR, Zevenbergen C (Under Review) Coping capacities for improving adaptation pathways for flood protection in Can Tho, Vietnam. Clim Chang

Revi A, Satterthwaite DE, Aragón-Durand F, Corfee-Morlot J, Kiunsi RBR, Pelling M, Roberts DC, Solecki W (2014) Urban areas. In: Field CB, Barros VR, Dokken DJ, Mach KJ, Mastrandrea MD, Bilir TE, Chatterjee M, Ebi KL, Estrada YO, Genova RC, Girma B, Kissel ES, Levy AN, MacCracken S, Mastrandrea PR, White LL (eds) Climate Change 2014: impacts, adaptation, and vulnerability. Part A: global and sectoral aspects. Contribution of working group II to the fifth assessment report of the intergovernmental panel on climate change. Cambridge University Press, Cambridge, pp 535–612

Roberts BH (2014) Managing systems of secondary cities—policy responses in international development. City Alliance / UNOPS, Brussels

Rothman D, Romero-Lankao P, Schweizer V, Bee B (2014) Challenges to adaptation: a fundamental concept for the shared socio-economic pathways and beyond. Clim Chang 122:495–507. doi:10.1007/s10584-013-0907-0

Samoli E, Atkinson RW, Analitis A, Fuller GW, Green DC, Mudway I, Anderson HR, Kelly FJ (2016) Associations of short-term exposure to traffic-related air pollution with cardiovascular and respiratory hospital admissions in London, UK. Occupational and environmental medicine. doi:10.1136/oemed-2015-103136

SCE (2013) Can Tho (Vietnam): comprehensive resilience planning for integrated flood risk mangement - final report. WorldBank

Serrao-Neumann S, Crick F, Harman B, Schuch G, Choy DL (2015) Maximising synergies between disaster risk reduction and climate change adaptation: potential enablers for improved planning outcomes. Environ Sci Pol 50:46–61. doi:10.1016/j.envsci.2015.01.017

SIWRP (2011) The flood protection plan for Can Tho city. Southern Institute for Water Resources Planning (SIWRP), Ho Chi Minh City

Tanner T, Mitchell T, Polack E, Guenther B (2009) Urban governance for adaptation: assessing climate change resilience in ten Asian cities. IDS Working Papers 2009:01–47. doi:10.1111/j.2040-0209.2009.00315_2.x

Tessler ZD, Vörösmarty CJ, Grossberg M, Gladkova I, Aizenman H, Syvitski JPM, Foufoula-Georgiou E (2015) Profiling risk and sustainability in coastal deltas of the world. Science 349:638–643. doi:10.1126/science.aab3574

Tobin GA (1995) The levee love affair: a stormy relationship?1. JAWRA Journal of the American Water Resources Association 31:359–367. doi:10.1111/j.1752-1688.1995.tb04025.x

UNDESA (2013) Sustainable development challenges. Department of Economic and Social Affairs, United Nations, New York

UNEP (2014) The adaptation gap report 2014. United Nations Environment Programme (UNEP), Nairobi

UN-HABITAT (2007) Global report on human settlements 2007: enhancing urban safety and security. UN-Habitat, London

USAID (2013) Sustainable service delivery in an increasingly urbanised world. USAID, Washington DC

VIAP-SUIP (2013) Master Plan of Can Tho city until 2030 and Vision to 2050 Southern Sub-Institute of Urban and Rural Planning (VIAP-SIUP), Ha Noi

WorldBank (2010a) The costs to developing countries of adapting to climate change: new methods and estimates. World Bank, Washington

WorldBank (2010b) Development and climate change. World Bank, Washington DC

WorldBank (2014) Can Tho, Vietnam enhancing urban resilience: cities strength—resilient cities program. The World Bank Group, Washington

Young K, Hall JW (2015) Introducing system interdependency into infrastructure appraisal: from projects to portfolios to pathways. Infrastructure Complexity 2:1–18. doi:10.1186/s40551-015-0005-8

Zevenbergen C, Rijke J, van Herk S, Bloemen P (2015a) Room for the river: a stepping stone in adaptive delta management. International Journal of Water 3:121–140

Zevenbergen C, van de Guchte C, Pathirana A, Wieriks K, N V (2015b) Water and delta-cities: accelerating urban resilience. Paper presented at the International Conference on Earth Observation & Societal Impacts and ICLEI Resilience Forum, Kaohsiung, Taiwan, ROC, June 28–30
Acknowledgements
Funding is acknowledged from (1) PRoACC programme by the Netherlands Ministry of Development Cooperation (DGIS) and (2) Cooperative Research Centre for Water Sensitive Cities (CRC), an initiative of the Australian government. Prof. Richard Ashley is acknowledged for his editorial contribution at the revision stage of this article.
Additional information
This article is part of a Special Issue on "Climatic Change and Development in the Mekong River Basin" edited by Jaap Evers and Assela Pathirana.
About this article
Cite this article
Pathirana, A., Radhakrishnan, M., Quan, N.H. et al. Managing urban water systems with significant adaptation deficits—unified framework for secondary cities: part I—conceptual framework. Climatic Change 149, 43–56 (2018). https://doi.org/10.1007/s10584-017-1953-9
Received:

Accepted:

Published:

Issue Date: