Abstract
The standard US diet contributes to greenhouse gas emissions (GHGE) from both the food system, and from the health system through its contribution to non-communicable diseases. To estimate the potential for diet change to reduce GHGE and improve public health, we analyzed the effect of adopting healthier model diets in the USA on the risk of disease, health care costs, and GHGE. We found that adoption of healthier diets reduced the relative risk of coronary heart disease, colorectal cancer, and type 2 diabetes by 20–45%, US health care costs by US$B 77–93 per year, and direct GHGE by 222–826 kg CO2e capita−1 year−1 (69–84 kg from the health care system, 153–742 kg from the food system). Emission reductions were equivalent to 6–23% of the US Climate Action Plan's target of a 17% reduction in 2005 GHGE by 2020, and 24–134% of California's target of 1990 GHGE levels by 2020. However, there is potential for investment of health care savings to result in rebound up to and greater than 100%, which would increase net GHGE. Given the urgency of improving public health and of mitigating GHGE over the short term, the potential contribution of diet change, and the options for reducing rebound, deserve more research in support of policy.
This is a preview of subscription content, log in to check access.
Access options
Buy single article
Instant access to the full article PDF.
US$ 39.95
Price includes VAT for USA
Subscribe to journal
Immediate online access to all issues from 2019. Subscription will auto renew annually.
US$ 199
This is the net price. Taxes to be calculated in checkout.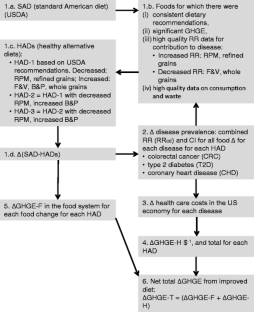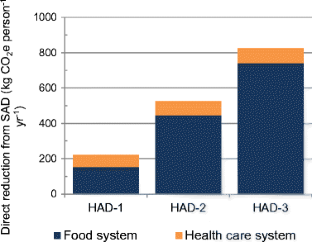 References
Aston LM, Smith JN, Powles JW (2012) Impact of a reduced red and processed meat dietary pattern on disease risks and greenhouse gas emissions in the UK: a modelling study. BMJ Open. doi:10.1136/bmjopen-2012-001072

Bajželj B, Richards KS, Allwood JM, Smith P, Dennis JS, Curmi E, Gilligan CA (2014) Importance of food-demand management for climate mitigation. Nat Clim Chang 4:924–929. doi:10.1038/nclimate2353

Björklund A (2002) A survey of approaches to improve reliability in LCA. Int J LCA 7:64–72

CARB (2006) Assembly Bill 32: Global Warming Solutions Act. http://www.arb.ca.gov/cc/ab32/ab32.htm. Accessed 2012 October 17

CDC (2012) National Diabetes Fact Sheet, 2011 Centers for Disease Control and Prevention. http://www.cdc.gov/diabetes/pubs/factsheet11.htm. Accessed 2014 June 24

CDC (2014) National Diabetes Statistics Report: estimates of diabetes and its burden in the United States. U.S. Department of Health and Human Services; 2014. http://www.cdc.gov/diabetes/pubs/statsreport14.htm. Accessed 2014 June 24

CMS (2013) National Health Expenditure Projections 2012–2022. http://www.cms.gov/Research-Statistics-Data-and-Systems/Statistics-Trends-and-Reports/NationalHealthExpendData/Downloads/Proj2012.pdf. Accessed 2014 April 22

CMS (2016) National Health Expenditure Tables. https://www.cms.gov/Research-Statistics-Data-and-Systems/Statistics-Trends-and-Reports/NationalHealthExpendData/Downloads/Tables.zip. Accessed 2016 August 25

Doran-Browne N, Eckard R, Behrendt R, Kingwell R (2015) Nutrient density as a metric for comparing greenhouse gas emissions from food production. Clim Chang 129:73–87. doi:10.1007/s10584-014-1316-8

Eckelman MJ, Sherman J (2016) Environmental impacts of the U.S. health care system and effects on public health. PLoS ONE. doi:10.1371/journal.pone.0157014

Edenhofer O, Pichs-Madruga R, Sokona Y, Farahani E, Kadner S, Seyboth K, Adler A, Baum I, Brunner S, Eickemeier P, Kriemann B, Savolainen J, Schlömer S, Von S, Zwickel T (2014) Climate change 2014: mitigation of climate change. In: Minx JC (ed) Contribution of Working Group III to the Fifth Assessment Report of the Intergovernmental Panel on Climate Change. Cambridge University Press, Cambridge, UK

EPA (2014) Inventory of U.S. Greenhouse Gas Emissions and Sinks: 1990–2012. EPA. http://www.epa.gov/climatechange/ghgemissions/usinventoryreport.html. Accessed 2014 June 15

Executive Office of the President (2013) The President's Climate Action Plan. The White House, Washington DC

Font Vivanco D, Kemp R, Van Der Voet E (2016) How to deal with the rebound effect? A policy-oriented approach. Energ Policy 94:114–125. doi:10.1016/j.enpol.2016.03.054

Friel S et al (2009) Health and climate change 4 public health benefits of strategies to reduce greenhouse-gas emissions: food and agriculture. Lancet 374:2016–2025. doi:10.1016/s0140-6736(09)61753-0

Garnett T (2011) Where are the best opportunities for reducing greenhouse gas emissions in the food system (including the food chain)? Food Policy 36:S23–S32. doi:10.1016/j.foodpol.2010.10.010

Garnett T, Mathewson S, Angelides P, Borthwick F (2015) Policies and actions to shift eating patterns: what works? FCRN; Catham House, Oxford; London

GDI (2014) Economic input–output life cycle assessment. GreenDesign Institute, Carnegie Mellon University. http://www.eiolca.net/index.html. Accessed 2014 January 15

Go AS et al (2014) Heart disease and stroke statistics—2014 update: a report from the American Heart Association. Circulation 129:e28–e292. doi:10.1161/01.cir.0000441139.02102.80

Grotto D, Zied E (2010) The standard American diet and its relationship to the health status of Americans. Nutr Clin Pract 25:603–612. doi:10.1177/0884533610386234

Hallström E, Carlsson-Kanyama A, Börjesson P (2015) Environmental impact of dietary change: a systematic review. J Clean Prod 91:1–11

Halverson N (2015) US gives meat producers a pass on climate change emissions. Reveal, from the Center for Investigative Reporting. https://www.revealnews.org/article/us-gives-meat-producers-a-pass-on-climate-change-emissions/. Accessed 2016 May 23

Hansen J et al (2013) Assessing "dangerous climate change": required reduction of carbon emissions to protect young people, future generations and nature. PLoS ONE 8, e81648. doi:10.1371/journal.pone.0081648

Heller MC, Keoleian GA (2015) Greenhouse gas emission estimates of U.S. dietary choices and food loss. J Ind Ecol 19:391–401. doi:10.1111/jiec.12174

Himmelstein DU, Woolhandler S (2016) The current and projected taxpayer shares of US health costs. Am J Public Health 106:449–452. doi:10.2105/AJPH.2015.302997

IPCC (2014) Climate Change 2014: impacts, adaptation, and vulnerability. The Fifth Assessment Report (AR5). IPCC, Geneva

ISO (2006a) Environmental management. Life cycle assessment—principles and framework. International Standard Organisation, Geneve

ISO (2006b) Environmental management. Life cycle assessment—requirements and guidelines. International Standard Organisation, Geneve

Jensen H et al (2013) The importance of health co-benefits in macroeconomic assessments of UK greenhouse gas emission reduction strategies. Clim Chang 121:223–237. doi:10.1007/s10584-013-0881-6

Mäkiniemi J-P, Vainio A (2014) Barriers to climate-friendly food choices among young adults in Finland. Appetite 74:12–19. doi:10.1016/j.appet.2013.11.016

Meier T, Christen O (2012) Environmental impacts of dietary recommendations and dietary styles: Germany as an example. Environ Sci Technol 47:877–888

Myhre G, Shindell, D, Bréon, F-M, Collins, W et al (2013) Anthropogenic and natural radiative forcing. In: Stocker TF et al (eds) Climate change 2013: the physical science basis contribution of Working Group I to the Fifth Assessment Report of the Intergovernmental Panel on Climate Change. Cambridge University Press, Cambridge, pp 659–740. doi:10.1017/CBO9781107415324.018

Nijdam D, Rood T, Westhoek H (2012) The price of protein: review of land use and carbon footprints from life cycle assessments of animal food products and their substitutes. Food Policy 37:760–770. doi:10.1016/j.foodpol.2012.08.002

Rogelj J, McCollum DL, Reisinger A, Meinshausen M, Riahi K (2013) Probabilistic cost estimates for climate change mitigation. Nature 493:79–83. doi:10.1038/nature11787

Röös E, Josefine N (2013) Uncertainties and variations in the carbon footprint of livestock products. Rapport 063. Department of Energy and Technology, Swedish University of Agricultural Sciences, Uppsala, Sweden

Röös E, Karlsson H, Witthöft C, Sundberg C (2015) Evaluating the sustainability of diets–combining environmental and nutritional aspects. Environ Sci Pol 47:157–166. doi:10.1016/j.envsci.2014.12.001

Rubinstein R, Kroese D (2008) Simulation and the Monte Carlo method. 2nd edn. Wiley, Hoboken

Saxe H, Larsen T, Mogensen L (2013) The global warming potential of two healthy Nordic diets compared with the average Danish diet. Clim Chang 116:249–262. doi:10.1007/s10584-012-0495-4

Scarborough P, Allender S, Clarke D, Wickramasinghe K, Rayner M (2012) Modelling the health impact of environmentally sustainable dietary scenarios in the UK. Eur J Clin Nutr 66:710–715

Scarborough P, Appleby P, Mizdrak A, Briggs AM, Travis R, Bradbury K, Key T (2014a) Dietary greenhouse gas emissions of meat-eaters, fish-eaters, vegetarians and vegans in the UK. Clim Chang 125:179–192. doi:10.1007/s10584-014-1169-1

Scarborough P, Harrington RA, Mizdrak A, Zhou LM, Doherty A (2014b) The preventable risk integrated ModEl and its use to estimate the health impact of public health policy scenarios. Scientifica 2014:21. doi:10.1155/2014/748750

SEER NCI (2014) Cancer Statistics. NCI. http://seer.cancer.gov/. Accessed 2014 April 22

Springmann M, Godfray HCJ, Rayner M, Scarborough P (2016) Analysis and valuation of the health and climate change cobenefits of dietary change. Proc Natl Acad Sci. doi:10.1073/pnas.1523119113

Stocker TF (2013) The closing door of climate targets. Science 339:280–282. doi:10.1126/science.1232468

Thoma G et al. (2013) Greenhouse gas emissions from milk production and consumption in the United States: a cradle-to-grave life cycle assessment circa 2008. International Dairy Journal 31, Supplement 1:S3-S14. doi:10.1016/j.idairyj.2012.08.013

Tilman D, Clark M (2014) Global diets link environmental sustainability and human health. Nature advance online publication doi:10.1038/nature13959

Turner A et al. (2015) Estimating global and North American methane emissions with high spatial resolution using GOSAT satellite data.

USDA (2010) Dietary Guidelines for Americans 2010

USDA, HHS (2010) Dietary Guidelines for Americans, 2010. 7th Edition. Washington, DC, U.S

USDA ERS (2014) Food availability (per capita) data system. http://www.ers.usda.gov/data-products/food-availability-%28per-capita%29-data-system/.aspx -.U3qgyC-LnjE. Accessed 2014 August 14

USDA, HHS (2015) Scientific report of the 2015 Dietary Guidelines Advisory Committee. USDA, HHS, Washington, D.C.

Van Dooren C, Marinussen M, Blonk H, Aiking H, Vellinga P (2014) Exploring dietary guidelines based on ecological and nutritional values: a comparison of six dietary patterns. Food Policy 44:36–46. doi:10.1016/j.foodpol.2013.11.002

WCRF/AICR (2007) Food, nutrition, physical activity, and the prevention of cancer: a global perspective. AICR, Washington DC

Westhoek H et al (2014) Food choices, health and environment: effects of cutting Europe's meat and dairy intake. Glob Environ Chang 26:196–205, doi:10.1016/j.gloenvcha.2014.02.004

WHO/FAO (2003) Diet, nutrition, and the prevention of chronic disease. Report of 164 a joint WHO/FAO Expert Consultation. Geneva, Switzerland
Acknowledgements
We gratefully acknowledge the valuable comments provided by Daniela Soleri, Pål Börjesson, Annika Carlsson-Kanyama, and two anonymous reviewers for Climatic Change; the help of Nathan Donnelly in the initial stages of research; and the financial support to EH by the Swedish Energy Agency and Royal Swedish Academy of Agriculture and Forestry. A preliminary version of our analysis of GHGE in the health care sector was presented at the Life Cycle Assessment in the Agri-Food Sector conference in 2014.
Author Contributions
Order of authors was determined as follows: corresponding author is the last author, other authors are listed in order of the significance of their contributions. DAC developed and framed the research, and reviewed methods and analyses; EH and QG helped refine the research; EH created the SAD and HADs, calculated food system GHGE, and assembled the RR data; QG, EH, and PS analyzed the RR data; QG assembled and analyzed the health care cost and health care system GHGE data; DAC, EH, and QG wrote the paper; all authors reviewed the paper.
Electronic supplementary material
Below is the link to the electronic supplementary material.
About this article
Cite this article
Hallström, E., Gee, Q., Scarborough, P. et al. A healthier US diet could reduce greenhouse gas emissions from both the food and health care systems. Climatic Change 142, 199–212 (2017). https://doi.org/10.1007/s10584-017-1912-5
Received:

Accepted:

Published:

Issue Date:
Keywords
Health Care Cost

Food System

Diet Change

Food Category

Relative Risk Estimate