Abstract
Recent scholarship has identified a large and growing divide on how Republicans and Democrats view the issue of climate change. A number of these studies have suggested that this polarization is a product of systematic efforts to spread doubt about the reality of climate change through the media in general and conservative media in particular. However, research to date has largely relied on speculation about such a relationship rather than empirical evidence. We improve on existing research by conducting an empirical analysis of the factors affecting national-level, quarterly shifts in public concern about climate change between January 2001 and December 2014. Our analysis focuses on the potential role played by four factors that should account for changes in levels of concern regarding climate change: (1) media coverage, (2) extreme weather, (3) issuance of major scientific reports, and (4) changes in economic activity and foreign conflict. Some results suggest that partisan media influences beliefs in ways expected by communication scholars who describe "echo chamber" effects and "boomerang" effects. Among other supporting evidence, we find that partisan media not only strengthen views of like-minded audiences but also when Republicans are presented with opposing frames about climate change from liberal media, they appear to reject the messages such that they are less concerned about the issue. Findings also demonstrate that the dissemination of science increases concern about climate change among Democrats but has no influence on Republicans. Finally, extreme weather does not increase concern among Democrats or Republicans. Implications for future research are discussed.
We're sorry, something doesn't seem to be working properly.
Please try refreshing the page. If that doesn't work, please contact support so we can address the problem.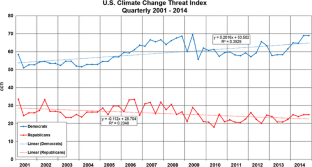 References
Bauer M, Allum N, Miller S (2007) What can we learn from 25-years of PUS research? Liberating and expanding the agenda. Public Underst Sci 16:79–95

Birkland TA (2006) Lessons of disaster: policy change after catastrophic events. Georgetown University Press, Washington, DC

Brewer PR, McKnight J (2015) Climate as comedy the effects of satirical television news on climate change perceptions. Sci Commun 37(5):635–657

Brulle RJ, Carmichael JT, Jenkins JC (2012) Climate change and public concern: 2002–2010. Clim Chang 114:169–188

Capstick S, Whitmarsh L et al (2015) International trends in public perceptions of climate change over the past quarter century. Wiley Interdiscip Rev Clim Chang 1:35–61

Cook J, Nuccitelli D, Green SA, Richardson M, Winkler B, Painting R, Way R, Jacobs P, Skuce A (2013) Quantifying the consensus on anthropogenic global warming in the scientific literature. Environ Res Lett 8: 1-7

Dumitrescu D, Mughan A (2010) Mass Media and Democratic Politics. In: Leicht K, Jenkins JC (eds) The handbook of politics: state and civil society. Global Perspective Springer Publishers, New York, pp 477–491

Dunlap RE (2013) Climate change skepticism and denial: an introduction. Am Behav Sci 57:691–698

Dunlap RE, McCright AM (2011) Organized climate change denial. In: Dryzek J, Norgaard R, Schlosberg D (eds) Oxford handbook of climate change and society. Oxford Press, Cambridge, pp 144–160

Dunlap RE, McCright AM, Yarosh JH (2016) The political divide on climate change: partisan polarization widens in the U.S. Environ: Sci Policy Sustain Dev 58:4–23

Feldman LP, Hart PS, Milosevic T (2015) Polarizing news? Representations of threat and efficacy in leading U.S. newspapers' coverage of climate change. Public Understand Sci 1–17

Gelpi C, Feaver P, Reifler J (2009) Paying the human costs of war: american public opinion and casualties in military conflicts. Princeton University Press, Princeton

Guber DL (2013) A cooling climate for change? Party polarization and the politics of global warming. Am Behav Sci 57(1):93–115

Gunther AC, Schmitt K (2004) Mapping boundaries of the hostile media effect. Journal of Communication 54:55–70

Hamilton LC, Stampone M (2013) Blowin' in the wind: short-term weather and belief in anthropogenic climate change. Weather, Climate, and Society 5:112–119

Hmielowski JD, Feldman L, Myers TA, Leiserowitz A, Maibach E (2014) An attack on science? Media use, trust in scientists, and perceptions of global warming. Public Underst Sci 23(7):866–883

Jamieson KH, Cappella JN (2008) Echo chamber: Rush Limbaugh and the conservative media establishment. Oxford University Press

Kahn ME, Kotchen MJ (2010) Environmental concern and the business cycle: the chilling effect of recessions. NBER working paper series. Cambridge, MA

Konisky D, Hughes L, Kaylor C (2016) Extreme weather events and climate change concern. Clim Chang 134:533–547

Leiserowitz A, Maibach E, Roser-Renouf C, Smith N (2010) Climate change in the American Mind: Americans' global warming beliefs and attitudes in June 2010. Yale University and George Mason University

Marquart-Pyatt ST, Shwom RL, Dietz T et al (2011) Understanding public opinion on climate change: a call for research. Environment 53(4):38–42

Marquart-Pyatt ST, McCright A, Dietz T, Dunlap R (2014) Politics eclipses climate extremes for climate change perceptions. Glob Environ Chang 29:246–257

McCright A, Dunlap R (2011) The politicization of climate change and polarization in the American public's views of global warming, 2001–2010. Sociol Quart 52(2):155–194

McCright AM, Dunlap RE, Xiao C (2014) Increasing influence of party identification on percieved agreement and support for government action on climate change in the United States, 2006–12. Weather, Climate, and Society 6:194–201

Mcknight D (2010) A change in the climate? The journalism of opinion at News Corporation. Journalism 11(6):693–706

Scruggs L, Bengal S (2012) Declining public concern about climate change: can we blame the great recession? Glob Environ Chang 22:505–515

Sellers P (2010) Cycles of Spin: Strategic Communication in the U.S. Congress. Cambridge University Press

Shao W, Keim BD, Garand JC, Hamilton LC (2014) Weather, climate, and the economy: explaining risk perceptions of global warming. Weather Clim Soc 6:119–134

Shove E (2010) Beyond the ABC: climate change policy and theories of social change. Environ Plan 42:1273–1285

Shwom RL, McCright AM, Berchin SR (2015) Public opinion on climate change. In: Dunlap RE, Brulle RJ (eds) Climate change and society: sociological perspectives. Oxford University Press, New York, pp 269-299

Spence A, Poortinga W, Butler C, Pidgeon N (2011) Perceptions of climate change and willingness to save energy related to flood experience. Nat Clim Chang 1:46–49

Stoknes PE (2014) Rethinking climate communications and the "psychological climate paradox". Energ Res Soc Sci 1:161–170

Stroud NJ (2011) Niche news: the politics of news choice. Oxford University Press

Weber E, Stern P (2011) Public understanding of climate change in the United States. Am Psychol 66(4):315–328

Wolfe M, Jones BD, Baumgartner FR (2013) A Failure to communicate: agenda setting in media and policy studies. Political Communication 30:175–192

Zaller JR (1992) The nature and origins of mass opinion. Cambridge University Press, New York

Zhao X, Leiserowitz A, Maibach E, Roser-Renouf C (2011) Attention to science/environment news positively predicts and attention to political news negatively predicts global warming risk perceptions and policy support. J Commun 61:713–731

Zhou J (2016) Boomerang versus javelins: how polarization constrains communication on climate change. Environ Politics 25:788–811
Electronic supplementary material
Below is the link to the electronic supplementary material.
About this article
Cite this article
Carmichael, J.T., Brulle, R.J. & Huxster, J.K. The great divide: understanding the role of media and other drivers of the partisan divide in public concern over climate change in the USA, 2001–2014. Climatic Change 141, 599–612 (2017). https://doi.org/10.1007/s10584-017-1908-1
Received:

Accepted:

Published:

Issue Date:
Keywords
Climate Change

Public Opinion

Political Party

Media Coverage

Public Concern