Abstract
While risk and associated hazard characteristics are important components of disaster formation, the consequences of hazards are often driven by underlying human and built-environment vulnerabilities. Yet, there has been little research conducted on how the evolving contributors of risk and vulnerability commingle to produce disaster potential. In this study, we assess the interaction of risk and vulnerability by investigating a single hazard, the tornado. How future changes in risk and vulnerability influence tornado disaster probability is estimated by integrating, for the first time, projected residential built environment data and modeled future severe weather environments. Results suggest that, although the projected twenty-first century escalation in tornado risk will play a role in increasing disaster consequences and frequency, growth in the human-built environment is projected to outweigh the effects of increased risk on future tornado disaster potential. While changes in societal exposure are projected to overshadow potential climate change-driven alterations in tornado risk, the combination of both an increase in risk and exposure may lead to a threefold increase in median annual tornado impact magnitude and disaster potential from 2010 to 2100.
Access options
Buy single article
Instant access to the full article PDF.
USD 39.95
Price excludes VAT (USA)
Tax calculation will be finalised during checkout.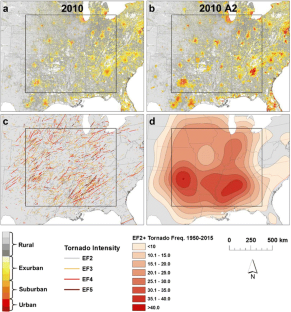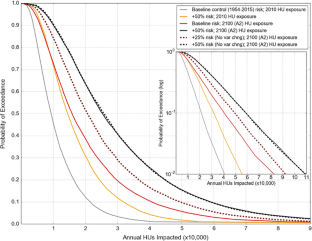 References
Agee E, Childs S (2014) Adjustments in tornado counts, F-scale intensity, and path width for assessing significant tornado destruction. J Appl Meteorol Climatol 53:1494–1505

Ashley W (2007) Spatial and temporal analysis of tornado fatalities in the United States: 1880–2005. Weather Forecast 22:1214–1228

Ashley W, Strader S (2016) Recipe for disaster: how the dynamic ingredients of risk and exposure are changing the tornado disaster landscape. Bull Am Meteorol Soc 97:767–786

Ashley W, Krmenec A, Schwantes R (2008) Vulnerability due to nocturnal tornadoes. Weather Forecast 23:795–807

Ashley W, Strader S, Rosencrants T, Krmenec A (2014) Spatiotemporal changes in tornado hazard exposure: the case of the expanding bull's-eye effect in Chicago, Illinois. Weather Clim Soc 6:175–193

Atkins N, Butler K, Flynn K, Wakimoto R (2014) An integrated damage, visual, and radar analysis of the 2013 Moore, Oklahoma, EF5 tornado. Bull Am Meteorol Soc 95:1549–1561

Bierwagen B, and Coauthors (2010) National housing and impervious surface scenarios for integrated climate impact assessments. Proc Natl Acad Sci 107:20887–20892

Bouwer L (2011) Have disaster losses increased due to anthropogenic climate change. Bull Am Meteorol Soc 92:39–46

Bouwer L (2013) Projections of future extreme weather losses under changes in climate and exposure. Risk Anal 33:915–930

Brooks H (2004) On the relationship of tornado path length and width to intensity. Weather Forecast 19:310–319

Brooks HE (2013) Severe thunderstorms and climate change. Atmos Res 123:129–138

Brooks H, Doswell C III, Kay M (2003a) Climatological estimates of local daily tornado probability. Weather Forecast 18:626–640

Brooks H, Lee J, Craven J (2003b) The spatial distribution of severe thunderstorm and tornado environments from global reanalysis data. Atmos Res 67:73–94

Brooks H, Carbin G, Marsh P (2014) Increased variability of tornado occurrence in the United States. Science 346:349

Burby R (2003) Cooperating with nature: confronting natural hazards with land-use planning for sustainable communities. Joseph Henry Press, Washington

Changnon S, Pielke R Jr, Changnon D, Sylves R, Pulwarty R (2000) Human factors explain the increased losses from weather and climate extremes. Bull Am Meteorol Soc 81:437–442

Diffenbaugh N, Scherer M, Trapp R (2013) Robust increases in severe thunderstorm environments in response to greenhouse forcing. Proc Natl Acad Sci 110:16361–16366

Dixon P, Grady, Mercer A, Choi J, Allen J (2011) Tornado risk analysis: is Dixie Alley an extension of Tornado Alley?. Bull Amer Met Soc 92:433–441

Dixon R, Moore T (2012) Tornado vulnerability in Texas. Weather Clim Soc 4:59–68

Doswell C III (2007) Small sample size and data quality issues illustrated using tornado occurrence data. Electronic J Severe Storms Meteorol 2:1–16

EPA (2009) Land-use scenarios: National-scale housing-density scenarios consistent with climate change storylines. Final report, EPA/600/R-08/076F

Gagan J, Gerard A, Gordon J (2010) A historical and statistical comparison of "Tornado Alley" to "Dixie Alley". Natl Wea Dig 34: 145–155

Gensini V, Ashley W (2011) Climatology of potentially severe convective environments from the North American regional reanalysis. Electronic J Severe Storms Meteor 6:1–40

Gensini V, Mote T (2014) Downscaled estimates of late 21st century severe weather from CCSM3. Clim Chang 129:307–321

Godschalk D, and Coauthors (1998) Natural hazard mitigation: recasting disaster policy and planning. Island Press, Washington, D.C

Höppe P, Pielke, Jr R (2006) Workshop on climate change and disaster losses. Understanding and Attributing Trends & Projections. Final Workshop Report. http://ipcc-wg2.gov/njlite_download.php?id=7313. Accessed 1 Aug 2016

Huggel C, Stone D, Auffhammer M, Hansen G (2013) Loss and damage attribution. Nat Clim Chang 3:694–696

IPCC (2012) Managing the risks of extreme events and disasters to advance climate change adaptation. A special report of working groups I & II of the Intergovernmental Panel on Climate Change. Cambridge University Press, Cambridge

IPCC (2014) Mitigation of climate change. Contribution of working group III to the fifth assessment. Report of the Intergovernmental Panel on Climate Change. Cambridge University Press, Cambridge

Janković V, Schultz D (2016) Atmosfear: communicating the effects of climate change on extreme weather. Weather Climate Soc. doi:10.1175/WCAS-D-16-0030.1

Kunkel K, Pielke R Jr, Changnon S (1999) Temporal fluctuations in weather and climate extremes that cause economic and human health impacts: a review. Bull Am Meteorol Soc 80:1077–1098

Mann M (2014) Modeling residential development in California from 2000 to 2050: integrating wildfire risk, wildland and agricultural encroachment. Land Use Policy 41:438–452

Marsh P, Brooks H, Dixon P, Mercer A (2012) Comments on" Tornado Risk Analysis: Is Dixie Alley an Extension of Tornado Alley?"/Reply to" Comments on'Tornado Risk Analysis: Is Dixie Alley an Extension of Tornado Alley?'". Bull Amer Met Soc 93:405–407

Merrell D, Simmons K, Sutter D (2002) Taking shelter: estimating the safety benefits of tornado safe rooms. Weather Forecast 17:619–625

Mohleji S, Pielke R Jr (2014) Reconciliation of trends in global and regional economic losses from weather events: 1980–2008. Nat Hazard Rev 15:04014009-1–04014009-9

National Academies of Sciences (NAS) (2016) Attribution of extreme weather events in the contest of climate change. The National Academies Press, Washington

Paton D, Johnston D (2006) Disaster resilience: an integrated approach. Charles C Thomas Pub Ltd, Springfield

Paul B (2011) Environmental hazards and disasters: contexts, perspectives and management. Wiley, Somerset

Pearce L (2003) Disaster management and community planning, and public participation: how to achieve sustainable hazard mitigation. Nat Hazards 28:211–228

Pielke R Jr (2005) Attribution of disaster losses. Science 311:1615–1616

Pielke Jr R (2014) Disasters cost more than ever—but not because of climate change. fivethirtyeight.com. http://fivethirtyeight.com/features/disasters-cost-more-than-ever-but-not-because-of-climate-change/. Accessed 1 Mar 2016

Prevatt D, and Coauthors (2012) Making the case for improved structural design: tornado outbreaks of 2011. Leadership & Management in Engineering 12:254–270

Rosencrants T, Ashley W (2015) Spatiotemporal analysis of tornado exposure in five U.S. metropolitan areas. Nat Hazards 78:121–140

Simmons K, Sutter D (2007) Tornado shelters and the housing market. Constr Manage Econ 25:1119–1126

Simmons K, Sutter D (2011) Economic and societal impacts of tornadoes. American Meteorological Society, Boston

Simmons K, Sutter D, Pielke R (2013) Normalized tornado damage in the United States: 1950–2011. Environ Hazard 12:132–147

Simmons K, Kovacs P, Kopp G (2015) Tornado damage mitigation: benefit–cost analysis of enhanced building codes in Oklahoma. Weather Clim Soc 7:169–178

Strader S, Pingel T, Ashley W (2016a) A Monte Carlo model for estimating tornado impacts. Meteorol Appl 23:269–289

Strader S, Ashley W, Pingel T, Krmenec A (2016b) Observed and projected changes in United States tornado exposure. Weather Clim Soc. doi:10.1175/WCAS-D-16-0041.1

Theobald D (2005) Landscape patterns of exurban growth in the USA from 1980 to 2020. Ecol Soc 10

Tippett M, Allen J, Gensini V, Brooks H (2015) Climate and hazardous convective weather. Our Climate Chang Rep 1:60–73

Tippett M, Lepore C, Cohen J (2016) More tornadoes in the most extreme US tornado outbreaks. Science 354:1419–1423

Trapp R, and Coauthors (2007) Changes in severe thunderstorm environment frequency during the 21st century caused by anthropogenically enhanced global radiative forcing. Proc Natl Acad Sci 104:19719–19723

Trapp R, Hoogewind K (2016) The realization of extreme tornadic storm events under future anthropogenic climate change. J Clim. doi:10.1175/JCLI-D-15-0623.1

Verbout S, Brooks H, Leslie L, Schultz D (2006) Evolution of the US tornado database: 1954–2003. Weather Forecast 21:86–93

Visser H, Petersen A, Ligtvoet W (2014) On the relation between weather-related disaster impacts, vulnerability and climate change. Clim Chang 125:461–477

Wachinger G, Renn O, Begg C, Kuhlicke C (2013) The risk perception paradox—implications for governance and communication of natural hazards. Risk Anal 33:1049–1065
Acknowledgements
The authors would like to thank Drs. Jeff Trapp and Kim Hoogewind (University of Illinois Urbana-Champaign) for their suggestions and thoughts on the future tornado risk scenarios. We also thank the anonymous reviewers whose recommendations and feedback greatly strengthened the manuscript.
About this article
Cite this article
Strader, S.M., Ashley, W.S., Pingel, T.J. et al. Projected 21st century changes in tornado exposure, risk, and disaster potential. Climatic Change 141, 301–313 (2017). https://doi.org/10.1007/s10584-017-1905-4
Received:

Accepted:

Published:

Issue Date:

DOI: https://doi.org/10.1007/s10584-017-1905-4
Keywords
Convective Available Potential Energy

Disaster Potential

Impact Magnitude

Tornado Event

Tornado Risk