Abstract
Better integration of resilience and climate change adaptation can help building climate-resilient development. Yet, resilience and adaptation to climate change have evolved largely along parallel paths with little cross-fertilization. Conceptual vagueness around resilience makes it challenging to ascertain what elements of resilience thinking have the greatest potential to enhance climate change adaptation and contribute to broader sustainable development goals. This article distills nine principles from the resilience literature to build a framework to assess 224 climate change adaptation strategies proposed by researchers and practitioners in Africa, Asia, and Latin America. Our analysis concludes that adaptation strategies in this data set emphasize initiatives that increase social and ecological diversity, strengthen learning processes, build functional redundancy, enhance connectivity between social and ecological elements, pay attention to the management of slow variables, and provide mechanisms for increasing participation and polycentric governance. At the same time, the adaptation options examined generally lacked a system's perspective, suggesting that there is still important work ahead to move toward a climate-resilient development model.
Access options
Buy single article
Instant access to the full article PDF.
US$ 39.95
Tax calculation will be finalised during checkout.
Subscribe to journal
Immediate online access to all issues from 2019. Subscription will auto renew annually.
US$ 119
Tax calculation will be finalised during checkout.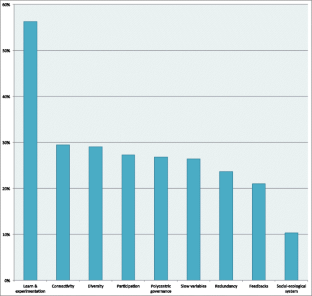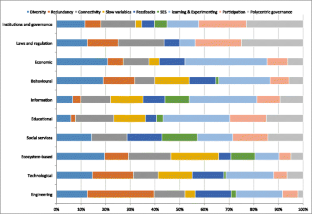 References
Adger WN (2000) Social and ecological resilience: are they related? Prog Hum Geogr 24:347–364

Barrett CB, Constas MA (2014) Toward a theory of resilience for international development applications. Proc Natl Acad Sci 111:14625–14630

Berkes F, Jolly D (2002) Adapting to climate change: social-ecological resilience in a Canadian western Arctic community. Conserv Ecol 5:2

Berkes F, Ross H (2013) Community resilience: toward an integrated approach. Soc Nat Resour 26:5–20

Biggs R, Carpenter SR, Brock WA (2008) Turning back from the brink: detecting an impending regime shift in time to avert it. Proc Natl Acad Sci 106:826–831. doi:10.1073/pnas.0811729106

Biggs R, Schlüter M, Schoon ML (eds) (2015) Principles for building resilience: sustaining ecosystem services in social-ecological systems. Cambridge University Press, Cambridge

Burch SL, Mitchell CL, Berbés-Blázquez M, Wandel J (2017) Patterns, progress, and potential for critical transitions in community-based climate change adaptation in developing countries. J Extreme Events

Cannon T, Müller-Mahn D (2010) Vulnerability, resilience and development discourses in context of climate change. Nat Hazards 55:621–635

Carpenter S, Walker B, Anderies JM, Abel N (2001) From metaphor to measurement: resilience of what to what? Ecosystems 4:765–781

Chapin III FS, Kofinas GP, Folke C, Chapin MC (2009) Principles of ecosystem stewardship: resilience-based natural resource management in a changing world. Springer Sci

Cundill G, Leitch AM, Schultz L et al (2015) Encouraging learning. In: Biggs R, Schlüter M, Schoon ML (eds) Principles for building resilience: sustaining ecosystem services in social-ecological systems. Cambridge University Press, Cambridge, pp 174–200

Deppisch S, Hasibovic S (2013) Social-ecological resilience thinking as a bridging concept in transdisciplinary research on climate-change adaptation. Nat Hazards 67:117–127

Fiksel J (2006) Sustainability and resilience: toward a systems approach. Sustain: Sci Pract Policy 2(2)

Folke C (2006) Resilience: the emergence of a perspective for social–ecological systems analyses. Glob Environ Chang 16:253–267

Folke C, Hahn T, Olsson P, Norberg J (2005) Adaptive governance of social-ecological systems. Annu Rev Environ Resour 30:441–473

Folke C, Pritchard L, Berkes F et al (2007) The problem of fit between ecosystems and institutions: ten years later. Ecol Soc 12:30

Folke C, Carpenter SR, Walker B et al (2010) Resilience thinking: integrating resilience, adaptability and transformability. Ecol Soc 15

Gunderson LH, Holling CS (eds) (2002) Panarchy: understanding transformations in human and natural systems. Island press

Gupta J, Termeer C, Klostermann J et al (2010) The adaptive capacity wheel: a method to assess the inherent characteristics of institutions to enable the adaptive capacity of society. Environ Sci Pol 13:459–471

Holling CS (1973) Resilience and stability of ecological systems. Ann Rev Ecol Syst 1–23

Holling CS (1996) Engineering resilience versus ecological resilience. Engineering within ecological constraints 31–44

IPCC (2014) Climate-resilient pathways: adaptation, mitigation, and sustainable development. IPCC, Cambridge

Kotschy K, Biggs R, Daw T et al (2015) Maintaining diversity and redundancy. In: Biggs R, Schlüter M, Schoon ML (eds) Principles for building resilience: sustaining ecosystem services in social-ecological systems. Cambridge University Press, Cambridge, pp 1–31

Leitch AM, Cundill G, Schultz L, Meek CL (2015) Broaden participation. In: Biggs R, Schlüter M, Schoon ML (eds) Principles for building resilience: sustaining ecosystem services in social-ecological systems. Cambridge University Press, Cambridge, pp 201–225

Lemos MC, Boyd E, Tompkins EL et al (2007) Developing adaptation and adapting development. Ecol Soc 12:26

Mancini A, Salvati L, Sateriano A et al (2012) Conceptualizing and measuring the "economy" dimension in the evaluation of socio-ecological resilience: a brief commentary. Int J Latest Trends Financ Econ Sci 2:190–196

Marschke MJ, Berkes F (2006) Exploring strategies that build livelihood resilience: a case from Cambodia. Ecol Soc 11:42

Measham TG, Preston BL, Smith TF et al (2011) Adapting to climate change through local municipal planning: barriers and challenges. Mitig Adapt Strateg Glob Chang 16:889–909

Nelson DR, Adger WN, Brown K (2007) Adaptation to environmental change: contributions of a resilience framework. Annu Rev Environ Resour 32:395

Nguyen NC, Bosch OJ (2013) A systems thinking approach to identify leverage points for sustainability: a case study in the Cat Ba Biosphere Reserve, Vietnam. Syst Res Behav Sci 30(2):104–115

Patton MQ (2011) Developmental evaluation: applying complexity concepts to enhance innovation and use. Guilford Press

Peterson G, De Leo GA, Hellmann JJ et al (1997) Uncertainty, climate change, and adaptive management. Conserv Ecol 1:4

Quinlan AE, Berbés-Blázquez M, Haider LJ, Peterson GD (2015) Measuring and assessing resilience: broadening understanding through multiple disciplinary perspectives

Reed M, Evely AC, Cundill G et al (2010) What is social learning? Ecol Soc 15:1

Rittel HW, Webber MM (1973) Dilemmas in a general theory of planning. Policy Sci 4:155–169

Scheffer M, Carpenter SR (2003) Catastrophic regime shifts in ecosystems: linking theory to observation. Trends Ecol Evol 18:648–656

Schoon ML, Robards MD, Meek CL, Galaz V (2015) Promote polycentric governance systems. In: Biggs R, Schlüter M, Schoon ML (eds) Principles for building resilience: sustaining ecosystem services in social-ecological systems. Cambridge University Press, Cambridge, pp 226–250

Tanner T, Mitchell T, Polack E, Guenther B (2009) Urban governance for adaptation: assessing climate change resilience in ten Asian cities. IDS Working Papers 2009:1–47

Termeer CJ, Dewulf A, Lieshout M van (2010) Disentangling scale approaches in governance research: comparing monocentric, multilevel, and adaptive governance

Tompkins EL, Adger WN (2004) Does adaptive management of natural resources enhance resilience to climate change? Ecol Soc 9:10

Tyler S, Moench M (2012) A framework for urban climate resilience. Clim Dev 4:311–326

Walker B, Salt D (2006) Resilience thinking: sustaining ecosystems and people in a changing world. Island Press

Walker BH, Carpenter SR, Rockstrom J et al (2012) Drivers, "slow" variables, "fast" variables, shocks, and resilience. Ecol Soc 17:30

Wardekker JA, de Jong A, Knoop JM, van der Sluijs JP (2010) Operationalising a resilience approach to adapting an urban delta to uncertain climate changes. Technol Forecast Soc Chang 77:987–998

Wardekker JA, Wildschut D, Stemberger S, Sluijs JP (2016) Screening regional management options for their impact on climate resilience: an approach and case study in the Venen-Vechtstreek wetlands in the Netherlands. SpringerPlus 5:1–17

Xu L, Marinova D (2013) Resilience thinking: a bibliometric analysis of socio-ecological research. Scientometrics 96:911–927
About this article
Cite this article
Berbés-Blázquez, M., Mitchell, C.L., Burch, S.L. et al. Understanding climate change and resilience: assessing strengths and opportunities for adaptation in the Global South. Climatic Change 141, 227–241 (2017). https://doi.org/10.1007/s10584-017-1897-0
Received:

Accepted:

Published:

Issue Date:
Keywords
Adaptation Strategy

Climate Change Adaptation

Slow Variable

Adaptation Option

Climatic Risk