Abstract
In his recent encyclical letter Laudato Si': On Care for Our Common Home, Pope Francis issued a moral appeal to the global community for swift action on climate change. However, social science research suggests a complex relationship between religious concepts and environmental attitudes, raising the question of what influence the pope's position may have on public opinion regarding this polarizing issue. In a national probability survey experiment of U.S. adults (n = 1212), we find that brief exposure to Pope Francis influenced the climate-related beliefs of broad segments of the public: it increased perceptions of climate change as a moral issue for the overall sample (and among Republicans in particular) and increased felt personal responsibility for contributing to climate change and its mitigation (among Democrats). Moreover, prior awareness of the pope's views on climate change mattered, such that those who indicated greater awareness of the pope's position showed stronger treatment effects, consistent with a priming account of these effects. Results complement recent correlational findings and offer further evidence of the Vatican's influence on climate change public opinion.
Access options
Buy single article
Instant access to the full article PDF.
USD 39.95
Price excludes VAT (USA)
Tax calculation will be finalised during checkout.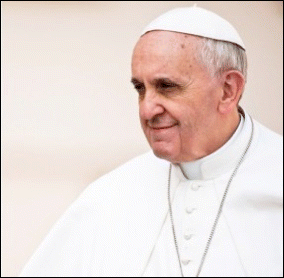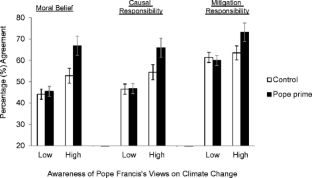 Notes
Complementing previous findings (see Leiserowitz and Akerlof 2010; Schuldt and Pearson 2016), those identifying with a racial or ethnic minority group were more likely than Whites to endorse each of the three climate belief items: 53.1 vs. 46.4% for moral belief, 53.9 vs. 48.0% for causal responsibility, and 69.8 vs. 59.0% for mitigation responsibility, respectively. All experimental effects remain when race/ethnicity (Whites vs. non-Whites) is included as a covariate in the regression models.

Overall, the awareness measure was distributed as "nothing at all" (43.9%), "a slight amount" (29.2%), "a moderate amount" (18.4%), "a large amount" (5.9%), and "an extreme amount" (1.5%) (2.6% missing data). Perhaps unsurprisingly, awareness was greater among Democrats (29.0%) than Republicans (22.6%) (X 2(1126) = 5.88, p = .02). Moreover, awareness was greater among Catholics (30.0%) and Atheists (30.2%) than Evangelical or Protestant Christians (19.1%). The positive relationship between issue awareness and the three belief items remained significant in models controlling for political partisanship and religious affiliation.

See Roser-Renouf et al. (2016) for recent survey data on the relationships between causal attributions for global warming, religious beliefs, and political affiliation.
References
Bargh JA, Morsella E (2008) The unconscious mind. Perspect Psychol Sci 3(1):73–79

Burke M, Hsiang SM, Miguel E (2015) Global non-linear effect of temperature on economic production. Nature 527:235–239

Clements JM, McCright AM, Xiao C (2014) Green Christians? An empirical examination of environmental concern within the US general public. Organ Environ 27(1):85–102

Feinberg M, Willer R (2013) The moral roots of environmental attitudes. Psychol Sci 24(1):56–62

Fishbein M, Yzer MC (2003) Using theory to design effective health behavior interventions. Commun Theory 13(2):164–183

Francis P (2015) On Care for our common home. Vatican City, Italy: Encyclical Letter, Libreria Editrice Vaticana. [Accessed 07-08-2016] Available online at http://w2.vatican.va/content/francesco/en/encyclicals/documents/papafrancesco_20150524_enciclicalaudato-si.html

Graham J, Meindl P, Beall E, Johnson KM, Zhang L (2016) Cultural differences in moral judgment and behavior, across and within societies. Curr Opin Psychol 8:125–130

Haidt J (2007) The new synthesis in moral psychology. Science 316(5827):998–1002

Hamilton LC, Hartter J, Lemcke-Stampone M, Moore DW, Safford TG (2015) Tracking public beliefs about anthropogenic climate change. PLoS ONE 10(9):e0138208

Higgins ET (1989) Knowledge accessibility and activation: subjectivity and suffering from unconscious sources. Unintended Thought 3:75–123

Hornik R, Woolf KD (1999) Using cross-sectional surveys to plan message strategies. Soc Mark Q 5(2):34–41

Jones RP, Cox D & Navarro-Rivera J (2014) Believers, sympathizers, and skeptics: why Americans are conflicted about climate change, environmental policy and science: findings from the PRRI/AAR religions, values, and climate change survey. Public Religion Research Institute and American Academy of Religion. Released November 22, 2014

Leiserowitz A, & Akerlof K (2010) Race, ethnicity and public responses to climate change. Yale University and George Mason University. New Haven, CT: Yale Program on Climate Change Communication

Li N, Hilgard J, Scheufele DA, Winneg KM, Jamieson KH (2016) Cross-pressuring conservative Catholics? Effects of Pope Francis' encyclical on the US public opinion on climate change. Clim Chang 139:367–380

Loersch C, Payne BK (2011) The situated inference model: an integrative account of the effects of primes on perception, behavior, and motivation. Perspect Psychol Sci 6(3):234–252

Maibach E, Leiserowitz A, Roser-Renouf C, Myers T, Rosenthal S & Feinberg G (2015) The Francis effect: how Pope Francis changed the conversation about global warming. George Mason University and Yale University. Fairfax, VA: George Mason University Center for Climate Change Communication

Markowitz EM (2012) Is climate change an ethical issue? Examining young adults' beliefs about climate and morality. Clim Chang 114(3–4):479–495

McCright AM, Dunlap RE (2011) The politicization of climate change and polarization in the American public's views of global warming, 2001–2010. Sociol Q 52(2):155–194

Nisbet MC, Markowitz EM & Kotcher JE (2012) Winning the conversation: framing and moral messaging in environmental campaigns. Talking Green: Exploring Contemporary Issues in Environmental Communications, 9–36

O'Neill E (2016) The Pope and the environment: towards an integral ecology? Environ Polit 25(4):749–754

Pew (2014) Pope Francis' image positive in much of the world. Available online at http://www.pewglobal.org/2014/12/11/pope-francis-image-positive-in-much-of-world/

Roser-Renouf C, Maibach E, Leiserowitz A & Rosenthal S (2016) Global warming, God, and the "end times": March, 2016. Yale University and George Mason University. New Haven, CT: Yale Program on Climate Change Communication

Rottman J, Kelemen D, Young L (2015) Hindering harm and preserving purity: how can moral psychology save the planet? Philos Compass 10(2):134–144

Schuldt JP, Pearson AR (2016) The role of race and ethnicity in climate change polarization: evidence from a U.S. national survey experiment. Clim Chang 136:495–505

Schuman H & Presser S (1996) Questions and answers in attitude surveys: experiments on question form, wording, and context. Sage

Schwarz N (1998) Accessible content and accessibility experiences: the interplay of declarative and experiential information in judgment. Personal Soc Psychol Rev 2(2):87–99

Schwarz N (1999) Self-reports: how the questions shape the answers. Am Psychol 54(2):93–105

Srull TK, Wyer RS (1979) The role of category accessibility in the interpretation of information about persons: some determinants and implications. J Pers Soc Psychol 37(10):1660–1672

Stern PC, Dietz T, Black JS (1985) Support for environmental protection: the role of moral norms. Popul Environ 8(3–4):204–222

Stern PC, Dietz T, Abel TD, Guagnano GA, Kalof L (1999) A value-belief-norm theory of support for social movements: the case of environmentalism. Hum Ecol Rev 6(2):81–97

Suhay E, Druckman JN (2015) The politics of science political values and the production, communication, and reception of scientific knowledge. Ann Am Acade Polit Soc Sci 658(1):6–15

Tourangeau R, Rips LJ & Rasinski K (2000) The psychology of survey response. Cambridge University Press

Van Zant AB, Moore DA (2015) Leaders' use of moral justifications increases policy support. Psychol Sci 26(6):934–943

Wardekker JA, Petersen AC, van Der Sluijs JP (2009) Ethics and public perception of climate change: exploring the Christian voices in the US public debate. Glob Environ Chang 19(4):512–521

Wolsko C, Ariceaga H, Seiden J (2016) Red, white, and blue enough to be green: effects of moral framing on climate change attitudes and conservation behaviors. J Exp Soc Psychol 65:7–19
About this article
Cite this article
Schuldt, J.P., Pearson, A.R., Romero-Canyas, R. et al. Brief exposure to Pope Francis heightens moral beliefs about climate change. Climatic Change 141, 167–177 (2017). https://doi.org/10.1007/s10584-016-1893-9
Received:

Accepted:

Published:

Issue Date:

DOI: https://doi.org/10.1007/s10584-016-1893-9
Keywords
Climate Change

Public Opinion

Mitigate Climate Change

Moral Belief

Religious Leader