Abstract
While there has been considerable focus on understanding barriers to climate information use associated with the character of climate knowledge, individuals' negative perception of its usability and constraints of decision-contexts, less attention has been paid to understanding how different scales of decision-making influence information use. In this study, we explore how water and resource managers' scales of decision-making and scope of decision responsibilities influence climate information use in two Great Lakes watersheds. We find that despite availability of tailored climate information, actual use of information remains low. Reasons include (a) lack of willingness to place climate on agendas because local managers perceive climate change as politically risky, (b) lack of formal mandate or authority at the city and county scale to translate climate information into on-the-ground action, (c) problems with the information itself, and (d) perceived lack of demand for climate information by those managers who have the mandate and authority to use (or help others use) climate information. Our findings suggest that (1) scientists and information brokers should produce information that meets a range of decision needs and reserve intensive tailoring efforts for decision makers who have willingness and authority to use climate information; (2) without support from higher levels of decision-making (e.g., state), it is unlikely that climate information use will accelerate significantly; and (3) the trend towards characterizing climate specific actions within a broader concept of sustainability practices, or "adaptation by stealth," should be supported as a component of the climate adaptation repertoire.
This is a preview of subscription content, log in to check access.
Access options
Buy single article
Instant access to the full article PDF.
US$ 39.95
Price includes VAT for USA
Subscribe to journal
Immediate online access to all issues from 2019. Subscription will auto renew annually.
US$ 199
This is the net price. Taxes to be calculated in checkout.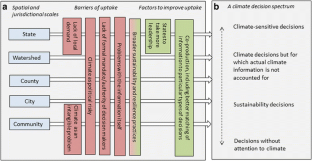 References
Archie KM, Dilling L, Milford JB, Pampel FC (2014) Unpacking the 'information barrier': comparing perspectives on information as a barrier to climate change adaptation in the interior mountain West. J Environ Manag 133:397–410

Briley L, Brown D, Kalafatis SE (2015) Overcoming barriers during the co-production of climate information for decision-making. Clim Risk Manag 9:41–49

Brown C, Ghile Y, Laverty M, Li K (2012) Decision scaling: linking bottom-up vulnerability analysis with climate projections in water sector. Water Resour Res 48:1–12

Cash DW, Moser SC (2000) Linking global and local scales: designing dynamic assessment and management processes. Glob Environ Chang 10(2):109–120

Cash DW, Clark WC, Alcock F et al (2003) Knowledge systems for sustainable development. Proc Natl Acad Sci 100:8086–8091

Cash DW, Adger WN, Berkes F et al (2006) Scale and cross-scale dynamics: governance and information in a multilevel world. Ecol Soc 11(2):8

Darela Filho JP, Lapola DM, Torres RR, Lemos MC (2016) Socio-climatic hotspots in Brazil: how do changes driven by the new set of IPCC climatic projections affect their relevance for policy? Clim Chang 136(3):413–425

Dessai S, Hulme M, Lempert R, Pielke R Jr (2009) Climate prediction: a limit to adaptation? In: Adger WN, Lorenzoni I, O'Brien KL (eds) Adapting to climate change: Thresholds, Values, Governance. Cambridge University Press

Dilling L, Berggren J (2014) What do stakeholders need to manage for climate change and variability? A document-based analysis from three mountain states in the Western USA. Reg Environ Chang 15:657–667

Dilling L, Lackstrom K, Haywood B, Dow K, Lemos MC, Berggren J, Kalafatis S (2014) What stakeholder needs tell us about enabling adaptive capacity: the intersection of context and information provision across regions in the US. Weather, Climate Soc 7:5–17

Dow K, Murphy RL, Carbone GJ (2009) Consideration of user needs and spatial accuracy in drought mapping. J Am Water Resour Assoc 45(1):187–197

Eakin H, Lemos MC, Nelson DR (2014) Differentiating capacities as a means to sustainable climate change adaptation. Glob Environ Change 27:1–8

Eriksen S, Aldunce P, Bahinipati CS et al (2011) When not every response to climate change is a good one: identifying principles for sustainable adaptation. Climate Dev 3:7–20

Feldman DL, Ingram HM (2009) Making science useful to decision makers: climate forecasts, water management, and knowledge networks. Weather, Climate Soc 1(1):9–21

Gordon ES, Dilling L, McNie E, Ray AJ (2016) Navigating scales of knowledge and decision-making in the Intermountain West: implications for science policy. In: Climate in Context: Science and Society Partnering for Adaptation (eds A.S. Parris et al.), John Wiley & Sons

Hulme M (2007) Geographical work at the boundaries of climate change. Trans Inst Br Geogr 33(1):5–11

IPCC (2014) Summary for policymakers. In: Field CB et al. (Eds.), Climate Change 2014: Impacts, Adaptation, and Vulnerability. Part A: Global and Sectoral Aspects. Contribution of Working Group II to the Fifth Assessment Report of the IPCC. Cambridge University Press, pp. 1–32

Jiménez Cisneros BE, Oki T, Arnell NW et al. (2014) Freshwater resources. In: Field CB et al. (Eds.), Climate Change 2014: Impacts, Adaptation, and Vulnerability. Part A: Global and Sectoral Aspects. Contribution of Working Group II to the Fifth Assessment Report of the IPCC. Cambridge University Press, pp. 229–269

Jones L, Dougill A, Jones RG et al (2015) Ensuring climate information guides long-term development. Nat Clim Chang 5:812–814

Kalafatis SE, Lemos MC, Lo YJ, Frank KA (2015) Increasing information usability for climate adaptation: the role of knowledge networks and communities of practice. Glob Environ Chang 32:30–39

Kirchhoff CJ (2013) Understanding and enhancing climate information use in water management. Clim Chang 119:495–509

Kirchhoff CJ, Dilling L (2016) The role of U.S. states in facilitating effective water governance under stress and change. Water Resour Res 52(4):2951–2964

Kirchhoff CJ, Lemos MC, Engle NL (2013) What influences climate information use in water management? the role of boundary organizations and governance regimes in Brazil and the U.S. Environ Sci Pol 26:6–18

Kirchhoff CJ, Esselman R, Brown D (2015) Boundary organizations to boundary chains: prospects for advancing climate science application. Clim Risk Manag 9:20–29

Lach D, Ingram H, Rayner S (2003) Coping with climate variability: municipal water agencies in Southern California. In: Diaz HF, Morehouse BJ (eds) Climate and water: transboundary challenges in the Americas. Kluwer Academic Publishers, Dordrecht

Lemos MC (2015) Usable climate knowledge for adaptive and co-managed water governance. Curr Opin Environ Sustain 12:48–52

Lemos MC, Morehouse B (2005) The co-production of science and policy in integrated climate assessments. Glob Environ Chang 15:57–68

Lemos MC, Kirchhoff CJ, Ramprasad V (2012) Narrowing the climate information usability gap. Nat Clim Chang 2:789–794

Lemos MC, Kirchhoff CJ, Kalafatis SE, Scavia D, Rood RB (2014) Moving climate information off the shelf: boundary chains and the role of RISAs as adaptive organizations. Weather, Climate Soc 6:273–285

Lopez A, Fung F, New M, Watts G, Weston A, Wilby RL (2009) From climate model ensembles to climate change impacts: a case study of water resource management in the South West of England. Water Resour Res 45:W08419

Marx SM, Weber EU, Orlove BS, Leiserowitz A, Krantz DH, Roncoli C, Phillips J (2007) Communication and mental processes: experimental and analytical processing of uncertain climate information. Glob Environ Chang 17:47–58

Meadow AM, Ferguson DB, Guido Z, Horangic A, Owen G (2015) Moving toward the deliberate coproduction of climate science knowledge. Weather, Climate, Soc 7(2):179–191

Mearns LO (2010) The drama of uncertainty. Clim Chang 100:77–85

Moss RH, Meehl GA, Lemos MC, Smith JB, Arnold JR, Arnott JC, Behar D et al (2013) Hell and high water: practice-relevant adaptation science. Science 342:696–698

NCA (2014) 2014 national climate assessment. The National Academies Press, Washington, DC

O'Brien K, Sygna L, Haugen JE (2004) Vulnerable or resilient? A multi-scale assessment of climate impacts and vulnerability in Norway. Climate Change 64:193–225

Ostrom E (2001) Vulnerability and polycentric governance systems. Update: Newsl. Int. Hum. Dimens. Program. Glob. Environ. Chang. 3 http://www.ihdp.unibonn.de/html/publications/update/IHDPUpdate0103.html

Phadke R, Manning C, Burlager S (2015) Making it personal: diversity and deliberation in climate adaptation planning. Clim Risk Manag 9:62–76

Poff NL, Brown CM, Grantham TE et al (2016) Sustainable water management under future uncertainty with eco-engineering decision scaling. Nat Clim Chang 6:25–34

Rabe BG (2007) Beyond Kyoto: climate change policy in multilevel governance systems. Governance 20(3):423–444

Rayner S, Lach D, Ingram H (2005) Weather forecasts are for wimps: why water resource managers do not use climate forecasts. Climate Change 69:197–227

Reid H, Huq S (2014) Mainstreaming community-based adaptation into national and local planning. Climate Dev 6(4):291–292

Roncoli C, Jost C, Kirshen P et al (2009) From accessing to assessing forecasts: an end-to-end study of participatory climate forecast dissemination in Burkina Faso (West Africa). Clim Chang 92:433–460

Soares MB, Dessai S (2015) Exploring the use of seasonal climate forecasts in Europe through expert elicitation. Clim Risk Manag 10:8–16

Weaver CP, Lempert RJ, Brown C, Hall JA, Revell D, Sarewitz D (2013) Improving the contribution of climate model information to decision making: the value and demands of robust decision frameworks. Wiley Interdiscip Rev Clim Chang 4(1):39–60

Weber EU (2006) Experience-based and decision-based perceptions of long-term risk: why global warming does not scare use (yet). Clim Chang 77:103–120

Wolf J, Moser SC (2011) Individual understandings, perceptions, and engagement with climate change: insights from in-depth studies across the world. Wiley Interdisciplinary Rev – Climatic Change 2(4):547–569

Woodruff SC, Stults M (2016) Numerous strategies but limited implementation guidance in US local adaptation plans. Nat Clim Chang. doi:10.1038/nclimate3012
Acknowledgements
We would like to thank the water and resource managers in the Huron and Maumee watersheds who provided primary data for this research. We also thank James Arnott for the comments on an earlier draft. We thank three anonymous reviewers for their useful comments.
Authors' contributions
All authors contributed extensively to this work. M.C.L. and C.J.K. jointly designed the research. C.J.K. conducted the data collection and L.V.R. analyzed the data. All authors contributed to writing and developing the manuscript at all stages.
Ethics declarations
Funding
Research for this study was funded by NSF Grant no. 1039043.
Electronic supplementary material
Below is the link to the electronic supplementary material.
About this article
Cite this article
Rasmussen, L.V., Kirchhoff, C.J. & Lemos, M.C. Adaptation by stealth: climate information use in the Great Lakes region across scales. Climatic Change 140, 451–465 (2017). https://doi.org/10.1007/s10584-016-1857-0
Received:

Accepted:

Published:

Issue Date:
Keywords
Climate Information

Stormwater Management

Precipitation Time Series

City Manager

Urban Forestry